Learn tips and tricks for making use of all the rooms in your small-ish home.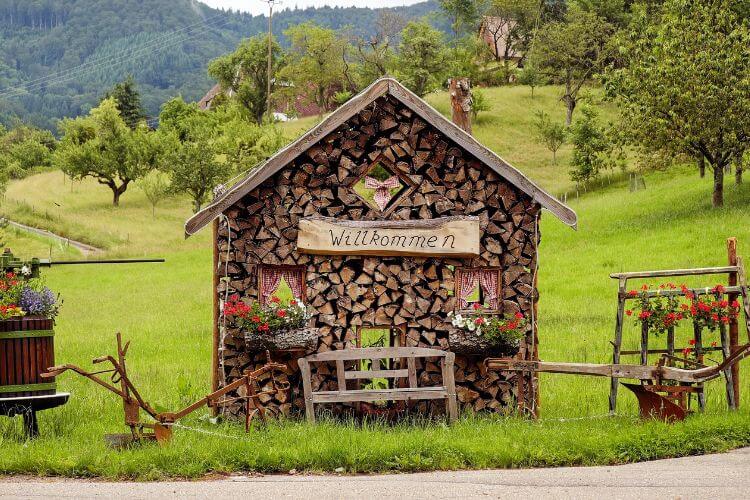 (This page contains affiliated links)
Let's get raw and honest about small space living. This post isn't meant to be fluffy with beautifully crafted photos showing perfectly designed and decorated spaces.
This is about my real life, living in the space we have, and making the most of tight spaces in every day life.
Jump to:
Our Small Living Experience
I wouldn't call our living situation unique. as others have. We're a simple family living in a 2 bedroom apartment that I would call small-ish. One bedroom is used as my husband's office space and our storage. That leaves 1 bedroom for my husband, myself, and my daughter to share.
We're lucky to have a washing machine in the apartment, and we don't have a dryer, mostly by choice. We have a dishwasher, bathtub, full-size fridge, sink, and slightly smaller dishwasher. I would say that's pretty darn good. Let's be honest, it's not small space living if you're comparing it to many apartments in New York, Japan, and many other countries!
While this space worked when it was just my husband and I, it has gotten a bit more stressful with a little one running around.
We know the side-step maneuver well when it comes to walking down the hallway or when there's more than one person in the kitchen. And, I have done my fair share of sleeping in a sleeping bag on the bedroom floor when my daughter has taken up the entire bed.
We've made it work, even if I've gritted my teeth through some of it!
Space Saving Tips
While I feel that my contribution to making the best of our smaller space has been to downsize unnecessary clothing and objects, my husband has jump started some great ideas and methods for using our space more efficiently.
We're not in a tiny house and we haven't made hidden compartments or furniture that folds down from the wall, even though we've contemplated it. We have, however, found many strategies to help us along this journey!
IKEA and Amazon have both been super helpful for finding quality items that are popular for small-space living and for efficiently using the room you have. We have made our bathroom multi-purpose, all three people in my family room-share, we limit large kitchen appliances, we take advantage of the acreage we live on and enjoy the outdoors as much as possible, and we take time to reflect on how grateful we are to have the space we do have.
Finding IKEA
We've been on the IKEA bandwagon now for a while, and it's been so worth it! Although we have an IKEA store in Colorado, we mostly order online for a small shipping fee. Granted, prices have increased recently, we still find low cost items that help us make use of our space!
Their items do tend to change and all of a sudden become unavailable or discontinued, but here are some items we've found useful! We've found great items including tables and chairs, hangers, storage cubes, and more.
Let's break it down even more!
Drying Clothes
Small living space plus no clothes dryer, means we have to get creative with how and where to dry clothes. The best option would be to line-dry clothes outside, but that's not an option for us.
Our solution...the bathtub!
Is this inconvenient when you only have 1 bathroom? Yes. But does it work? Yes.
Thanks to our bathroom not having a fan, we have squeezed in a dehumidifier that we run, mostly in the winter, which also helps dry out the clothes.
We use a simple wooden drying rack, making sure the bathtub is dried off.
Then, IKEA steps in with all their fun gadgets that are great for hanging clothes in small spaces. We use their hangers with grip clips which are great for hanging socks, underwear, and small baby items. Do you wash fabric toys and doll clothes? Use these hangers to dry them!
This Octopus hanging dryer from IKEA is super handy and the best price option. You can find an alternative (supposed to be the same) PRESSA brand from Amazon. Hang it over the curtain rod and you're all set!
Clothes pins are of course used often to clip on small clothes to the clothing rack, but when you can't use clothes pins, give these hanging clothes pins from IKEA a try! You can loop them over a clothes line, drying rack, hanger, or any other small bar or hook in your house! You can also try the Amazon option, although likely a slightly slower quality.
Baby Crib and Bedroom
When my little one outgrew her baby "tub," we opted to transition her to a mini-crib. Full-size cribs are very American, and if you search around other countries, full-size isn't common. The mini-crib we found through Amazon was absolutely perfect and never an issue with size. It allowed for more space in our small bedroom and made us realize how unnecessary the full-size cribs are!
Although organizing shoes doesn't take priority for my family, we still have a lot that need to be stored away. We found these great IKEA shoe organizers that can be stacked, they're breathable, and look nice too! You'll save money going straight through IKEA, but you can also check out the Amazon option too.
Like so many others, we have used storage cubes, mainly for kid's toys and stuffed animals. Our favorite cubes have been from IKEA and the prices has skyrocketed lately, compared to what they used to be. However, there are lower cost similar cube options through Amazon as well.
Mainly, our bedroom is very basic. We have a bed, dresser, and closet and that's it. What about end tables? Don't need them. We'd rather limit what can clutter and leave space to move around, and the space looks larger with fewer items crammed in.
Lose Excess Kitchen Appliances
Moving to the kitchen, we have a few tricks and tips.
For one, we don't have a microwave. It would take up too much space, and heating food with a stove, convection oven, or hot water kettle are healthier and more effective for heating food and keeping food warm longer.
I don't use any electric blenders or stand mixers, which saves a lot of counter and store space. We stay away from equipment that contains lead, which is found in many kitchen appliances. Also, I don't find them necessary and my baking and cooking sure haven't been affected by it!
What I do use are appliances that have multiple purposes and ones that I use often.
I use an Instant Pot Ace Plus Blender that gets used often for smoothies, sauces, soups, and more. It's lead free and a great product.
We use CorningWare dishes, for everything! The round plates double as pie plates and the Dutch ovens can be used on the stove top or in the oven and act as my crock pot. No, I don't have any links for CorningWare because your best option is to find older items from thrift shops and estate sales. Although stores like Target do carry CorningWare, the products aren't the same quality as the older ones.
Looking for a smaller dining table? Go with IKEA. They have furniture for smaller spaces that are higher quality and studier than most box stores. We have this table and chair set which is pine and light weight, but super hardy. We also have the smaller, children's-sized set for an art table if you're wanting a play table or small table where kids can eat!
We use a small trash can which saves a ton of space. Our compost bin gets all of our food scraps, we make our own all purpose cleaner and dishwasher soap, and we limit use of all plastics and packaged materials. That doesn't leave much actual trash to be tossed and saves kitchen space!
Creating Living Space Outside the House
Although our space inside feels small, our property includes acreage with beautiful grounds. My husband has worked incredibly hard at making our yard an oasis and reprieve from our indoor living. He's extremely skilled with horticulture, and our yard displays this. We have an insane amount of foliage (flowers, edible plants, trees, ground coverage) packed around the yard, along with walkways, benches, and raised garden beds.
Whether you have an outdoor space to enjoy, a small patio, or a balcony, make use of it! Add greenery, a chair, a lavender plant, anything that helps you relax and enjoy some nature.
For those of you who don't have access to any outdoor space, think about indoor options like this vertical garden planter for herbs, plants, and vegetables!
Where we live, you can find locations around town to rent a raised garden bed for the season for under $40. This is a wonderful option when you don't have the option to garden where you live, and it also gives you an option to spend time in nature surrounded by beautiful gardens!
Benefits of Living in a Small Space
As hard as a tight space has been sometimes, there are also many perks!
More family time: always being close to one another offers more time to talk or at least be near one another at all times in the house!
No baby monitor needed for a baby/toddler: We did setup a hand-made monitor when my little one was a newborn, but overall it was impossible to be anywhere in the house without hearing her cry or call for us.
Less space to clean.
Forces us to narrow down our belongings: We have had to re-think what is truly important with all rooms of the house.
Energy Saving: Less space means less heat, A/C, and electricity to pay for. Since we don't have a clothes dryer, that helps save considerable energy as well.
Appreciating the space
When I'm feeling like our living space is tight and a bit frustrating, my husband always reminds me to appreciate the space we're lucky to have. The key is to remember the positives of having a small space, and get creative to make the space enjoyable.
We have chosen to let our living room go to our young daughter. The walls are covered in art and magazine images, 99% of everything is for her whether it's play toys, books, or stuffed animals, and we're absolutely fine with this. We're not entertaining and needing a "classy room" and for us it works just fine.
It would be waaay to stressful to enjoy our space, have enough play space for our kiddo, and keep it free of children's items. It's just not possible and it's just not us.
Live your life the way you need to for your own family. Don't create space that will impress visitors or turn heads, just create a home and comfortable space that's functional and enjoyable for you!