Learn all about using pallet collars for raised garden beds including recommended method of treatment and why pallet collars are recommended over other materials.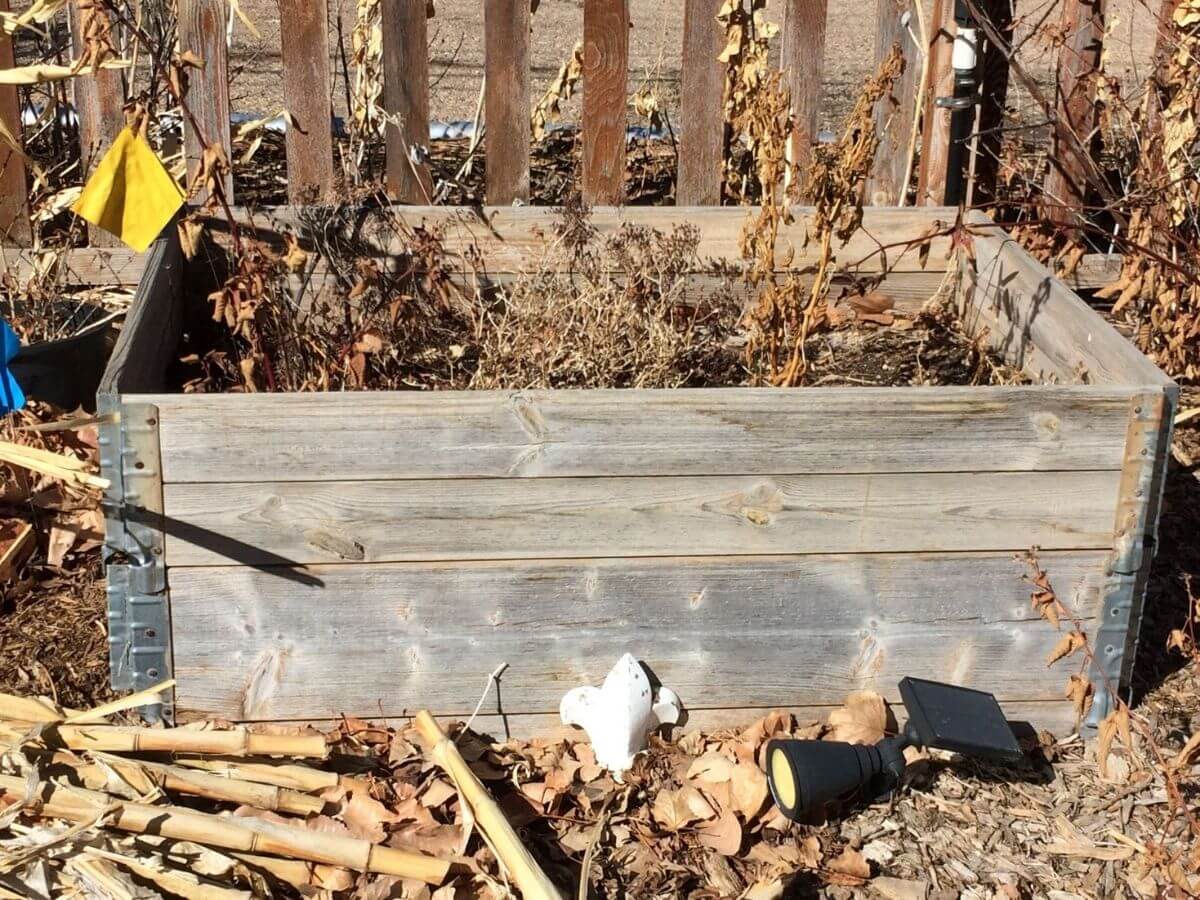 Pallet Collars are a great option for raised garden beds. They're low cost, pretty easy to find, and stack well. They might not last a lifetime, but they can last many years and if you find the right one, they're chemical-free and safe for edible garden beds.
What is a Pallet Collar?
They're made from pallets, which are flat structures used to transport and store materials. This is important to know because any time you're repurposing a pallet you want to know how it was treated and what types of materials it transported. Sometimes they come in contact with chemicals that could have spilled and that's not something you want to mess with when using a pallet collar for gardening purposes (or for any project really). For this reason, it's not always safe to grab any free pallet you see on the side of the road and get jazzed about making your own raised garden bed!
Raised garden beds can be made from pallets by repurposing the pallet wood to form a frame and using hinges to hold them together. Most hinges are galvanized steel, but this can vary just like the wood the pallets are made of.
What Type of Wood is Used for Pallet Collars?
This isn't a short answer because you can find all types of pallet collars out there. It depends on where you look, and it is important to know what you're buying!
Pallet collars can be made from oak, pine, maple, hickory, cedar, spruce, you name it. I won't be getting into the pluses and minuses of each wood used for pallet collars, but it is good to know what you're buying and how that wood will hold up outside with varying whether conditions. The most important factors when buying, or finding free pallet collars, are knowing how they're treated and what materials they've been in contact with.
Heat Treated Pallets
This is the best and safest choice for raised beds. By heat treating the pallets, all the moisture is removed, helping them last longer. Heat treating removes all hazardous material, insects, and possible diseases in the wood in a safe and chemical-free way.
Just because your pallet is heat treated doesn't make it waterproof. It's a trade off really. If you want a pretty garden bed with a nice finish, you'll be running the risk of lacquer and varnish leaching into the food you're growing. The fumes alone being in the vicinity of an edible garden are just a bad idea. Or, you can leave it untreated and know that it will break down with time. I do not recommend treating your pallets collars with any type of sealant!
We've had our heat treated pallets outside for several years (more than 4 years). They're used all year round and they are starting to crack and break down a bit, but they're completely usable and holding up well for another season of planting!
What Pallets Are Unsafe to Use for Garden Beds
You want to steer clear of colored pallets. These pallets likely transported chemicals and would be deemed unsafe for garden beds
Any pallet with a treatment code of MB. This stands for Methyl Bromide which is a fungicide used to kill off any fungus in the wood. This is toxic and unsafe for garden beds. Dispose of these pallets safely.
Plywood pallet collars are not recommended for garden beds. They're filled with harmful chemicals and they shouldn't be exposed to a lot of moisture or left outside.
Metal Raised Garden Beds
Why am I not recommending metal garden beds? My main reason is just don't bother. There are metal options out there including aluminum, galvanized steel, and stainless steel. You can google each to your hearts content and you'll find many articles and websites stating each one is safe, and the best choice! In the end you have to decide for yourself and know exactly what you're getting.
Galvanized Steel
It's zinc coated. Many resources will talk about how it takes a lot of acidity to wear down the finish in order to expose and release zinc into the soil or the air. However, with a raised garden bed, you have a lot of wear and tear happening with the sun, dirt, water, and can you really be sure there isn't break down happening?
You have to make sure you have proper drainage so there isn't water constantly sitting against the metal. I'm not sure about you, but with my raised garden bed it's just left in the dirt...releasing water as naturally as possible so I'm not controlling that factor. I say just don't mess with it!
Cadmium and Mercury can be found in galvanized steel. Again, those metals might be contained and not exposed to your edible plants, but can you really tell when it's safe and when it becomes unsafe? Or is it just not worth the risk?
Aluminum
It's aluminum...so not it's not the best choice. You can read over and over how small doses aren't harmful but, the fact is that many people are exposed to tiny amounts of aluminum over the course of a day, and that adds up to a large dose over time.
Aluminum can affect your overall health in many negative ways, particularly when exposed to high heat. if you have an outdoor garden bed that's constantly being pelted by the sun, I wouldn't say it's safe to be growing edible plants in it.
Stainless Steel
I'm a big fan of stainless steel. If you've read any other posts on my website you'll see that stainless steel is the main metal in my kitchen.
The biggest issue with stainless steel I would say is accessibility. If you can find a stainless steel garden bed, it's likely not cheap.
Am I against stainless steel garden beds? Not necessarily, but they seem a little excessive compared to the basic wood pallet collars.
Best Places to Find Pallet Collars
Most home improvement stores will sell pallet collars for gardening. If you're in the U.S., Home Depot and Lowes are popular choices. This is usually a pricier option.
Visit your local farm or garden store. If you don't see them, ask!
Check out a classified advertisement website for your area, or classified ads in your local newspaper. Many people build them and sell them. Be sure to ask how the wood was treated and what type of wood is used, and if they know what the pallets were originally used to transport.
Call around to your local monument companies. They often have large amounts of pallets for transporting and storing stone. It's a safe product and they typically have to use very sturdy wood.
Do a search for pallet companies in your area.
Similar Posts