Natural deodorants rated for their effectiveness, clean and safe ingredients, and ease of application.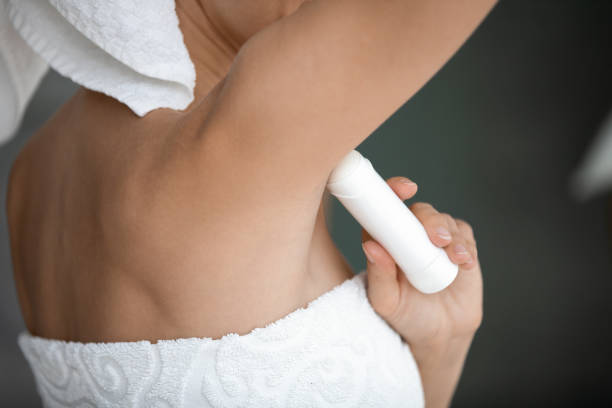 (This page contains affiliated links)
I switched to aluminum free deodorants many years ago. Over time, I started to get pickier with looking for, not only aluminum free choices, but deodorants that were free of parabens and sulfates, and other harmful ingredients.
My main issue with switching over to these cleaner deodorants was the change in price! It was amazing to me how expensive they can get, especially after paying less than $5 per stick prior to that. Luckily, we live near a discount grocer that has allowed to me to try numerous organic, vegan, breastfeeding-safe deodorants at a fraction of their retail price.
Particularly while pregnant and breastfeeding, I had major changes in my hormones that affected what deodorants were effective. I found that a lot of scents mixed with my body odor in the worst of ways. And many just weren't strong enough, even with re-applying them throughout the day.
I have compiled my recommendations below for safe, effective deodorants that have worked well for me.
Natural Deodorant Tips
When it comes to switching to natural deodorant (much like other natural products), it may take a short time for your body to adjust. Give it a little time, especially if you're trying one of the great products below.
Store them in a cool area because overall, natural deodorants will soften easily which is often not-preferred. Just know that's because the ingredients are NATURAL and it's just how it goes when you're avoiding added chemicals. Many natural deodorants will say to not keep them too cool or they'll harden too much, but you can always try putting them in the fridge to store if yours is always getting too soft!
A strategy that has been most effective for me is to alternate between 2-3 different brands. I find that if I find a deodorant that works well, but I stick with it for a long time, my body starts changing and switching it up for a bit helps!
Please note that aside from my Amazon affiliation, I do not get paid to promote any of these products and and these recommendations are based solely on my personal testing (lots of it) and experience.
1. Acure Deodorant
Acure uses only Organic and Natural Ingredients. Their deodorants are also vegan, cruelty free, and free of: parabens, aluminum, sulfates, mineral oils, petrolatum, formaldehyde, propylene glycol.
If you're searching on Amazon you'll want to type in the exact scent to be able to find it: such as Acure deodorant lavender coconut. This happens to be a great scent and smells of 100% natural lavender! I personally prefer their Fragrance Free Deodorant which, along with other scents, can be found on their website, Amazon, many natural grocery stores, and Kroger stores.
Pros: Glides on smooth, long lasting, great for strong body odor and those with hormonal imbalance.
Cons: You can't buy all scents on Amazon and trickier to find in all stores. Keep in a cool room temperature area because it does soften easily.
Price: Averaging $6-$9. $8.99 on Amazon
2. Schmidt's Aluminum Free Natural Deodorant for Men and Women
Schmidt's is Certified Natural, Vegan, and Cruelty Free. Their deodorants are free of: aluminum, parabens, phthalates, propylene glycol, and artificial fragrances.
Pros: Long lasting, glides on smooth, great scents and they're not overpowering (at least that I've tried)
Cons: Leaves slight residue on clothing. Leave in a cool, room temperature area or it will soften easily.
Price: Ranging from $7- $11 $9.19 on Amazon
3. Earth Mama
Earth Mama uses all natural and organic ingredients. All their deodorants are free of any parabens, phthalates, sulfates, aluminum. They contain ingredients such as bees wax, arrowroot powder, coconut oil, and baking soda. Because of this, their deodorant is a little more delicate and needs to be kept cool. If left in a warm room it will soften and glides on kind of like a lotion (not a deal breaker for me because it worked SO well).
Pros: Read above. Safe for pregnant and breastfeeding mamas, great scents, long lasting
Cons: Needs to be kept at a cool room temperature or it softens
Price: Average $11 $10.99 on Amazon
4. Native
Native deodorants are Vegan, Gluten Free, Cruelty Free, Contain Probiotics, and use Naturally Derived Ingredients. They are free of: phthalates, talc, aluminum, and parabens.
Pros: glides on smooth, effective, long lasting during the day, widely available
Cons: Scents are strong and not always pleasant.
Price: Averaging $11-$12 $11.97 on Amazon
5. Tom's of Maine
Tom's of Maine deodorants are aluminum free. They tend to be lower cost compared to other natural deodorants and they can be widely found. While the unscented option is great for something neutral, the Apricot scent is also a good choice and it isn't overwhelming. My husband uses both the unscented and apricot and it works well for men and women.
Pros: Glides on easily, scents are overall nice and not overwhelming, lower price
Cons: Depending on your level of sweating and body odor you might need to reapply throughout the day, ingredients not as clean as some listed above.
Price: Averaging $4-$6 $11.89 on Amazon (pack of 2)
More Natural Body Care
Homemade Soap and Shampoo
Homemade All Purpose Cleaner
Dishwasher Machine Soap