Oven roasted pork shoulder that literally melts off the bone with an oak smoked flaked sea salt crackling that will leave you wanting more!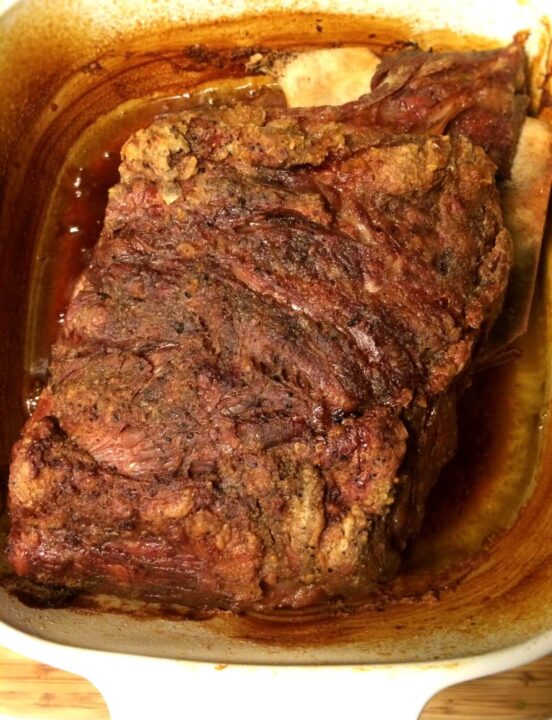 (This page contains affiliated links)
Pork shoulder can make for the most incredibly tender pulled pork! There are so many different ways to prepare a pork shoulder roast, but let's stick with simple, yet delicious.
We were gifted a bag of Halen Mon Oak Smoked Flaked Sea Salt by my sister-in-law in Europe a while ago now and we hadn't gotten around to using it. But then my husband picked up a 10 lb. pork shoulder roast on sale and we were both super eager to try it, especially after opening the bag of salt and smelling it. I mean reaaaaally smelling it- all three of us took a few minutes just savoring it before I got to cooking.
The result? Crackling like you've never tasted before and a pulled pork that's juicy and just melts off the bone.
Literally, this is the bone immediately after roasting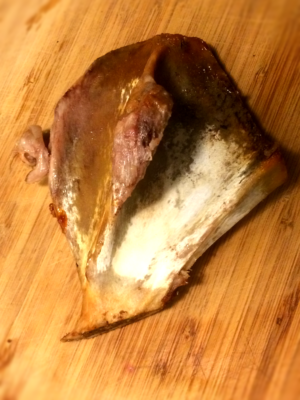 The flavor of this pulled pork is absolutely incredible, and you only use 2 seasonings! Let me explain what I mean by incredible, because that doesn't really do this pork justice. I do most of my baking at night while the family is sleeping. When this pork was done I had to shred it to store it in the fridge...which means I had to try it, of course. I was making "nom nom nom" sounds that I thought might wake everyone up and on multiple occasions I thought about waking my husband up to feed him some in bed.
Every bit of this recipe is something special. The salt is unique, at least in our household, and something we'll definitely try to buy again. My goals with this pork were to have a crispy exterior, juicy center with lots of juice left over, loads of great flavor, and a somewhat short roasting time. I checked every box and was so insanely happy with the result. It's sometimes hard to get that crispy skin and exterior on meat, especially when you're cooking it in the oven in a roasting pan with a lid on.
The crackling will indeed be salty. I decided to use a whole ¼ cup of flaked salt. Yes, that's a lot but once shredded it evens out. But, you can always decrease the amount of flaked salt even to half if you want lower sodium! Just make sure to spread it evenly over the whole roast.
Don't skimp out on the weight of your shoulder roast. When roasting meat I always recommend going big because it's so easy to freeze leftover pulled pork in smaller portions and pull it out to create new dishes later on. Although this recipe is extremely flavorful, it's still simple enough that you can pair it with a barbecue sauce of your choice, use it in tacos, burritos, enchiladas, quesadillas, pasta salad, sandwiches, or anything else you can dream up!
More Related Recipes
If you enjoyed this recipe and you're looking for more like it, try one of my other similar and delicious recipes: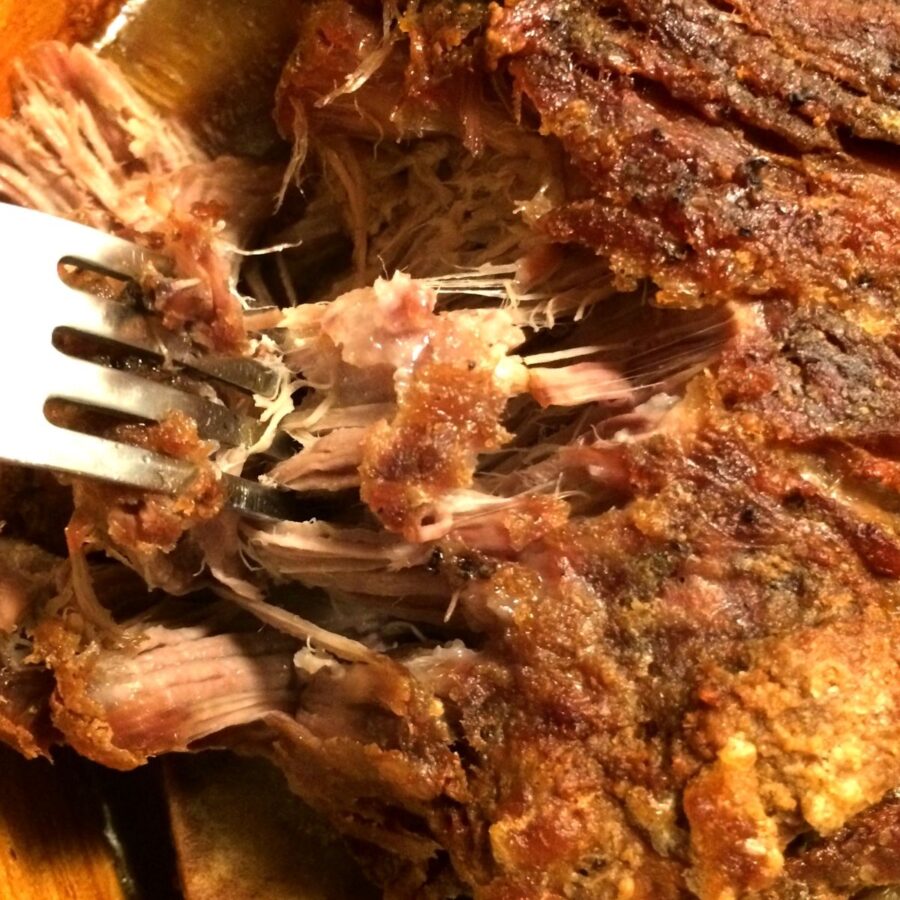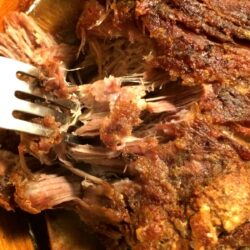 Pork Shoulder Roast with Crackling
Oven roasted pork shoulder that literally melts off the bone with a oak smoked flaked sea salt crackling that will leave you wanting more!
Ingredients
10

lb

bone in pork shoulder or rump roast

2

tablespoon

olive oil

¼

cup

flaked sea salt smoked over oak

(recommended brand below in instructions)

freshly ground black pepper
Instructions
Rub entire roast with olive oil. Use your fingers to coat with Halen Mon oak smoked flaked sea salt and sprinkle with freshly ground black pepper. Place into a Dutch oven/ large heavy bottom baking dish (I use a 5 qt. Corning Ware Casserole Dish). You want a dish with high walls and not a cake pan or cookie sheet.

Roast at 450°F for 20 minutes lid off.

Decrease temp to 375°F and continue roasting for 4 hours with a lid on or the internal temp reaches about 180°F. I use my all-glass CorningWare lid. If you're going to use tin foil or a dark lid you may want to remove it for the last 10 minutes and kick up the temp or even broil for a bit to get a darker color.

Let roast rest for at least 5 minutes before cutting into meat. You can attempt to slice it but it should pull away incredibly easily as pulled pork.

Enjoy this roast with potatoes, any style, and a steamed veggie.

This is so versatile you can use the meat for sandwiches, quesadillas, burritos/tacos, or use with any preferred bbq sauce!