Beef, broccoli, and cabbage come together to make a great stir fry! This is an easy weeknight meal and you can make it even quicker by using leftover rice!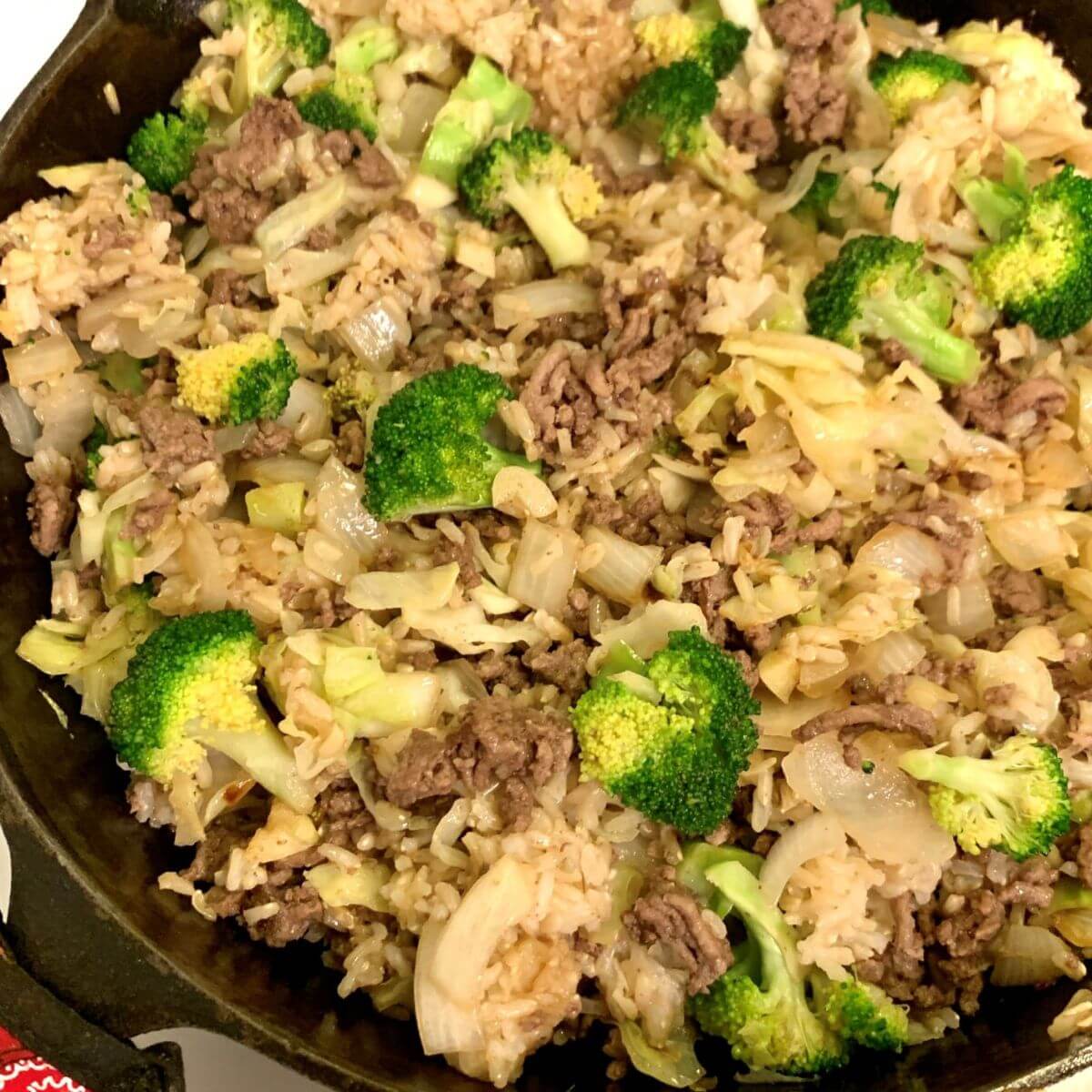 (This page contains affiliated links)
Growing up, we ate stir fry a lot! When I was older I asked my parents why that was one of our staples and their answer was simple- it was low cost, quick, and used up ingredients in the fridge.
I never minded having stir fry frequently, and now I appreciate it even more as I make nightly dinners for my own family. This beef, broccoli, and cabbage stir fry has a pop of color, great textures, and simple, yet just-right flavors.
While this stir fry is a humble meal, it's perfect for a busy weeknight, and friendly for those looking for a meal that's gluten-free, kid-friendly, low cost, with the option to be low-sodium.
Ingredients
Brown Rice- Of course you can use any preferred rice, we just typically use brown or jasmine rice.
Ground Beef- I usually aim for a lean ground beef. You can easily substitute ground chicken/pork/sausage.
Broccoli- I don't mess around with no-waste. I use the florets as well as the stalk. If you use the stalk, just peel it to remove the woody outer layer. As far as texture and color go, it does work better with more florets than stalks, but when you're budgeting family dinner...use all that you're given!
Cabbage- I use green cabbage but you could also use purple. I don't want to chance the purple cabbage dying my other vegetables, so I just stick with green. If you're like me and like to make sure that the cabbage is still nice and crunchy, don't overcook it!
Onion- To stick with the mellow-colored theme in this dish, I just use yellow/sweet/brown onions. They're often the cheapest so that's what I have on hand. Of course you can use a red onion, which would add a pop of color.
Garlic- Because this is dinner and not dessert, it of course has garlic in it! Garlic is extremely healthy and I add it to any meal I can! Check out my post on the best way to peel and prepare garlic!
Liquid Aminos- We just prefer using this to using soy sauce. Liquid aminos is a gluten-free option whereas not all soy sauces are gluten-free! You can also use coconut aminos, or just soy sauce if you wish!
Sea Salt and Black Pepper- I do a light seasoning of each on my ground beef while it cooks. Remember you're adding liquid aminos later to the dish, so don't over-do the salt! These seasoning are simply to add a bit of flavor so you don't have that plain "beef" flavor when you bite into a chunk. But instead, the flavors blend more seamlessly together.
Olive Oil- Option to replace with another healthy oil that tolerates high heat. You need just enough to lightly spray the pan for the meat, and a little for sautéing the vegetables. If you have a non-stick pan then you can dry-cook the meat and omit the oil.
Sesame Seed Oil- toasted, untoasted, it's your choice. Sesame oil isn't intended to be used with high heat so don't use it to sauté your meat and veggies. It's intended to be added at the end of the dish to add flavor!
Garnishes- With any dish using these same flavors, I love to add crushed red pepper for heat. Since I have a kiddo in the house, the hot ingredients always get added as a garnish so everyone is happy! You can also had a tiny bit of sweetness by drizzling a tiny bit of maple syrup or honey on top. I mean a tiny bit...or they will quickly overtake all the flavors of the dish! You still want the saltiness to be at the forefront!
Making the Stir Fry
This is not technically stir-fried rice, just stir fry. I like to add the rice into the pan out of ease for serving, but you won't be frying up the rice. Because of that, it doesn't really matter if the rice has just been cooked, or if you have leftover rice in the fridge you toss in cold.
I recommend parboiling your rice, which I explain in my post on How to Remove Arsenic From Rice. Not only is this the healthiest way to make rice, it also yields fluffier rice!
I prefer to cook the ground beef first by itself. You can cook it at a higher heat and brown it nicely without building up too much juice. Remove it from the pan, but keep it covered to keep it moist! TIP: after removing the ground beef from its packaging, press it together in your hands so it's no longer loose little strings. Tear off chunks to add to the skillet or just flatten it out and chop with a spatula. This will give you better texture!
Then use the same pan to sauté the vegetables. You'll get some of that meat flavor mixed in with the vegetables which adds more flavor. The vegetables will have more moisture-which is why I don't cook the meat with them. Don't overcook the vegetables! You'll just get soft veggies and that's not as enjoyable. Pay attention to the cook time so you keep them nice and crisp.
Then just add the sesame oil, serve, and garnish to your liking.
This dish is meant to be simple, easy to adjust if you want more or less salt, and fairly quick to make!
Serving Your Kids
My daughter loves stir fry! Mainly because she can see exactly what's in the dish, and pick out one thing at a time. She's not a fan of anything covered in sauce or casseroles that include who-knows-what. And of course she's loves salty flavors, so this stir fry is a win.
I love serving her any stir fry with these kids chopsticks. They help her pay more attention to what she's eating and she thinks it's more fun.
If you have a kiddo who has to have their food separated, stir fry is a great choice. Once the rice is made, portion a little out for them. Same with the meat. Once the vegetables cook, quickly remove a little for your kiddo, and then continue on with mixing everything together for everyone else. You can then add whatever seasonings and flavors on you want for them.
If you like to keep meals low-sodium for your kids, you might enjoy the Liquid Aminos Spray bottles. We pour a little of the aminos into another container, then add water to the spray bottle to water it down. I feel better knowing my little one isn't pouring on loads of salt, and she loves being able to spray her own food!
Similar Recipes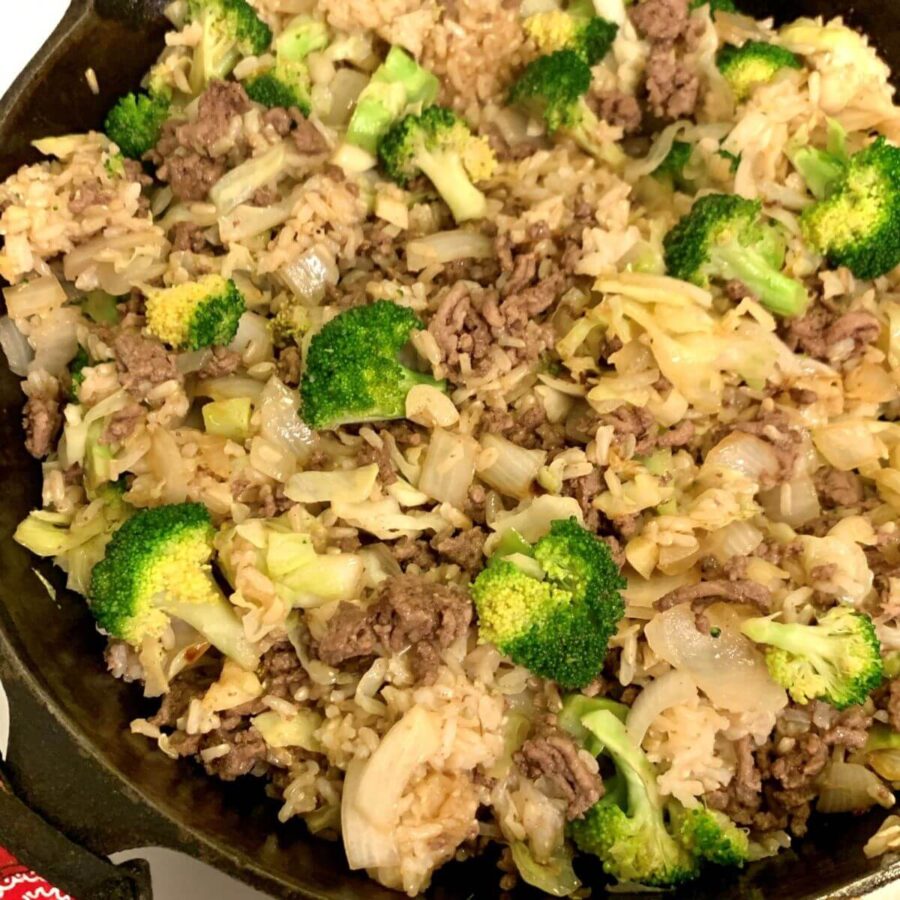 Beef Broccoli and Cabbage Stir Fry
Beef, broccoli, and cabbage come together to make a great stir fry! This is an easy weeknight meal and you can make it even quicker by using leftover rice!
Equipment
1 Extra large skillet

(cast iron recommended)
Ingredients
1 ¼

cups

uncooked rice

(brown or white- option to use previously cooked rice and add cold rice to the dish)

1 tablespoon + more to drizzle

olive oil to cook beef and sauté vegetables

1

lb.

lean ground beef

sea salt and freshly ground black pepper to season

4

cups

broccoli florets or diced stalks

2 ¼

cups

onion, diced

4-5

large

garlic cloves

3

cups

green cabbage

(slice ¼ inch thick then chop to 2-3 inches in length or dice)

1 ½

tablespoon

sesame seed oil

2

tablespoon

liquid aminos

(or soy sauce)
OPTIONAL GARNISHES
crushed red pepper

light drizzle of maple syrup or honey
Instructions
Prepare vegetables by cutting florets (half them if they're very large), dice the onions, smash/peel/chop the garlic, and slice then chop the cabbage. Add all to a large bowl and set aside until ready to use.

Drizzle olive oil in a large skillet and heat to medium-high heat.

Press ground beef with your hands to compress the meat before adding it to the skillet and break it apart with your fingers and chop with a spatula during cook. Season with sea salt and freshly ground black pepper to taste. Cook for about 8 minutes or until browned. Transfer meat into a bowl with all juices and cover to keep warm.

Return skillet to heat and add about 1 tablespoon olive oil. Add all prepared vegetables and sauté for about 5-6 minutes, scraping up any residue from the beef to help season the vegetables.

The rice should complete its cook roughly at the same time as the vegetables are done.

Add cooked meat and juices, along with 3 cups cooked rice, to the vegetable skillet. Add 1 ½ tablespoons sesame seed oil and 2 tablespoons liquid aminos/soy sauce.

Mix all together and let it all warm through for a few minutes.

Garnish with crushed red pepper and option tiny drizzle of maple syrup or honey to sweeten the slightest bit.