This Mediterranean Pizza Recipe makes for such a delicious dinner with fresh Mediterranean toppings, a variety of cheeses, and homemade dough and sauce!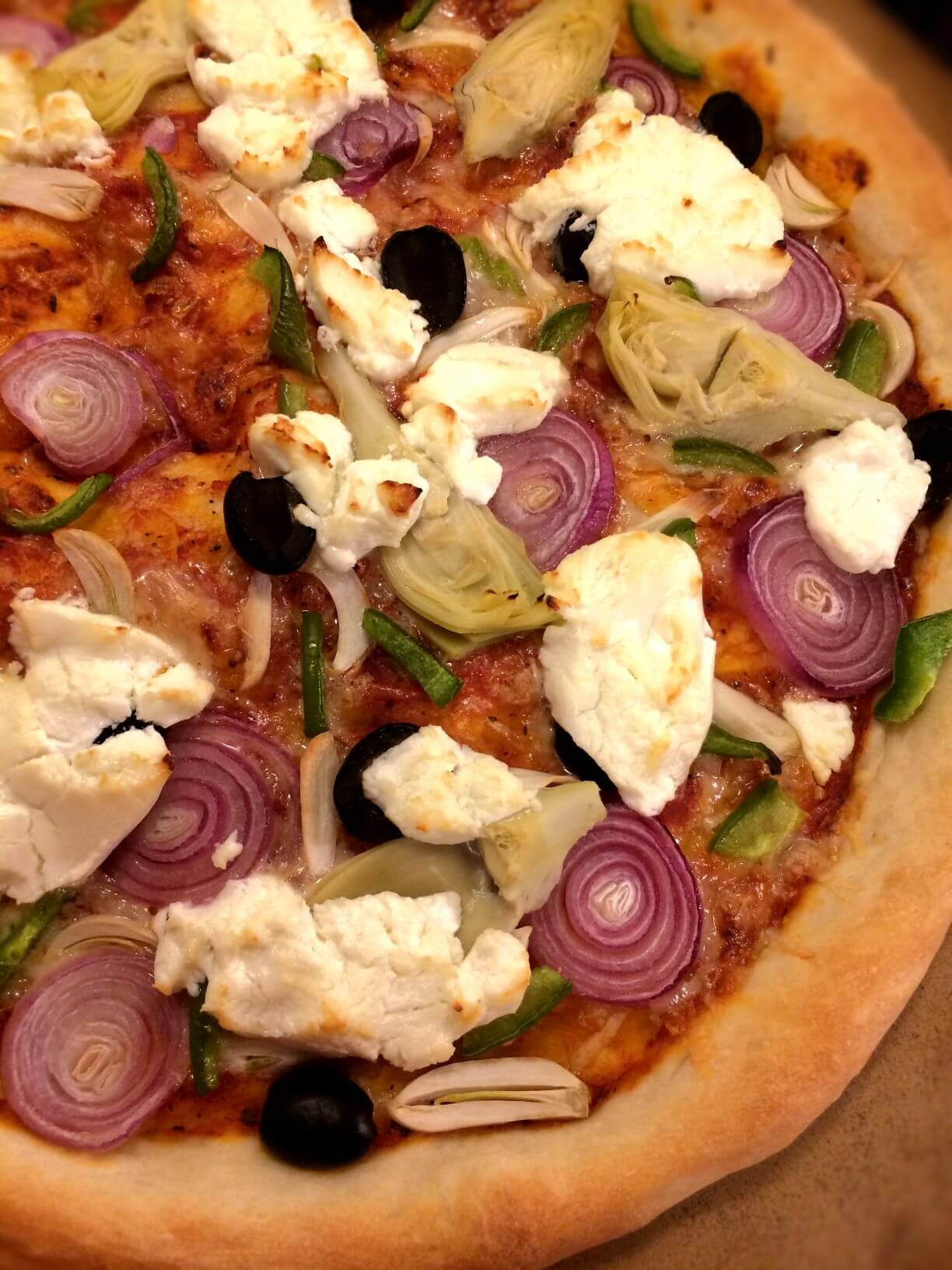 (This page contains affiliated links)
Pizza is one food I cannot get enough of, and I would eat it for every meal if it was available to me! This thin crust, Mediterranean pizza recipe gives a little twist to your basic pizza with fresh toppings and a mixture of cheeses. I use a half portion of my homemade pizza dough recipe and a homemade sauce for this recipe to create a unique pizza that's completely from scratch.
Ingredients for this Mediterranean Pizza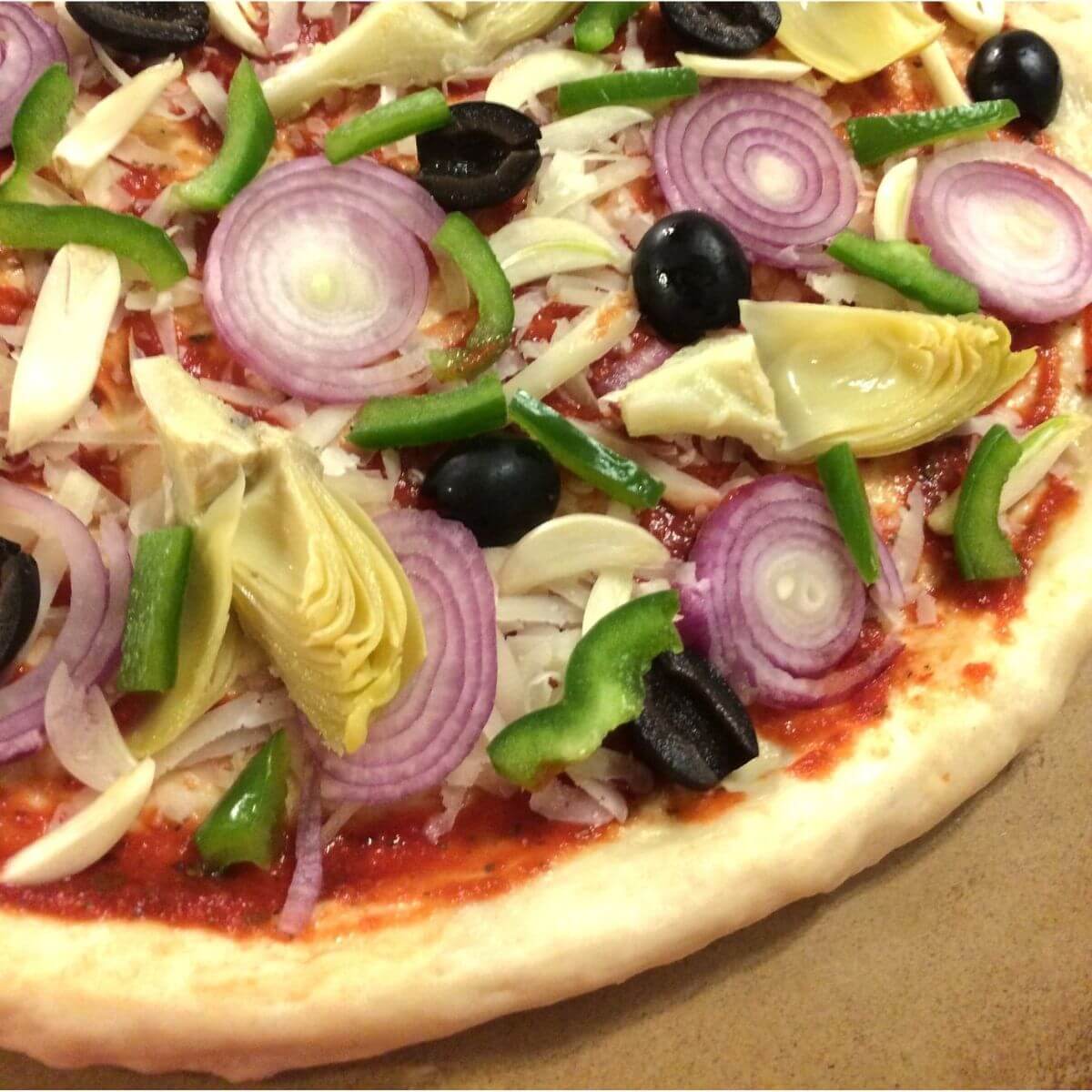 Homemade Pizza Dough with seasonings. Basic, easy to put together, and always best when homemade! Take a look at my pizza dough post for more in-depth details and tips for making homemade dough.
Homemade pizza sauce made with: tomato paste, water, sea salt, garlic granules/powder, and dried basil. This sauce pairs perfectly with the flavors of this pizza. You could always substitute with an alternative sauce that you have.
Cheese: I use a mixture of Grand Cru and Manchego cheeses on the base of the pizza, and goat cheese on top. You can switch up these cheeses and use a mozzarella on the base, but I would recommend sticking with the goat cheese for the top!
Vegetables: I like to use boiler onions, green bell pepper, black olives, artichoke hearts, and garlic cloves. Honestly, I was trying to find fun ways to use loads of boiler onions when first making this recipe and I love the look of them. But, you can always replace them with thinly sliced purple onions. You could use any color of bell pepper, but I prefer the green since it's not sweet. Garlic can be optional, although I always recommend garlic...on everything. Black olives and artichoke are both must haves, in my opinion. They add so much flavor and color so don't skip those!
Tips for Assembling the Pizza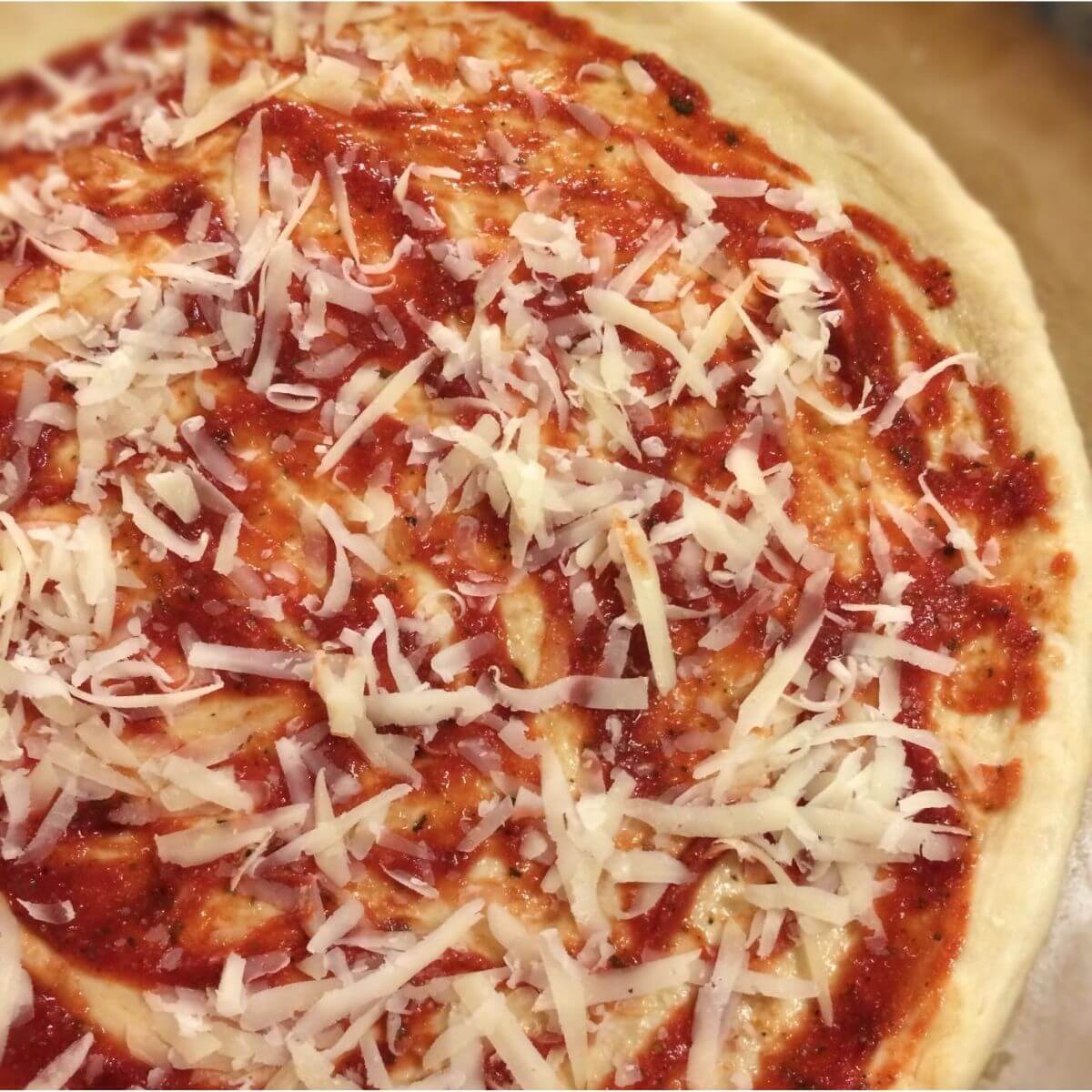 If you haven't been adding cheese to the base of your pizza, you should start now! For most of my pizzas I only add the cheese to the base. It helps the toppings stick so nicely. But, this pizza uses more than 1 type of cheese and you definitely want the goat cheese on the top, not the bottom.
If you're using my pizza sauce recipe then no need to question this, but if you're adding your own then only use about 2 ½ tablespoons of sauce for a 12 inch pizza. This ensures that the sauce won't leave the crust soggy but still adds plenty of flavor.
Don't layer on too many vegetables and thinly slice them. You want to make sure they're spread out enough to touch the cheese on the base of the pizza. This will help them stay in place and give you a nice mouthful every bite, without being too much.
High heat for baking makes a big difference. 500℉ works the best for a typical oven, and if you have a pizza oven that's even better, just decrease the cook time as needed.
Stretch the dough to a 12 inch round. If it keeps springing back and won't stretch out for you, just leave it alone for a minute and come back to it. I start by tossing my dough, then I work it out to its full size with my fingertips, trying hard to not knock out all the air.
Making this a Thick Crust Pizza
I used to always use my full, homemade pizza dough recipe to make a single, thick crust pizza. Then I realized that just by splitting the dough, I got an incredible thin crust and double the toppings! I still like to use my full pizza dough recipe for this Mediterranean Pizza and it yields 2 pizzas. For ease, I've made this recipe for 1 single, 12 inch pizza.
If you want a thick crust, just double the dough recipe and keep the remaining sauce and toppings as stated in the recipe card below. If you don't want to do the math, just pop on over to my pizza dough recipe.
For more great pizza ideas, you might also be interested in my From Scratch Veggie Pizza, Pepperoni Pizza Bread, and Pizza Pasta Salad with Homemade Italian Dressing.
If you make this recipe, please leave a comment and rating at the bottom of the page! This is helpful to me and other's visiting my page! If you want to stay updated on more great recipes you can follow me on Instagram, Facebook, Pinterest, or subscribe to my newsletter.
Mediterranean Pizza Recipe
This Mediterranean Pizza Recipe makes for such a delicious dinner with fresh Mediterranean toppings, a variety of cheeses, and homemade dough and sauce!
Ingredients
½

cups

warm water

½

teaspoon

yeast

1

pinch

sugar

(optional to help activate the yeast)

1 ¼ cup + 2 tbsp

flour

⅛

teaspoon

sea salt

(option for more to your taste)

½

teaspoon

dried basil

½

teaspoon

dried oregano

¼

teaspoon

garlic granules

1

tablespoon

olive oil

(alternatives: almond, avocado)
FOR THE SAUCE
1 ½

tablespoon

tomato paste

(no added salt)

2

tablespoon

water

⅛

teaspoon

sea salt

¼

teaspoon

garlic granules/powder

¼

teaspoon

dried basil
FOR THE TOPPINGS
½

cup

Grand Cru and Manchego cheese

(grated)

¼ cup + 2 tbsp

red boiler onions

(sliced into thin rounds)

¼ cup + 2 tbsp

artichoke hearts, quartered

(canned whole artichoke or artichoke hearts)

2-3

tablespoon

garlic cloves

(slivered)

3

tablespoon

black olives

(halved longways)

2-3

tablespoon

green bell pepper

(thinly sliced)

goat cheese

(amount to taste)
Instructions
MAKE THE DOUGH
Combine the yeast with warm water (not hot). Let sit until it begins to activate (about 5-8 minutes). Adding a small pinch of sugar is optional at this point but not necessary. If you're using instant yeast you can add yeast and water directly into flour mixture.

Combine flour, sea salt, basil, oregano, and garlic granules in a large mixing bowl. Once yeast is activated, add it to the flour mixture along with olive oil and combine with a fork and your hands. Begin to knead the dough. If you're kneading for at least a minute and your dough is feeling too wet add 1 teaspoon of flour at a time. t's fine if the dough is a little sticky at this point, you can add flour after the rise. Cover dough with lid or cheese cloth and let sit on the counter until doubled in size (about 1 hour).
MAKE THE SAUCE
While the dough rises, combine all the ingredients for the sauce in a small bowl and set aside.
PREPARE THE TOPPING
Prepare all vegetables as stated in the "ingredients" above. You can really cut and slice them any way you prefer, just think thin slices.

Grate the cheese and set aside.
ASSEMBLING THE PIZZA
Preheat oven to 500°F.

Lightly sprinkle flour onto work surface and pour out risen dough. Use your preferred method for stretching out pizza dough to a 12 inch round or oval for a thin crust. Lightly sprinkle flour or spray olive oil onto your baking surface, then lay out the stretched dough.

Option to keep flat or raise the edge by using edge of 1 hand and pressing out dough into that hand with the other to form a lip.

Spread the sauce evenly over pizza dough. It should be about 2 ½ tablespoons of sauce for one pizza.

Sprinkle on the freshy grated cheese (grand cru + Manchego or other).

Spread out the prepared vegetables, making sure to not pile them too high.

Slice off ¼ inch thick slices of goat cheese, or just tear off chunks to scatter over the top of the pizza. Cover as much as you want but it does taste best when you don't overdo it.

Bake on the middle rack at 500°F for about 15-17 minutes.

Let cool for a minute before slicing into slices to serve.

Enjoy!