Learn my recipe and technique for making perfect pizza dough every time. Whether you're wanting thick or thin crust pizza, this recipe is the best! This consistently amazing pizza dough works for calzones, pizza, and breadsticks!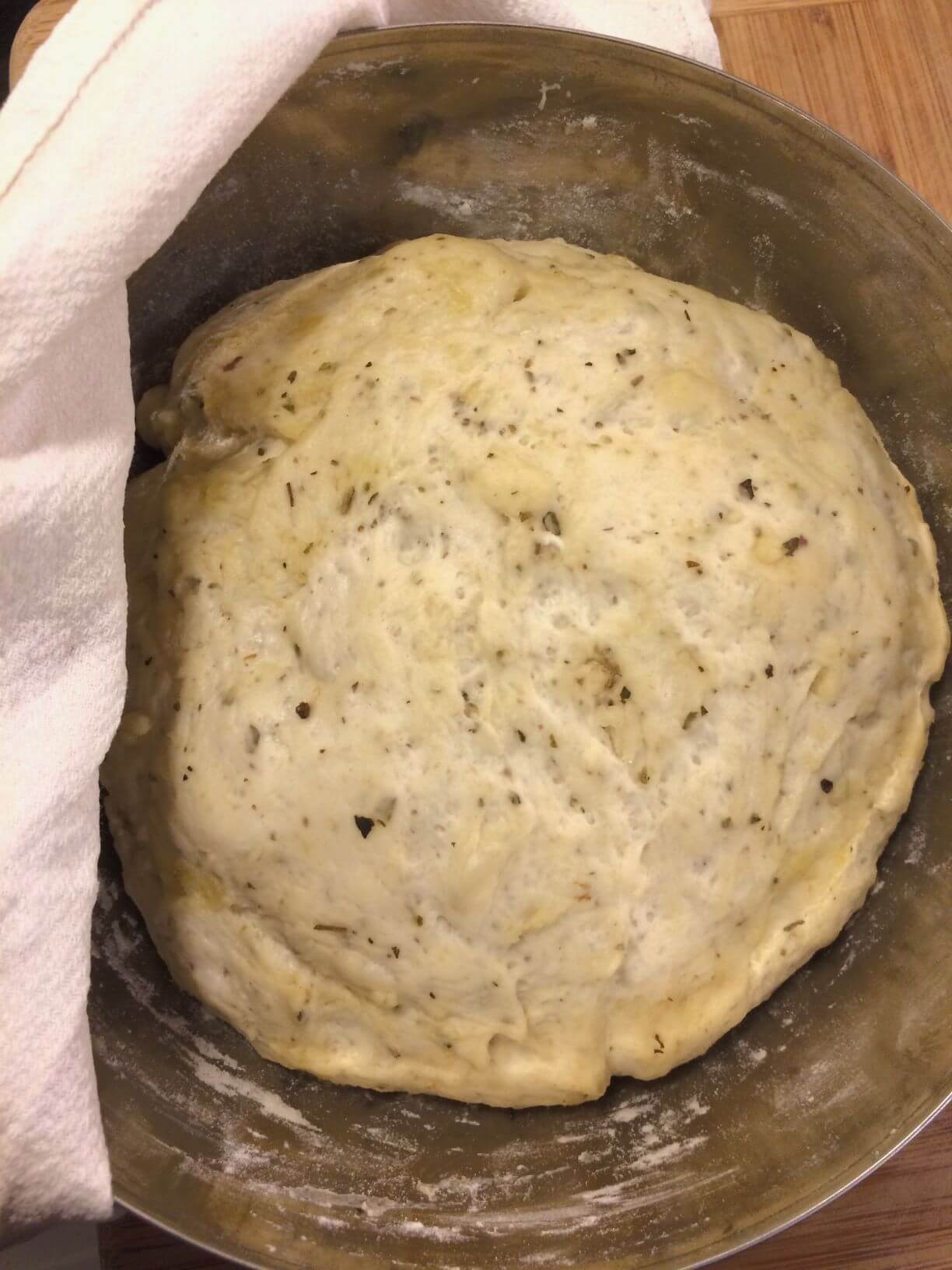 Homemade pizza is one of my absolute favorite foods to make, and even more enjoyable to eat! But, what's a great pizza without a great foundation? That would mean having a wonderful pizza dough recipe that has the flavor you want, the perfect crispness or fluffiness you're expecting, and a crust that holds all those wonderful toppings without getting soggy!
Let's get to it with what makes a great pizza dough!
Yeast for Pizza Dough
There are so many yeast options out there, so which one works best for homemade pizza dough? I don't use a "yeast for pizza dough" or "rapid rise yeast."
My favorite is Saf Instant Yeast. For one, I tend to use a lot of yeast so I can buy a larger portion through Amazon. It's an active dry yeast and doesn't require proofing (yet I still do). I keep a small jelly jar amount in my fridge at a time and the remainder stays in my freezer until needed. It's never let me down!
I choose to proof my yeast no matter what kind it is because I want to make sure it's still good! I remove it from the fridge a bit before using it so it's not super cold.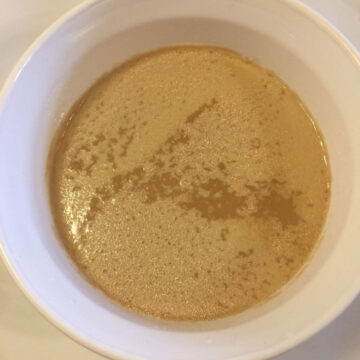 For warming the water to proof your yeast you have 2 options. You can either add warm water from your tap to a small bowl, then add the yeast, or you can heat your water stovetop. I always heat water in a small saucepan for a few minutes because the water will hold the heat better. But, once warmed, transfer the water to another bowl so it doesn't continue to get hotter.
TIP: It's okay to mix yeast and dough in a stainless steel bowl. It's been said to not mix yeast with a metal spoon or proof it in a metal bowl but stainless steel is okay because it's non-reactive. To be honest, I still don't use metal no matter what's "okay" to use. I just use a glass bowl and a chopstick!
You want to test the temperature of the water before adding the yeast. Don't get too caught up in using a thermometer. Just dip your finger in the water and it should be warm but not "ouch ouch my finger" hot. Especially when using active dry yeast, it doesn't actually need warm water to active and help the dough rise, it just needs time!
How Should My Pizza Dough Look and Feel?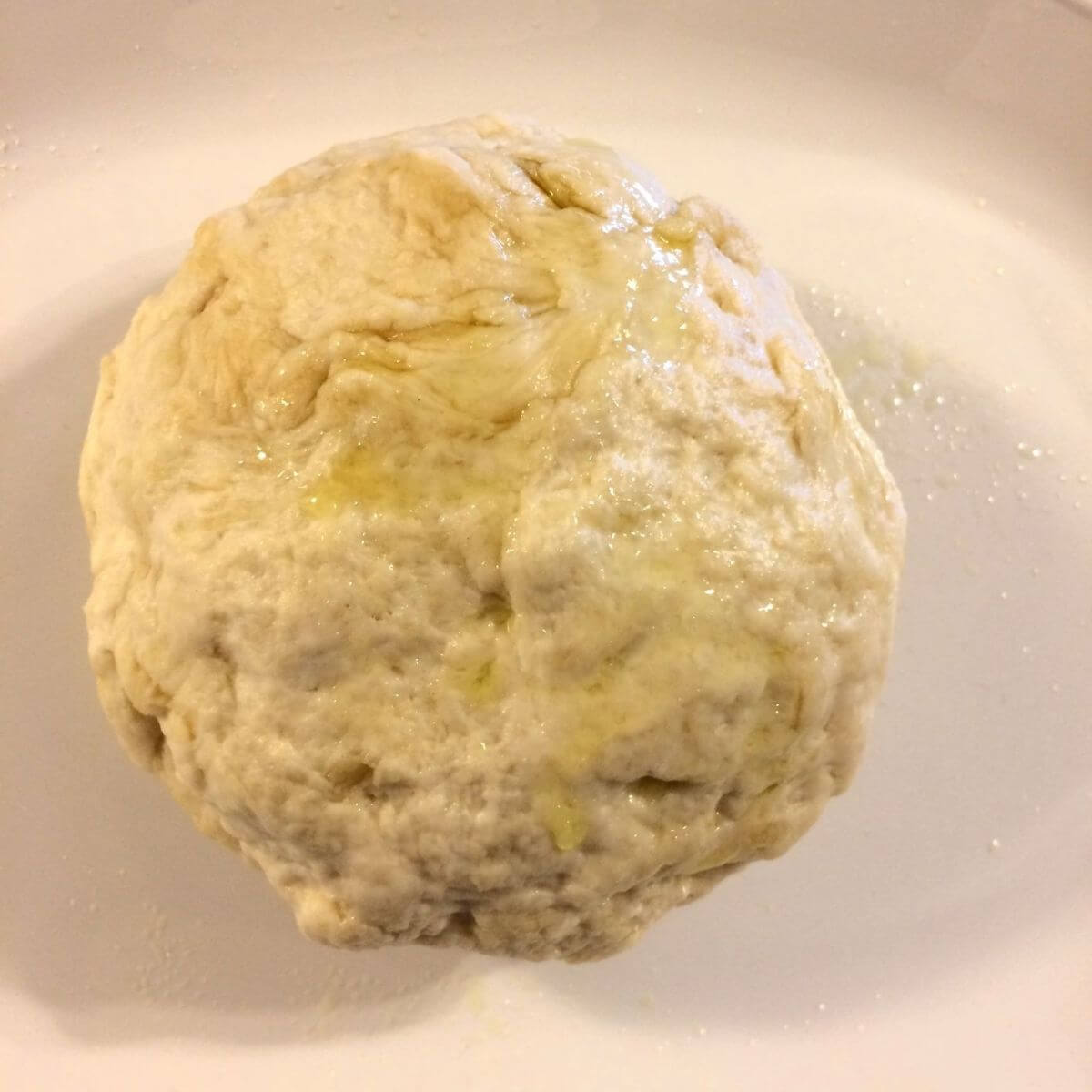 Once you've combined all dry ingredients for your dough you can add your proofed yeast+water and olive oil. I never use any equipment to make my dough. I use a fork or wooden spoon to start mixing then I go straight in with my hands. You want to knead the dough for at least a few minutes to stretch the gluten strands and make them stronger.
Let your dough be a bit sticky, you don't want to over-flour it!
Once you've kneaded the dough for a bit, either spray it with olive oil or drizzle a tiny bit over your dough ball and continue kneading for a minute. Flour will dry it out whereas the oil gives you a great texture and adds great moisture without making it stickier!
Letting the Dough Rise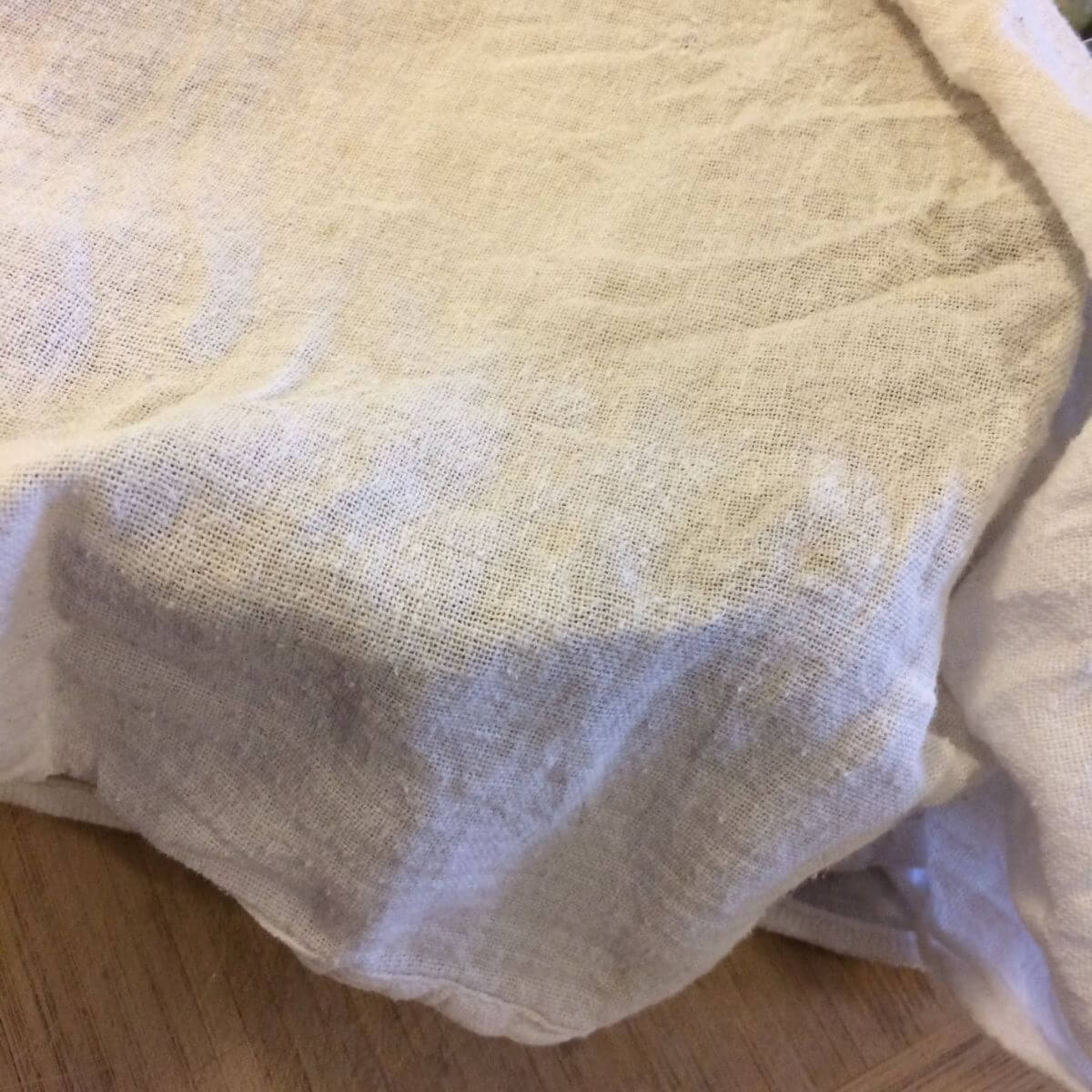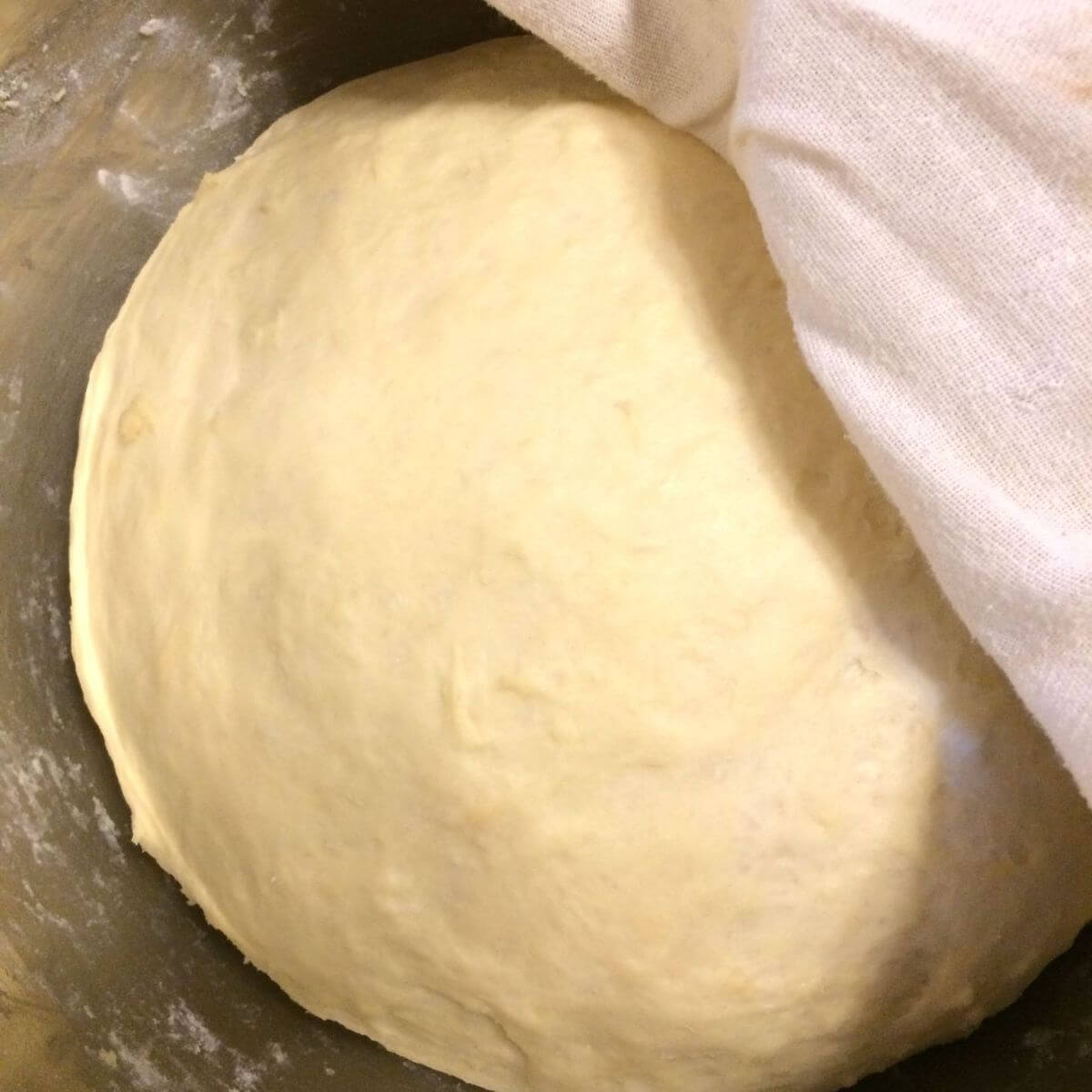 Find a large bowl for letting your dough rise because it will double in size. Use a tea towel to drape over your bowl. You don't want the dough to dry out! Honesty: I have used a 7 cup Pyrex bowl with lid to cover my rising dough. Once it reaches the top I just pop the top and let it keep going for a bit. But, it can easily dry out this way so you need to watch it!
If your dough isn't rising after 45 minutes, take note of how warm your environment is. If it's a little chilly then just give it more time. If your dough still looks super wet then try giving it a tiny bit more flour (even 1 tsp). Did you proof your yeast or could it possibly be old and ineffective?
Although not always recommended, you can preheat your oven to its lowest setting (typically around 170℉) just for a minute even-doesn't have to reach temperature, then turn off the oven and place your dough on the middle rack, covered to rise.
How to Stretch Out Your Dough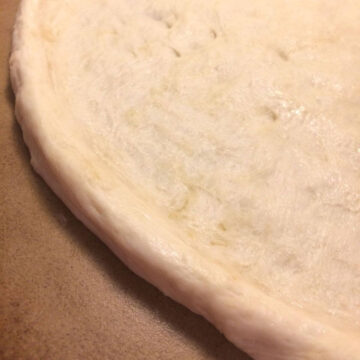 Hand Tossing
Let's face it, not every new pizza maker is cut out for tossing dough. It takes practice and patience, but it really is the best method. Spinning the dough by hand helps retain moisture while stretching the dough without losing gas. This helps create a fluffier and softer crust.
Stretching Dough with Fingers in the Air
If I'm just not up for hand tossing my dough, I'll sometimes rotate my dough without spinning it. I use a lateral pinch with both hands holding the dough and thumbs facing each other. A lateral pinch is when fingers are extended like when you're making your hand into a "duck bill," instead of fingertips touching.
You have to be gentle using this method, but you'll lightly grasp the dough with both hands and rotate it over and over while you let gravity pull it down. Pause now and then to check for super thin spots and gently stretch the round outwards with your fingers, then start again with rotating it. This method works great if you're making a thin crust because you don't need the dough to be as fluffy as with thick crust.
Press out Dough on Pan
Another easy method is to stretch out the dough using your knuckles and fingertips while the dough rests on your baking sheet. Make sure to sprinkle down your preferred ingredient first for cooking the pizza on.
Don't Use a Rolling Pin
This just isn't a recommended method. You press out so much air in the dough which will negatively affect the fluffiness and texture of your dough. You'll likely see the dough spring back a lot more and it will turn out a bit tougher and drier. I feel like it's just as easy to use your fingers and knuckles and you get a better result!
What's Supposed to go under the crust?
By this I mean what ingredient do you sprinkle on your pan before laying down the dough? If you're using a wood fire pizza, the answer is absolutely nothing! That's the most amazing method of baking a pizza and you need nothing but the fire.
If you're baking your pizza in an oven, get creative with what you add! You don't want something that has too much moisture, but have fun! Here are my main choices, but I'd love to hear if you have a favorite!
Cornmeal
Coconut Flour
All Purpose Flour
Oat Flour
Garbanzo Flour
Tips for Making Sure Your Crust Doesn't Get Soggy
Have you gone to a restaurant and bought a huge slice of pizza that just drapes down when you pick it up? That's likely because of its size, not because the crust is soggy. No one wants a soggy crust! Here are a few tips for creating a great slice of pizza:
Adding a flour-type ingredient under your crust to bake.
Option to lightly spray top of dough with olive oil before adding sauce.
Not adding too much sauce. Make sure your sauce has lots of flavor so you can keep it thin!
Sprinkle your cheese directly on the sauce.
Thinly slice your ingredients and don't overdo it on how the amount. You want them to lay nicely on the pizza and melt into the cheese.
If you're adding sliced meat like salami or pepperoni, place it under other ingredients or lightly sprinkle a little cheese on top so it doesn't burn.
Use high heat.
Oven Temperature and Time for Baking Pizza
Use the middle rack and bake at 500℉. this is the perfect temperature for getting your crust hot and crisp without burning your toppings.
For thick crust: bake for about 15 minutes.
For thin crust: bake for about 11-13 minutes.
Baking Pizza in Toaster Oven
Don't forget about the convection oven! When it's the middle of the summer, I absolutely don't use my oven (such a sad time for me). But there's no way we skip out on making pizza. Use a smaller baking sheet that fits in your oven and portion out your dough into smaller portions. For a thick crust you can just split your dough in half. Use even less dough for each pizza for thin crust (you can make about 3 pizzas).
Making your dough the night before
You can easily throw together a pizza dough and refrigerate it for a night or two before using it. Don't believe what you hear about your dough no longer rising while in the fridge. I have refrigerated my dough many times in a pyrex bowl with lid and it busts out of its seams. Just check in on it now and then and crack the lid to let out some gas. You can always punch it down more if needed.
Mix all ingredients as directed, knead the dough, then refrigerate. Leave the dough out at room temperature for a bit before use, covered with a tea towel!
Equipment Used
TeamFar Baking Sheet Set of 4 Stainless Steel (use the smaller ones for convection oven, larger for oven)
Pizza Stone
Pizza Cutter
SImilar Recipes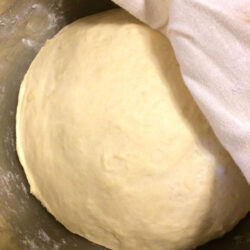 The Perfect Pizza Dough Recipe and Tips
Learn my recipe and technique for making perfect pizza dough every time. Whether you're wanting thick or thin crust pizza, this recipe is the best! This consistently amazing pizza dough works for calzones, pizza, and breadsticks!
Ingredients
1

cups

warm water

1

teaspoon

yeast

1

pinch

sugar

(optional to help activate the yeast)

2 ¾

cups

flour

¼

teaspoon

sea salt

(option for more to your taste)

1

teaspoon

dried basil

1

teaspoon

dried oregano

½

teaspoon

garlic granules

2

tablespoon

olive oil

(alternatives: almond, avocado)
Instructions
Combine the yeast with warm water (stick your finger in to cuticle depth and it shouldn't be hot at all, just warm). Let sit until it begins to activate (about 5-8 minutes). Adding a small pinch of sugar is optional at this point but not necessary (can help activate yeast quicker). If you're using instant yeast you can add yeast and water directly into flour mixture.

Combine flour, sea salt, basil, oregano, and garlic granules in a large mixing bowl.

Once yeast is activated add it to the flour mixture alog with olive oil and combine with a fork and your hands.

Begin to knead the dough. If you're kneading for at least a minute and your dough is feeling too wet add 1 teaspoon of flour at a time. Continue to knead for about 8 minutes. Cover with lid or cheese cloth and let sit on the counter until doubled in size (about 1 hour). It's fine if the dough is a little sticky at this point, you can add flour after the rise.

Thick Crust: Use all dough for 1 pizza.

Thin Crust: Split dough in half for 2 pizzas.

Lightly sprinkle flour onto work surface and dump out risen dough. Use your preferred method for stretching out pizza dough to a shape of your choosing. Round is great, oval and wonky shapes are also wonderful.

Lightly sprinkle flour or similar ingredient onto your baking surface, then lay out the stretched dough. Option to lightly spray dough with olive oil, the spread out thin layer of pizza sauce. Sprinkle cheese, then thinly sliced toppings.

Bake pizza at 500℉ for a typical pizza. Adjust temperature for calzones.

Thick Crust: Bake for 15 minutes.

Thin Crust: Bake 11-13 minutes.