You just can't go wrong with pizza and pasta combined! This refreshing cold pasta is quick and easy to make and tastes amazing with a homemade Italian dressing! Enjoy it as a main meal or side dish!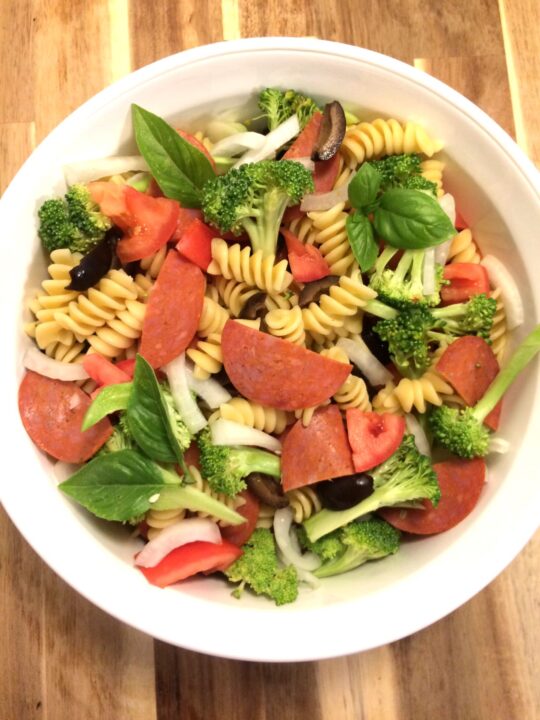 Pizza and pasta, two brilliant food choices! When you combine the two it just gets even better. During those hot days when you don't want to bake, let alone stand over a hot stove for any period of time, a cold pasta salad is just what you need.
This pizza pasta salad is packed full of fresh, healthy vegetables, flavorful and fun pepperoni, and a homemade Italian dressing that you'll be putting on everything once you try it!
And, this recipe is so easy to change up. Think favorite pizza toppings. Now just add that all to your favorite pasta noodles and pair it with a fun dressing! The options are endless.
Kid Friendly Meal
I was about to make pizza the other night when I just couldn't get myself to use the toaster oven (it was over 90℉ out). We had some pepperonis, which always makes for a quicker meal. I ended up just using the fresh ingredients I had in the fridge and it turned out so well! I initially intended to use green bell peppers in this recipe, but I only had a small little piece left in the fridge. I held my breath wondering if my toddler would eat all the fresh veggies in here and she just devoured them.
Side note if you have young kids. I know some of you have kids who will eat anything you put in front of them. High five to you, your kid is a rock star eater. For the remaining 90% of us out there, your child is particular about what they choose to eat in one way or another. My child loves to see exactly what she's eating, clearly laid out in front of her. That means that mixed textures and pastas are often iffy meals and sometimes I end up rinsing off a sauce or dressing so she can separate out all the ingredients and better see what she's eating.
This pasta recipe is so bright and colorful I think it'll catch any kid's eye. Nothing is hidden and it's easy to pick out what you want and leave the rest behind, or in my kiddo's case, pick out one thing at a time until it's all gone!
You choose whether to mix the dressing directly into the whole pasta or let each person add their own dressing. I've made this recipe with ¾ the amount of dressing, ½ the amount, and the full amount. I'll leave that to your discretion but it won't be overpowering to use it all!
Ingredients
Pasta: I love Rotini noodles for this recipe. You can also you Macaroni or Penne.
Pepperoni Slices: You can substitute salami, cubed or shredded chicken,
Black Olives: Of course you can substitute green or Kalamata olives. Black are a bit more mellow in this recipe and keep it simple.
Roma Tomatoes: Try a sundried tomato to cherry tomatoes too.
Broccoli: You could replace this with cauliflower.
Aged Gouda Cheese: We're a fan of harder cheeses in my house. Use what you have and what you love!
Parmesan Reggiano: So good, but again, you can change this out as you need.
Yellow Onion: Gives just a bit of spice while still being mellow. Trade it out for a purple onion for a little more spice!
Fresh Basil Leaves: Fresh just can't be beat! On their own they have can a bit of zip, but when incorporated into the whole salad they blend in nicely.
Homemade Italian Dressing
I love this dressing recipe! It includes ingredients I always have around and it's super quick and incredibly tasty.
I have made this recipe numerous times and I adjusted it every time because it just wasn't the right balance of oil and vinegar. I'm so happy with these portions and hopefully you love it too!
Olive Oil: You could also use an avocado oil. Be cautious of using an oil that will harden up when chilled, like a coconut oil because you might be disappointed.
Apple Cider Vinegar: Adds great zing and flavor with a tad bit of sweetness.
Oregano: I use dried, you could also try fresh, just decrease the portion.
Basil: I use dried oregano in the dressing for a great flavor. The texture would be a bit different if you tried chopped fresh basil.
Sea Salt: Add to your taste. The recipe calls for just enough to give it great flavor without overpowering it.
Lemon Juice: Such a great touch. Since the apple cider vinegar is sweeter, the lemon juice brightens it up a bit more.
Optional Red Pepper: A little spice is really great with this pasta. I love to blend up my red peppers to a fine powder so we're not chewing on hard flakes-just preference.
More Pasta Recipes
If you enjoyed this recipe and you're looking for more like it, try one of my other delicious pasta recipes:
More Pizza Recipes
If you're looking for more pizza related recipes take a look at these: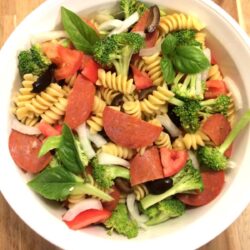 Pizza Pasta Salad with Homemade Italian Pasta
You just can't go wrong with pizza and pasta combined! This refreshing cold pasta is quick and easy to make and tastes amazing with a homemade Italian dressing! Enjoy it as a main meal or side dish!
Ingredients
For the Pasta Salad
3

cups

uncooked Rotini pasta

just over 8 oz. dried, equals 5 ½ cups cooked

1

cup

halved pepperoni slices

typical size, not large or mini

1

cup

olives

quartered longways

2

Roma tomatoes

diced

2 ¼

cup

broccoli

each small floret sliced in half longways

⅓

cup

aged Gouda

I use Rembrant, shredded or just break apart into small flakes

⅓

cup

Parmesan Reggiano

shredded or just break apart into small flakes

¾

cup

optional yellow onion

sliced thin

Garnish with fresh basil leaves
For the Italian Dressing
½

cup

olive oil

½

cup

apple cider vinegar

1

teaspoon

dried oregano

1

teaspoon

dried basil

½

teaspoon

sea salt

2

teaspoon

fresh squeezed lemon juice

Optional flaked or ground red pepper to taste
Instructions
Boil noodles for 8-10 minutes (you want to make sure not to overcook them). Once cooked, immediately rinse in cold water to stop the cook, drain, and set aside. While the noodles cook prepare the vegetables and dressing.

Rinse and prepare all vegetables by dicing/slicing as stated in ingredients. Combine vegetables and cooked noodles into a large mixing bowl.
Make the Italian Dressing
Add all ingredients to a mason jar or container with an airtight lid. Shake dressing until well combined. Don't try to just stir it, in order for ingredients to thoroughly combine you'll want to give it a good shake. Immediately add to the pasta (add amount to your discretion) and toss or keep separate to add dressing individually to each serving. Note that the dressing quickly settles so give it a shake before each use.

Garnish pasta salad with fresh basil leaves and shredded/flaked cheese.

Serve immediately or chill before serving.