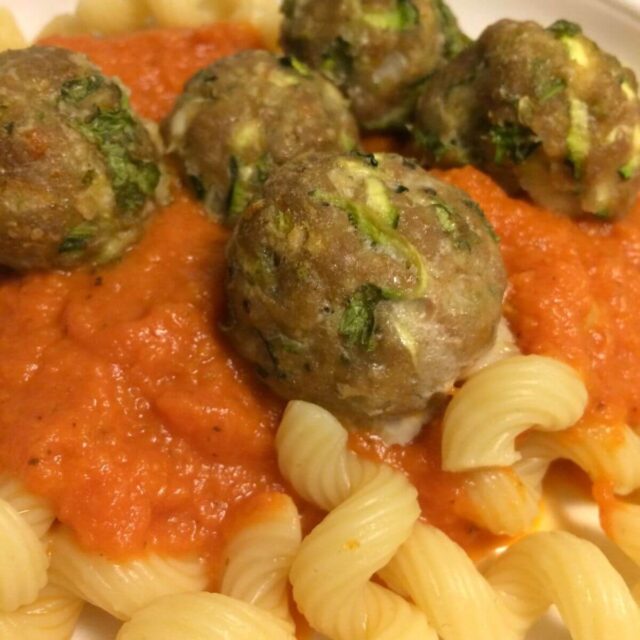 Why do meatballs make such a great meal? Because you can add them to many different recipes, enjoy them alone with an amazing sauce, or without as a finger food. If done well, you can really use any meat or protein to create unique meatball dishes. For this recipe, I've combined Cellentani noodles, my homemade turkey meatballs, and my homemade marinara sauce. Together it makes an incredible pasta!
This is a dish that my whole family enjoys and it's really quite simple, making it even more enjoyable.
Ingredients
Marinara Sauce: I use my homemade Marinara Sauce for this recipe. You get the perfect mix of sweet, savory, and bright flavors using these ingredients:
Crushed tomatoes, onion, garlic cloves, dried oregano, dried basil, splash of water, sea salt, olive oil, and crushed black pepper. I doubled my original recipes to make about 6 servings of sauce for this recipe (about 7 meatballs per serving).
Of course you can use store bought if you need something even quicker. But, if you have just a few minutes to chop up some garlic and onion, open a can, and toss in some spices, it'll be worth it to make this homemade, I promise!
I recommend making a big batch and just freeze whatever is leftover immediately and then you're set for the next time you need a marinara sauce (probably later in the week because you'll crave it again soon)!
Noodles: I love noodles with texture that hold the sauce well. Cellentani (cavatappi) and fusilli make great options. The texture of the noodles go well with meatballs, and it makes for an easy finger food for my toddler. You can use any noodle!
Making the Meatballs
I don't prefer large meatballs in this recipe so I use 1 tablespoon to measure out each ball. Make them as big as you want by doubling or tripling the portions and adjust the serving size accordingly.
Baking Option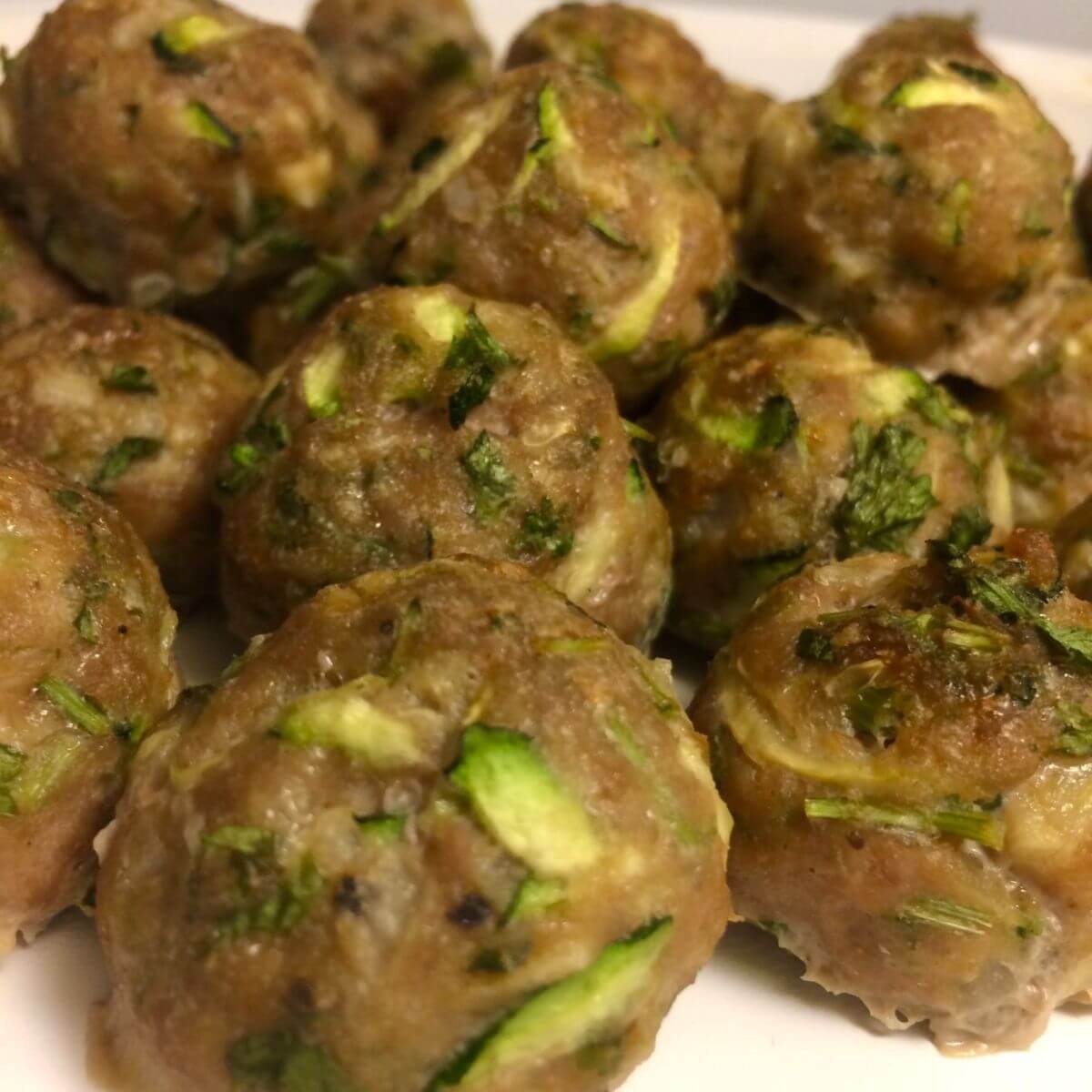 Pan Fry Option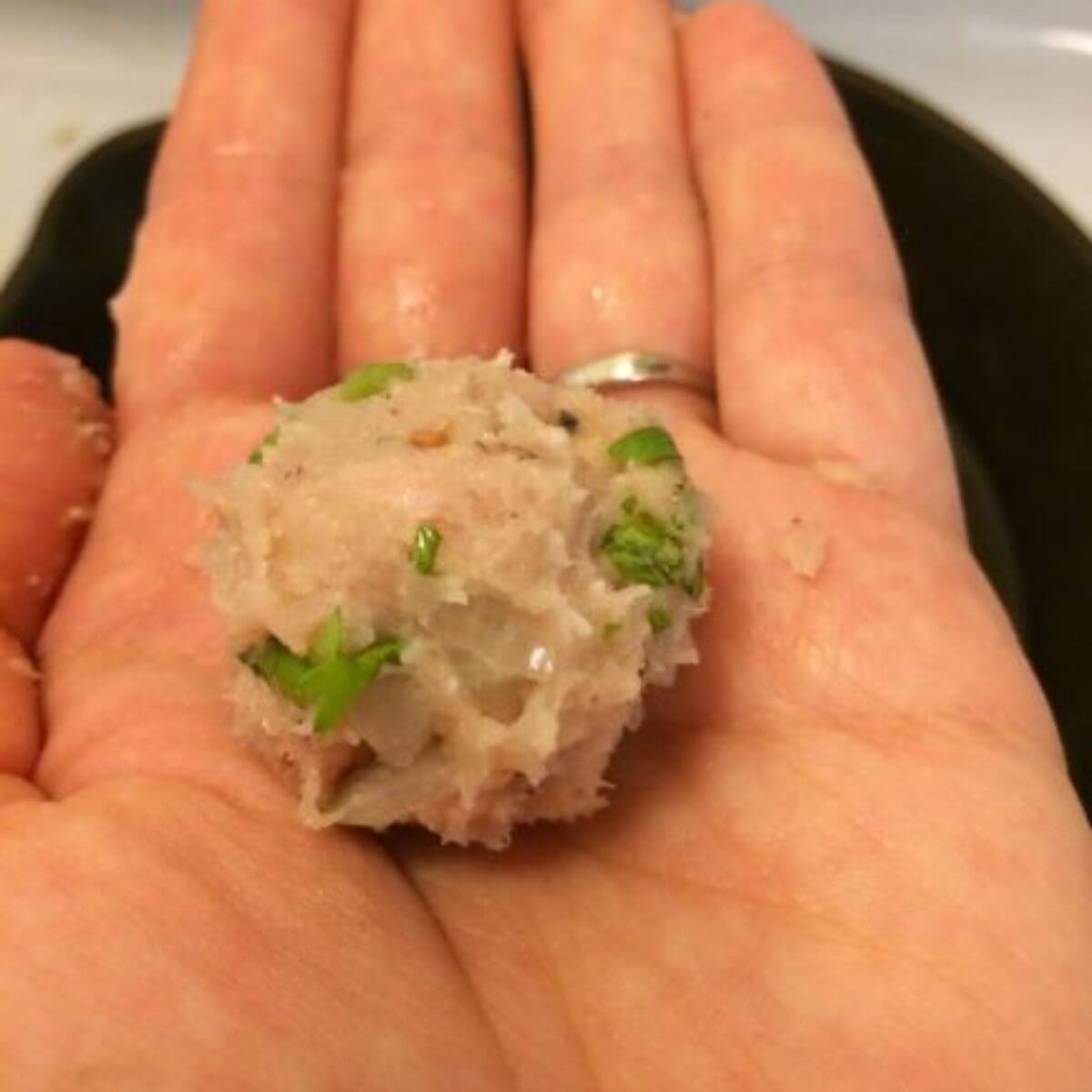 Yields: about 45 meatballs.
More Recipes with Ground Turkey
Cellentani with Turkey Meatballs in Marinara Sauce
With the perfect blend of sweet marinara and flavor-packed meatballs this pasta dish will be a new stable in your home, guaranteed!
Ingredients
16

oz

uncooked Cellentani noodles

1 box or about 6 cups uncooked noodles-option to use any noodle
For the Marinara
¼

cups

olive oil

6

tablespoon

minced garlic

3

cups

diced yellow onion

29

oz

can crushed tomatoes, no salt added

(2 - 14.5 oz. cans)

1 ½

teaspoon

dried basil

1

teaspoon

dried oregano

2

tablespoon

water

¼

teaspoon

sea salt

fresh ground pepper to taste
For the Meatballs
1 ½

lbs

ground turkey

1 ½

tablespoon

quinoa flour

(I grind raw quinoa to make my own)

¾

cups

shredded parmesan cheese

¾

cups

minced parsley

(or cilantro)

¾

cups

minced yellow onion

3

tablespoon

minced garlic

¾

teaspoon

sea salt

1 ¼

cups

shredded zucchini

(squeeze out excess liquid)

¾

teaspoon

paprika

½

teaspoon

garlic granules

freshly ground black pepper
Instructions
Make the Meatballs
Shred zucchini and squeeze out excess liquid. In a medium bowl, combine zucchini with ground turkey. Add remaining meatball ingredients and mix well using a fork or your hands. Don't overmix.

Let mixture sit to allow the quinoa to absorb moisture. If possible leave overnight but if not then just let sit as long as possible. If quinoa flour is very fine then you don't need to wait long (5 minutes).

Roll mixture into small rounds. I use 1 tablespoon scoop per ball but you can make them bigger, it will just decrease the overall amount.

Start cooking noodles (until al dente).
Baked Meatballs Option
Spray meatballs lightly with olive oil and bake at 400℉ for 30 minutes on middle rack.
Pan Fry Option
Add 1 tbsp. olive oil to a large pan. On low-medium heat place meatballs. Cook for approximately 3 minutes covered and then decrease heat slightly.

After approximately 6 minutes of cooking roll/flip balls with a spoon. After another few minutes decrease heat to Lo and cook covered for another 4-5 minutes until lightly browned.
Make Homemade Marinara Sauce
Heat a large skillet to medium heat and add 2 tbsp. olive oil. Sauté onion and garlic until translucent (about 5 minutes).

Add spices, canned crushed tomatoes, and water and bring to low simmer. Decrease temperature to Lo for about 10 minutes.

Turn off heat and let sit. Once cooled slightly, Using blender or immersion blender to blend all ingredients until smooth to your liking.

Choose to combine noodles, marinara, and meatballs together to serve or pour marinara over noodles and top with meatballs.