This pork pasta is light in ingredients and flavor. It's super easy to make, healthy, and so easy to adjust with adding different ingredients, flavors, and spice!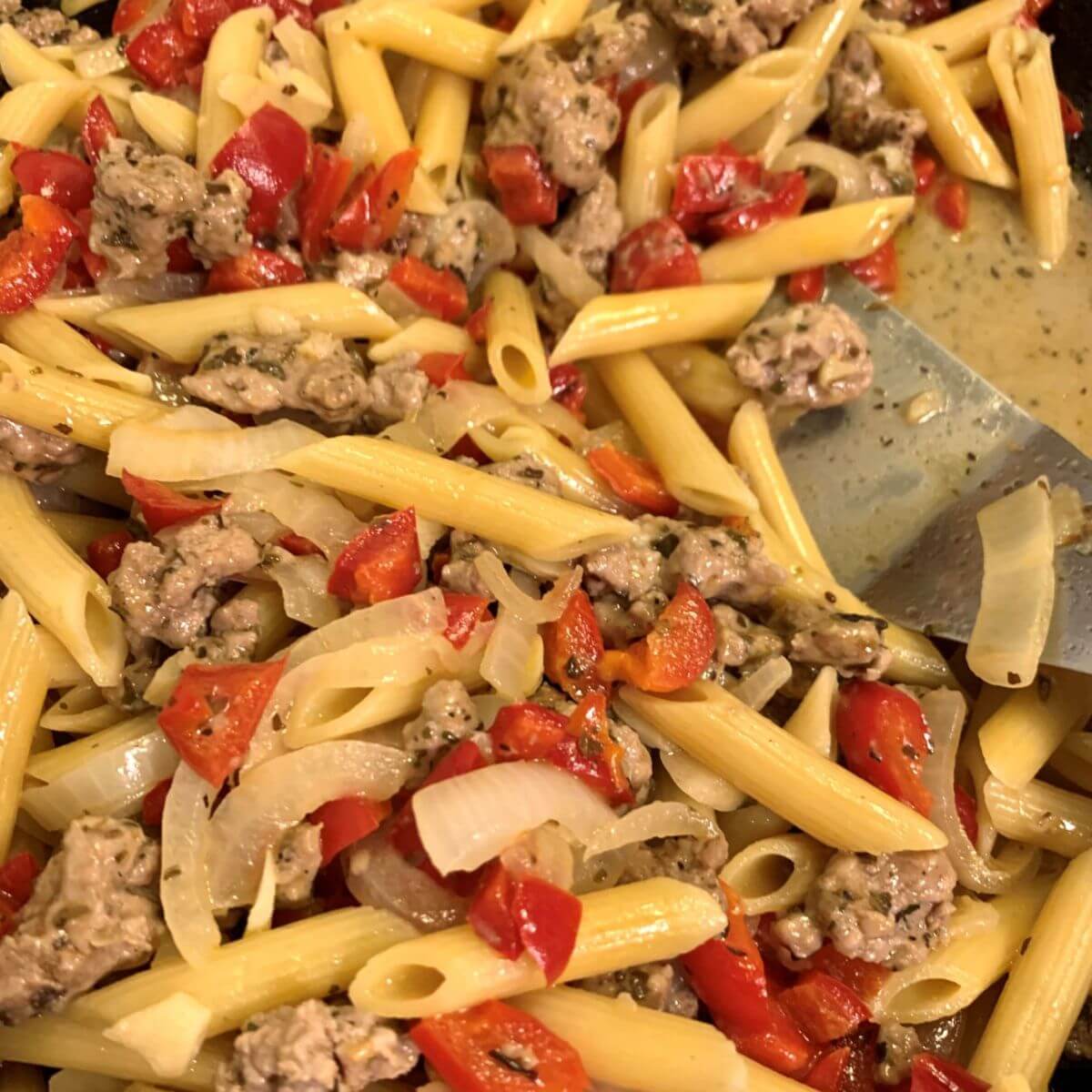 Pasta is such a great way to create a quick meal that can combine so many wonderful ingredients! When putting together this pork pasta recipe, I wanted something super basic, light, and easy, and I keep making it over and over again.
I kept tweaking the recipe a little, then I realized that the reason I keep making it is because it's so easy to change as needed! So, below you can find the delicious recipe that keeps things simple, yet incredibly yummy. You'll also find my tips and ideas for changing up the recipe a little.
Ingredients
Penne Noodles: This recipe works well if you add just a little of the pasta water! I've made it with pasta water and with noodles rinsed. Both ways work great. You can easily substitute another type of noodle!
Onion: I've used purple, yellow, and white. All work well. You can dice them if you prefer.
Garlic: Follow my post on the Best Way to Peel and Prepare Garlic.
Red Bell Pepper: Dice or slice. I like the red for color and slight sweetness. You could use another color if that's what you have!
Ground Pork: You can also add ground turkey. Press the meat in your hands before cooking.
Sea Salt and Freshly Ground Black Pepper: I recommend starting low and you can always add more at the end!
Dried Parsley: You can use fresh if you prefer. I was going for decreased time and ease so dried was the best for me.
Ground Rosemary: I blend my dried rosemary leaves because I don't like sticks of rosemary in my food! You can do the same, use rosemary leaves, or store-bough dried rosemary powder.
Dried Basil: I haven't tried this recipe with fresh but you could try it, just increase the amount!
Milk: You can use any percentage, but higher fat does work a little better for a little thicker sauce.
Cheese: I've used Manchego and Grand Cru. They're wonderful hard cheeses that are lower salt. I'd recommend a similar cheese but if you want another hard cheese with higher salt, just decrease the sea salt elsewhere.
Optional Cayenne: I highly recommend adding a little spice to this dish! I've used red pepper flakes, and I have blended my hot red peppers.
Making this Pasta
Start boiling water for your noodles. While the noodles are prepping/cooking, you can continue cooking the rest of the dish.
Sauté your vegetables, but don't overcook them! You want a little crunch!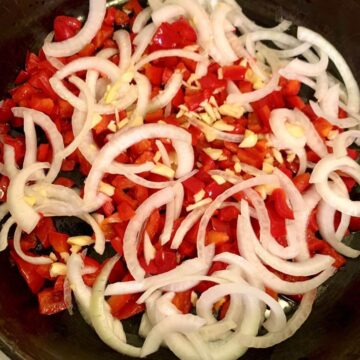 If you want a little more salt and flavor, season your meat with sea salt and pepper, lightly. You want to press your meat together so it's a smooth lump, rather than loose ground meat. Now you can tear off small chunks to place around the skillet on top of the vegetables. This gives you a much nicer texture for the meat rather than tossing it all in and chopping as it cooks.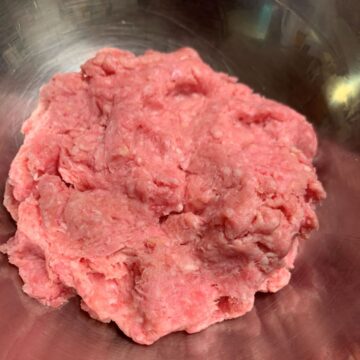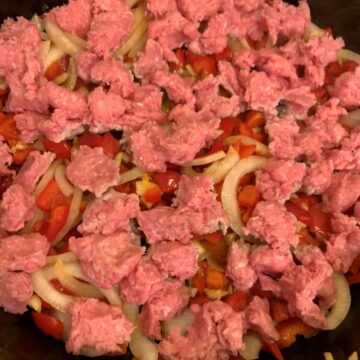 Add all seasonings to the dish.
Once the meat is cooked, add in your milk and grated cheese and combine. The hard cheeses might stick a bit so make sure to stir it around well, and use a metal spatula if you're using a cast iron skillet.
Toss in the cooked noodles, either straight from the pot with pasta water, or drain the noodles first.
Enjoy with a little heat like red pepper/cayenne and add salt to your liking.
Ways to Change Up this Recipe
Change the meat: You can also use ground turkey, chicken, or sausage.
Add more veggies or replace them: try adding more greens like chard, bok choy, spinach. You could add a variety of bell pepper colors, or zucchini!
Use Cream: If you want to make it a bit richer and creamier you could replace the milk with heavy cream. I stayed on the lighter and healthier side which is great for summer, but if you're not shy of cream then that would work very well! You might want to increase the seasonings if you're using a richer cream.
Leave Out the Dairy: You can use broth to replace the milk, and use a vegan cheese, or no cheese at all!
Use Fresh Herbs: You could use fresh parsley, basil, and rosemary if you have it on hand!
Make it a Cold Pasta: You could serve this pasta without any cheese or liquid and just use a light dressing and serve it chilled! An Italian-type dressing would work well like this recipe I use with my Pizza Pasta Salad with Homemade Italian Dressing.
If you make this recipe, please leave a comment and rating at the bottom of the page! This is helpful to me and other's visiting my page! If you want to stay updated on more great recipes you can follow me on Instagram, Facebook, Pinterest, or subscribe to my newsletter.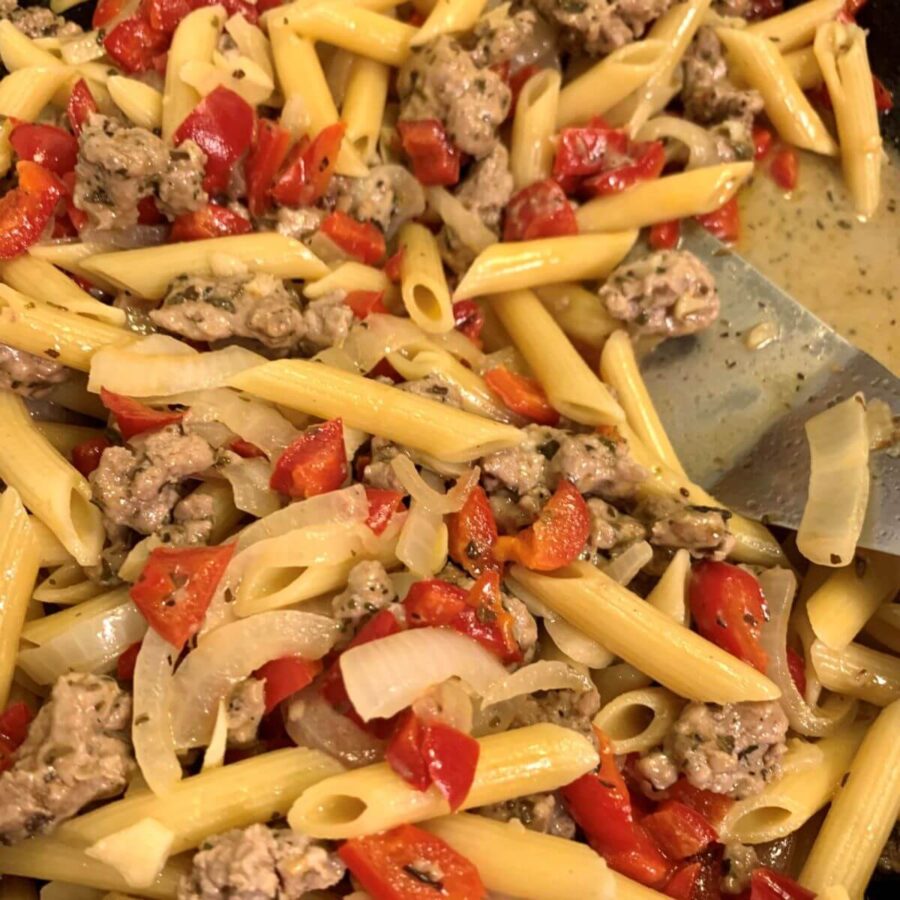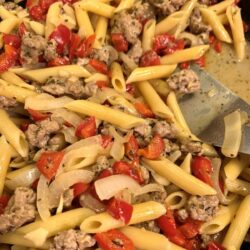 Light Pork Pasta
This pork pasta is light in ingredients and flavor. It's super easy to make, healthy, and so easy to adjust with adding different ingredients, flavors, and spice!
Ingredients
2

cups

uncooked penne noodles **(See Notes)

(equals 3 cups cooked)

2 ½

cup

sliced onion

(¼ inch thick)

5-6

garlic cloves

(diced)

3

cups

red bell pepper

(sliced or diced)

1

lb.

ground pork

¾

teaspoon

sea salt *(See Notes)

¾

teaspoon

dried parsley

½

teaspoon

dried rosemary powder

(blended dried rosemary leaves)

1 ½

teaspoon

dried basil

freshly ground black pepper

(to taste)

¼

cup

milk

1

cup

Manchego cheese, shredded

(or Grand Cru)

optional cayenne pepper or red pepper flakes

(to taste)
Instructions
Boil water for noodles in a medium-sized pot. Add 2 cups penne noodles and cook until el dente. If noodles finish cooking before the rest of the dish, transfer noodles to another bowl with a little of the pasta water, and cover to keep warm. Option to spray lightly with olive oil.

While making noodles, prep vegetables and press the ground pork in your hands so it's packed and no longer loose. Option to lightly sprinkle meat with sea salt and pepper.

Heat 2 tablespoons olive on in a large skillet on medium heat. Once hot, add bell peppers, onion, and garlic. Sauté for about 6 minutes.

Break off small chunks of the pork and place it around the skillet. Add all seasonings. Increase heat to medium-high and sauté for another 6-7 minutes.

Add the milk and shredded cheese and combine. Toss in noodles with a little pasta water and combine all together.
Notes
*This dish is purposefully low sodium. If you want low salt, don't season the meat and only add ½ - ¾ teaspoon sea salt to the dish. If you want a little more salt and flavor, season the meat, add ½ - ¾ teaspoon to the dish and season more to taste.
**If you don't want to use the pasta water, drain cooked noodles and lightly spray with olive oil to set aside.