From scratch German kraut burgers with a sweet dough, ground beef, cabbage, onion, cheese, and chili pepper filling, baked to golden perfection!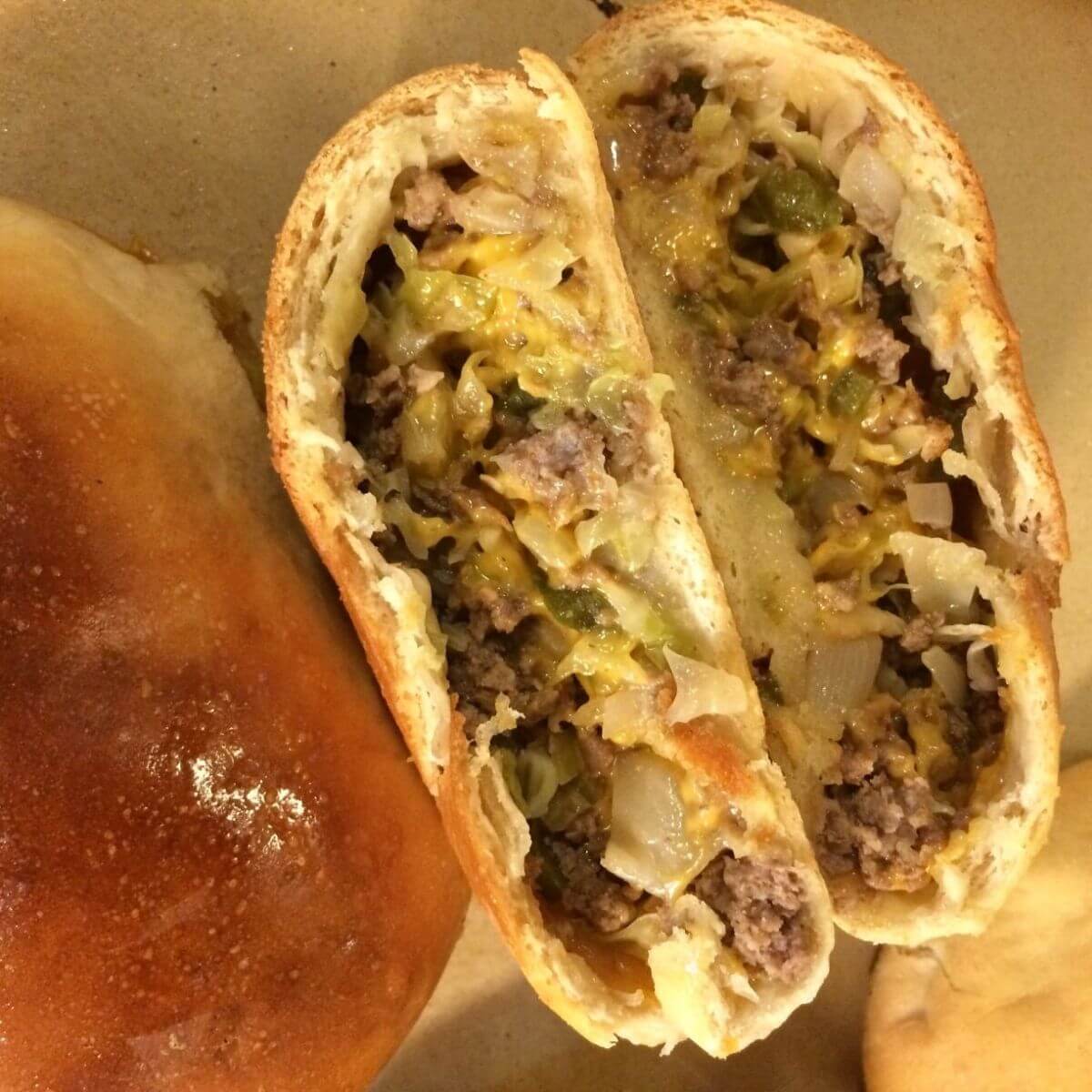 (This page contains affiliated links)
There's no doubt about it, these are the ultimate kraut burgers! If you've ever eaten a kraut burger you know that they're unique, and addicting. I'm not messing around with filling for this recipe because you just can't have big air pockets of empty space!
I used to live over a small local restaurant that sold Kraut Burgers and cinnamon rolls to die for and we took advantage. But, after a while we realized we could make them and tweek them to just how we like them.
While they are a bit time consuming to make, it's well worth it. This batch makes 12 burgers and they can be easily frozen after baking. I prefer to individually wrap them and place them in a freezer safe container. You're safest freezing extras immediately once they cool because if you wait too long you'll likely decide that you'll just eat a Kraut Burger for each meal of the day instead of freezing them for later!
Ingredients
Homemade Dough: You'll of course need Flour- I have made this recipe with all white flour, and also partial wheat flour. For white flour I use 5 ⅓ cup flour with an additional 1 tablespoon after the rise when cutting the dough into portions and rolling out the balls. For the Yeast- I use this Saf Instant Yeast and I've loved it for all my baked goods. You will also be using water, olive oil, sea salt, and white sugar.
Ground Beef: I use lean ground beef and I wouldn't recommend replacing it with any other meat!
Cabbage: I would recommend only using green cabbage. I have used purple cabbage when making this recipe as a pie. Take a look at my Kraut Burger Pie if you're interested.
Yellow Onion: Yellow onion works best for a mellow flavor but you can use whatever type of onion you want. Make sure to dice them small.
Cheese: Sharp cheddar cheese is my top recommendation for this recipe and most traditional. I have also used a blend of cheddar and aged gouda and it worked great. White cheddar cheese is also great but has a milder flavor.
Hot Peppers: If you're wanting a spicy kraut burger I would recommend a green chili or jalapeno pepper.
Sea Salt and Black Pepper: This recipe uses simple seasonings and the rest of the flavors will come from the meat, cheese, and vegetables!
Butter: I recommend using unsalted butter. This will be used for brushing on the freshly baked rolls.
Making These Kraut Burgers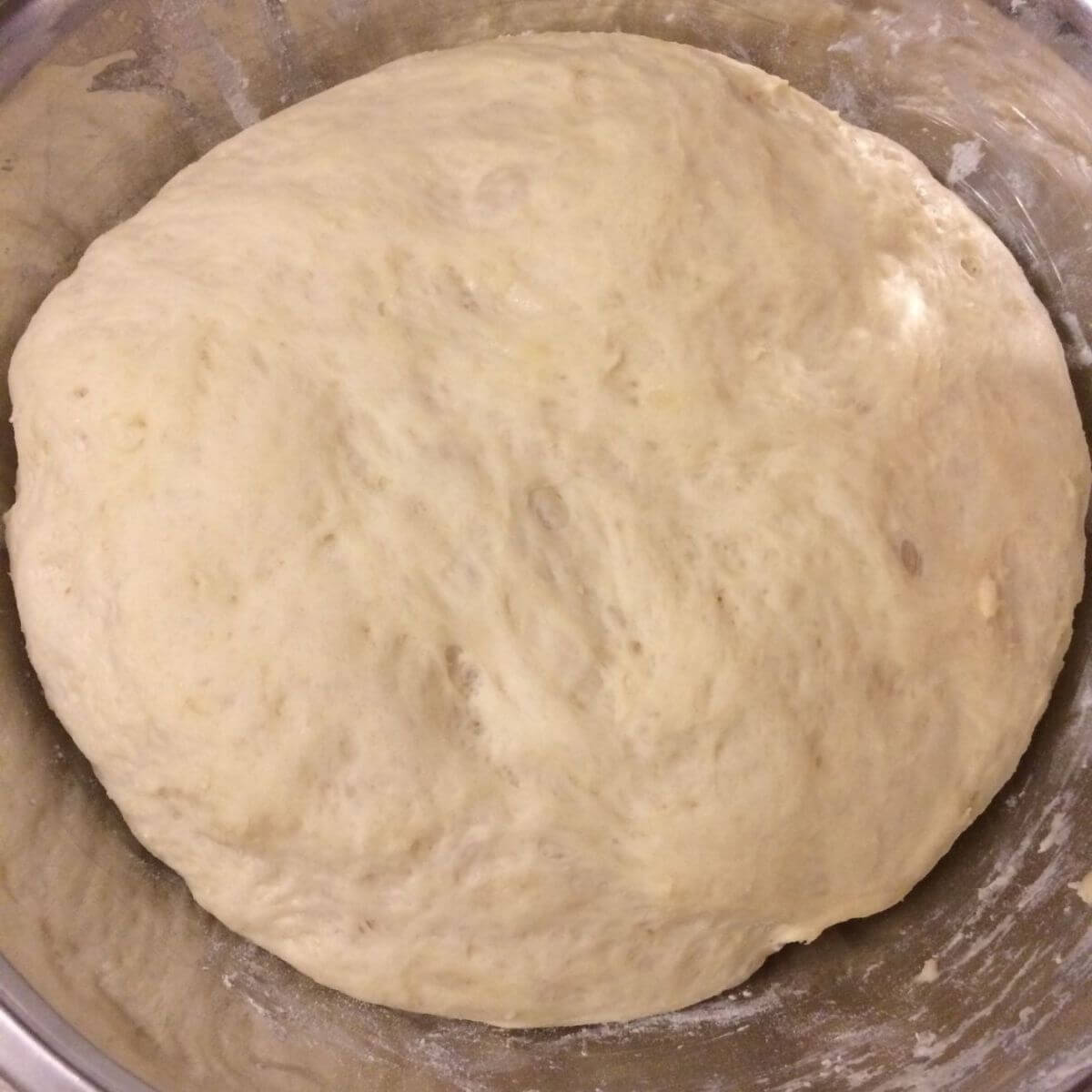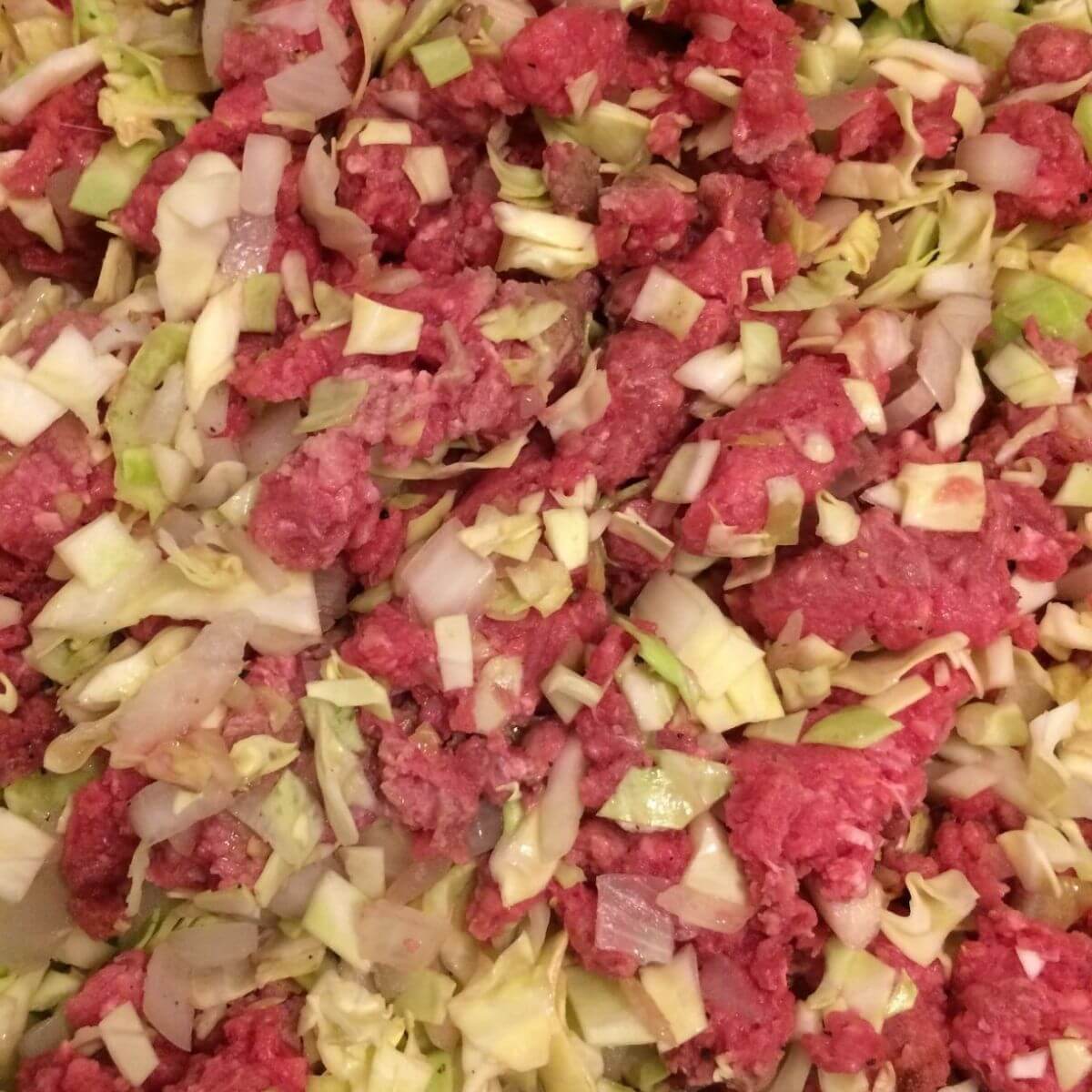 Make the dough and let it rise.
While dough rises, sauté the filling.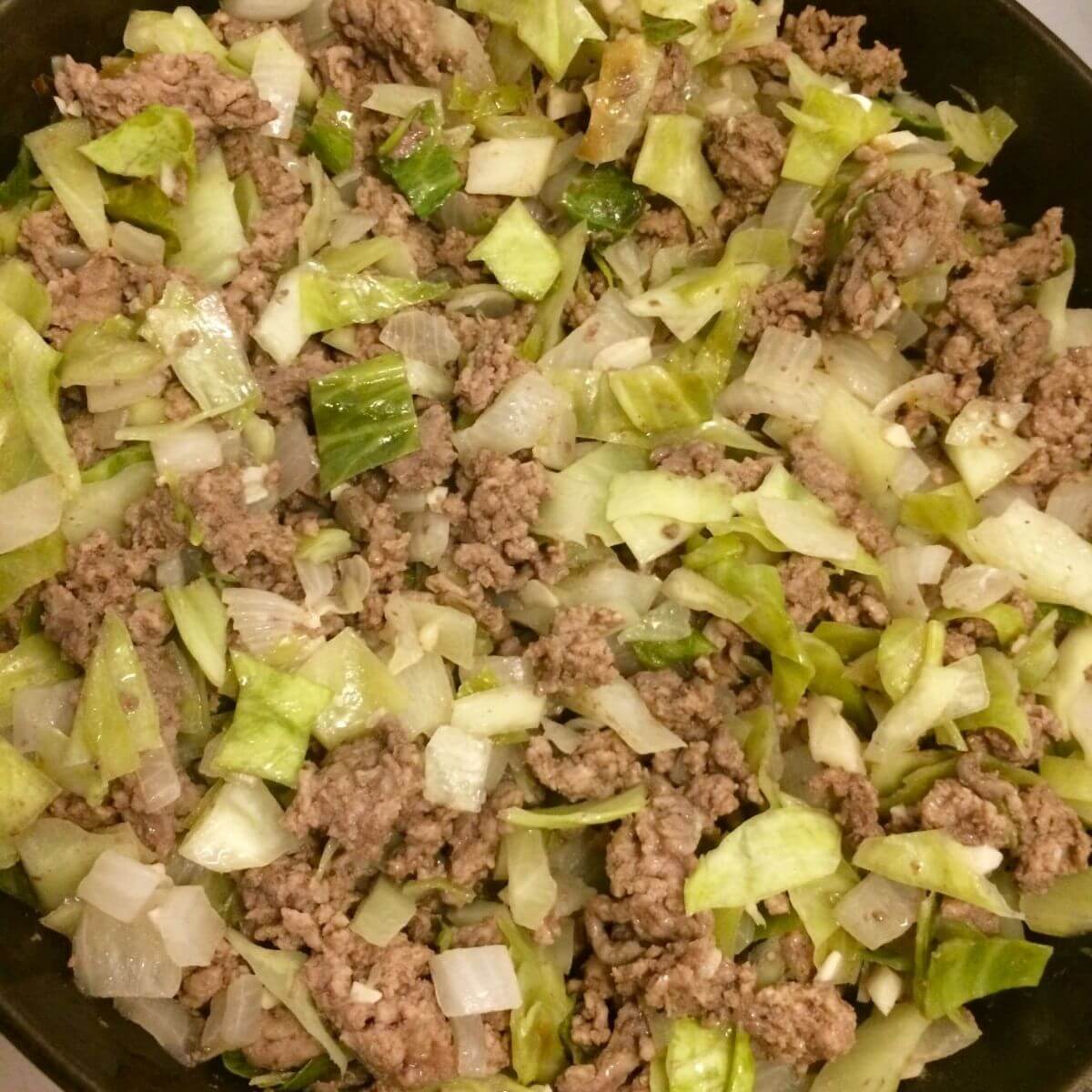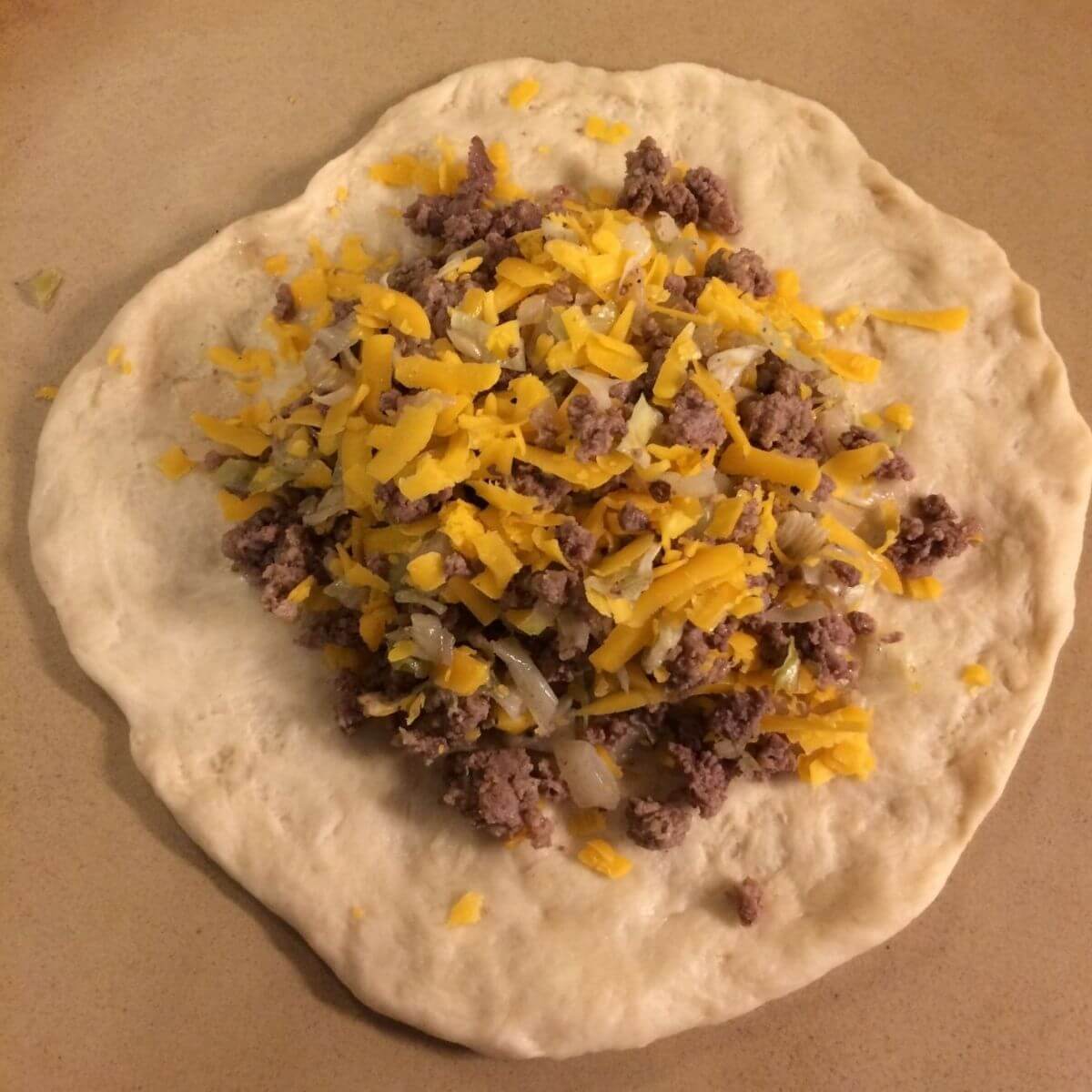 Let the filling cool.
Once the dough has risen, add the filling to a portion of the dough.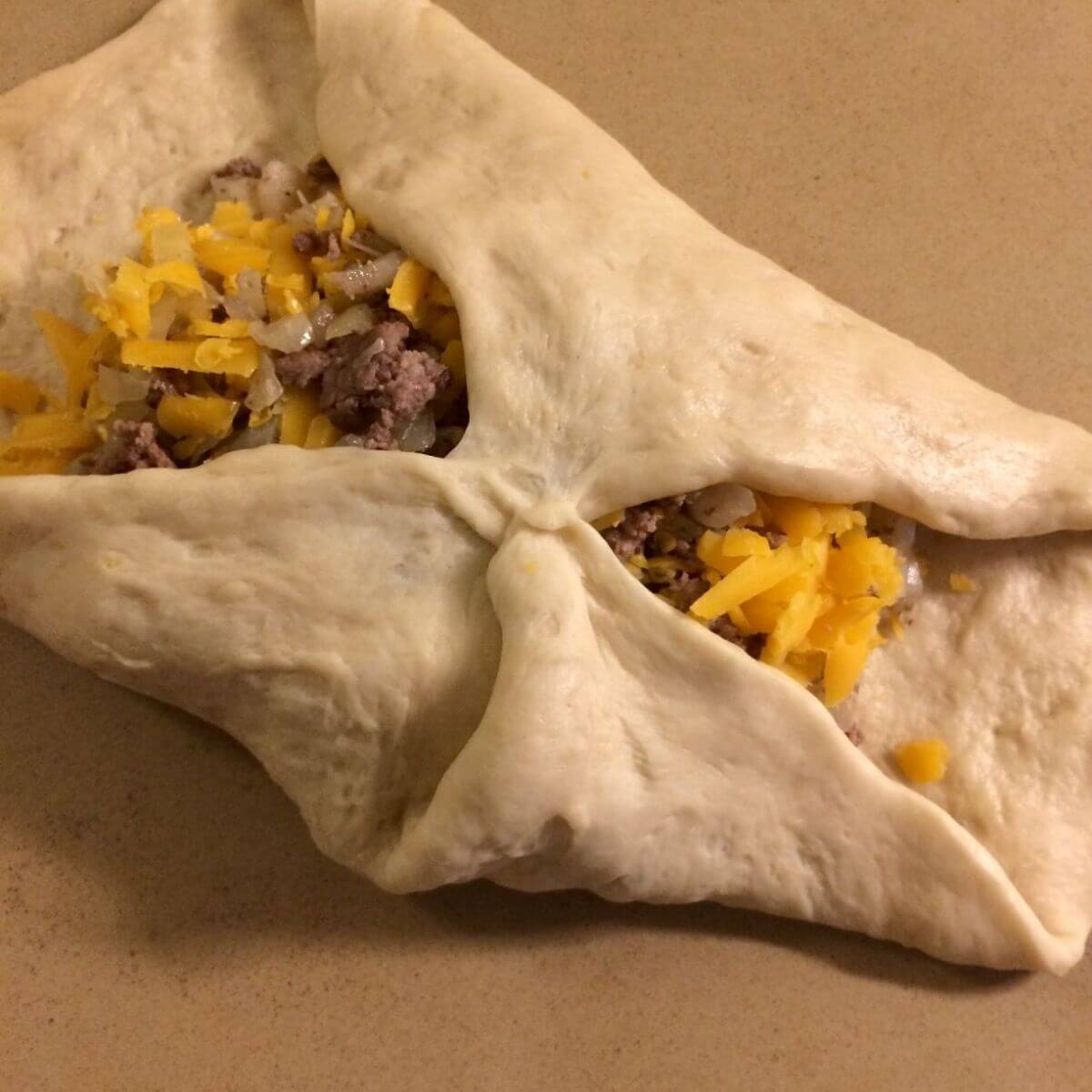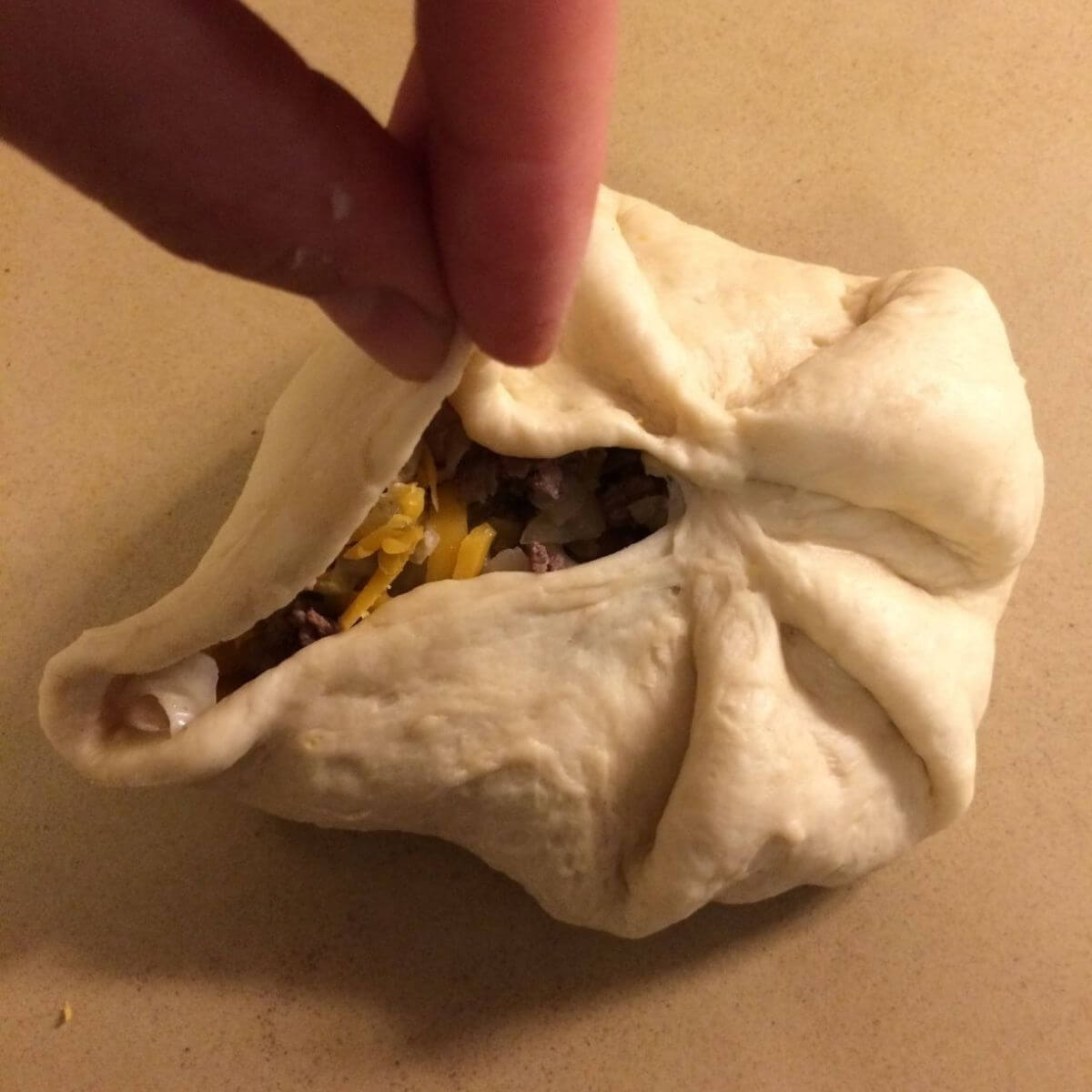 Seal off the burgers by pinching opposite ends together.
Continue pinching all the way around the roll, and stretch the dough a little if you need to.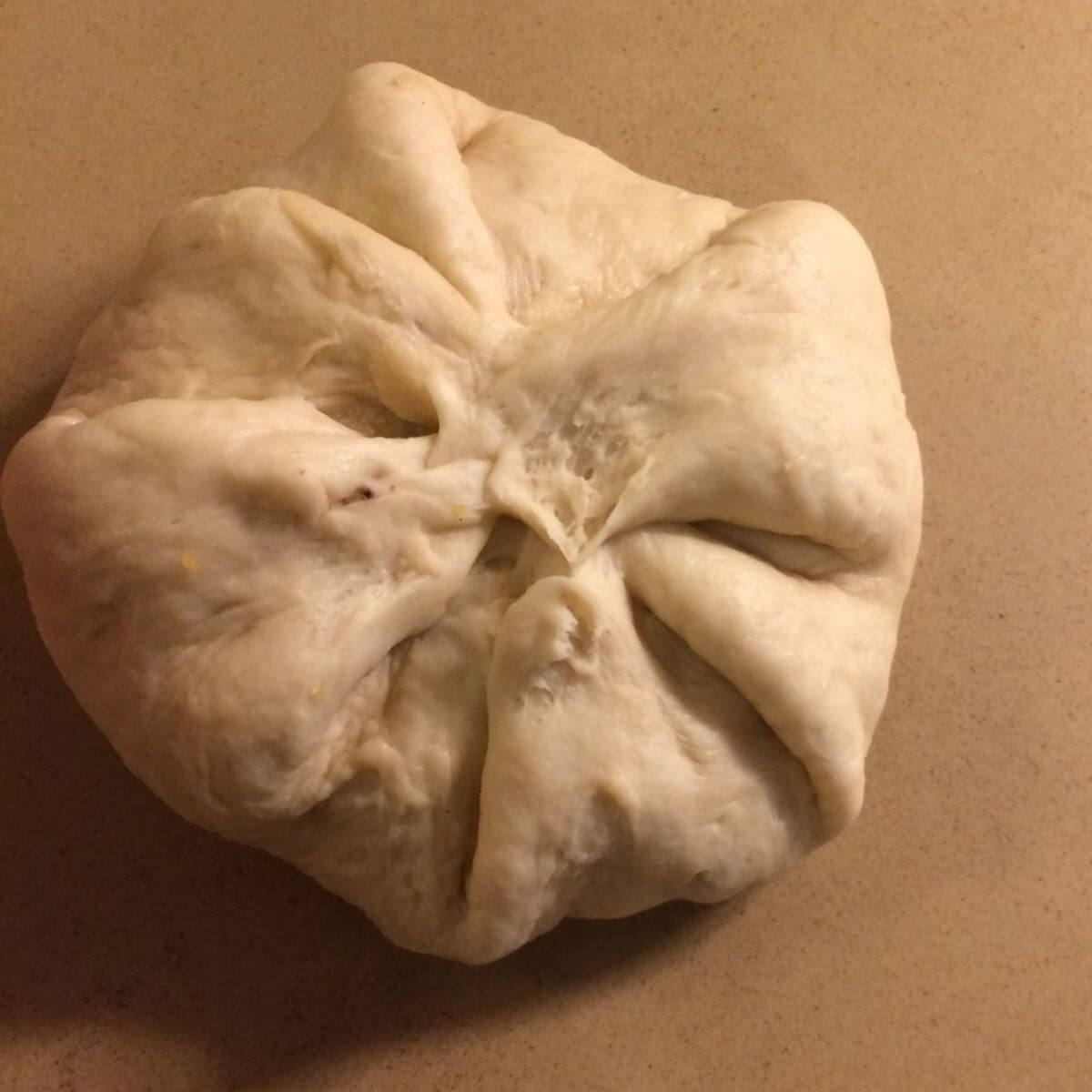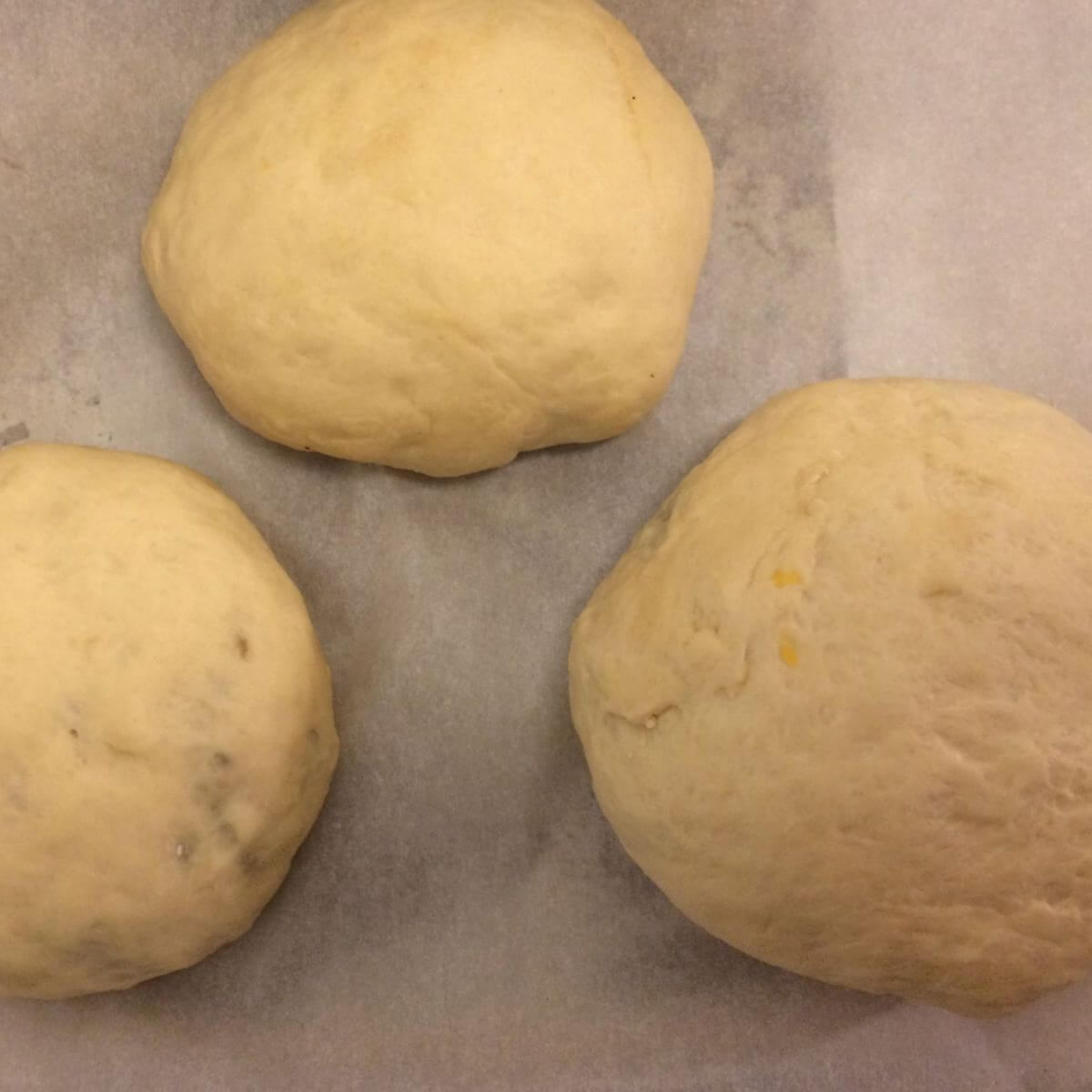 Once it's all pinched together, turn over the roll and gently rock it/press it in your palms to completely seal.
Place the rolls on a cookie sheet lined with parchment paper, or use olive oil to spray the pan.
Baking at 350℉ for 30 minutes gives it a light golden color but you can go more until you reach your desired color. It's important to me to get a nice bake on the bottom as well so make sure to check your bottoms!
Don't forget to brush on melted butter right when they come out of the oven. This is a must for color, texture, and flavor
Marking the Burgers as Spicy vs. Regular
Before baking you can use a toothpick and poke a hole in the top of the burger using 1 hole for regular and 2 holes for spicy.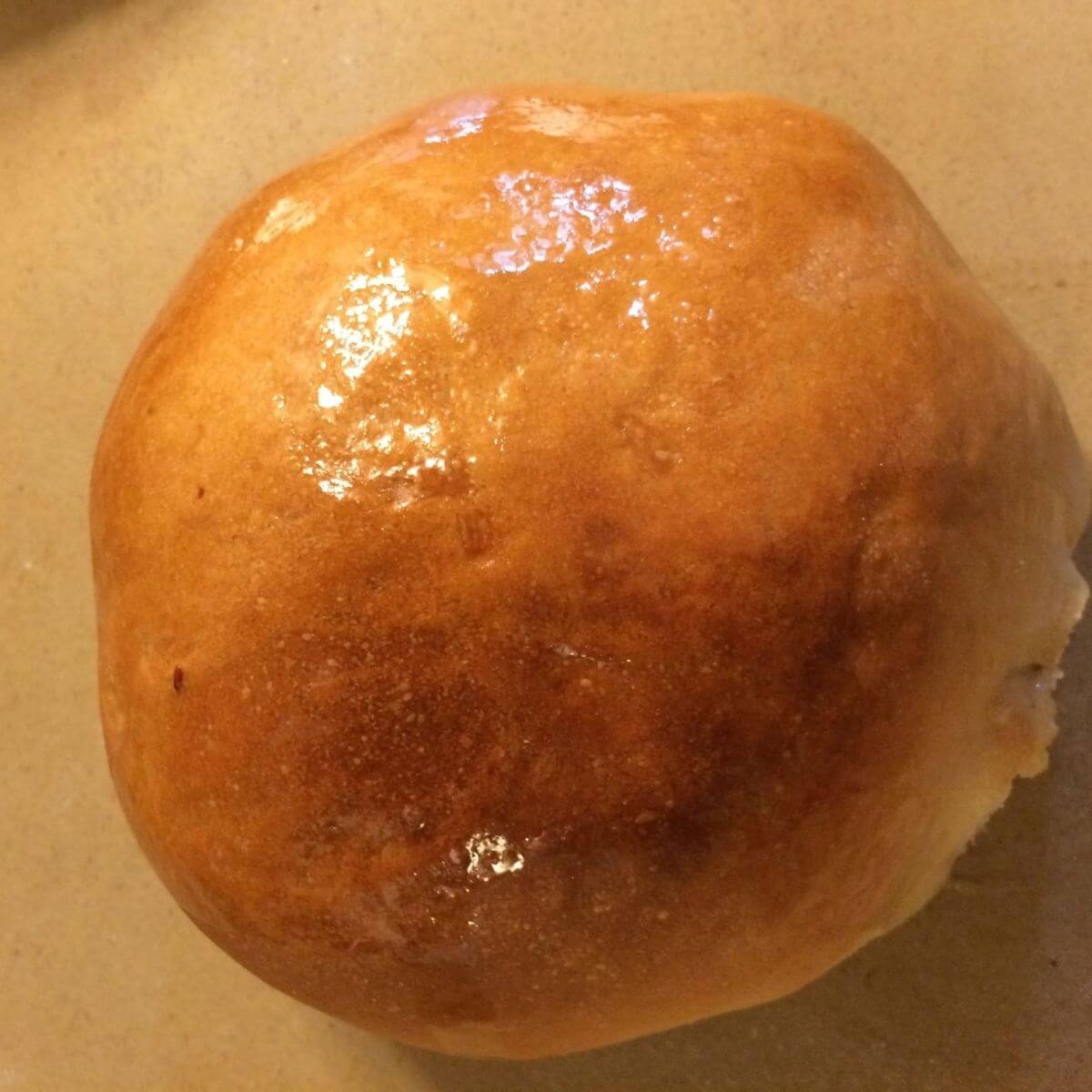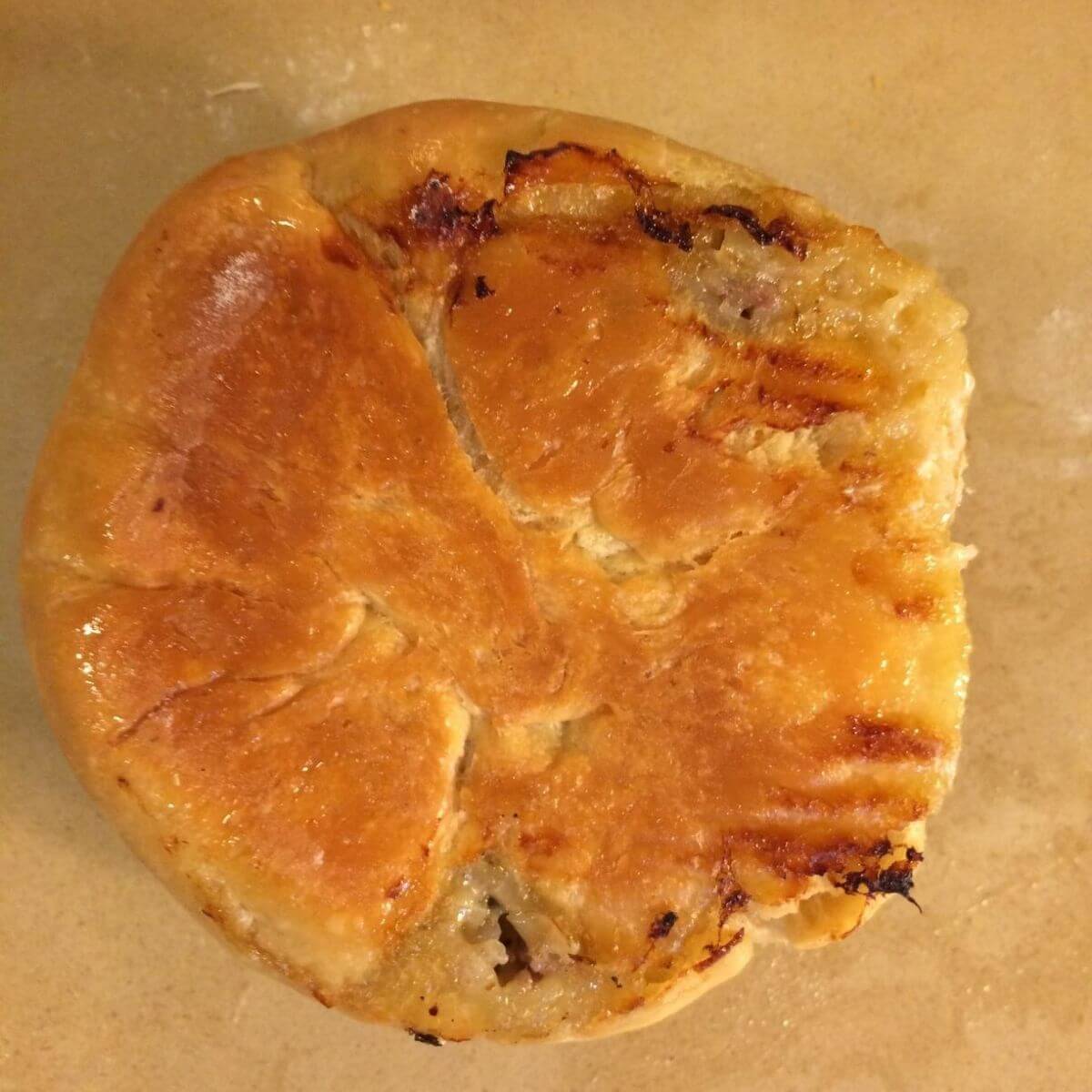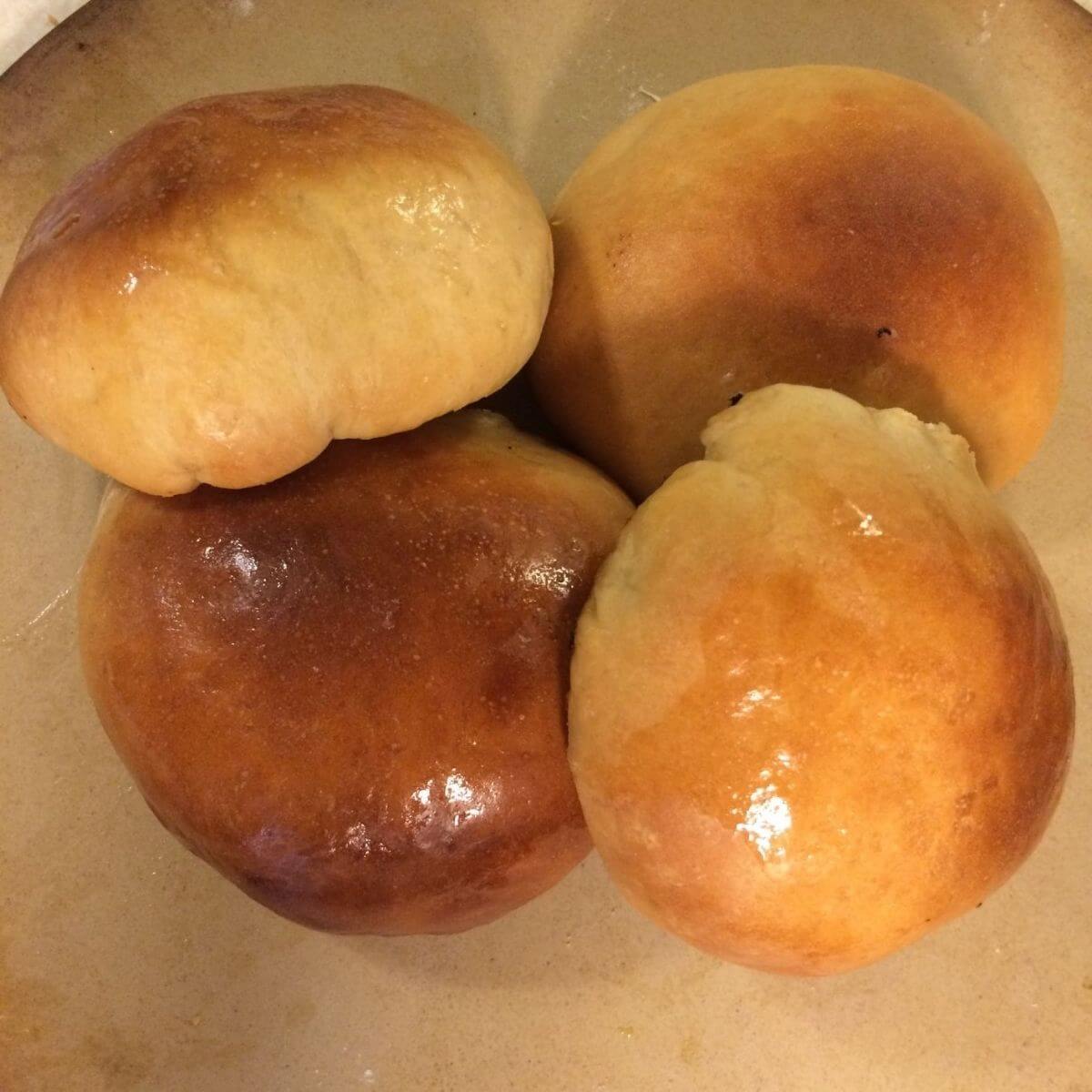 Reheating
I typically reheat in a toaster oven, but for conventional or convection oven reheat at 350℉ for about 8-10 minutes.
Enjoy with your choice of topping. Hot sauce goes well!
Prep the Night Before
Make the dough and after the first rise you can store it in an airtight container or plastic wrap overnight. Make the filling and store separately until ready to make the next day.
Similar Recipes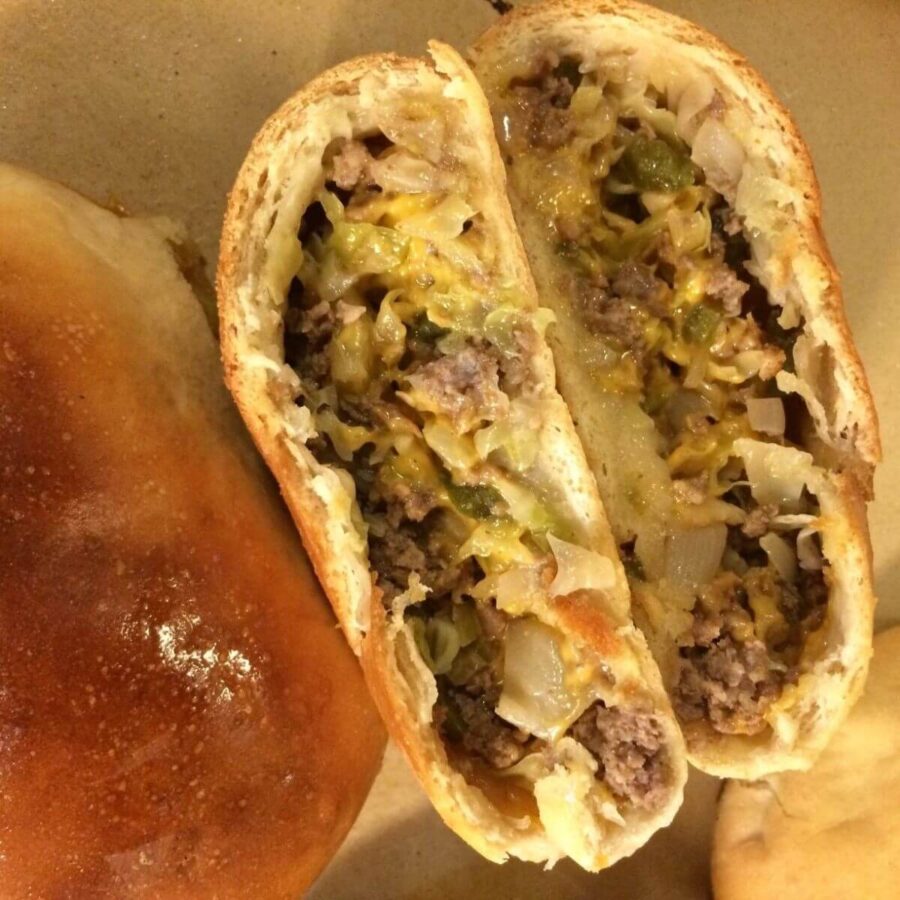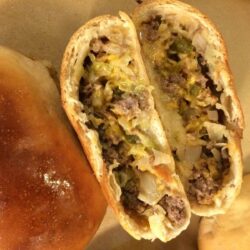 The Ultimate Kraut Burgers
From scratch German kraut burgers with a sweet dough, ground beef, cabbage, onion, cheese, and chili pepper filling, baked to golden perfection!
Ingredients
For the Dough
2

cups

warm water

split

1 ½

tablespoon

yeast

5

cups

flour* see recipe notes

plus 1 teaspoon at a time if needed to decrease stickiness

¼

cups

olive oil

½

teaspoon

sea salt

⅔

cups

white sugar
For the Filling
1

tablespoon

olive oil

6

cups

diced green cabbage

2

cups

diced yellow onion

1 large onion

2

lbs

ground beef

1 ½

cups

diced jalapeno or chilis

optional but adds great flavor

½

teaspoon

sea salt

freshly ground black pepper to taste

6

cups

shredded cheddar cheese

option to use some aged gouda

4

tablespoon

melted butter

for tops of buns after bake
Instructions
Make the Dough
Add 1 cup warm water to a small bowl. You want to make sure the water is NOT hot or it can kill the yeast. Add 1 ½ tablespoons yeast and gently mix (use a chopstick). Let sit for about 10 minutes.

While the yeast is activating, in a separate large bowl, combine the flour, salt, sugar, and 1 more cup warm water. Once you can see that the yeast is activating, add the yeast mixture to your flour mixture and combine all ingredients. I prefer to mix it by hand.

Knead the dough until it is no longer sticky (about 3-5 minutes). Add 1 teaspoon of additional flour at a time if needed until it's no longer sticky (a bit of stickiness is okay and can be remedied after the rise).

Form dough into a ball and let sit in bowl covered by a cheesecloth or lid to rise and double in size (about 45 minutes).
Make the Filling
Dice onion, jalapeno/chilis, cabbage, and shred cheese.

Heat a large skillet on low-medium heat with 2 tablespoons olive oil. Add diced onion, cabbage, 2 lbs. of ground beef, any peppers or chilis, and salt and pepper. Break apart the ground beef to avoid clumping as it cooks. Cook for 10 minutes and then decrease heat to low (covered). If you're skillet isn't big enough you can use a large pot (5 qt.)

Continue cooking for about 10 more minutes or until meat is cooked and vegetables are softened. Drain excess liquid (saving for other dishes because it's delicious).
Assemble the Kraut Burgers
Preheat oven to 350℉ using middle rack.

Melt butter for brushing on top of buns after bake and line a cookie sheet with parchment paper.

Knock down dough and portion into 12 pieces. Take out 1 piece at a time, keeping the remainder in the fridge (they will likely stick back together some).

Lightly flour work surface to roll out dough.

Roll out dough ball to about 7" in diameter, keeping edges slightly thinner and the middle thicker. Layer ¼ cup meat mixture, ½ cup cheese, and another ½ cup meat mixture. This ensures that the cheese won't be on the bottom and soak through and make a soggy bottom.

(See images above in narrative) Pinching dough at opposite sides of the dough, gently stretch the dough and pinch ends together at the center. With one hand pinching the center together, gradually work your way around repeating this process. Once you have sealed off the burger, flip over so seal is face down and gently rock the dough under your palm to seal the burger..

Place burgers 1 at a time on a baking sheet lined with parchment paper. Repeat until you have 6 burgers to bake at a time.

Bake at 350℉ for about 30 minutes or until golden brown. Keep an eye on them around 20 minutes but you want the bottoms to be browning as well which takes a bit more time. Remove from oven and leave on tray for a 5-10 minutes before transferring to another surface to allow them to reabsorb some moisture.

Repeat process with remaining 6 dough balls to bake 6 more burgers. Use a second cookie sheet or a pizza stone. I wouldn't recommend using the same cookie sheet as the first batch because you need to let the first batch rest and you don't want to put the 2nd batch on a hot cookie sheet (this would affect the rising and you might get very large and overproved burgers.

Enjoy with hot sauce.
Notes
For the Flour:
*If using all white flour use 5 ⅓ cup flour.
*Option to use 4 ¼ cup white flour and ¾ cup whole wheat. With this, start with 5 cups flour total and slowly add a tablespoon at a time if needed until no longer sticky.
* It's okay if it's a little sticky before rising, you can easily remedy that after it rises by adding flour to your work surface when rolling it out. You don't want to add too much flour so better safe with adding less up front.
*If you're using a toaster oven to bake these you'll want to start at a higher temp (375℉) for about 5 minutes, then decrease heat and tent with tinfoil if they start to get too brown on the tops. Move rack to lower setting for toaster oven.