When cheeseburger, pan fried potatoes, and pizza combine, you get a delicious home cooked meal with all the right flavors!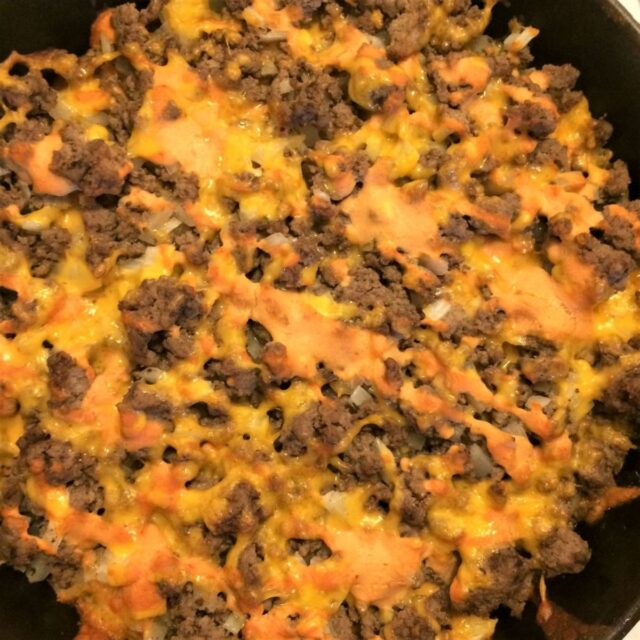 Although I'm not a fan of fast food, I am a lover of cheeseburgers and pizza. This Cheeseburger skillet pizza is such a great combination of simple ingredients that make a fun and different meal for any night of the week.
I have adapted this recipe from a Cheeseburger Potato Tot Skillet Pizza recipe found in My Magazine. I made quite a few changes to the original recipe but the basics are still the same. Of course you can choose to use tater tots if you wish but they require a much different cook time (in the oven) since they don't need to cook as long as raw potatoes.
For my family, these ingredients are staples that we typically have on hand, which makes this such an easy recipe. The flavors may seems simple but they're delicious!
Ingredients
Potatoes: The original recipe used tater tots where I use fresh potatoes, cooked on the stovetop to get a brown bottom and perfectly thick potato base for this recipe. Potatoes are cooked in a cast iron skillet and left in there to layer the remaining ingredients on top and then bake.
Ground Beef: I use lean ground beef but you use what you choose. You could also try this recipe with ground turkey or sausage.
Sauce: The original recipe called for mayonnaise, ketchup, and yellow mustard. I made this healthier by using Greek yogurt, tomato sauce, and I kept the yellow mustard.
I added yellow onion to the recipe which I think adds a lot!
The original recommended diced onion and pickles on top. I kept the diced tomatoes and ditched the pickles.
Steps for Making this Skillet Pizza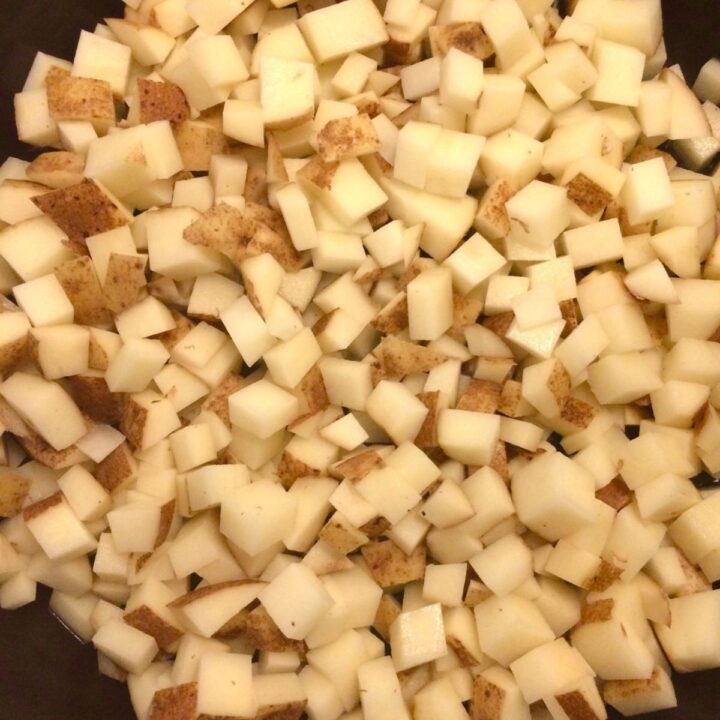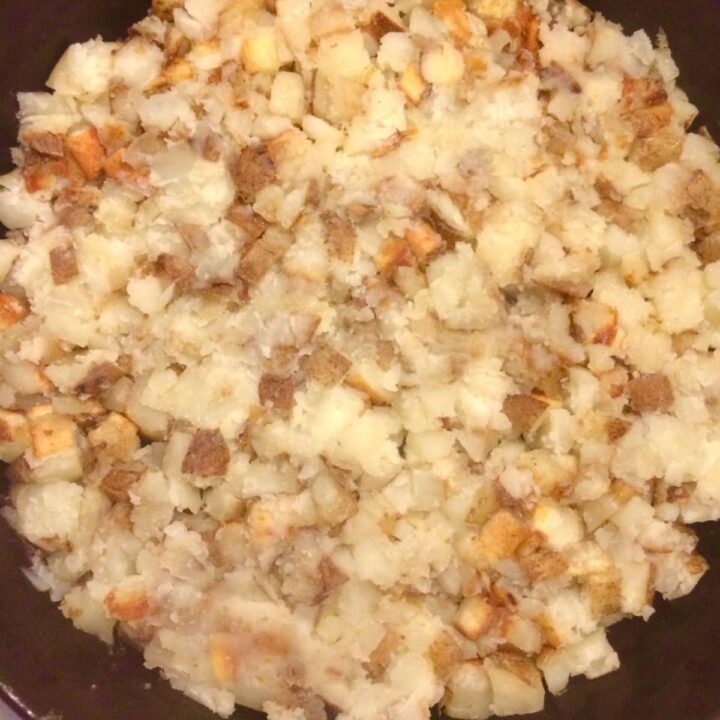 Sauté the potatoes, then once cooked you'll mash them in the skillet.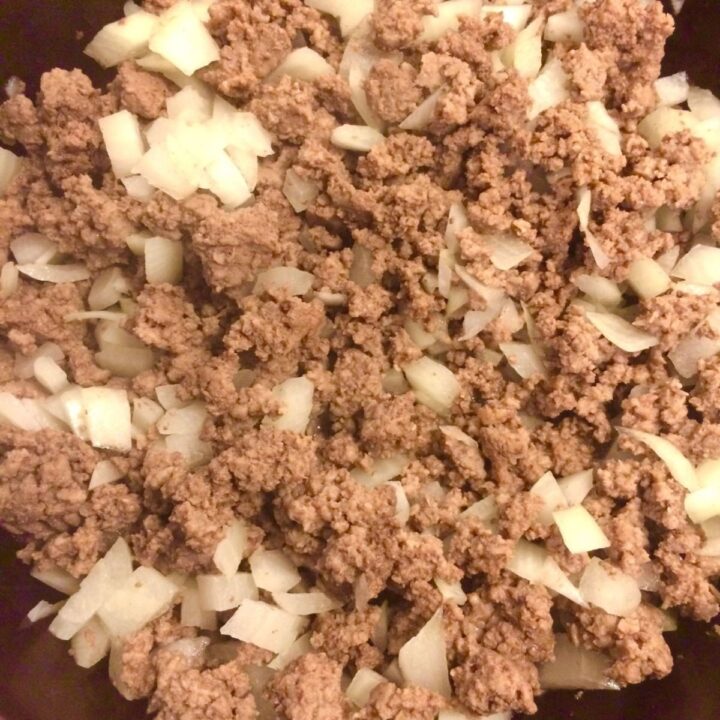 While potatoes cook you can cook the ground beef and onions in a separate skillet.
Also mix together the ingredients for the sauce in a separate bowl and set aside.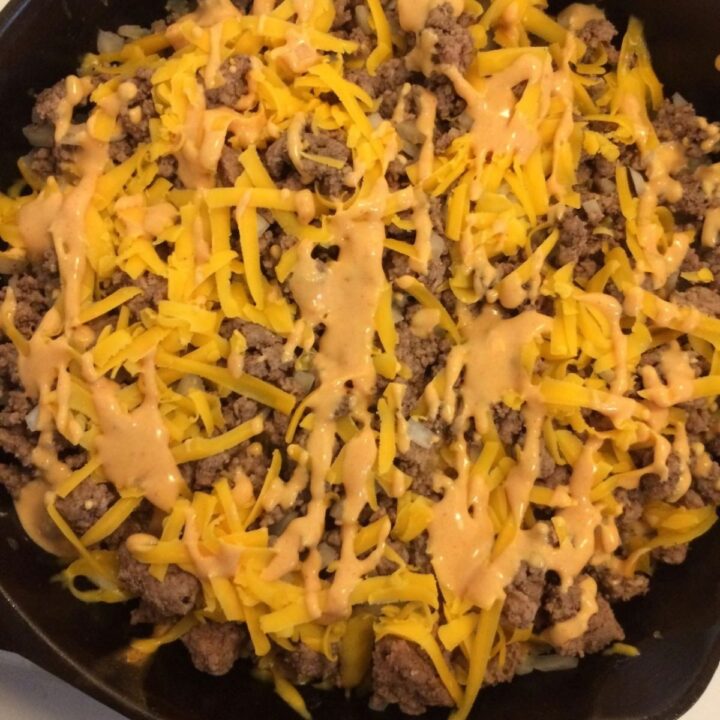 You're going to layer the ingredients now. Add shredded cheese on top of the cooked, mashed potatoes. Then layer the ground beef mixture, followed by a drizzle of sauce.
Repeat this step one more time to add shredded cheese, meat mixture, and more sauce. Option to add more shredded cheese on top.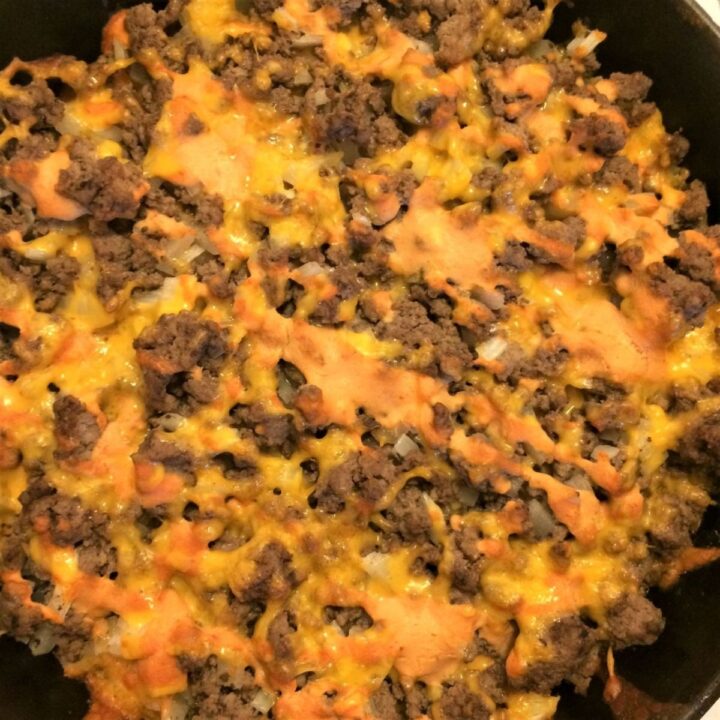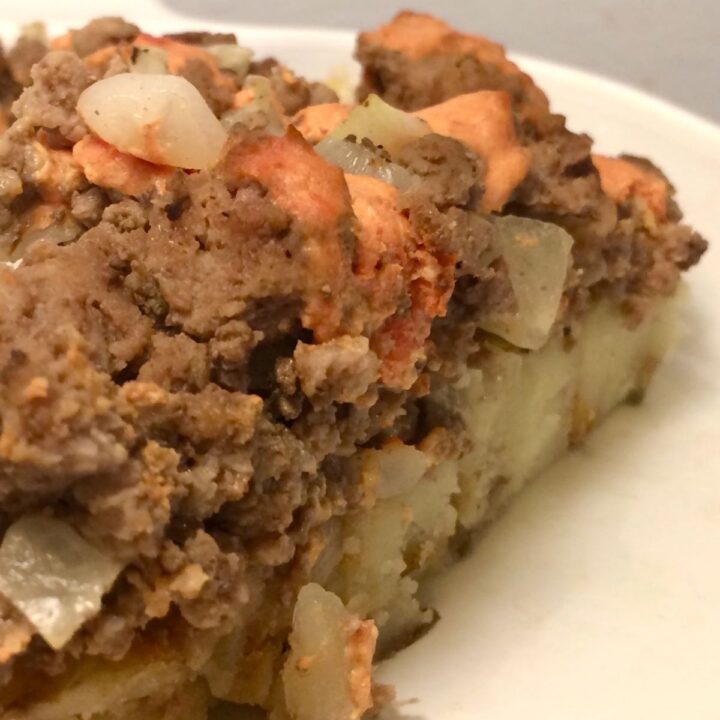 Bake, slice out portions like a pizza, and enjoy!
I bake this recipe in a skillet but you can also use another baking dish if you don't have cast iron. Make sure it's shallow, like a cake pan. I have not tested this recipe in other baking dishes to see what size is needed.
(Adapted from "My Magazine")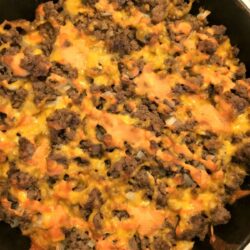 Cheeseburger Skillet Pizza
When cheeseburger, pan fried potatoes, and pizza combine, you get a delicious home cooked meal with all the right flavors!
Ingredients
For the Skillet
2

tablespoon

olive oil

for cooking potatoes

6

cups

diced potatoes

red or russet

1

lbs

ground beef

1

pinches

sea salt

ground black pepper to taste

1

cups

diced yellow onion

¼

teaspoon

garlic granules

2

cups

shredded cheddar cheese

1

Roma tomato diced
For the Sauce
¼

cups

full fat plain Greek yogurt

1 ½

tablespoon

yellow mustard

½

cups

no salt tomato sauce
Instructions
Cook the Potatoes
Dice potatoes into ½" cubes. On stovetop heat a large pan to medium heat with 2 tbsp. olive oil. Add potatoes and cover. Cook for about 10 minutes mixing half way through to avoid sticking. Decrease heat to low (level 1) and cook another 12 minutes, mixing occasionally. Jump to Cook the Ground Beef while potatoes cook.

Option to keep cooked potatoes in cast iron skillet or transfer to a large shallow baking dish if you don't have a cast iron skillet. Either method, while potatoes still hot, mash to bottom of skillet/baking dish with potato masher or a fork and set aside.
Cook the Ground Beef
Preheat oven to 425℉.

While potatoes are cooking, heat another large skillet to low-medium heat (level 3) and add ground beef, salt, pepper and cook for about 15 minutes, covered. Drain grease. Add yellow onion, and combine. Set aside.
Make the Sauce
In a small bowl combine Greek yogurt, tomato sauce, and yellow mustard.
Layer It All
Shred 2 cups cheddar cheese. Add 1 cup shredded cheese on top of mashed, cooked potatoes. Add 1 ¾ cups meat mixture on top. Add ¼ cup of sauce. Repeat with 1 cup cheese, 1 ¾ cups meat mixture. Option to add the remaining sauce on top, or pour on all but ¼ cup sauce (to add after bake).
Bake
Bake at 425℉ for 10 minutes or until browned to your liking.

Top with additional sauce