Whether you're wondering how the heck to use your capers up, or you just want a really easy chicken dinner recipe, this Quick Chicken Piccata is a simple and delicious gluten-free meal! Enjoy with your choice of grain or potatoes!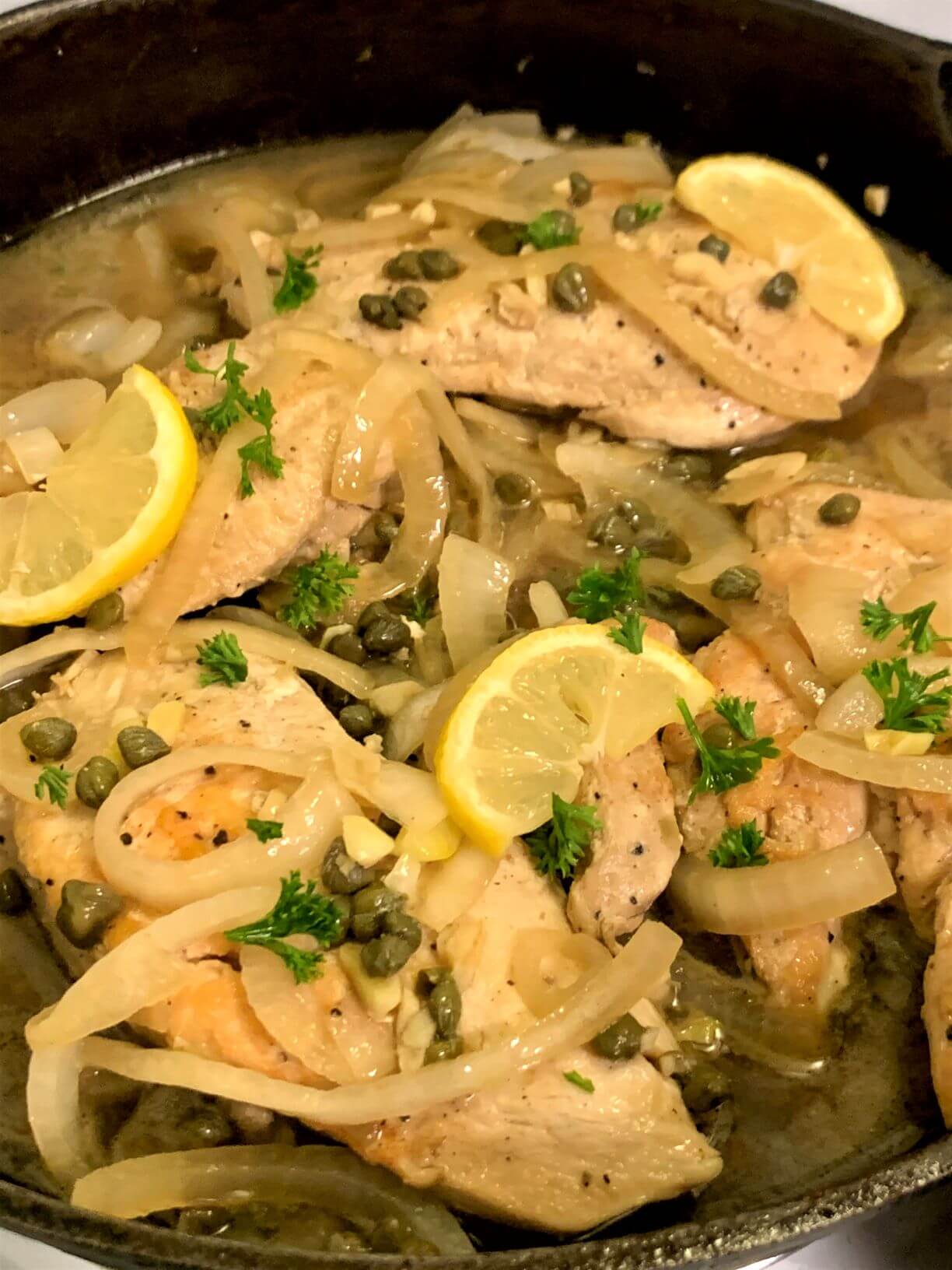 Have you ever questioned how to use that random jar of capers in your pantry? This Quick Chicken Piccata is your answer! It's not only a wonderful vehicle for capers, but it's also just a downright easy and delicious, quick chicken dinner for any night.
Ingredients
This recipe is super simple and straight forward. You'll need chicken breasts, onion, garlic cloves, sea salt, freshly ground black pepper, and of course those capers! I love to use olive oil for cooking the meat and the vegetables and low sodium vegetable broth for the liquid. Don't forget the fresh lemon juice and parsley for garnish!
You can enjoy this recipe with any type of rice, quinoa, risotto, or noodles. I used a fusilli noodle last and it worked so nicely.
I chose to only use olive oil in this recipe to keep it healthier and lighter. You could add a little unsalted butter to the sauce if you want a richer flavor. Heavy cream or a little flour (make sure to combine it with cold broth or water) can be whisked in to thicken the sauce. If you follow my recipe with only using broth you'll get a great GLUTEN-FREE RECIPE!
Steps for Making this Meal
Full printable recipe card can be found at the bottom of this post.
Fillet your chicken breasts! In the U.S., chicken breasts are massive nowadays. Slice those bad boys in half to help them cook quicker. This method is to replace pounding out the meat to tenderize and thin it out.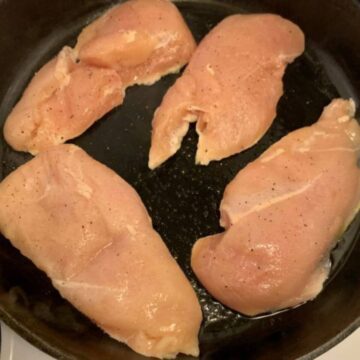 Season your chicken with salt and pepper. I like to season one side, lay the meat seasoned-side down in the skillet, then season the second side. This way you don't lose a lot of the seasoning by rubbing it around with your hands. Add a decent amount of sea salt, but don't overdo it! If you just add a pinch of salt then you'll be disappointed so go with a moderate amount.
Cook your chicken on medium-high heat in olive oil for a nice sear. Cover with a lid to retain moisture. It will be hot enough that it shouldn't build up liquid, but if it does, just drain it and save it to add back in later. Flip your chicken every 4-5 minutes. It's your choice to flip your chicken back and forth, or just flip once, then let it keep cooking through.
Transfer chicken out of the skillet and sauté your onion and garlic in that same hot skillet with another drizzle of oil. Cook until likely browned but not soft.
Add in your broth, lemon juice, and capers and cover to simmer.
Add your chicken back into the skillet with any juices and cover for a couple minutes to heat through.
Garnish with freshly squeezed lemon juice to taste, and chopped fresh parsley.
Serve over your choice of grain, or with potatoes!
What If I Really Don't Like Capers?
My house is divided on capers. I like them, my husband could take them or leave them, and my daughter won't touch them. I think the capers and juice add a great flavor to this dish! One alternative is to chop up green olives (just under 1 cup olives and their juice) as a substitute. If you try another replacement I'd love to hear about it!
More Similar Recipes
If you make this recipe, please leave a comment and rating at the bottom of the page! This is helpful to me and other's visiting my page! If you want to stay updated on more great recipes you can follow me on Instagram, Facebook, Pinterest, or subscribe to my newsletter.
Quick Chicken Piccata
Whether you're wondering how the heck to use your capers up, or you just want a really easy chicken dinner recipe, this Quick Chicken Piccata is a simple and delicious gluten-free meal! Enjoy with your choice of grain or potatoes!
Ingredients
2

pounds

boneless skinless chicken breasts

(about 2 large breasts, fillet them both)

sea salt and pepper for seasoning the chicken

olive oil for cooking

5-6

large

garlic cloves

(peel and chop)

1

large

onion

(slice about ⅓-1/2 inches thick)

1 ½

cups

low sodium vegetable broth

(option to use chicken broth)

3.5

ounces

jar of capers

(1 jar with liquid)

2

teaspoon

lemon juice

(freshly squeezed)
Instructions
Fillet the chicken breasts lengthwise.

Drizzle olive oil in a large skillet and set to medium-high heat. Once pan is hot, seer the meat for about 4 minutes, or until nicely browned (cover to retain moisture). Flip meat and cover again for another 6-7 minutes. Decrease heat to medium, turning meat again if needed for a darker brown to cook for another 2 minutes.

Transfer cooked chicken to a bowl and cover. Drizzle more olive oil into your hot skillet (about 1 tablespoon). Sauté the onion and garlic for about 3 minutes. Add the broth, capers, lemon juice, and simmer for another 3-4 minutes. Add the chicken back into the skillet, covering it with the juice and vegetables. Decrease heat to low, cover, and simmer for another 4-5 minutes.

Garnish with finely diced fresh parsley and freshly squeezed lemon juice.

Serve with rice, quinoa, noodles, or potatoes.