An incredibly savory garlic sauce to top chicken breasts, combined with sautéed mushrooms and onions makes a fantastic dinner!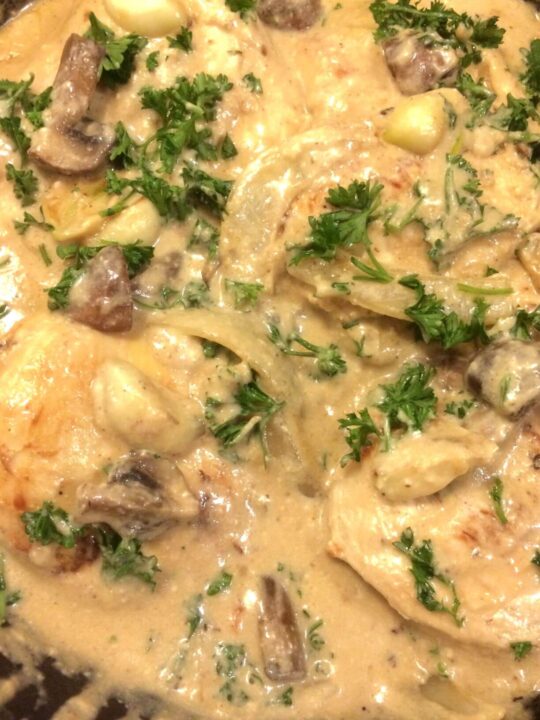 You say creamy chicken, I'm there. This creamy garlic chicken is no exception, but maybe a step above other chicken dishes I've had! I feel like most meals aren't complete unless they have a little more oomph to them and I like to add sautéed onion and mushroom, which rounds it out so perfectly well!
To make the sauce super creamy I used heavy cream. Yes, it's higher in fat, but the rest of the dish is all healthy ingredients and I'm all about an enjoyable balanced diet! You could replace the cream with a lower fat milk and increase the flour to thicken it, but you will still lose some of the richness and depth!
Marinating the chicken for at least a couple hours, if not overnight, makes a big difference! Especially when marinating in heavy cream, the chicken becomes extra juicy and stays that way the whole cook.
Low sodium vegetable broth adds volume to the sauce but also flavor and richness. If you're wanting to thin the sauce out at the end you can always add a bit more broth. Please note that the amount of sea salt takes into consideration that the broth is low sodium. If you're using a higher sodium broth then you might want to adjust for added salt!
Adding flour helps to thicken the sauce, but you could try a gluten free flour or just leave it out entirely for a thinner sauce also!
Garlic, mushrooms and onions are, in my opinion, the best combination! Feel free to shake it up and try some other veggies (get creative with what you have on hand).
Cook time on the recipe seems long but it's taking into account the marinating time! Aside from marinating the chicken, it only takes about 15 minutes to prepare!
This is a quick meal to put together, easy to cook, and the resulting flavors are absolutely incredible! In the words of my 3 year old "I'm full, can I have more?"
Try These Similar Recipes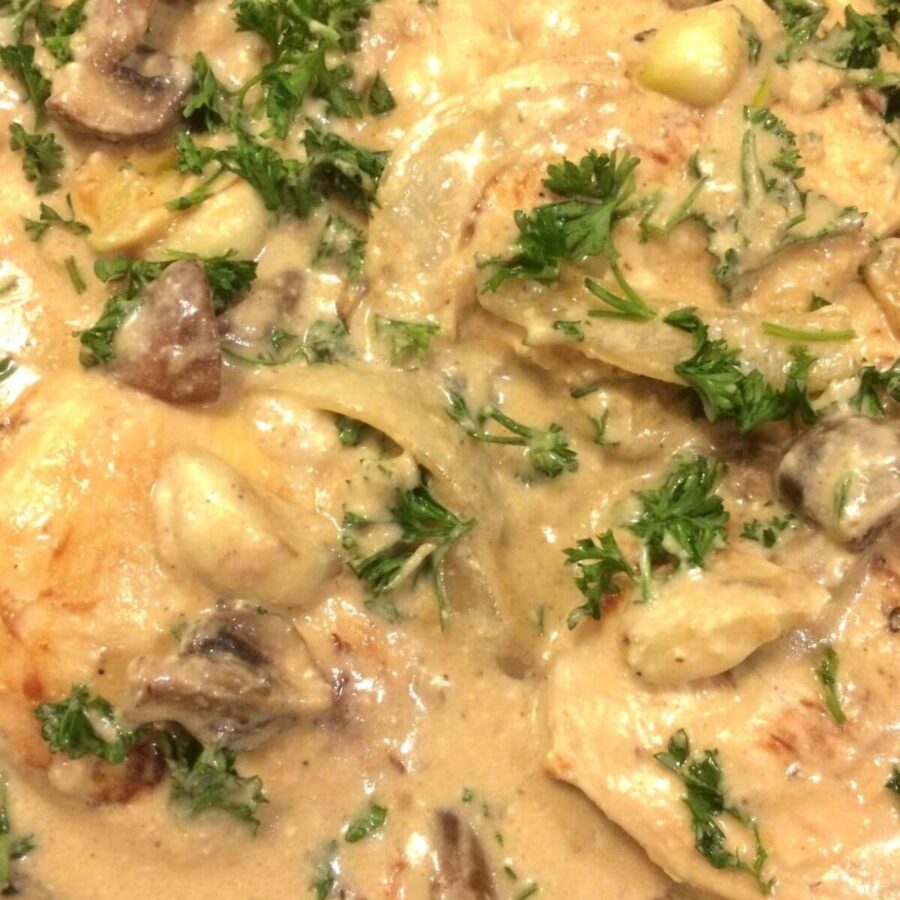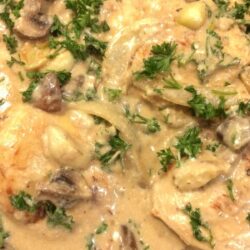 Creamy Garlic Chicken with Mushrooms and Onions
An incredibly savory garlic sauce to top chicken breasts, combined with sautéed mushrooms and onions makes a fantastic dinner!
Ingredients
Chicken + Marinade
2 ½

lbs.

boneless skinless chicken breasts

(2 large breasts, fillet each breast)

1

cup

heavy cream

(*See notes for alternative with milk)

½

teaspoon

garlic granules

(or garlic powder)

½

tsp

sea salt
Remaining Ingredients
⅔

cup

low sodium vegetable broth

½

teaspoon

sea salt

freshly ground black pepper

2

tablespoon

all purpose flour

(option to use a gluten free flour, or leave flour out entirely for a thinner sauce)

2

tablespoon

olive oil, split

(per instructions below)

2 ½

cups

baby bella mushrooms, quartered long ways

¾

cup

onions, sliced

(purple or yellow)

6-8

large

garlic cloves, halved

¼ - ⅓

cup

chopped parsley, packed
Instructions
Marinate the Chicken
Fillet chicken breasts to have 4 portions.

In a large bowl with a lid, whisk together the heavy cream, garlic granules, and ½ teaspoon sea salt. Add the filleted chicken and let marinate for 2 hrs- overnight.
Baking the Dish
Add 1 tablespoon olive oil to a large skillet (preferably cast iron), and set to medium heat. Once hot, remove 2 of the chicken fillets at a time from the marinade, lightly shaking off excess drippings back in to the bowl (to use later). Place on the pan and cover to sear chicken for about 6 minutes, then flip and cook another 5-6 minutes, covered. Transfer chicken to a plate and cover to keep warm, then add ½ tablespoon oil to the pan and repeat with the other 2 fillets.

Manage your heat as needed, particularly with cast iron (I tend to decrease a bit to medium-low near the end of the cook).

While the last of the chicken is cooking, add 2 tablespoon flour, ⅔ cup low sodium veggie broth, freshly ground black pepper, and ½ teaspoon sea salt into the leftover marinade. Whisk together.

Prepare garlic, onions, and mushrooms and place them in a large bowl. Set aside.

Transfer meat out of the pan and remove any excess large pieces or darker drippings with a slotted spoon, leaving any leftover oil in the pan. Keep burner on medium heat.

Add about ½ tablespoon olive oil to the pan. Add garlic, onions, and mushrooms to the pan and sauté for about 4 minutes.

Add the chicken and marinade mixture, then decrease heat to low-med and cover for 5-7 minutes to simmer and allow the sauce to thicken. Turn off heat and garnish with fresh parsley. Let rest for a couple minutes. Best when served immediately but this dish does well as leftovers too!

Serve with garlic mashed potatoes and steamed broccoli!