This is a wonderful recipe if you have leftover chicken! Homemade Chicken Alfredo is so easy and perfectly blends healthy vegetables, chicken, and a cheesy creamy sauce!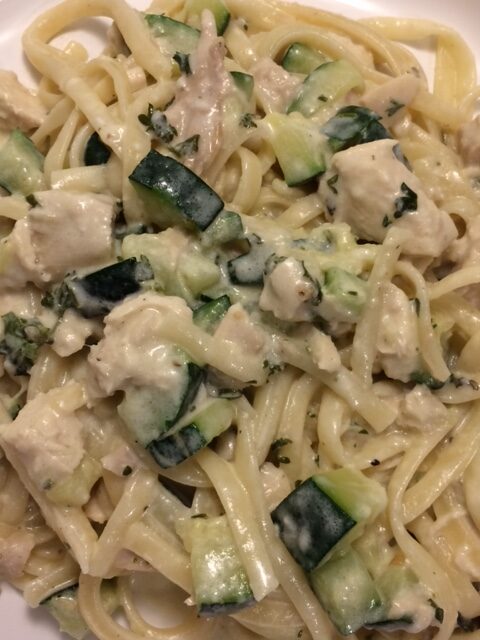 Chicken Alfredo has always been one of my favorite pasta dishes. But, it can also be one of the highest sodium pastas if you're buying it from a store or restaurant. Once you try this recipe you'll see how easy it is to make from scratch and how easy it is to tailor the ingredients to meet your health needs.
I chose to make this recipe with pre-cooked chicken. I had just roasted a whole chicken with basic and mellow spices, which made it perfect to repurpose into several different dishes. It also cut back on the cook time, which is always a perk to any recipe.
Let's get down to what this great recipe involves.
Pre-Cooked Chicken
My roasted chicken that I used in this recipe used basic seasonings: parsley, salt, pepper, rosemary, garlic, lemon, and chicken broth. I'll be sharing that recipe soon! You can use a roaster chicken from the store, or just grill up some chicken breasts or thighs with light seasonings and it will taste great!
Vegetables
I chose to use zucchini in this recipe and it tastes delicious. You can replace it with a wide range of vegetables: broccoli, kale, mushrooms, or onion.
The Sauce
Heavy cream, Pecorino Romano, and Gouda help create a perfect creamy sauce for this recipe. No, this combination isn't the healthiest option but it sure is worth the calories! You can replace the cream with a lower fat milk, you'll just get a thinner sauce. You can then chose to thicken the sauce with a flour (white/wheat, oat, quinoa) until the texture is to your liking.
Pecorino Romano is going to be the death of me. For some reason I keep buying it on sale, then getting home and wondering why the heck I bought it...again. It's a strong cheese and I don't like it for many recipes. This alfredo and pizza are two ways that I actually do like to use Romano. It does add a strong flavor, but the gouda rounds it out nicely.
With the cheese and cream you should have plenty of salt that you shouldn't need to add any additional! However, that's entirely up to you!
Curly Parsley
Yes it does make a difference if it's curly or not. The texture is completely different with curly parsley, especially when you're cooking it. Of course if you only have Italian parsley on hand you can use that but it will make for a different texture.
More Pasta Recipes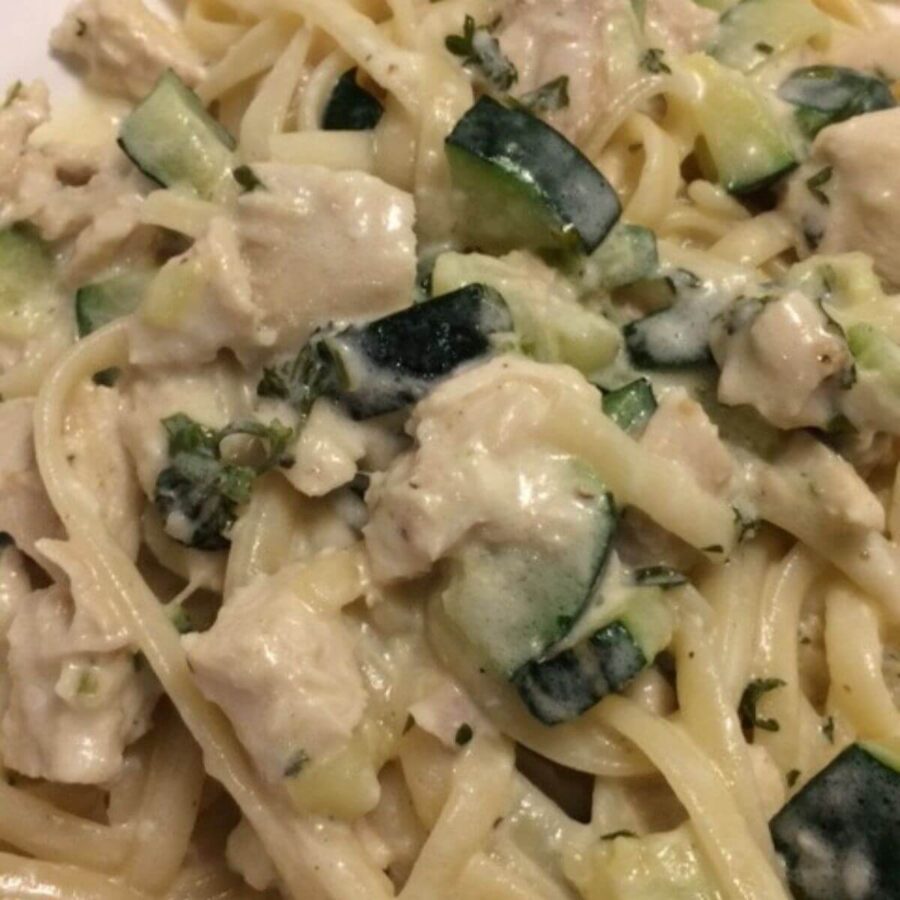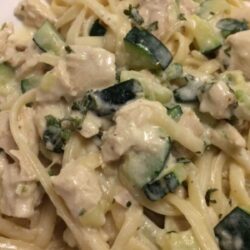 Chicken Alfredo with Zucchini
This is a wonderful recipe if you have leftover chicken! Homemade Chicken Alfredo is so easy and perfectly blends healthy vegetables, chicken, and a cheesy creamy sauce!
Ingredients
6

oz.

uncooked Linguine or just under 8oz. Fettuccini noodles

3 cups cooked noodles
For the Sauce
½

cup

Pecorino Romano cheese

shredded

½

cup

aged Gouda

shredded

¼

cup

full fat plain Greek yogurt

freshly ground black pepper to taste

½

cup

heavy cream

½

teaspoon

garlic powder or granules

¼

cup

curly parsley

finely chopped
For the additional ingredients
2

cups

diced zucchini

2

cups

diced or shredded already cooked chicken

1

tablespoon

olive oil
Instructions
Fill a medium-sized sauce pan about ¾ full with water and bring to a boil. Add uncooked noodles and boil per instructions or until el dente. Don't overcook! Once cooked, drain the water and quickly rinse them in cold water to stop the cook. Spray noodles lightly with olive oil to avoid them sticking together and set aside. While noodles are cooking continue to the next steps.

In a small saucepan, combine all ingredients for the sauce: yogurt, cheese, ground black pepper, heavy cream, garlic powder, parsley. Mix well and cook on low-medium heat for about 10-15 minutes. Simmer and stir occasionally to avoid sticking. You just want to heat it until the cheese is melted. Adjust heat lower as needed if it begins to boil. Keep covered and set aside.

In a medium-sized skillet add 1 tablespoon olive oil and heat to medium-low heat (level 3). Once hot add zucchini and sauté for about 10-12 minutes (you don't want them mushy). Add the already cooked chicken to the zucchini to warm it. Once chicken is warm remove from heat and set aside.

In a large mixing bowl or serving bowl, combine all ingredients. Top with ground red pepper or ground chipotle.
Notes
Everything can be cooking at the same time to save on total cook time (as noted in my total cook time).