These bars have a buttery soft crust, rich New York-style cheesecake middle with sweet apples mixed in, and a light and crumbly streusel topping.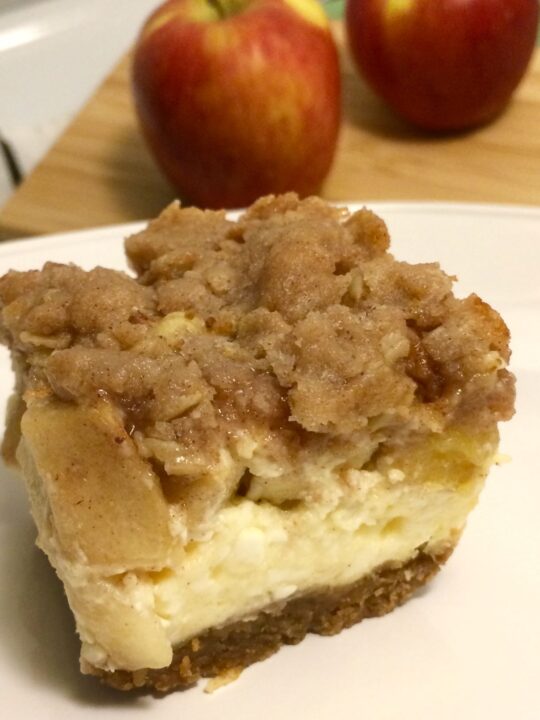 Do you love apples? How about cheesecake? This is the perfect combination for a dessert that's sweet, creamy, and oh so decadent.
Just as taco Tuesdays might be a staple in many households, these bars are now a staple in mine. We can't get enough of them. Because of that, I have perfected them over many trials. Every time I made adjustments to decrease the sugar to make the bars enjoyable and worthy of "just one more" as opposed to "I can't eat any more that's so sweet."
I love that these bars seem to have everything I'm always craving in a single serving. I have a sweet tooth, but I can't handle anything that's over the top sweet. Because this recipe uses sugar and maple syrup it has just the right balance of flavor and sweet that gives you the reflexive close-your-eyes-and-say-mmmmmm response. The crust is just crumbly enough to melt in your mouth but still give you that slightly chewy texture. The cheesecake filling is firm, creamy, and not overly sweet so you can still taste the cream cheese. The streusel just tops it all off with a light crunch that doesn't mask the deliciousness of all the flavors below it. These bars really have it all for a perfect dessert.
Whether you're just wanting a treat for yourself at home, or serving guests, these bars can easily be cut small or larger and be served by themselves or with whipped cream, ice cream, or a caramel drizzle.
They would make a beautiful addition to any party or holiday celebration!
Now let's get into what these bars are made of!
Apple Cheesecake Bars Ingredients
For the Base: I have edited this recipe to include my preferred base in the ingredients and my second favorite as an alternative option (seen in the notes section also). I started making this base with molasses, less butter, and more oil. I loved it! But, I wanted to try it again with maple syrup, less oil, and a tad more butter to see how much it changed things. The answer is, a lot. When using molasses and more oil you get a crispier crust that cracks more when you cut into it rather than a smooth cut like with the alternative recipe. Molasses gives it a richer flavor and I love it! Both methods use flour, sugar, molasses or maple syrup, unsalted butter, and olive oil and both are incredible.
For the Cheesecake Layer: Room Temperature- cream cheese, sugar, Greek yogurt, vanilla extract, eggs, sea salt, flour. The Greek yogurt gives enough flavor without adding too much tang. The eggs add great volume so this filling isn't too dense. Now for the tricks. DON'T OVERMIX! I don't even have a hand mixer right now. I usually just mix this with a fork and it stays thicker and more dense. I have used the whisk attachment on my emersion blender and it made it way too runny. There are several reasons you can get a runny cheesecake center and overmixing is a big one. Of course a creamy and smooth texture is desired, but don't overdo it. Whisk the extract, sea salt, eggs, flour, and sugar together first before folding all of that into the yogurt and cream cheese. As I mention above, make sure all these ingredients are room temperature to decrease likelihood of lumping. Also, gently folding in the more liquid ingredients helps the cream cheese and yogurt maintain their consistency.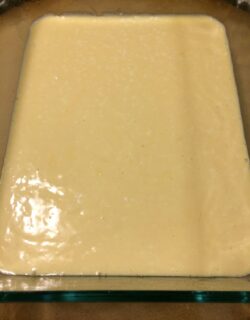 For the Apple Layer: Granny Smith apples are always my preferred for baked goods because they add amazing flavor and tartness while still being sweet. If you're not looking to add tartness to this dessert then I would choose a sweeter apple such as: Fuji, Jazz, Gala, or Honeycrisp. The amount of sugar is low so it doesn't cover up the fresh apple flavor. This recipe has many layers and the added sugar isn't needed in this layer. Cinnamon and nutmeg are a great combination for this recipe, without being overpowering!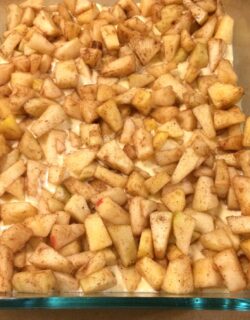 For the Streusel Layer: Even though there is already white sugar, the maple syrup is a must for flavor and helps with binding as well. You can also use quick oats but rolled oats give more crunch and texture. I have put this streusel on by lightly sprinkling it on the top and also by patting it down. Patting it down will hold it in place a little better but gives it a different texture than the lighter crumbles. I love both ways!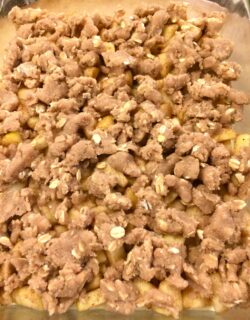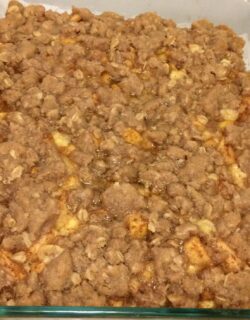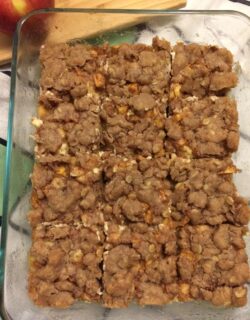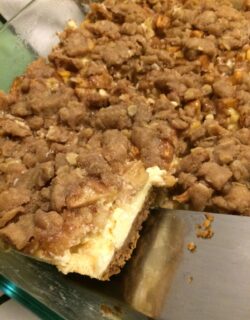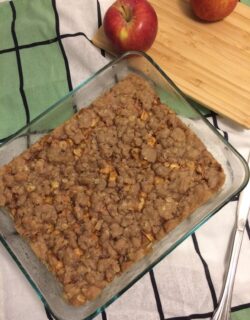 2 Different Base Options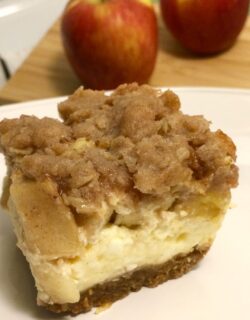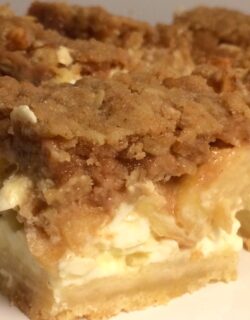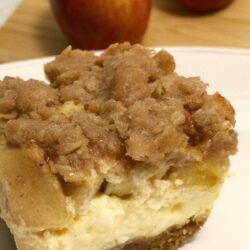 From Scratch Apple Cheesecake Bars with Greek Yogurt
These bars have a buttery soft crust, rich New York-style cheesecake middle with sweet apples mixed in, and a light and crumbly streusel topping.
Ingredients
For the Base *alternative option at the bottom of ingredients
1

cups

flour

3

tablespoon

sugar

1

tablespoon

blackstrap molasses

option to use maple syrup

5

tablespoon

unsalted butter

2

tablespoon

olive oil
For the Cheesecake Filling
1 ¼

cups

cream cheese

¼

cups

full fat plain Greek yogurt

¼

cups

white sugar

2

large

eggs

1 ½

teaspoon

vanilla extract

1

pinch

sea salt

1

tablespoon

flour
For the Apple Filling
4

cups

diced or sliced peeled apples

3-4 medium apples. *see notes

1

tablespoon

sugar

½

teaspoon

ground cinnamon

¼

teaspoon

ground nutmeg
For the Streusel Topping
¼

cups

+ 3 tablespoon sugar

½

tablespoon

maple syrup

½

cups

flour

¼

cups

rolled oats

1

teaspoon

ground cinnamon

¼

cups

unsalted butter
*Alternative Option for Base
1

cup

flour

3

tablespoon

sugar

1

tablespoon

maple syrup

6

tablespoon

unsalted butter

1

tablespoon

olive oil
Instructions
Make the Base
Preheat oven to 350℉. Either Line a 9"x7" or 8"x8" baking pan with parchment paper or spray with olive oil.

In a medium-sized bowl, combine all the ingredients for the base: flour, sugar, maple syrup, butter, oil. Press mixture into pan. Bake 15-18 minutes until it's light golden brown If you lightly touch the top it should be slightly firm and not wet at all once baked. Set aside and leave oven on.
Make the Cream Cheese Filling
While the crust is baking, in a medium-sized bowl combine the cream cheese and sugar. Add the egg, vanilla, salt, and flour and combine well until smooth (use a stand mixer, hand mixer, fork, or whisk). Set aside.

If you're doing this part by hand use a potato masher to blend the chunks!
Make the Apple Filling
Slice and chop the apples into ½" or smaller pieces. Add apples to a medium-sized mixing bowl. Add sugar, cinnamon, and nutmeg and mix together. Set aside.
Make the Streusel
Re-use bowl you used to make the base (or get another medium bowl) and add in sugar, maple syrup, flour, rolled oats, cinnamon, and butter. Combine all ingredients with your fingers or a fork. Set aside.
Layering the Bars
Pour cheesecake mixture onto baked base. Pour apples over cheesecake mixture spreading them out evenly. Using your fingers, crumble the streusel topping over the top. Bake at 350℉ for 35-40 minutes or until the cheesecake is set. Let the bars cool in the fridge for at least 2 hours to harden and set.
Serving
Once cooled, remove bars from pan using parchment paper to pull them out. Set on a cutting surface and slice into 12 even-size bars. There are no rules, you cut them as big as you want! Enjoy!
Notes
*I prefer Granny Smith. I've used Fuji and Jazz with great success too. A blend of apples always works well.
*Alternative Option for Base: For softer, more of a shortbread crust
1 c. flour
3 tbsp. sugar
1 tbsp. maple syrup
6 tbsp. unsalted butter
1 tbsp. olive oil