This is down right the best cream cheese frosting recipe! It's not overly sweet and it uses less butter, creating a perfectly balanced, dreamy, dessert topping!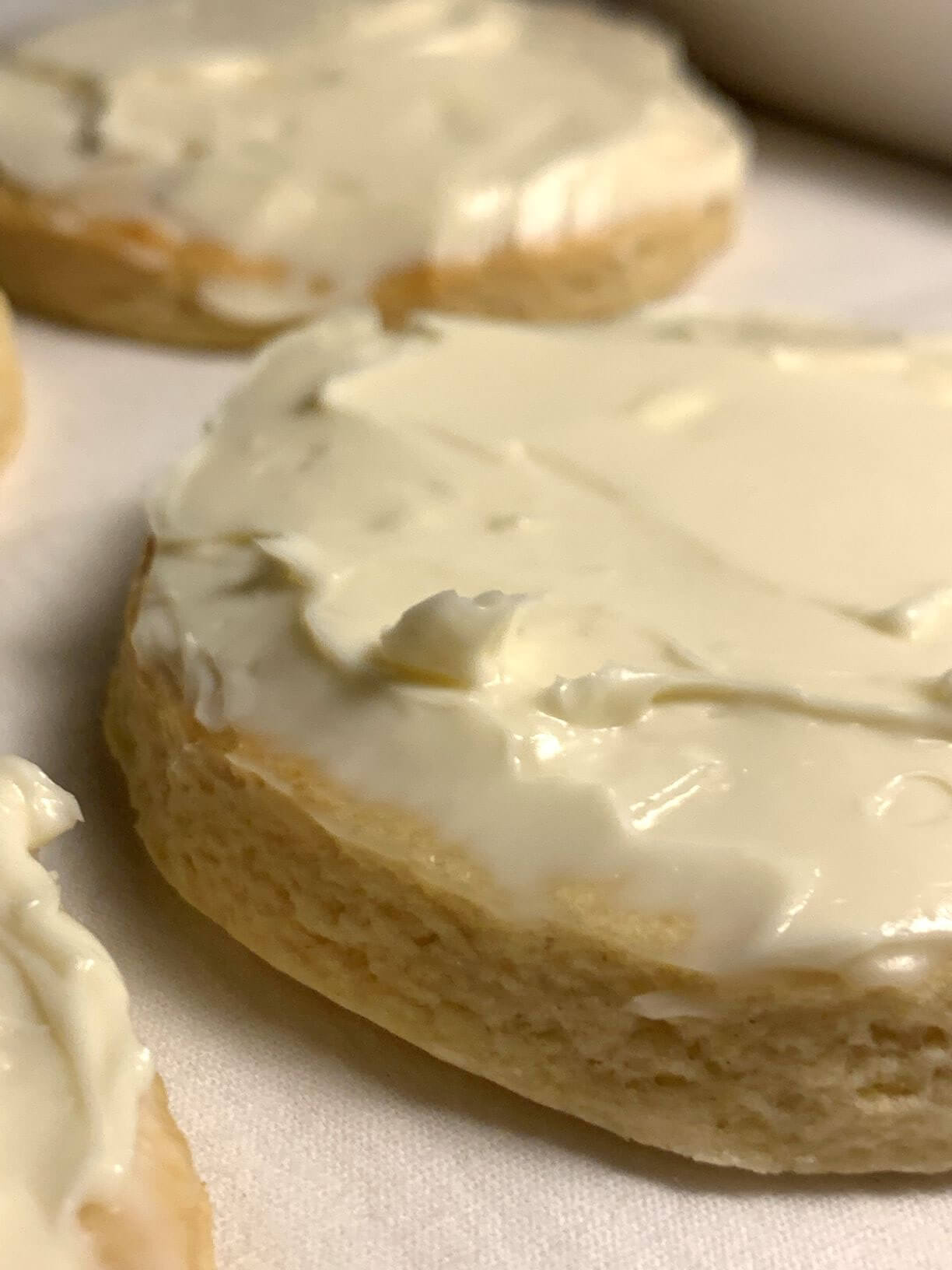 An incredible cream cheese frosting is one of my greatest weaknesses. While I've never been a fan of super sweet frosting, even as a kid, I can make a creamy and rich cream cheese frosting disappear in no time!
In general, frosting is added on top of some sort of sweet dessert. That's one reason to not over sweeten your frosting. It shouldn't overpower your dessert, or be an identical flavor match. It should stand apart while also play a supporting role.
Ingredients
Like most cream cheese frostings, this recipe is super simple. The key is how much of each ingredient to include so you don't get too much sweetness but just enough creamy dreaminess.
Both the cream cheese and butter need to be softened at room temperature when making this frosting. I use a lower amount of butter and powdered sugar because I think more is unnecessary. I want just enough sugar to taste and brighten the flavor, but most of all I want the cream cheese to shine. I have made my own powdered sugar many times by blending granulated sugar until smooth. You just want to make sure it truly it smooth, otherwise you'll be crunching on sugar crystals instead of enjoying a smooth frosting!
Vanilla extract is an absolute must! If you're wanting to make this even more kid friendly you could use real vanilla from vanilla pods instead. I would love to use real beans every time, but the high cost doesn't make that so easy.
Milk is used to thin out the frosting just a bit. I think the consistency of this recipe is just perfect, but of course if you want it thicker, leave out the milk, and add more to thin it out even more!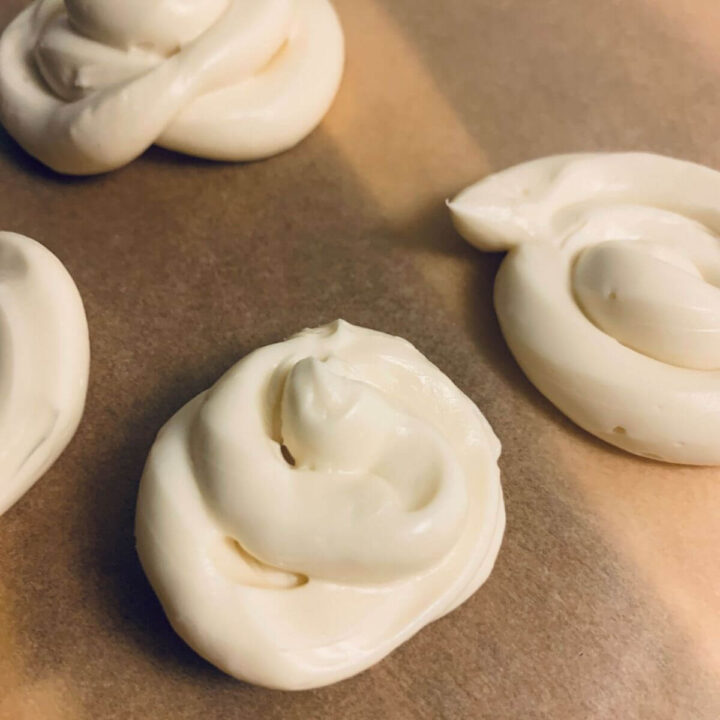 What Does This Frosting Pair With
I use this cream cheese frosting with my Build Your Own Fruit Pizza Cookies. In that recipe I use my Cut-Out Sugar Cookies so of course you can keep it simple with basic cookies and frosting! It would also pair incredibly well with cupcakes and cakes - think Whole Foods' Berry Chantilly Cake!
Similar Creamy Toppings
If it's creamy topping you're interested in, you might also like my Dessert Cream Topping. If you're looking for a creamy addition to trifles, parfaits, or deconstructed berry desserts, try my Homemade Creamy Mascarpone. For pretty much any and every other dessert, don't forget a wonderful Homemade Whipped Cream By Hand!
If you make this recipe, please leave a comment and rating at the bottom of the page! This is helpful to me and other's visiting my page! If you want to stay updated on more great recipes you can follow me on Instagram, Facebook, Pinterest, or subscribe to my newsletter.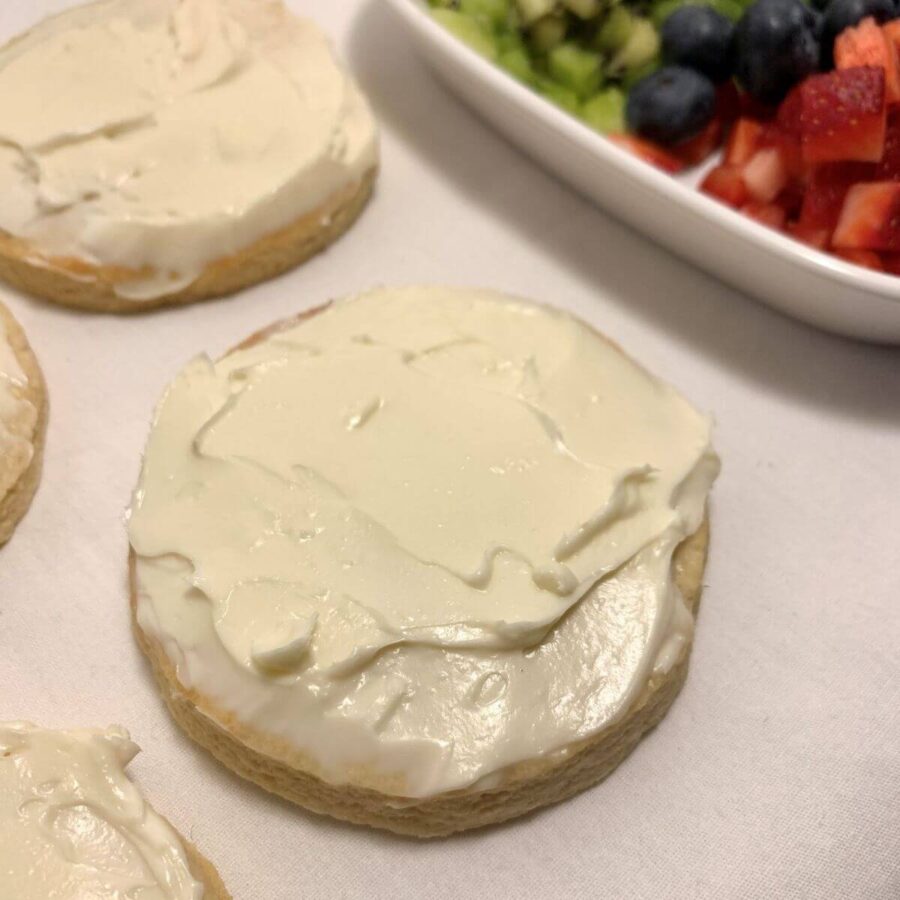 The Best Cream Cheese Frosting
This is down right the best cream cheese frosting recipe! It's not overly sweet and it uses less butter, creating a perfectly balanced, dreamy, dessert topping!
Ingredients
8

oz.

cream cheese

room temperature

2

tablespoon

unsalted butter

room temperature

1

teaspoon

vanilla extract

¼

cup

powdered sugar

1

teaspoon

milk
Instructions
In a small bowl, combine the softened cream cheese, softened butter, vanilla, powdered sugar, and milk. Whisk together until creamy and chill until ready to use.

Enjoy with your favorite cookie or cake recipe, or let's be honest, just grab a spoon and dig in!