Simple, tangy, classic lemon bars make such a fun and refreshing dessert! These bars have a sugar cookie crust and incredibly tart and addicting lemon filling!
(This page contains affiliated links)
Please join me on a journey of making incredible lemon bars! If that sounds a bit dramatic, you'll understand once you make these delightful bars. This is really the only lemon bar recipe you'll need because it's so easy to alter if you want even more tartness, or if you want to make them super sweet.
My lemon bars use a sugar cookie base with a thick, rich, and creamy lemon filling to top it off.
How Do These Lemon Bars Taste?
They are tangy, so know that going in. If you're a fan of super sweet lemon bars, please give these a try because you still get the sweetness, but lemon is most definitely the lead role in these bars, as it should be! If you make them and think "oooo wee I want a bit more sugar," there's such an easy fix! Dust them with powdered sugar and I'm sure it'll round it out just right for you.
Ingredients
Cookie Base
Flour: Just stick with a basic white, all-purpose flour.
Unsalted Butter: I used softened butter for this recipe. Honestly, I just didn't want to take the extra step of melting the butter. I ended up adding a sprinkle of water to moisten the dough. You can also melt your butter and leave out the water.
Granulated Sugar: To keep this recipe super simple I used white sugar. It keeps the cookie base firm, flavorful, and just perfect.
Sea Salt: Helps to keep the cookie moist and brightens other flavors.
Baking Powder: For a little rise.
Vanilla Extract: I prefer organic extract and I would highly recommend extract over any imitation vanilla. Don't skip this ingredient it adds so much.
Lemon Filling
Lemon Zest: Wash your lemons and zest them, making sure to not zest the white pulp.
Lemon Juice: Fresh squeezed lemon juice is the ultimate best choice. I don't use any equipment for juicing, so I just use a tight mesh strainer to catch the seeds and pulp.
Eggs: Use whole eggs. I have made these with my frozen, blended eggs and it worked super well! If using frozen eggs, thaw and whisk to re-combine. Use 1 cup + 2 tablespoon blended eggs.
Sugar: I used granulated sugar for this recipe. It's a clean taste, and I keep the amount of sugar super low. Doing so gives it a really amazing tanginess, but they're still sweet! If you're wanting it much sweeter just add 1-2 more tablespoon sugar. For the dusting of sugar, I make my own powdered sugar by simply blending my granulated sugar until super fine.
Flour: I used white, all-purpose flour for this recipe.
If you're up for a bit more complex lemon bar recipe that uses natural sweetener, check out my Tangy Lemon Bars recipe.
I didn't want to mess with using alternative flour so I kept it super simple! If you're wanting a more gluten-free option, take a look at the Tangy Lemon Bar link just above.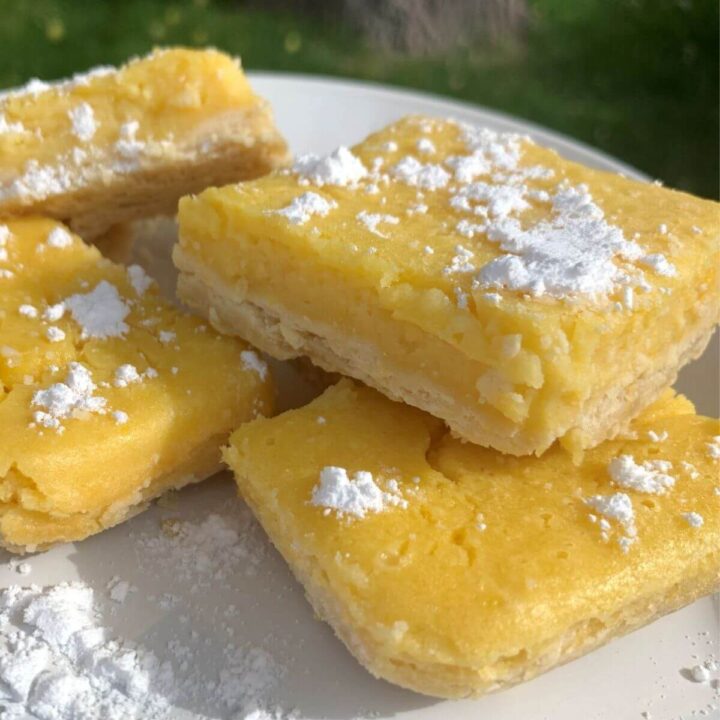 How to Make these Lemon Bars
You can find the full printable recipe card below, but let's cover how to make these lemon bars, in a nutshell.
Make the sugar cookie base. Flatten into baking dish and bake at 350℉.
While the base bakes, make the lemon filling. Whisk with some sort of electric mixer if needed to fully integrate the flour. I use a milk frother if needed.
Right when you remove the cookie base out of the oven, decrease the temp to 325℉.
Gently poke holes in the base with a fork, but only surface level.
Pour in the lemon filling and bake at 325℉ for 25 minutes, then increase temp to 350℉ for a few minutes, or increase temp even more if you want a lightly browned top.
Chill bars completely, remove and cut into preferred sizes.
Blend granulated sugar or just use powdered sugar to dust the bars.
Optional Adjustments
If you want a thicker cookie base: I used a half portion of my Cut-Out Sugar Cookie recipe for these lemon bars. I think it's a perfect portion of crust to lemon curd, but if you're wanting it thicker, try making 1.5 times the recipe below, or just go all out and double it, keeping the lemon filling portion as is.
If you want more bars, because you'll want more bars: Just adjust the serving size to 18 in the recipe card below and you can easily double the recipe. Use a 9 x 13 inch baking pan for a larger batch.
If you want it sweeter: Simply increase the sugar in the recipe by adding 1-2 more tablespoon granulated sugar. Or, add more powdered sugar to dust on top.
If you want it even tangier: High five to you, because tangy lemon bars are just the best. Try the recipe as is first, but if you want more tang, next time you can either decrease the granulated sugar by 1 tablespoon or add a ⅛- ¼ teaspoon citric acid!
If you want to feel like you're not eating as much: Cut the bars into tiny, fun-sized little squares. That way when you eat 5 little squares, you'll tell yourself "they were tiny, so it's fine."
Are These Lemon Bars Kid Friendly?
Yes, these lemon bars are absolutely kid friendly. My daughter loves them! Granted, she said "they're tart..." while devouring her piece. They do contain granulated sugar of course so there's that aftermath to expect.
These bars are so easy to chop into tiny squares which is perfect for younger kids! They're packed with flavor so a full bar might be too much for little ones anyways. Give them a couple tiny cubes and they likely won't have any complaints!
Can You Get Clean Cut Edges When Cutting These Bars?
Sure you can, if that's a priority for you. For me, it never is. I love the look of these lemon bars as is and they taste so amazing that no one will ever comment on how clean the cut is.
Tip: Make sure you completely chill the bars in the fridge before cutting. You can even freeze them for a bit to firm them up and avoid the lemon curd sticking to your knife.
Using parchment paper will allow you to easily lift the bars out of the baking dish and onto a flat surface where you can more easily cut them into squares.
If you make this recipe, please leave a comment and rating at the bottom of the page! This is helpful to me and other's visiting my page! If you want to stay updated on more great recipes you can follow me on Instagram, Facebook, Pinterest, or subscribe to my newsletter.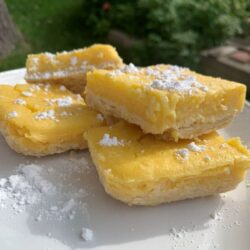 Classic Lemon Bars
Simple, tangy, classic lemon bars make such a fun and refreshing dessert! These bars have a sugar cookie crust and incredibly tart and addicting lemon filling!
Ingredients
For the Sugar Cookie Base
1

cup

all-purpose flour

4.5

tablespoon

unsalted butter

softened (equal to ½ cup + 1 tablespoon)

2 tablespoon + 2 tsp

granulated sugar

1

pinch

sea salt

¼

teaspoon

baking powder

½

teaspoon

vanilla extract

½

large

egg

(whisk 1 large egg and use 1 ½ tablespoon worth)

½

teaspoon

water to sprinkle if needed
For the Lemon Filling
1 ¼

tablespoon

lemon zest

(about 2 lemons)

1

cup

fresh squeezed lemon juice

(about 4 regular-sized lemons)

6

large

eggs

3

tablespoon

granulated sugar

6

tablespoon

all-purpose flour
Instructions
Preheat oven to 350°F. No need to preheat if using a convection oven.
Make the Cookie Base
In a medium-sized mixing bowl add the flour and cut in the butter and crumble together to create a sand-like texture. Add salt and baking powder and combine. Add the vanilla and eggs and press mixture together using your hands. If it seems a tad dry add a sprinkle of water. Option to melt the butter to create a wetter texture and leave out the added sprinkled water.

Spray an 11 x 8 inch baking dish (11 cup Pyrex) with olive oil. Press the cookie dough into the bottom of the dish.

For an even cleaner finish, use parchment paper and let it reach a bit over the edges of the dish to make it easier to remove.

Bake on 350°F for about 15-17 minutes.

Use middle rack for conventional oven and bottom rack for convection oven.

Meanwhile, make the lemon filling.
Make the Lemon Filling
Wash lemons. Zest 2 lemons to equal about 1 ¼ tablespoon zest.

Juice lemons to equal 1 cup (about 4 lemons).

In a medium-sized bowl combine zest, lemon juice, eggs, granulated sugar, and flour. Whisk until well combined. If it's still a little lumpy with the flour, use a mixer or immersion blender (I use a tiny milk frother) until smooth.
Put the Bars Together
When you remove the cookie base from the oven, decrease the oven temp to 325°F.

Poke at the surface of the crust with a fork (gently to just pierce the surface) to give it some texture. This will help the lemon filling stick more.

Pour the filling over the cookie base. Bake at 325°F for 25 minutes.

Increase temperature to 350°F (keeping oven door closed) for a few minutes. If you want a darker top, increase the heat even higher for a few minutes.

Cool lemon bars on a cooling rack. Once cooled, transfer to the fridge to completely chill.

If using parchment paper, pull the entire bake out of the dish and set it on a flat surface.

Cut bars into squares and dust with powdered sugar, or blended granulated sugar.