Tart and sweet this recipe is the perfect balance of crust to lemon filling and the flavor will send chills up your spine.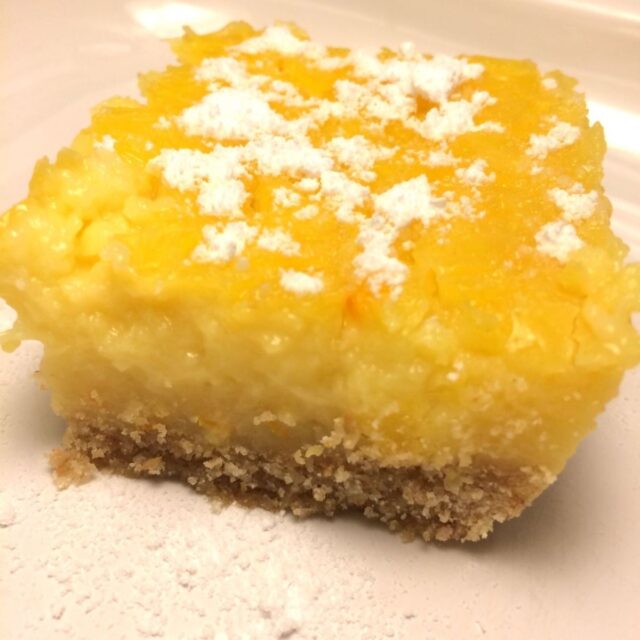 Have you had a dessert that just made your body tingle because it was so good? This Tangy Lemon Bar is that dessert for me. There's no doubt that this is tangy, sweet, and all around delicious. It's not lacking in lemon flavor, texture, or second helpings.
I remember eating lemon bars growing up and loving them. I had no idea what was in them but I loved the tartness and sweetness and finally had a dessert that wasn't coated in sugar frosting (which I didn't like as a kid). I have altered the recipe to make them healthier and in my opinion, way more flavorful than I've ever had.
When it comes to lemon bars, I want a flavorful crust that's not too thick and not too thin. As for the lemon filling, that can't be too thin either and it has to taste like lemons!!
There is no processed white sugar and there's the option to make it gluten free!
Ingredients
Flour: I blend my own oats into an oatmeal. Either oatmeal or oat flour will work. I also use wheat flour in the crust because I like the texture in this particular recipe more than a more glutenous white flour. Coconut flour again adds a nice texture and a lot of flavor to the crust. I've found that using a mix of flours makes this crust what it is because the texture is very unique, soft, melt-in-your mouth wonderful. I used organic white flour in the filling because I didn't want the texture of wheat flour in the filling like I did the crust.
If you're wanting to go gluten free you can do all oat and coconut flour. I cannot guarantee that a rice flour would give you the same result but if you try it let me know!
Arrowroot Starch: I prefer to not use cornstarch and arrowroot powder/starch is a perfect alternative with the same end result.
Sweetener: I used honey and maple syrup for natural sweetness and they add amazing flavor. Okay okay, I admit that I ended up dusting mine in sugar. I blend my sugar to a powder to replace powdered sugar. But, you can drizzle it with honey or maple syrup, or dust with coconut sugar to keep it completely refined-sugar-free. These bars are tart and tangy and no I don't want it sweeter on the inside, but adding a tad bit on the top just rounds it out nicely.
Coconut Oil: I recommend unrefined to add the coconut flavor. If you don't prefer coconut flavor then of course you can use refined.
Lemons: Use soft ones, or roll them around a cutting board before using to bring out the oils and juices. Zest the lemon with grater first before juicing.
I also added some tangelo juice again for a little more flavor. You can leave it out if you wish but if you want to add more just be careful to not over do the liquid portions so it stays solid once cooled.
I don't have a juicer so I use a good-ol spoon and twist technique. Yes I got a lot of pulp in mine and I don't take it out. Again, it adds texture and use all the parts of the fruit you can!
Zest: I added both lemon and tangelo zest. Why tangelo? First, they're more tangy than an orange so I feel it pairs well with this recipe. Second, I had a whole lot of them frozen from a mass clearance purchase a while back and wanted another flavor other than just lemon. You can use tangerine or orange and it will have a great result and add just a little additional flavor to the bars.
Helpful hint: If you zest the fruit when it's slightly frozen it's easier, then let it thaw before juicing and it'll be super easy to get all the juice out. Place in freezer for at least 5 minutes and it will be much easier.
Citric Acid: This helps add a bit more tartness and lemon flavor without the added liquid and why not add more antioxidants when possible?
Baking Method
I like to use my toaster oven for this recipe because it's in a smaller baking dish and I like to avoid heating the whole house in the middle of summer. If you're wanting to use a conventional oven temperatures should be the same just check to make sure the crust is slightly browning (barely) after 10 minute blind bake, and that the lemon bars are slightly browning after their 30 minutes. There shouldn't be a jiggle but if you test with a toothpick you likely won't get a dry toothpick since they're sticky until they set.
Prep the Night Before
This recipe is easy to prep ahead of time by making the crust, pressing it into the pan and chilling in the fridge overnight. Make the lemon filling and store in a separate bowl overnight until ready to bake.
Tangy Lemon Bars
Tart and sweet this recipe is the perfect balance of crust to lemon filling and the flavor will send chills up your spine.
Ingredients
For The Crust
½

cups

whole wheat flour

option to replace with oat flour for gluten free

¾

cups

oat flour

or oatmeal

¼

cups

coconut flour

¼

teaspoon

baking powder

⅛

teaspoon

sea salt

1

large

egg

½

cups

unrefined coconut oil

melted

1

tablespoon

maple syrup

1

teaspoon

raw honey

you can replace with maple syrup but I like to add a bit to help the crust stick together more

1

teaspoon

ground flax seed

this is optional but does add nutrition and texture
For The Lemon Filling
1

cups

fresh lemon juice

with some pulp

¼

cups

tangerine juice

with some pulp. Option to use orange, clementine, tangelo

1

tablespoon

lemon zest

1

tablespoon

tangerine zest

½

teaspoon

citric acid

6

large

eggs

3

tablespoon

raw honey

3

tablespoon

arrowroot starch

option to use cornstarch

6

tablespoon

organic white flour

option to use gluten free flour
Instructions
For The Crust
In a medium-sized mixing bowl combine the flours, baking powder, flax meal, and sea salt.

Add the egg, coconut oil, maple syrup, and honey. Mix with a fork or your hands until just combined but don't over mix.

Lightly spray an 11 cup baking dish (I use a Pyrex dish with dimensions: 9.1 x 7.1 x 3.5 inches). Press the mixture into the bottom of the pan, flattening it out evenly. Refrigerate until ready to use to let harden (I do it overnight).
For The Filling
Preheat oven to 350℉. Remove crust from fridge.

In a medium-sized mixing bowl combine all ingredients for the filling. Mix well using a fork or your fingers. I find it easier to use my hands to ensure the honey gets incorporated.

Bake the crust at 350℉ for 10-15 minutes until slightly golden brown. Using toaster oven: use bottom rack Using conventional oven: use middle rack

Remove crust from oven and pour lemon filling on top of crust. Decrease temperature to 325℉ and bake for 25 minutes.

Without removing bars from the oven, increase temperate again to 350℉ and bake an additional 3-5 minutes or until the crust begins to brown slightly.

Let cool on counter then put in fridge to let it set for at least an hour.

Serve as is, or lightly dust with one of the following: powdered sugar, blended white sugar, coconut sugar,drizzle with honey, maple syrup, agave.