This rustic plum tart, or galette, is fun, easy, and a unique dessert for summer and fall to celebrate plums!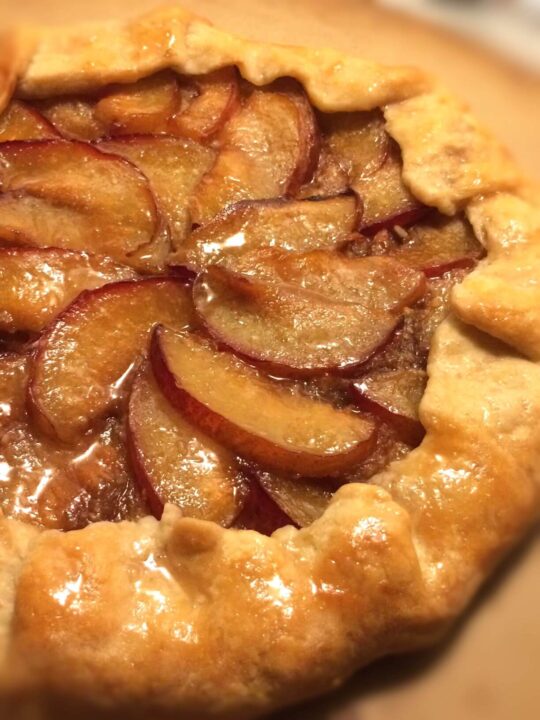 About five years ago, we started finding multiple locations near us where we could pick plums for free. Safe to say we go nuts, every year! This rustic plum tart is my absolute favorite way to celebrate the deliciousness of plums and it's so easy.
First off, who doesn't love a recipe that's "rustic." It's such a great way to say that the recipe is forgiving and you don't have to perfect the shape, or look, or finish of it for it to taste incredible. Yes, this recipe can also be called a plum galette, they are one and the same.
Let's get down to the basics of what makes up this fun plum tart.
Ingredients for a Rustic Plum Tart
Pastry Crust: I use 1 ½ times my single pie pastry recipe for this pastry crust. You don't want it too small, but you don't want it too large. Keep it smaller and simple. You'll be using flour, unsalted butter, sea salt, olive oil, and water. It's simple and amazing.
Almond Sprinkle: This is my absolute favorite addition to all my rustic tarts and galettes. I use this almond sprinkle for both sweet and savory recipes and it really adds so much. You just want to blend up raw almonds and combine that with flour and coconut sugar.
Plums: I'm not going to bother with specifying what kind of plums to use. Any will work, as long as they are ripe, sweet, fresh and not old. You can freeze plums (pits removed) and thaw them out for this recipe. It will add moisture but it's possible. Just make sure they still smell and taste good before using.
Egg Wash: Don't forget 1 egg + 2 teaspoon milk to whisk together the egg wash. It helps create a crisp pastry crust, adds color, and flavor.
Plum Glaze: I make this glaze by boiling together plums, water, honey, and arrowroot powder (or cornstarch). It creates a sweet, thick jam, from which you'll remove the thin liquid to brush over the baked rustic plum tart.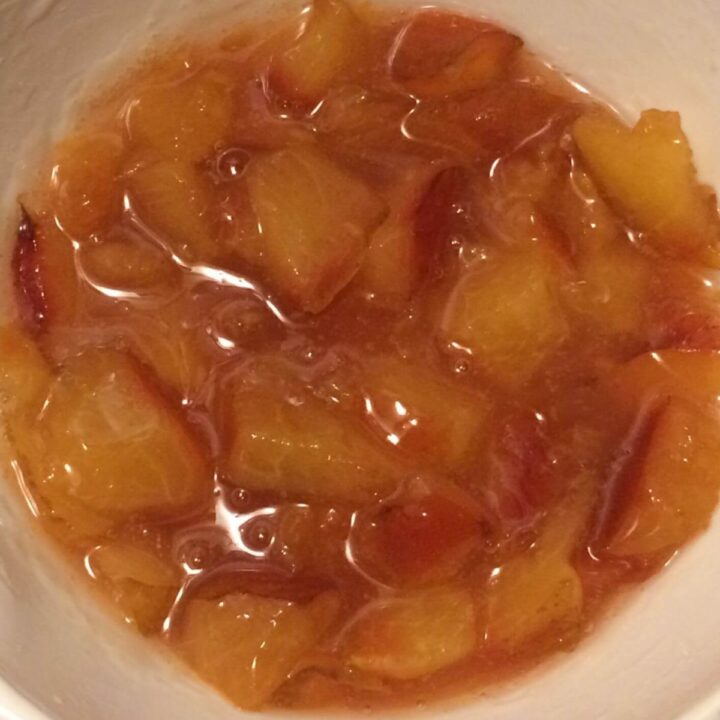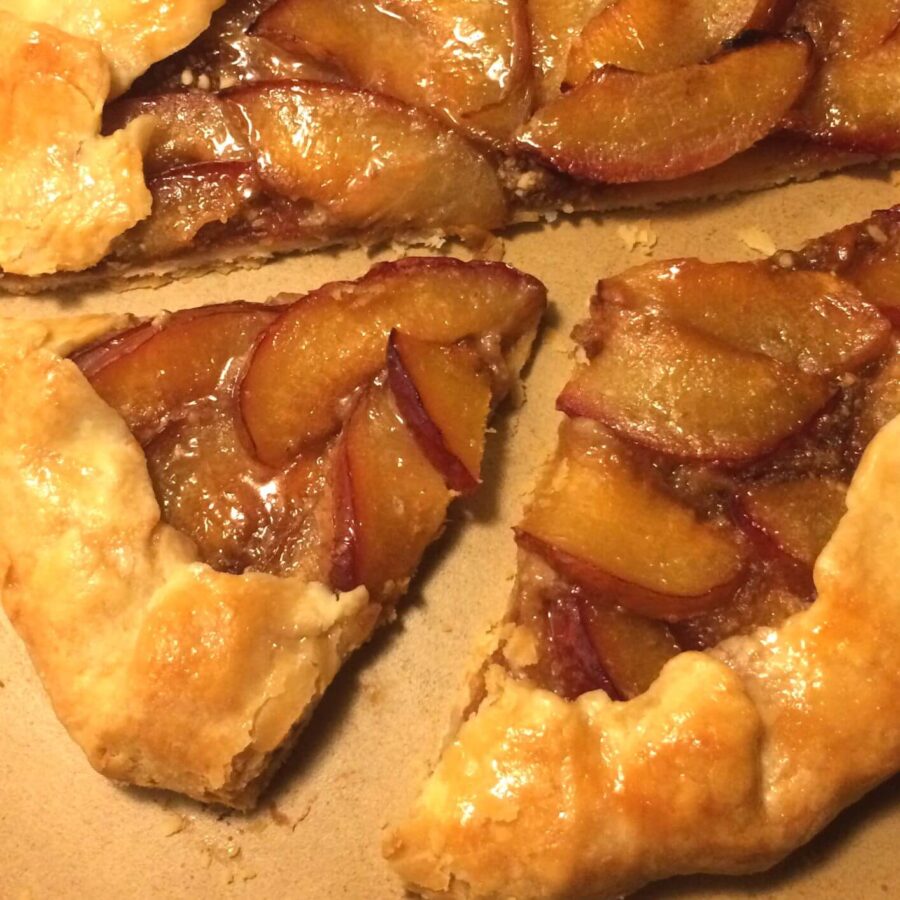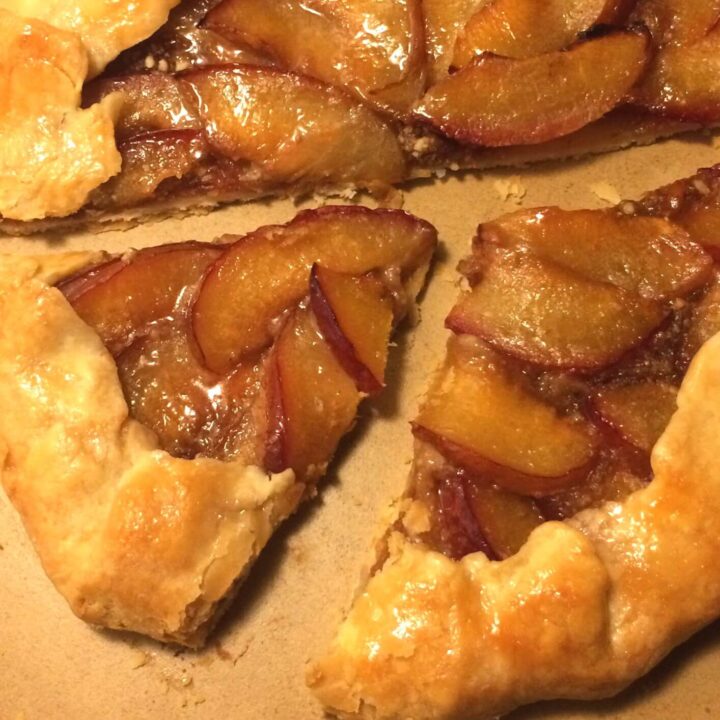 Shortcuts for this Rustic Plum Tart
My first recommendation is to follow the recipe as stated below in the recipe card. In full, it's amazing and comes together so well! If you're looking to cut a few corners here are some options:
A Store-bought single pie pastry could be used to replace the homemade pastry crust. You could also buy 2 crusts and cut 1 in half to combine 1 ½ pie shells, as I use in this recipe.
Use apricot jelly to replace the homemade plum glaze. Apricot is a great option because it brushes on clear and doesn't taint the color of the tart. It will add a lot of sweetness and slightly alter the flavor of the pastry.
Skip the almond sprinkle. I hesitate with writing this because it adds so much, and I love the addition. The almond sprinkle also adds a barrier between the pastry and the fruit, creating a crispier base and ensuring that the fruit doesn't soak through. Give it a little thought before removing this step, but of course this is your time to create, so you choose! You could also try sprinkling oatmeal or just a little flour over the pastry to help create a little layer.
Skipping chilling the pastry is an option, although not recommended. If you work very quickly with making the pastry so the butter isn't melted, you could roll it out with a little flour and be just fine. Chilling the pastry does add on a bit of time so I understand wanting to skip this step. Just know, that you could have butter leak out of the pastry! If you're going to skip this step, make sure you have all other ingredients and steps prepped and ready and make the pastry the last thing you make! If you choose to not chill your pastry, your prep time will only be about 25 minutes.
Just toss on the sliced plums and don't worry about laying them out perfectly! You don't want the layer to be too thick or it might not all stick together.
What are the steps to making this insanely good plum tart? Just scroll below to view the full, printable recipe card with all the detailed instructions!
Similar Recipes
If you make this recipe, please leave a comment and rating at the bottom of the page! This is helpful to me and other's visiting my page! If you want to stay updated on more great recipes you can follow me on Instagram, Facebook, Pinterest, or subscribe to my newsletter.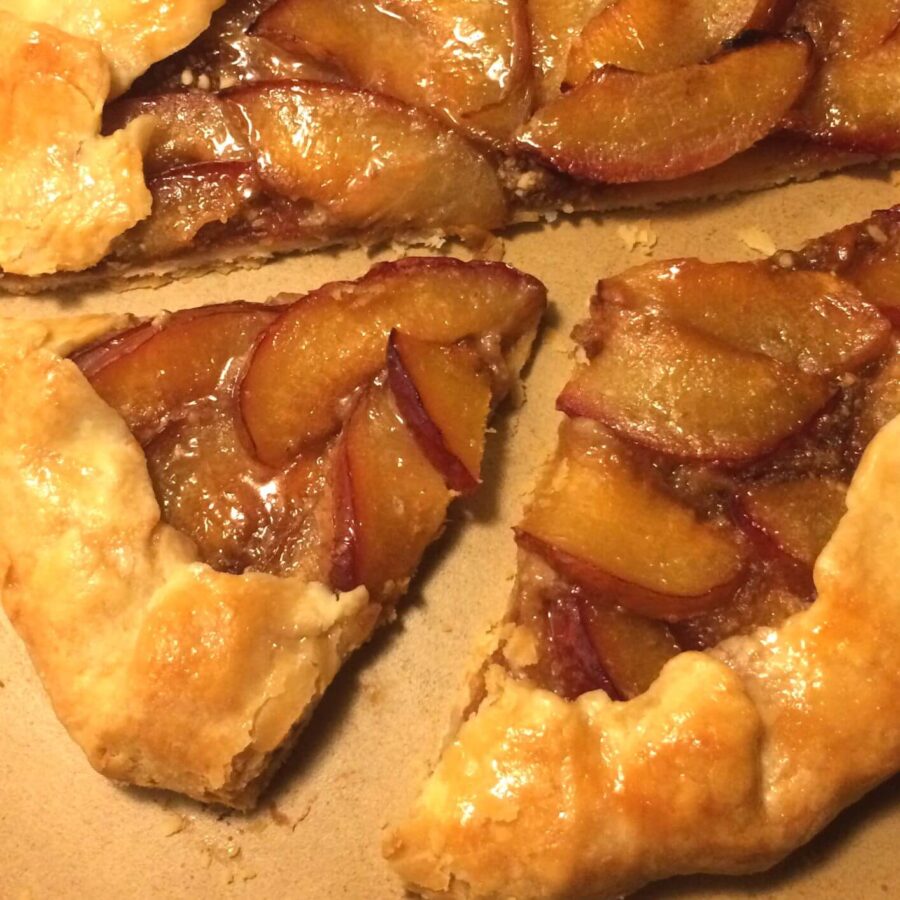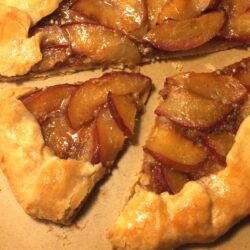 Rustic Plum Tart
This rustic plum tart, or galette, is fun, easy, and a unique dessert for summer and fall to celebrate plums!
Ingredients
FOR THE CRUST
1 ½

cups

all-purpose flour

⅛ teaspoon + pinch

sea salt

6

tablespoon

unsalted butter

scant 1

tablespoon

olive oil

5 ½

tablespoon

cold water
FOR THE FILLING
3

tablespoon

ground almonds

1

tablespoon

all-purpose flour

2

tablespoon

coconut sugar

2-3

cups

sliced plums
FOR ASSEMBLING AND BAKING
1

tablespoon

honey to drizzle

1 ½

tablespoon

unsalted butter

(cubed)

1

large

egg + 2 teaspoon milk

1-2

tablespoon

apricot jelly OR plum glaze recipe below
OPTIONAL PLUM GLAZE
½

cup

diced plum

1 ½

tablespoon

water

1

teaspoon

honey

½

teaspoon

arrowroot powder

(or cornstarch)
Instructions
MAKE THE CRUST
In a large mixing bowl, add the flour and cut in the butter until a fine texture is formed. Add all remaining ingredients and press together into a flat round. Refrigerate to chill (about 1 hour).
MAKE THE FILLING
Make the almond sprinkle In a small bowl, by combining the ground almonds, coconut sugar, and flour. Mix together and set aside.

Wash and slice plums about ½-inch thick, set aside.
ASSEMBLING THE TART
Preheat oven to 375°F and set oven rack to middle setting.

Lightly flour your work surface and roll out the chilled pastry to form an oval or 12-inch circle. Transfer the pastry to a cookie sheet or pizza stone covered with parchment paper, lightly floured surface, or lightly spray the baking surface with olive oil.

Create an imprint of a 9 inch circle in the center of your pastry to know where to end laying filling (leaving 1 ½-inch edge). I just make the imprint with my finger.

Sprinkle on the almond sprinkle on the pastry in the 9-inch center.

Lay out the plum slices in any shape and design you want, trying to not leave any gaps and staying in the 9 inch center.

Fold the edges over the plum filling, not worrying about how even it looks.

Drizzle with honey and sprinkle cubed butter over the top.

Whisk together a whole egg and 2 teaspoon milk for an egg wash, and brush over the pastry edge.
BAKING THE TART
Bake at 375°F for 55-60 minutes. TIP: if you see the tart bubbling up, use a toothpick to poke the bubble, otherwise you might have a blank spot in the finished tart (think bubbles on pizza crusts).

Meanwhile, make the plum glaze. Skip if using apricot jelly.
MAKE THE OPTIONAL PLUM GLAZE
In a small saucepan stir together all ingredients for the plum glaze. Heat on medium-low heat until it starts to boil (about 7 minutes). Decrease to low until the mixture has thickened. Remove from heat but keep covered to keep warm until tart is baked. Stir frequently to avoid sticking.

Use a slotted spoon to scoop and strain out the fruit pieces, leaving the glaze behind (save the fruit pieces to use as a jelly for toast).
ONCE THE TART HAS BAKED
Use apricot jelly or drizzle the plum glaze over the tart immediately after removing it from the oven. Cover the entire tart including the crust and fruit.

Let cool briefly before cutting and serving. Enjoy!