Small batch plum freezer jelly with chia seeds to lightly thicken to perfection!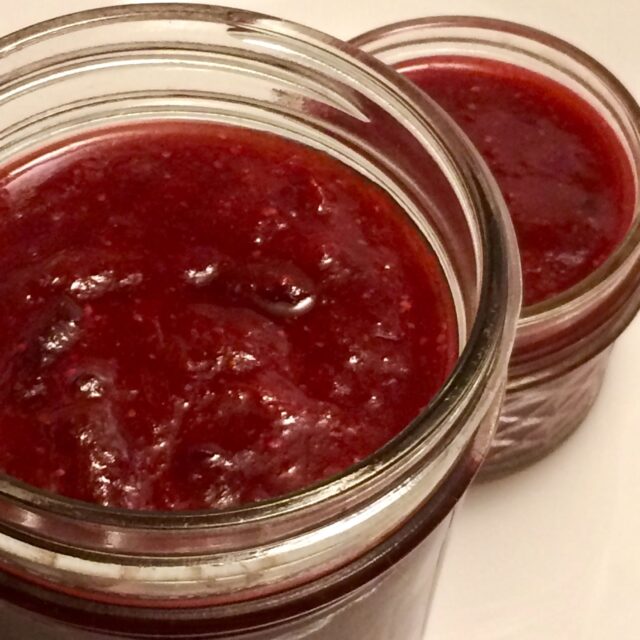 Plums are in abundance right now whether you have them in your yard or you can find someone near you who would be happy to have you pick at their house, or wandering into nature and finding plums that way! This plum freezer jam with chia seeds is the perfect way to use up tons and tons of fresh plums!
Right now in life we don't have time to do the full process of canning like we used to. So, the next best thing is freezer jams! My family's personal preference is jam with more chunks and texture, as opposed to a thin, smooth jelly.
While this recipe does call for white sugar, I also have a Plum Freezer Jam Refined-Sugar Free recipe that only uses maple syrup if that's more your speed. They're equally delicious!
Tartness: My family is not a fan of the overly sweet jams and jellies that you so often find in stores. This recipes is a perfect balance of sweet and hint of lemon. If you prefer more tartness I would recommend adding 1 more teaspoon fresh lemon juice or even ⅛ – ¼ tsp. citric acid. Citric acid is an addition my husband loves but I did not include it in this recipe. You can always sprinkle some on top of your jam after it's made.
Chia Seeds: I avoid cornstarch whenever possible as a thickener. I will often use arrowroot powder to thicken my jams, but chia seeds also work great! I have to be honest, one time making this recipe I ran out of chia seeds and only had a blend I had made with ground chia and ground flax seed. I used the same portion of the mix as I would chia and it turned out great! It really made me want to use that method with all jams because if you can sneak in flax seed then why not? Let me know if you try it!
Serving Size: This recipe makes about 28 ounces of jam. I am considering 1 serving as 2 tablespoons which is generous, say for a piece of toast.
Similar Recipes
If you liked this recipe check out my other jams, sauces, dips, and pie filling: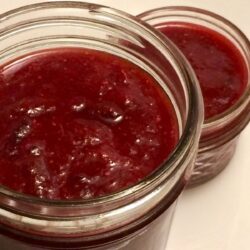 Plum Freezer Jam with Chia Seeds
Small batch plum freezer jelly with chia seeds to lightly thicken to perfection!
Ingredients
5

cups

plums

halved, then each half quartered

½

cups

white sugar

4

teaspoon

chia seeds

1

teaspoon

water

2

teaspoon

fresh squeezed lemon juice
Instructions
Cut plums in half, remove pit, then cut each half into quarters.

Add plums to a medium-sized saucepan and set stove to low-medium heat (level 3). Add remaining ingredients to saucepan and cover to bring to a gentle simmer. Cook for about 25 minutes, decrease temperature to Lo for about 10 minutes. Let sit on stove cover to let cool slightly before transferring to a glass jar.

Store jam in fridge for about a week or freeze immediately. I like to store the jam in 8 oz. jars so I don't have too much sitting in the fridge at a time.