This is a rich cornbread sweetened with raw honey! You can choose to add corn kernels or leave them out. You can also choose between a smooth finish, or a more rustic, country look! Either way, this cornbread makes the best side dish!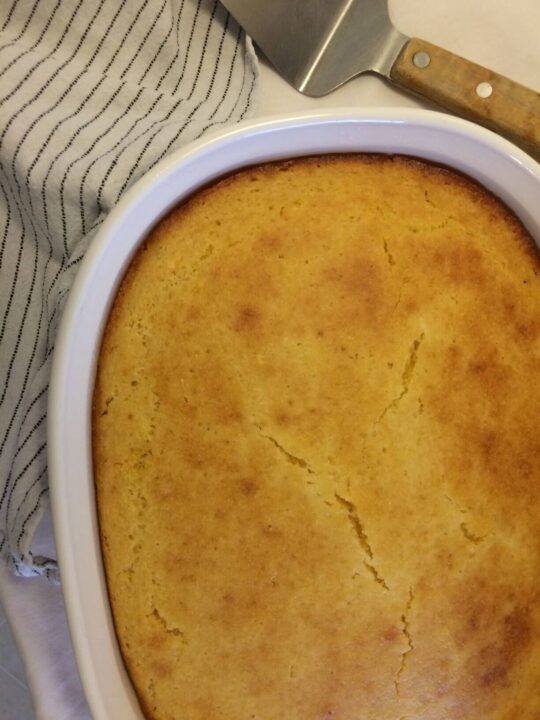 (This page contains affiliated links)
If you're planning on having a barbecue any time soon, plan to make this honey cornbread as a side dish! Or if you're having soup, or a seafood bake, or you just really love cornbread! This from-scratch cornbread is sweetened naturally with raw honey, but you can always pour more on top.
I have repeated this recipe many times in order to perfect it, so follow the instructions for a successful, beautifully golden brown cornbread!
How to Make this Naturally Sweetened Cornbread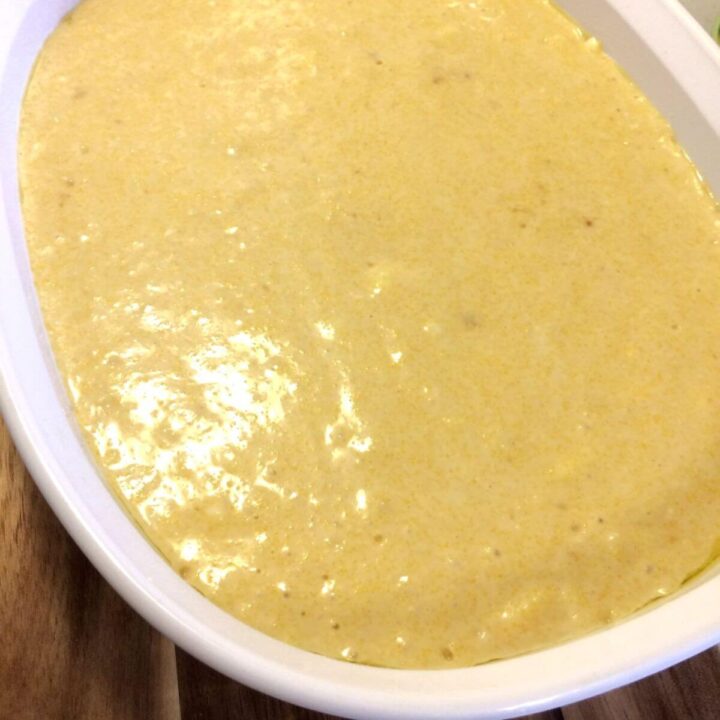 There are a few important tips to follow if you want your cornbread to come out just right.
Combine the dry ingredients with the butter to fully integrate it. You don't want big chunks here and there.
Combine all the liquid ingredients separate. This is really important because you want the honey thoroughly combined with the liquids so it spreads evenly across the whole bake. If you add the honey to the dry ingredients, or you don't fully mix the wet ingredients, the honey can sink which will leave you with a less sweet cornbread, except for the wet and honey packed base.
Choose to add corn kernels, or leave them out!
You can use corn off the cob or frozen corn. If you're using frozen corn, make sure to thaw it first. If you're in a rush, pour some warm water over the frozen corn to quickly defrost it. Make sure to drain as much liquid as possible from the thawed corn (patting it down with a paper towel will help remove excess moisture).
Add the corn into the dry mixture to coat it. This will help the corn sit evenly throughout the cornbread and not sink.
You can use 1-1.25 cups of corn in the recipe. 1 cup keeps it on the lighter side, but I say the more the merrier. Just know that if you're using frozen corn it might get a tiny bit chewy when you bake it in.
Creating a Chunkier and More Rustic Cornbread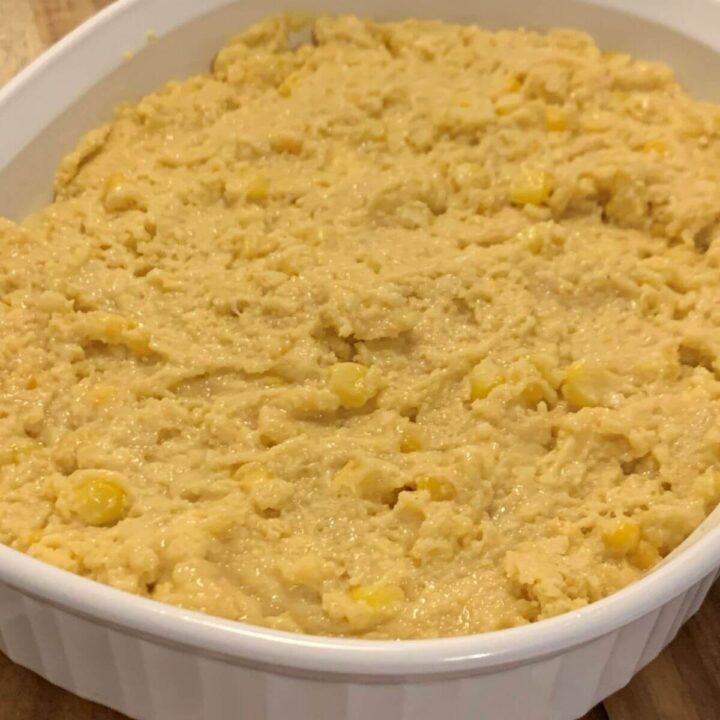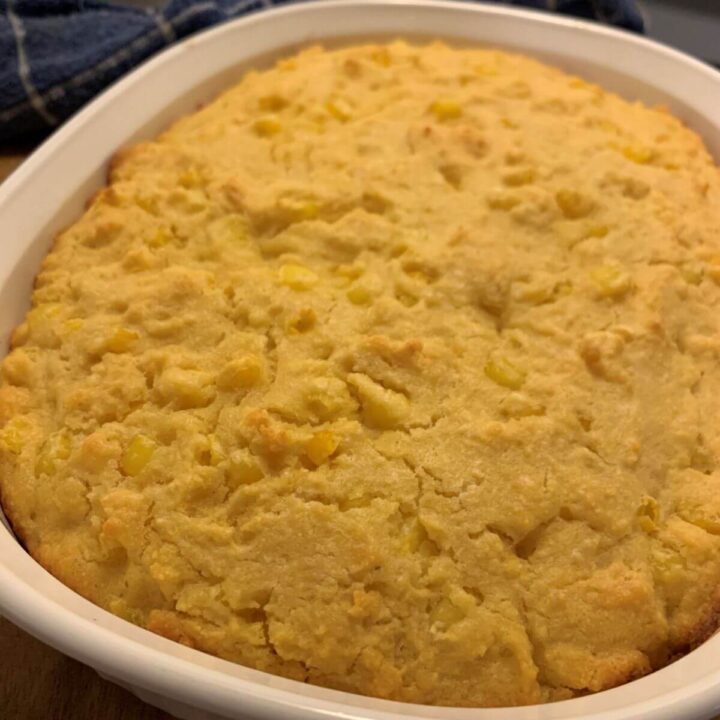 I first made this country-style cornbread by accident by refrigerating the mixture overnight before baking. The cornmeal expands and absorbs a lot of the moisture, and you're left with a chunkier finish. I actually really liked it and have continued making it this way when I want to prep ahead!
If you don't want this look, make sure to bake the cornbread immediately after combine all the ingredients.
Making Cornbread without a Conventional Oven
I often use my convection oven when I don't want to heat up my whole house with the conventional oven (we have a small home).
If you're in the same boat, or just really wanting cornbread when it's really hot, use a convection/toaster oven! You can follow the same recipe as shown below in the recipe card! Just use the lower rack for baking so you don't burn the top before it cooks thoroughly.
What Baking Dish to Use for Cornbread
I have used so many different vessels for baking my cornbread! My 11 cup Pyrex has been used the most for convenience. You can place a lid on it for easy storing, and it's a perfect size if you want to bake this cornbread in a convection oven.
If you're looking for a nicer presentation, CorningWare is my all time favorite option. I have a beautiful little all white 1.8 liter casserole dish that works well and it comes with a lid. If you don't have any CorningWare, check out your local thrift store!
Whatever you choose, you don't want anything that's too small or tall, such as a bread pan. Keep it wider and more shallow for a quicker cook time and more even baking.
Enjoy this Cornbread with these Recipes
Main Meals
Incredible Shredded Beef with Oak Smoked Flaked Sea Salt
Sides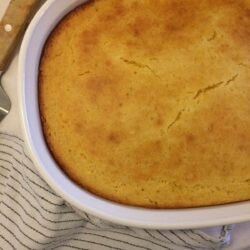 Honey Cornbread
This is a rich cornbread sweetened with raw honey! You can choose to add corn kernels or leave them out. You can also choose between a smooth finish, or a more rustic, country look! Either way, this cornbread makes the best side dish!
Ingredients
¼

cup

raw honey

3

tablespoon

plain Greek yogurt

(any percentage)

2

large

eggs

1

cup

milk

(any percentage)

2

tablespoon

olive oil

1

cup

all purpose flour

1

cup

yellow cornmeal

2

teaspoon

baking powder

¾

teaspoon

sea salt

3

tablespoon

unsalted butter

(softened to room temperature)

1 ¼

cup

corn kernels
Instructions
If using frozen corn kernels, set it out to thaw so you can drain any liquid before adding to mix. If using fresh corn on the cob, cut the kernels from the cob. Set aside.

Preheat oven to 375°F. If using convection oven no need to preheat.

In a medium-sized bowl, combine honey, yogurt, eggs, milk, and oil. Set aside.

In a large bowl mix together flour, cornmeal, salt, and baking powder. Cut in the softened butter, breaking it into the dry mixture until it's a sand-like texture. Add in the corn kernels and toss until coated.

Add the wet ingredients to the dry and thoroughly combine.

If you want a smooth finish, move forward with baking right away. If you want a chunkier and more rustic cornbread, refrigerate the mixture for at least an hour before baking.

Grease a casserole dish about 9 inches x 7.25 inches with olive oil (I use an 11 cup Pyrex and oval CorningWare) Pour in mixture.

If using a conventional oven use middle rack. If using convection oven use lower rack. Bake at 375°F for 30-35 minutes.

Transfer to cooling rack to cool. Enjoy as is or drizzle honey on top!