These honey barbecue meatballs are baked, incredibly easy, refined-sugar free, and easy to make gluten free. The honey barbecue sauce is heavenly so don't skip making that from scratch!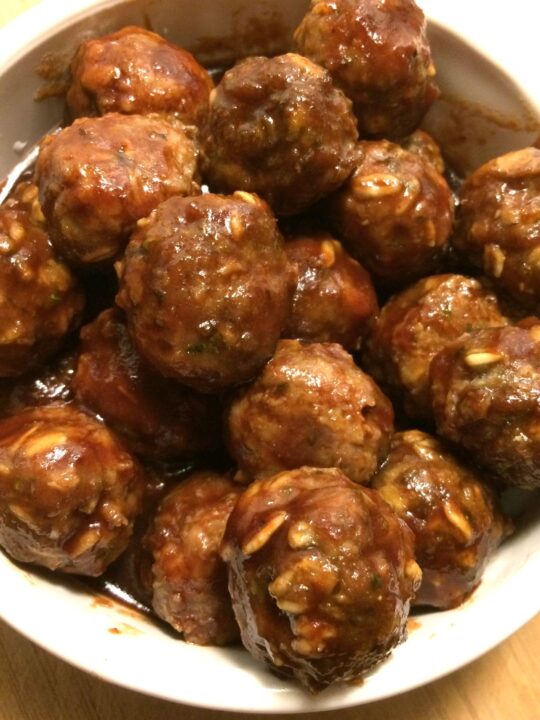 These Mini Honey Barbecue Meatballs are so fun! If you're looking for a quick dinner that everyone will enjoy, these are a winner!
You get your sweet, and your savory, and you're not stuck in the kitchen forever making an intricate meal. Making them smaller might take a little more time to roll out but the bake time is shorter and I just like them that way!
Ingredients
Lean Ground Beef is great in this recipe but you can also use turkey or a mix of beef and pork.
Quick Oats is a healthier option than bread that I love using in meatballs. I've used rolled oats also, you just want to make sure to let the mixture sit for about an hour prior to baking to make sure it softens.
Dried herbs are your friends here. In most of my meatballs I use fresh parsley. To be honesty, my parsley wasn't looking too fresh when I first made these and it worked great because it just saved me more time using all dried herbs. Then you don't have to worry about fresh herbs burning if they stick out during the bake.
Cheese is a great addition that adds flavor and moisture. I love using aged gouda but I've also used fresh parmesan. I would recommend shredding fresh cheese from a block but use what you have! If you choose to omit the cheese I would add ¼ teaspoon salt.
Eggs add so much to this recipe. I originally used 1 egg and less oats thinking it would balance out, but it just didn't work the same Using 2 eggs yields an all around better meatball.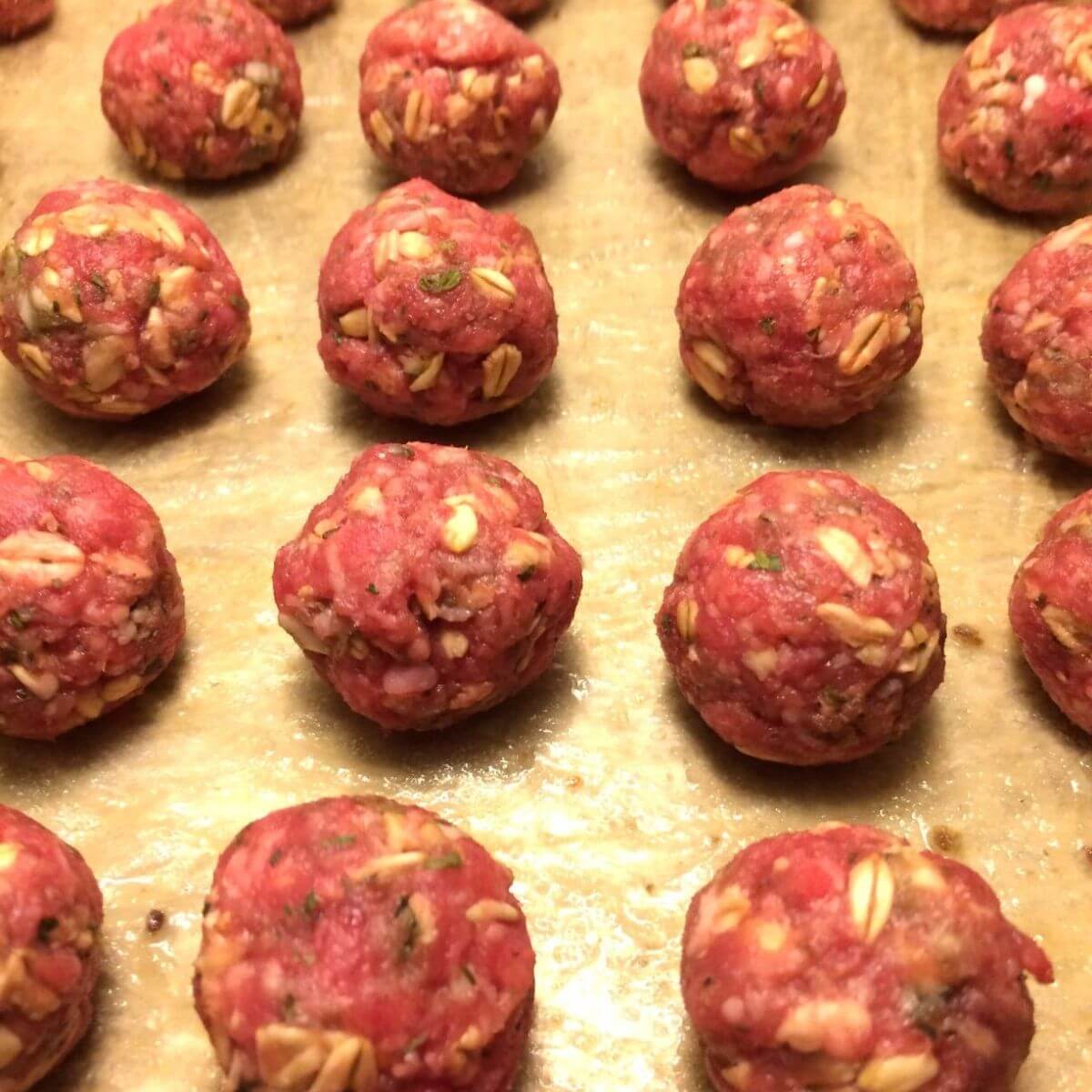 Honey Barbecue Sauce
Ok I'm a little bit biased, but oh my gosh this barbecue sauce is sooo good! Shouldn't you be able to say that about something you make? I mean I just put together incredible ingredients and BAM you get something that you love eating and love to share with others.
What's this Sauce Made Of?
Tomato Paste (no salt added) is the base of this sauce. Don't try to use tomato sauce or anything else, paste is a must! Add water to thin it out and you can add less or more than I have in the recipe depending on how thin you want it.
Apple Cider Vinegar adds great tang. I've tried this recipe with distilled white vinegar and didn't prefer it. Apple cider vinegar gives the bite you want but also adds sweetness.
Honey of course is a must. We use only local, raw honey. Just know that your flavor will vary depending on where you get your honey...it's just the beauty of bees.
Paprika, Sea Salt, Garlic Granules, Freshly Ground Black Pepper are straight forward. I wouldn't recommend smoked paprika in this recipe. I've used garlic powder as well and either will do!
Heating the sauce is an important step. It ensures that all ingredients are fully integrated and helps the sauce to thicken. Flavors change and get stronger when heated so don't skip this step!
Want larger meatballs? Just use 1 ½ tablespoons per ball to yield about 24.
Try These Similar Recipes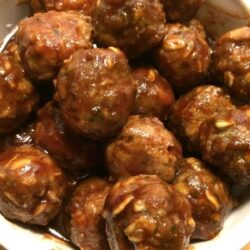 Mini Honey Barbecue Meatballs
These meatballs are little bursts of incredibly sweet and savory flavor that make a great appetizer, barbecue side, or part of a main meal!
Ingredients
For the Meatballs
1

lb.

ground beef

½ cup + 2 tablespoon

quick oats * See notes

(option to use rolled oats but let sit longer to soak through)

⅓

cup

shredded aged gouda

(option to use parmesan)

2

large

eggs

3

tablespoon

chopped curly parsley or

(option to use ¾ teaspoon dried parsley)

1

tablespoon

minced garlic

½

teaspoon

garlic granules/ garlic powder

¾

teaspoon

dried oregano

¾

teaspoon

dried basil
For the Honey BBQ Sauce
5

tablespoon

no salt tomato paste

2

tablespoon

water

¼ cup + 2 tbsp

apple cider vinegar

1

tablespoon

blackstrap molasses

5

tablespoon

raw honey

½

teaspoon

paprika

¼

teaspoon

sea salt

¾

teaspoon

garlic granules/powder

freshly ground black pepper to taste
Instructions
Make the Meatballs
In a large bowl combine all ingredients for the meatballs and work together. Option to let season in the fridge for 30 min -1 hour prior to baking.

Scoop out 2 teaspoons of mixture for each ball, rolling it in your hands.

Place balls on a parchment-lined baking sheet and spray the tops with olive oil. Bake for 15 minutes. Use middle rack for convection oven and conventional oven.
Make the Barbecue Sauce
While meatballs bake, make the sauce. Combine all ingredients for the honey bbq sauce in a small saucepan and cook on med-low heat for about 8 minutes, until smooth and slightly thickened. Stir while cooking to avoid sticking.

Once meatballs are done baking, remove them, scraping off any excess drippings and transfer them to a skillet with bbq sauce. Cook covered on med-low heat for a few minutes to heat through.

Option to heat the sauce directly in a skillet and add meatballs once baked or keep bbq sauce separate once heated for dipping.
Notes
*To make this gluten free just make sure you have gluten free oats!