Light and healthy, yet flavorful crab salad for a side dish, meal, or party snack!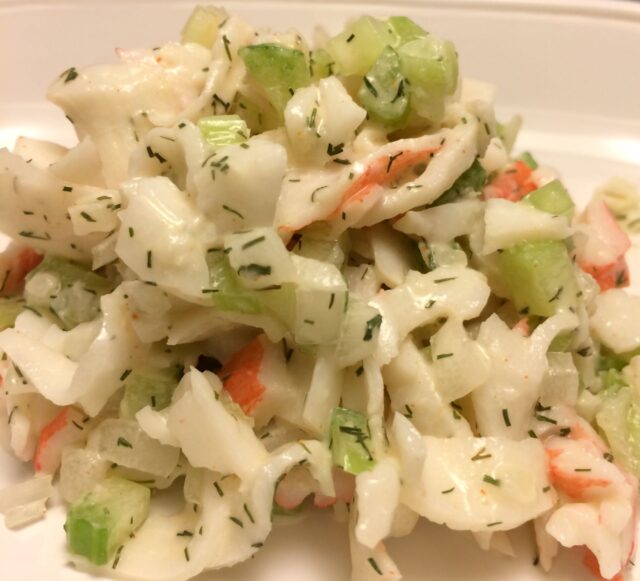 Crab Salad will never go out of style, but there's always a way to change things up or make it a bit healthier. This recipe is great for a mid-day snack or a party side dish!
This is a treat in our house and not something we eat often. We usually shy away from processed foods and dyes but this might be the one exception every now and then.
Crab Salad is something I remember eating when I was younger and I couldn't get enough of it! Of course back then it was always made with mayonnaise. Yes it usually still is, but Greek yogurt is so popular now and if you've seen any of my other recipes you know I use it with everything, including crab salad.
Ingredients
Krab Meat: What is imitation crab? Often sold as Krab meat, it is white fish (Pollock) mixed with a starch or thickening agent (wheat or egg) to imitate shellfish using a red dye on the outside.
Greek Yogurt: Full fat plain yogurt is the only way to go with this. If you do a 0% or 2% yogurt it will be runnier. This doesn't have the thick sticky properties of mayonnaise so it ends up being a nice and light dish.
Yellow Onion: Adds a little crunch as well as sweetness, and a tiny bit of that oniony spice!
Celery: Adds really great crunch while keep it healthy and not adding anything too heavy to the recipe.
Dill: A must have ingredient for this recipe! I use dry dill because I usually have it on hand and it's not as over powering as fresh dill. If you have fresh dill definitely use it, just maybe a start with a bit less than directed and add to your taste.
Lemon: This adds freshness and acidity that rounds out the flavors well.
Other Seasonings: Sea salt, paprika, garlic granules (or powder), and freshly ground black pepper add a great mix of spices! These choices are mellow enough to not overpower but add a great addition to round out the dish.
Water: Since you're using Greek yogurt you'll need to thin it out a bit. I mean, if you really like it thick feel free to omit the water, but I always feel it's needed to at least help combine all the spices and ingredients thoroughly.
Similar Recipes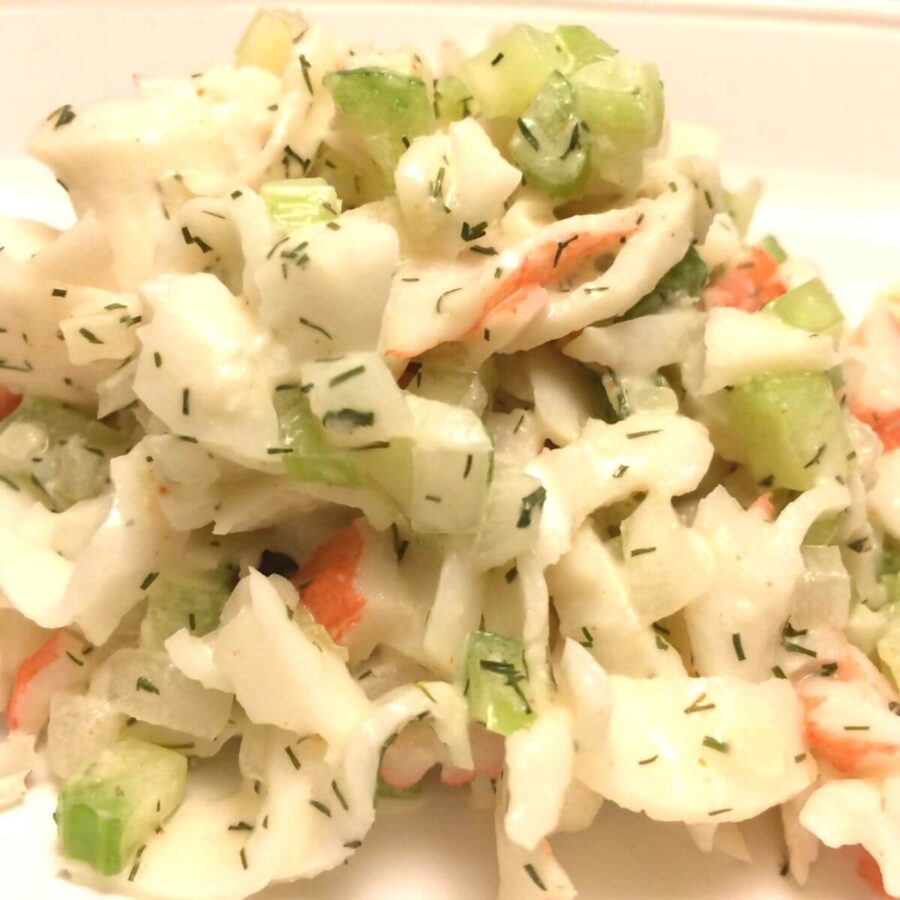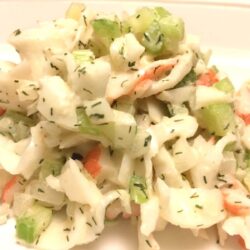 Healthy Crab Salad with Greek yogurt
Light and healthy, yet flavorful crab salad for a side dish, meal, or party snack!
Ingredients
8

oz

imitation crab meat (use Trans-Ocean brand for GF option)

about 2 heaping cups chopped/shredded

½

cups

minced yellow onion

½

cups

minced celery

6

tablespoon

full fat plain Greek yogurt

2 ¼

teaspoon

water

⅛ teaspoon + pinch

sea salt

⅛

teaspoon

paprika

2 ¾

teaspoon

fresh squeezed lemon

1

pinches

garlic granules

½ + ⅛

teaspoon

dried dill

freshly ground black pepper to taste
Instructions
In a medium-sized bowl shred krab. Add minced onion and minced celery.

In a separate bowl combine the yogurt, water, salt, paprika, lemon, garlic granules, dill, and black pepper. Once combined, add to the krab bowl. Stir together and let sit in the fridge to let the flavors season.

Serve as a side by itself, on crackers, on toast!