This unique coleslaw is made with cabbage and brussels sprouts. Not only is it quick and easy to make but it's healthier with the addition of Greek yogurt and sweetened with raw honey!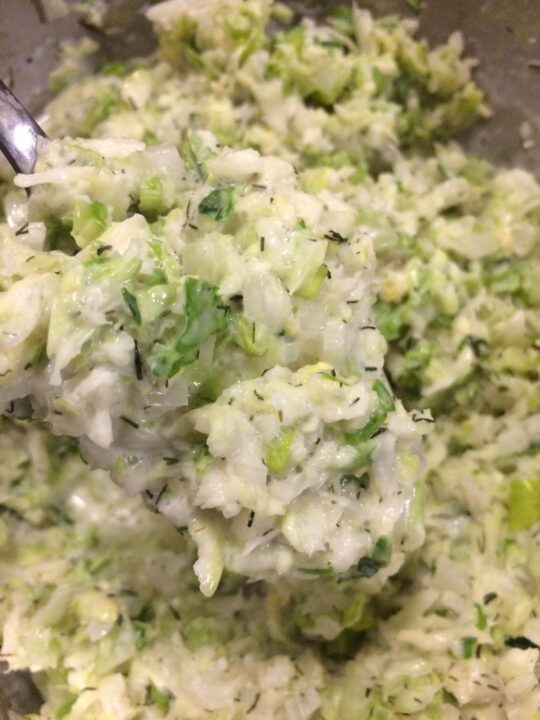 Coleslaw is such a beloved side dish! But, there's so many ways you can make it. There's the creamy, the light and vinegary, the zesty, the spicy, the mild. There are even many recipes out there for coleslaw that don't even include cabbage. I've stuck to the classic of using green cabbage, but I kicked it up a notch by adding raw Brussels sprouts.
Brussels sprouts are actually part of the cabbage family, so no surprise that they pair so nicely with this slaw. They add high amounts of both vitamin C and potassium to the dish as well as flavor and texture.
I'm a fan of creamy coleslaw, but I don't use mayonnaise and sour cream. Greek yogurt has been my go to for replacing those 2 ingredients for a while now and I love it! The yogurt adds a bit of tanginess without adding sweet. While adding yogurt and all the vinegar and other ingredients does give you a bit of a runny slaw, it incorporates well when mixed and thickens up in the fridge. I don't mind a bit of runny slaw when it tastes as good as this does!
Celery
You can choose how fine to dice your celery. The cabbage will be pretty fine so I prefer to almost mince my celery. I don't like being overpowered by the crunch of too much celery for this recipe, yet I love the flavor. That's why I've added celery leaves. They're packed with flavor without adding too much texture and crunch.
Dill
I would absolutely love to have fresh dill on hand all the time. Fact is I don't. So, I end up using dried dill for this recipe. You can definitely use fresh dill you just might want to adjust the amount to your taste since the measurements won't be the same as dried dill.
Apple Cider Vinegar
One reason I love using apple cider vinegar is because it adds the tang while also adding great flavor. Another reason is that I have a young kiddo in the house and I don't use red wine vinegar in the foods she'll also be eating. If you don't have apple cider vinegar but you want to try red wine vinegar you can. It'll add a different flavor and you might need to decrease the amount used, but give it a try! Of course you can use white vinegar also just decrease the amount because it's stronger than apple cider vinegar.
My favorite way to enjoy this has been with my Vinegar Pulled Chicken and Coleslaw Sandwich. Check it out!
Recipes that Use this Coleslaw
If you enjoyed this recipe and you're looking for more ways to use it, take a look at these recipes:
More Side Dishes
If you're wanting more flavor-filled side dishes check these out: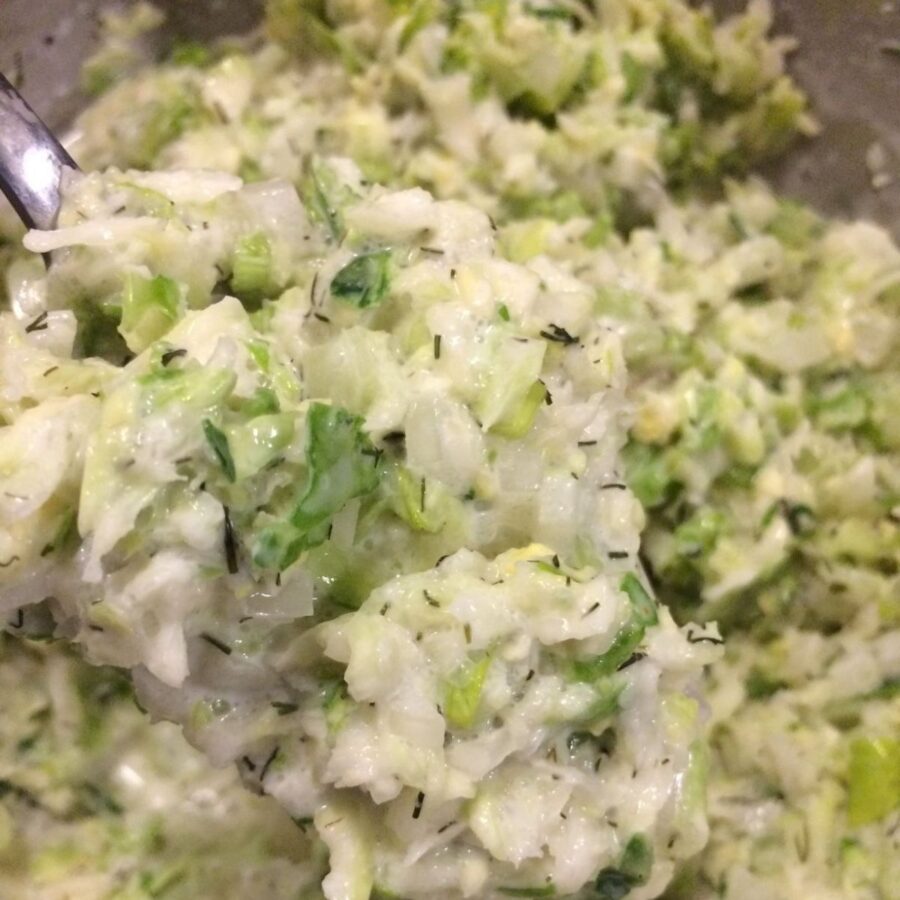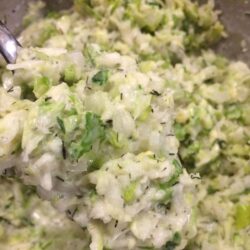 Coleslaw with Cabbage and Brussels Sprouts
This unique coleslaw is make with cabbage and brussels sprouts. Not only is it quick and easy to make but it's healthier with the addition of Greek yogurt and sweetened with raw honey!
Ingredients
1

cup

shredded raw brussels sprouts

option to replace this with 1 cup shredded cabbage

2

cups

shredded green cabbage

3

tablespoon

apple cider vinegar

½

cup

finely diced celery

¼

cup

finely chopped celery leaves

½

cup

diced yellow onion

about ¼ of an onion

1

teaspoon

dried dill

2

teaspoon

raw honey

½

cup

plain full fat Greek yogurt

½

teaspoon

sea salt

freshly ground black pepper to taste

Option to add finely sliced carrots
Instructions
Shred the brussels sprouts and cabbage using large holes of a cheese grater and add to a large mixing bowl. Add all remaining ingredients and combine well using a fork. Store in the fridge until ready to serve.