This arugula salad is simple and refreshing with garden fresh vegetables, a goat cheese crumble, and a homemade ranch dressing.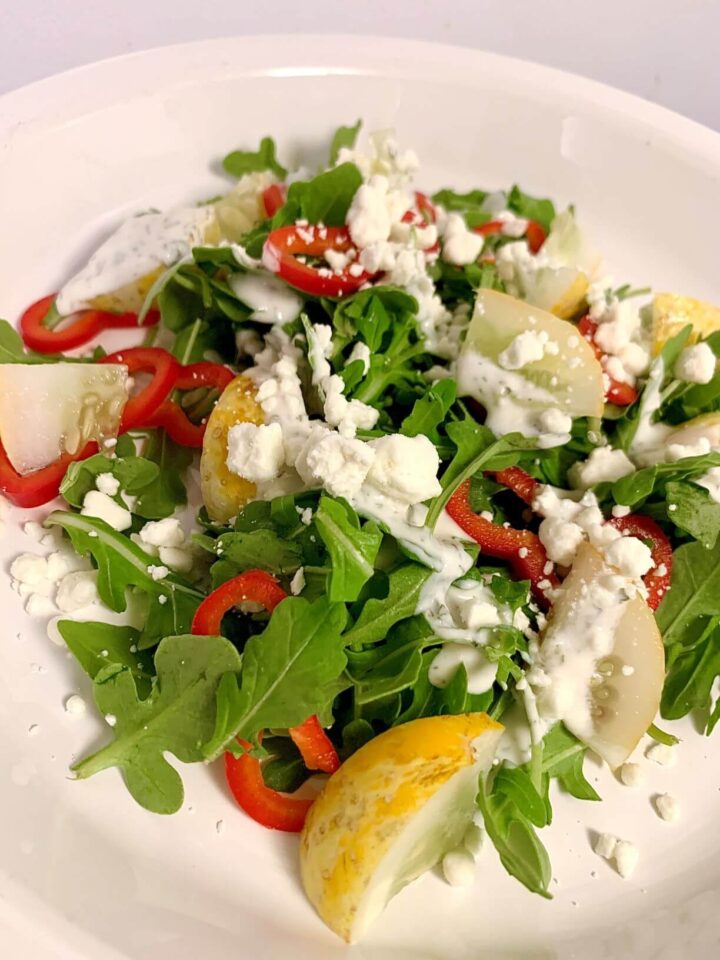 This arugula salad is so simple, but packed with flavor and texture. You can use garden-fresh vegetables, or store bought, either way you'll be in for a treat.
I love salads, but they're often a pain to prepare! Because I don't buy salad dressing form the store, I also like to make sure I have a dressing made before tossing together a salad.
Ingredients
For this salad you only have 2 vegetables to prepare, lemon cucumbers, and mini red bell peppers. We currently have a lemon cucumber plant that just keeps producing and this side salad is such a great way to make use of them! The mini peppers give you that tiny little ring when slicing it that's perfect for salads. Red bell peppers as sweetness which is a great addition to this side dish.
Arugula is one of my favorite greens because it has such a strong, and creamy flavor. Of course you can use a spring mix, romaine, or any other lettuce, but arugula is a treat.
The goat cheese crumbles add so much to this salad and I wouldn't skip it! I like using crumbles because they're a little dryer, whereas breaking off hunks of softer goat cheese will create a creamier texture that will clump more and you won't have the cheese spread as evenly.
My Homemade Mason Jar Ranch Dressing is by far my favorite dressing. it adds another layer of creamy richness to this salad that ties it all together perfect. It only takes about 5 minutes to prepare and uses Greek yogurt, garlic powder, lemon juice, dried dill, sea salt, pepper, and milk.
My recipe below is for a single serving of this salad. If you're making it for a crowd, double or triple the recipe, and leave the goat cheese and dressing to garnish on top after portions are served!
Similar Recipes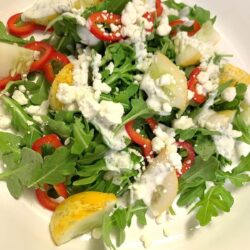 Arugula Salad with Garden Veggies and Goat Cheese
This arugula salad is simple and refreshing with garden fresh vegetables, a goat cheese crumble, and a homemade ranch dressing.
Ingredients
1

cup

arugula

½

cup

lemon cucumber

(cut into small wedges)

¼

cup

mini red bell pepper

(sliced into thin rings)

goat cheese crumbles

(to taste)

homemade ranch dressing or any other favorite dressing

(Recipe for Homemade Mason Jar Ranch Dressing)
Instructions
MAKE THE SALAD
Chop the lemon cucumber into bite size pieces, whether that's into a square or a wedge, it doesn't matter!

Slice the mini bell peppers into rings, about ¼ inch thick, so they're not too thin.

Choose if you're tossing the salad together, or presenting it with all the vegetables on top of a bed of arugula.

Add the arugula, lemon cucumber, and red bell peppers to a plate. Sprinkle on goat cheese crumbles, and drizzle with the homemade ranch dressing!

Enjoy!