These are the creamiest mashed potatoes with added garlicy goodness! Greek yogurt is used for even smoother potatoes, with a little added protein! Use as a side dish, in shepherd's pie, or a casserole.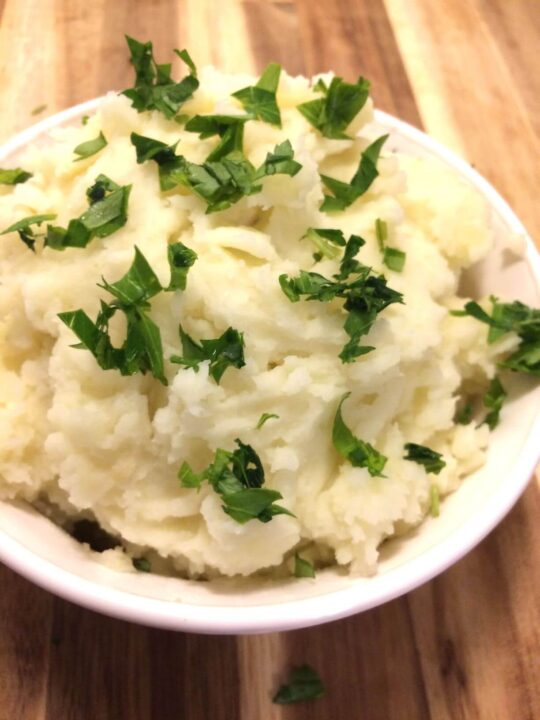 (This page contains affiliated links)
Mashed potatoes are such a great comfort food! It doesn't have to be a holiday or special occasion, creamy and rich whipped potatoes can add so much to any week day meal!
When enjoying a scoop of mashed potatoes, one rule for me is that it can't be dry. That just shuts down the "mmmmm" factor. These mashed potatoes stand up to those expectations of flavorful, and creamy, light and fluffy, and just so so good! I used to just add a little milk, but then, when I started adding Greek yogurt to everything and anything, it made these potatoes so much better! So no, this dish isn't dairy free because you have your butter, and milk, and yogurt, and for good reason!
Ingredients
Potatoes: I often use a good ol' russet potato. You can use Yukon gold, red potatoes, and I've even used Purple Viking potatoes! They all work super well.
Unsalted Butter: This is the only type of butter I use. If you use salted butter, just be aware of that when adding additional salt to flavor and adjust accordingly.
Milk: I've used whole, 2%, 1%- they all work well. Skim is a little thin for my taste and lacks the fat and flavor to add any depth to this recipe. If that's all you have, of course use it!
Greek Yogurt: You can read all about my favorite Fage yogurt here and why I like that brand the best. I've used 5%, 2%, 0% and they're all great. With this particular brand, you get thick and rich yogurt no matter the fat percentage and you don't get an overly tangy yogurt as you decrease the fat! The same cannot be said for other Greek yogurts, so pick one you really like and know what it tastes like before adding it!
Sea Salt: If you're looking to decrease salt, you can use less or opt out with the salt. But, salt does help bring out the flavors of pretty much everything else in this dish so it's worth it to add a little!
Garlic Granules: Yes, you can substitute garlic powder, but beware that it does cake a little faster whereas granules are easier to spread out evenly. Granules give you a richer flavor compared to garlic powder as well. I've made this recipe many times with minced fresh garlic cloves as well and that adds great flavor! The reason I often leave it out is because I'm also feeding a 3 year old, and she's still sensitive to chunks of raw garlic in her mouth. Don't worry, we're working on that 😉. But just know that if you use raw garlic, you'll also be adding that spice that it brings!
Fresh Parsley: This is such a must to round of the dish! I've used curly parsley and flat leaf and either will work. With curly parsley you add a bit more texture, whereas the flat leaf will be, well...flat.
Optional Freshly Ground Black Pepper: Pepper is a great addition for flavor! If you're wanting a clean white look, keep the pepper out. If you're going for flavor, add the pepper in!
Steps for Making Super Creamy Mashed Potatoes
You want to make sure your potatoes are well done and easily mashed by a fork. The softer they are after boiling, the easier it will be to whip them smooth.
Make sure to drain the potatoes, then transfer them to a large bowl so you have plenty of room to mix, or just return back to the warm pot they were in and mix while on the stovetop.
Use a wooden spoon to start mashing the cooked potatoes.
Then, add all the dairy and seasonings, and you can keep at it like I do with the wooden spoon or fork , or change to a firm whisk to really get it smooth. My dad always taught us how to whisk super speed with a fork so that's my go-to. You could always use a hand mixer, I just don't find it necessary and I'm all about using less equipment.
Mix in parsley at the end! You can choose to use parsley only as a garnish, but I like to mix it all the way through. Either way, make this your last step.
Keep the potatoes covered and warm until ready to serve. No matter how creamy potatoes are, they will dry out if left open to the air.
Can I Leave the Skins on for Mashed Potatoes?
Yes, and I do a lot of the time! It really depends on what texture you're going for. You can still get super creamy potatoes with skins in the mix and they add flavor! If you want a clean, smooth texture though, leaving out the skins is your best option. When you're first chopping your potatoes don't cut too big of pieces, or you'll end up with big pieces of skin. Cut smaller potato chunks.
Ways to Use Potato Skins
When I do peel my potatoes, I always try to reuse them! This means that you'll want to cut away any yuk spots before peeling them because that's just a pain to do after!
Immediately transfer them to a bowl of water once peeled to preserve them so they don't turn brown and store them in the fridge.
Two great uses for potato skins are baked potato skins, and chopping them fine to add to scrambled eggs!
If you don't want to eat them, compost them!
Similar Recipes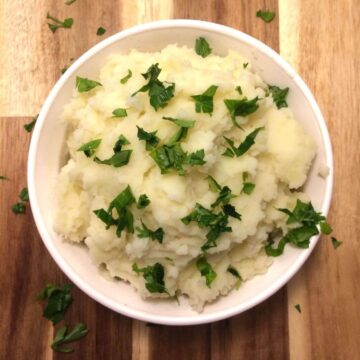 Creamy Garlic Mashed Potatoes with Greek yogurt
These are the creamiest mashed potatoes with added garlicy goodness! Greek yogurt is used for even smoother potatoes, with a little added protein! Use as a side dish, in shepherd's pie, or a casserole.
Ingredients
8

cups

chopped russet potatoes

(or Yukon gold, red, or Purple Viking)

3

tablespoons

unsalted butter

¼

cup

whole milk

(or lower fat option)

5

tablespoon

full fat plain Greek yogurt

(or lower fat if using Fage)

¾

teaspoon

sea salt

1

tablespoon

garlic granules

1 cup + 1 tablespoon

fresh parsley

(curly or flat leaf)

optional

freshly ground black pepper

optional

diced or minced fresh garlic cloves

(this will add some spice)
Instructions
Rinse potatoes and peel. Chop into about 1 inch pieces.

Add potatoes to a medium-sized heavy bottom pot (about 3 quart) with 6 cups water (or enough to cover potatoes). Cook on medium heat for 27-30 minutes, covered, or until boiling. Decrease to medium-low and cook another 18-20 minutes. Crack lid slightly as needed to avoid boiling over.

Drain potatoes and transfer to a large bowl or return to the warm pot you cooked them in. Mash potatoes with a wooden spoon or fork. If you really don't want any lumps you can use a hand mixer.

Add unsalted butter, milk, Greek yogurt, sea salt, and garlic granules. Use a fork or a whisk and whip until smooth.

Add chopped fresh parsley leaves to fold into the potatoes, or garnish on top.

Keep warm and covered until ready to serve.