Incredibly creamy ham and potato soup made rich by Greek yogurt and given a beautiful color by paprika. This soup is not only delicious but healthier than other creamy soups and quick to make!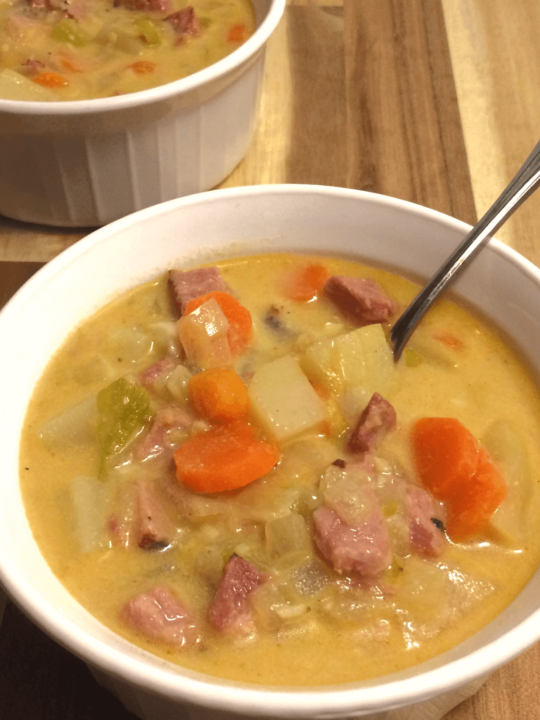 Ham and potato soup is incredibly comforting and hearty! I feel that this is the perfect blend between creamy and light, not overdoing the creaminess and allowing all the ingredients to shine through!
Whether you're wanting a recipe for leftover ham, or you just want a warm and healthy soup, this recipe has such a great combination of ingredients! You can call it a chowder, but I'm choosing to call it a soup because it sounds a bit healthier! This recipe does include vegetable broth and Greek yogurt to thicken and increase the creaminess.
Ingredients
Ham: Most ham sold in stores is ready-to-eat, pre-cooked. Many people enjoy eating these hams warmed up, but for me that's just not enough! For me, ham is best cubed or thinly sliced and grilled on the stovetop with just enough oil to brown it and give it a nice cook. For this soup you can choose whether or not to keep the step of grilling the ham, but I would recommend it. The ham will have more flavor and texture, and it just adds more to the soup.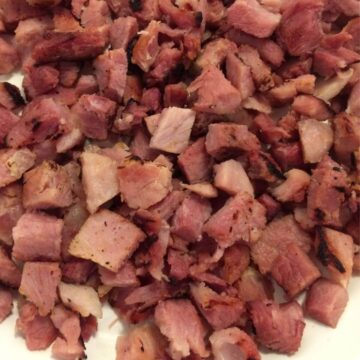 Olive Oil: A healthier oil option for sautéing both the meat and all the vegetables.
Potatoes: I use russet potatoes for this recipe. You can choose to use another kind, but russet are a bit heartier and don't break down as easily as other potatoes.
Celery: You can choose to use all celery stalks. As I state in the ingredients, I actually like using more leaves than stalk for this recipe. Celery leaves give a stronger celery flavor without adding another crunchy vegetable. Either would be delicious though!
Carrots, Onions, Garlic: This trio of vegetables might seem basic but it adds so much to the dish. You get wonderful color, flavor, and texture!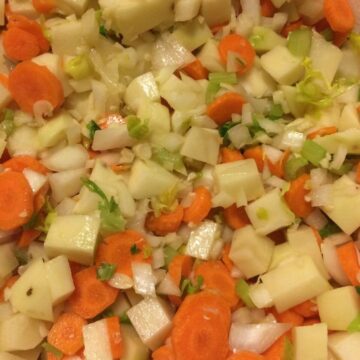 Seasonings: The blend of seasonings for this soup is balanced just right with the vegetables and ham included. I use sea salt, pepper, paprika, and garlic powder (because...always more garlic).
Broth: I use low sodium vegetable broth (almost solely in all my dishes). You can use another other broth made from white meat and it should be wonderful! You can stop the recipe here if you wish to have a gluten-free soup.
Greek Yogurt: I use Fage brand yogurt. The exact brand shouldn't matter too much in this dish, but the higher fat content, the thicker the soup. You could also replace this ingredient with cream or leave out entirely for a thinner soup.
Flour: To thicken the soup even more, flour is an easy choice. You can omit the flour for a thinner soup, or use garbanzo or oat flour for a creamy gluten-free option!
Optional Garnish of Smoked Paprika: I highly recommend this addition on top! It isn't the same if you add smoked paprika into a dish so save it for the end!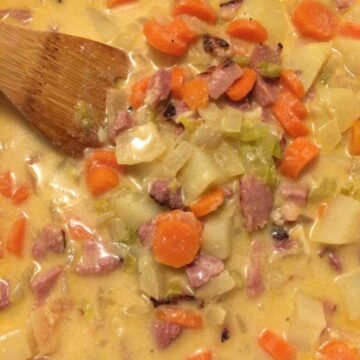 Making the Soup
It's important to sauté the vegetables first, before adding liquid. This not only increases the flavor but it helps decrease cook time. After sautéing the vegetables you can choose to add all remaining ingredients at once. I find that it works best for this recipe to add them in stages. This helps maintain the heat and there's no need to add the Greek yogurt in too soon! You don't want to add the yogurt and flour in at the very end though because you want time for the flour to heat and thicken the soup.
Enjoy!
More Soup Recipes
If you enjoyed this recipe and you're looking for more like it, try one of my other delicious homemade soups:
Creamy Ham and Potato Soup with Greek Yogurt
Incredibly creamy ham and potato soup made creamy by Greek yogurt and given a beautiful color by paprika. This soup is not only delicious but healthier than other creamy soups and quick to make!
Ingredients
4

tablespoon

olive oil split

2 tablespoon for ham, 2 tablespoon for sautéing vegetables

3

cups

ham

cubed and cooked on stovetop

3

cups

cubed russet potatoes

peel potatoes

1 ¾

cups

sliced carrots

1 ½

cups

diced yellow onion

2

tablespoon

garlic

about 4 large cloves

¾

cup

celery stalks and leaves

I use about ½ cup leaves and only ¼ cup stalks

¼

teaspoon

sea salt

½

teaspoon

paprika

1

teaspoon

garlic powder

freshly ground black pepper to taste

3 ½

cups

low sodium vegetable broth

1 ½

cups

full fat plain Greek yogurt

2

tablespoon

flour

optional garnish: smoked paprika
Instructions
Cook Ham (even ready to eat ham)
Add 2 tablespoon olive oil to a large skillet and heat to low-medium heat (about level 2-3). Should sizzle when you add the ham.

Once hot, add 3 cups cubed ham (cooked, not completely raw). Cook for about 5-6 minutes without touching it and without a lid on skillet. Stir, and continue cooking for another 5 minutes untouched. This will help you get a nice cook on each side. Set aside.
Start Soup
In a large saucepan (I use an 8 qt. Corning Ware), add 2 tablespoon olive oil and heat to medium-low heat (level 3).

Once hot, add all prepped vegetables (carrots, onion, garlic, celery, potato). Sauté for about 5 minutes. Stir and add salt, pepper, paprika, garlic powder and combine well. If vegetables start to stick a bit don't worry!

Add vegetable broth, stir, and cook for another few minutes, then add cooked ham. (see note about partially blending to thicken prior to adding ham).

In a small bowl combine yogurt and flour.

Add yogurt/flour to soup, combine gently, and decrease heat to low heat. Cook for about another 20 minutes.

After a total of 40 minutes cooking, turn off.

Enjoy as is your top with smoked paprika
Notes
*Option to increase flour for thicker soup or eliminate all flour and blend a portion of the soup just prior to adding ham to thicken.