A stovetop, one-pot classic stew, with a creamy sauce and incredible flavor! It will make enough for leftovers but you won't end up with much after you start eating!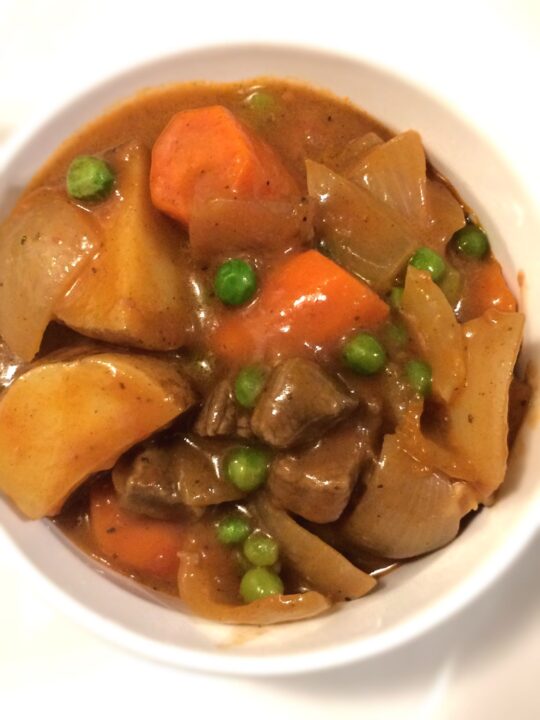 Beef stew is such a classic and makes the most delicious, hearty meal! This recipe is no exception and made in one pot, quick to prepare, and has as short cook time!
I use my CorningWare 5 qt. dish which is technically a Dutch oven. Because you're only cooking on the stovetop, you can choose a Dutch oven or a large heavy bottom pot.
Vegetables for this Stew
The size of the vegetables makes a huge difference! Aim for large chunks of each vegetable. It also saves a ton of time too when prepping!
Russet Potatoes are the best for this recipe because they hold up well during the cook. A red or golden potato might get a bit mushier.
Yellow Onion works great, but any kind will do. You're cooking the dish long enough to remove any heat/spice from the onion.
Carrots are a must in a great stew! Again, use large chunks and make it look nice by cutting the carrots on a diagonal. Fresh, whole carrots are healthier and higher quality than baby carrots and my favorite option.
Garlic can't be forgotten. The 5 clove recommended amount is just that- a recommendation. Sometimes I double that because we love our garlic!
Celery adds so much flavor and texture to this stew. This is one of the few recipes where I only use the celery stalk and not the leaves. It looks cleaner, and I don't want the celery to overpower the stew.
Peas are always a fun addition to beef stew. I always use frozen peas and toss them directly in, no thawing needed. Just add them at the end and cook for just enough time to heat them through.
Cut of Beef
Beef Chuck, or Chuck Steak is my go-to cut of beef for beef stew. Why? Because it's typically on sale at my grocery store. That's the main reason, but it's also tender enough with wonderful flavor. I say use any cut of beef you prefer!
Thickening this Stew
The only ingredient I use to thicken stew is flour. I know that cornstarch and arrowroot powder could be alternative options if you need the recipe gluten free, but it could change the texture of the sauce.
You could also cook up additional potatoes and blend them with 1 cup removed broth to create a more natural thickener.
Seasoning the Sauce
I tend to use vegetable broth solely in my recipes. Beef stew typically calls for beef broth to give it a richer flavor and darker color but it's really not needed! You can use whichever you prefer but either way, note that I use low sodium broth and the amount of added salt reflects that.
Crushed tomatoes is a perfect way to add tomatoes while also adding to the sauce. Fresh tomatoes will give you a totally different texture and lack flavor and stewed tomatoes are (in my opinion) too large. I wouldn't recommend trying to replace crushed tomatoes with tomato sauce or paste!
Two of the most needed additions to the sauce are red wine vinegar and liquid smoke. Without both you won't get that great stew flavor!
Thyme, sage, sea salt, and black pepper are really the only other additions you'll need! You definitely don't want to overdo the sage and thyme!
Serving Size
This recipe yields 9 cups total. I am considering 1 serving to be about 1.5 cups.
Equipment Used for this Recipe
5 qt. Dutch oven or heavy bottom pot
Similar Recipes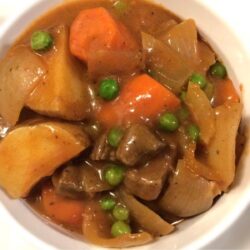 Dutch Oven Beef Stew Stovetop
A one-pot classic stew with a creamy sauce and incredible flavor! It will make enough for leftovers but you won't end up with much after you start eating!
Ingredients
2 ½

cups

carrots

cut into large chunks

2 ½

cups

potatoes

cut into large chunks

2 ½

cups

yellow onion

about 1 large onion cut into large chunks

5

large garlic cloves chopped in half or in quarters

1

heaping celery

cut into large chunks

3

lb.

beef chuck roast

4 ½ cups cubed into ¾ - 1" pieces

4

cups

low sodium vegetables broth

3

tablespoon

red wine vinegar

2

cups

crushed tomatoes, no salt added

1 ¾

teaspoon

rubbed thyme

1 ¾

teaspoon

rubbed sage

1

teaspoon

liquid smoke

1 ½

teaspoon

sea salt

freshly ground black pepper to taste

1 ½

cup

frozen peas

(no need to thaw)

5

tablespoon

all purpose flour
Instructions
Cut beef into ¾-1" cubes and prep all vegetables.

Heat 1 – 1 ½ tablespoon olive on medium heat in a Dutch oven or heavy-bottom pot (I use a 5 qt. Corning Ware). Once hot, add vegetables (carrots, potatoes, onion, garlic, celery) and sauté for about 5 minutes. Add broth, beef, and all seasonings, liquid smoke, crushed tomatoes, red wine vinegar, and decrease to low heat. Cook with lid on for about 35 minutes. With 10 minutes left, add peas, then remove 1 cup broth, let cool for a few minutes, then whisk together with 5 tablespoon flour. Mix back into stew pot to finish the cook. Enjoy!