Forget basic soup and go full flavor with this healthy lentil soup! Instructions included for quick oven-baked tortilla chips.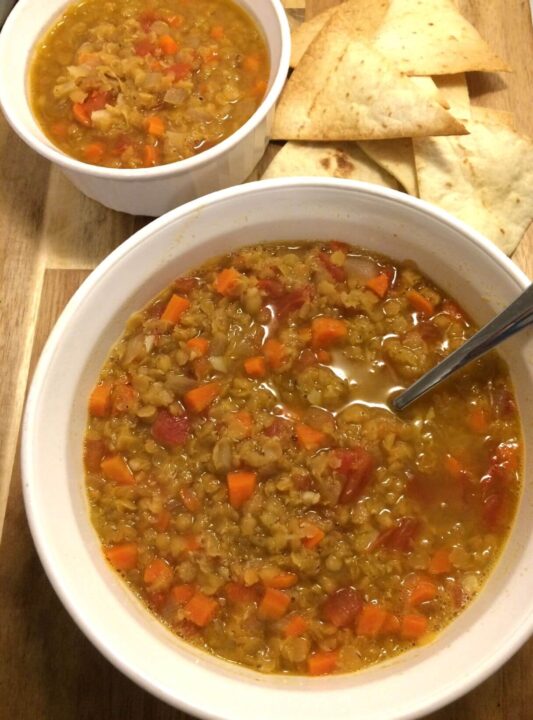 This page contains affiliated links)
Whether you're new to cooking with lentils or a seasoned consumer, this red lentil soup is a must to try!
Simple to make, with the option to add all ingredients to a crock pot and cook on low heat, this recipe is a great choice for a quick and delicious meal.
Ingredients
Olive Oil for sautéing
Yellow Onion
Garlic
Carrots
Roma Tomatoes
Red Lentils
Sea Salt: This recipe is low salt. Adjust as desired at the end.
Pepper
Ground Coriander
Ground Cumin
Low Sodium Vegetable Broth
Optional Jalapenos for spice!
I have a toddler in my house and she eats what we eat. So, I don't often add spice to the whole dish. But, a lentil dish always tastes better (in my opinion) with either a spicy curry powder, ground red pepper, or fresh peppers like a jalapeno or serrano.
You can always offer the spices and minced peppers on the side for everyone to add however much they want individually.
Easy Steps to Make this Soup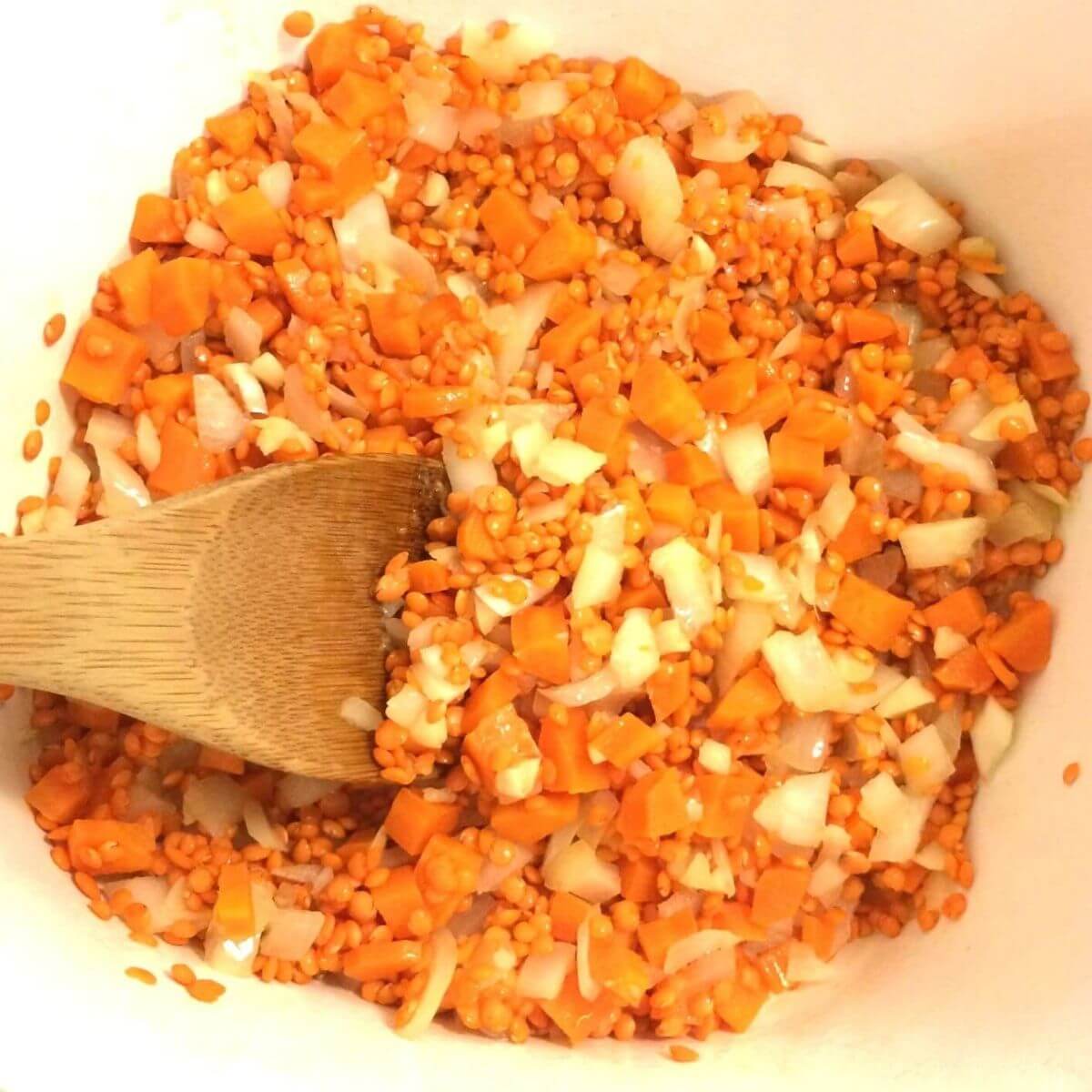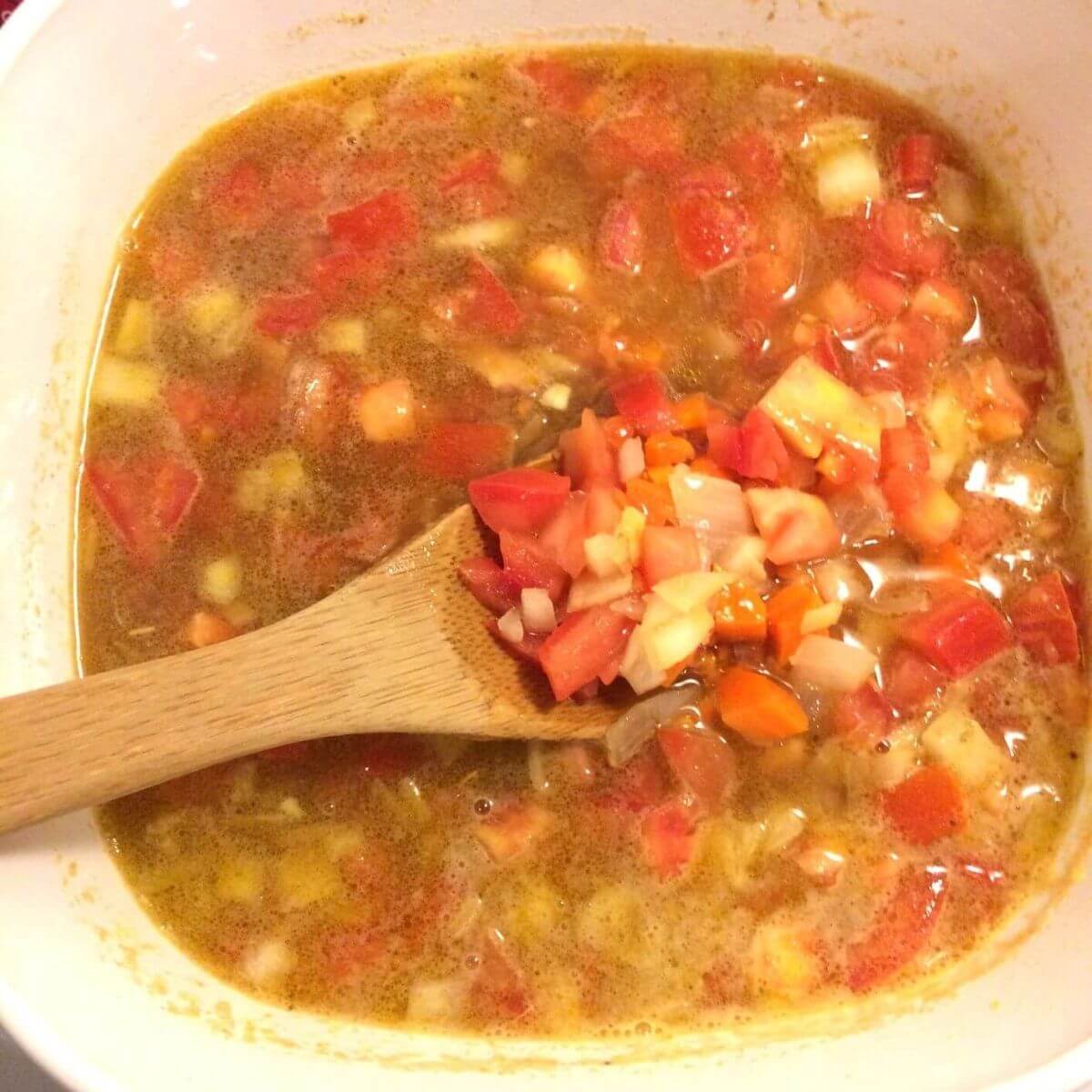 Sauté the carrots, onion, garlic, and raw lentils.
Add the broth, spices, tomatoes.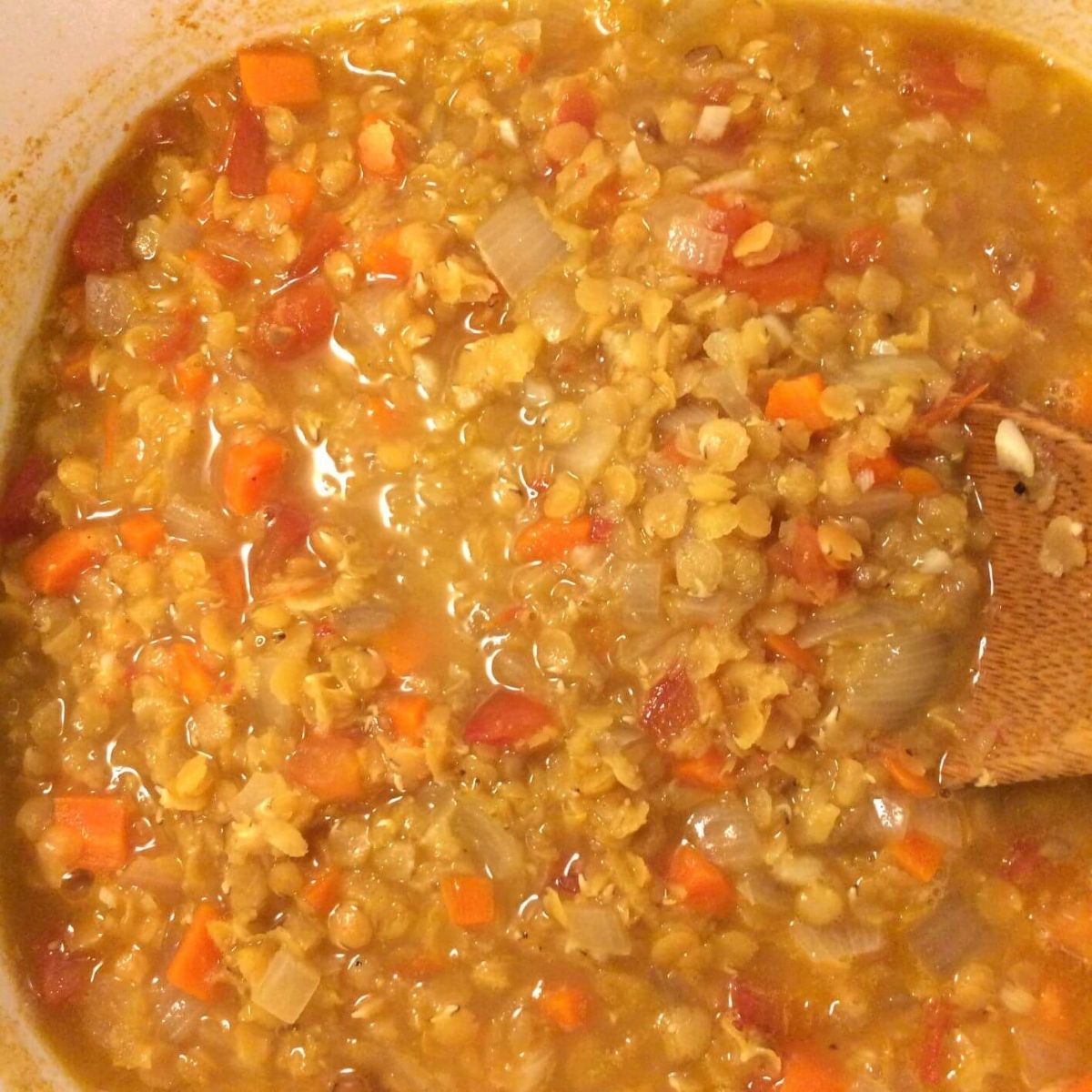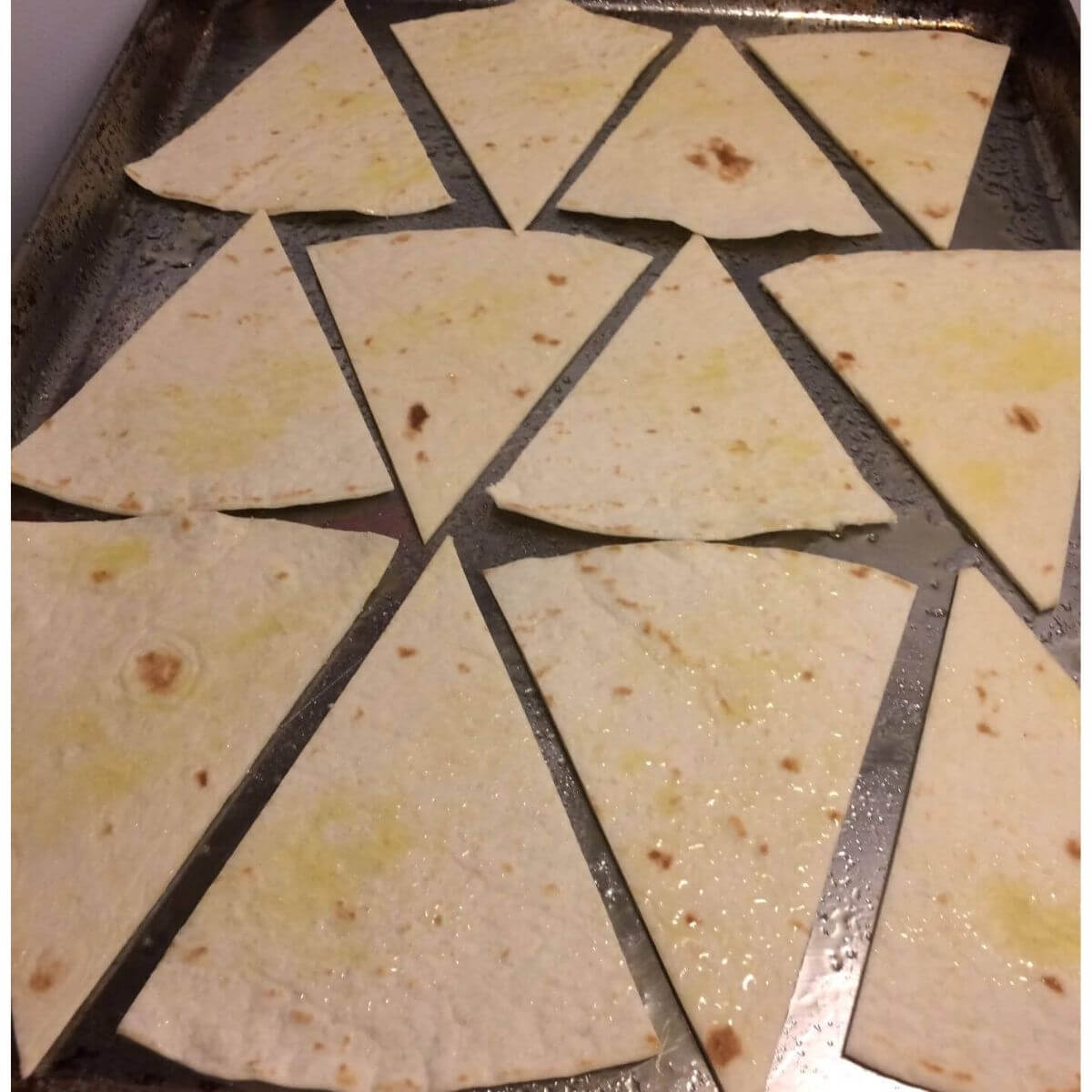 Cook until the vegetables are tender and lentils are cooked.
Enjoy with chips or follow my quick instructions in the recipe card for homemade oven baked tortilla chips.
Equipment Used
3 quart Dutch Oven or heavy bottom pot
TeamFar Baking Sheets set of 4" target="_blank" rel="noreferrer noopener">TeamFar Baking Sheet Set of 4, Stainless Steel
More Soup and Stew Recipes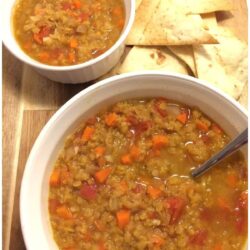 Easy Red Lentil Soup
Forget basic soup and go full flavor with this healthy lentil soup! Instructions included for quick oven-baked tortilla chips.
Ingredients
2

tablespoon

olive oil

1

cups

diced yellow onion

2 ½

tablespoon

minced garlic

about 5 medium cloves

1

cups

diced carrot

1

cups

raw red lentils

¾

teaspoon

sea salt

freshly ground pepper to taste

½

teaspoon

ground coriander

2

teaspoon

ground cumin

1 ½

cups

diced roma tomato

about 3 romas

4

cups

low sodium vegetable broth

(option to replace 1 ½ cups worth with water)

1

diced jalapeno pepper

optional
Instructions
Heat a Dutch oven/large saucepan on medium-low heat with 2 tablespoons olive oil. Once hot, add onions, garlic, carrots, and dried lentils and sauté for about 5 minutes.

Add all remaining ingredients and cook for another 25-30 minutes or until lentils are cooked thoroughly, decreasing heat to low once it gets to a low boil.

Adjust salt as desired. If you're serving with salty chips, take that into consideration.
Quick Oven-Baked Tortilla Chips
While the soup cooks preheat oven to 375°F. Cut two 10 inch flour tortillas into 8 equal triangles. Spray a cookie sheet with olive oil, spread out the tortillas without them touching, and spray again with olive oil. Sprinkle with sea salt and optional lime juice.

Bake on the middle rack for 10-12 minutes. You can fit about 1 ½ tortillas on a 16 x 12 inch sheet pan. Use multiple pans if needed and bake side by side on the middle rack.