Hearty and flavorful, this chili is perfect any night of the week. Prep ahead with soaking beans or decrease prep time to 30 minutes and use canned beans!
In my opinion one of the best comfort foods is a good chili. But what makes a good chili? I want a beefed up chili. That means lots of meat and vegetables, and a thicker sauce! Everyone is a little different and that's what's great about this recipe, it's easy to alter if you want it saucier or with less meat or veggies.
Ingredients for the Best Chili
A blend of raw black and kidney beans: You can use canned beans for this recipe which will greatly decrease your prep time although I always recommend raw! I always soak the beans for 6-8 hours, covered completely in water. Dump out the water, then rinse again before boiling in fresh water.
A variety of raw vegetables: Onion, garlic, bell pepper, corn, and tomato make for the perfect blend!
The perfect combination of spices: Cumin, coriander, chili powder, sea salt, pepper, and liquid smoke are all you need.
Ground beef is my go-to meat choice but you can also choose ground turkey or chicken, or a blend of ground beef and spicy sausage!
What Can Alter the Flavors in this Chili
I've made this recipe so many times and although the basics have always been consistent, there are often little differences every time. Here's are differences I've learned along the way that can really change the flavors of this chili:
Use ripe tomatoes. If you're buying Roma tomatoes from the store they're so often under ripe and that can really decrease the flavor and leave you with an "empty" and bitter flavor.
Adding Lime juice can really change the flavors. I sometimes add fresh lime juice at the very end when serving, but it will make the whole dish a bit sweeter and can even dampen the overall flavor profile. If you're not sure about this, take a taste when the dish is cooked before adding lime juice, then try it with and you'll notice the difference right away.
Adding Greek yogurt or sour cream can be a great addition and helps make the chili even creamier! Not to mention it's a great way to cool it down quickly. But, it can also dampen the flavors and make it much more "mellow" tasting. I love Greek yogurt in my chili, but I also just use a tiny bit because I'm it for the flavors!
Adding more chili powder is a great way to increase spice, but a little goes a long way. If you're serving this for a crowd, you can always keep it super minimal (⅛ teaspoon isn't spicy) and then offer a ground chipotle to sprinkle on top at the end if people want more spice!
Please be aware of the salt, or lack thereof in my recipe! I buy canned tomato products that don't have salt added, and sometimes that's hard to find. Since I cook my beans from a raw state, they don't have added salt either. If I do add canned beans then I buy no-salt-added beans. When in doubt, add additional salt near the end so you can taste it and add more to your liking.
Canned beans will have a thicker juice than if you cook them from raw. If you really want a thick chili but you're cooking your beans from scratch, just add ½-3/4 cup juice to the dish and then add more little by little if you want. Just know that once you remove the chili from heat and let it sit a bit it will thicken up some as it cools!
Basic Steps to Cooking this Chili
You can find the full printable recipe with detailed instructions below. Here's the quick run down.
Cook the beans. Skip this step if using canned beans.
Sauté the vegetables for about 5 minutes in Dutch oven or heavy bottom pot (5 qt).
Add in all tomato ingredients, spices, liquid smoke, raw beef and cook for about 15 minutes.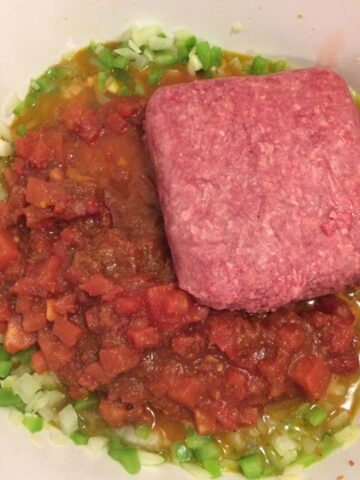 Add the cooked beans, bean juice, and corn. Continue cooking for another 15-20 minutes.
Garnish with preferred toppings: cilantro, Greek yogurt (or sour cream), avocado, fresh lime, shredded cheddar cheese.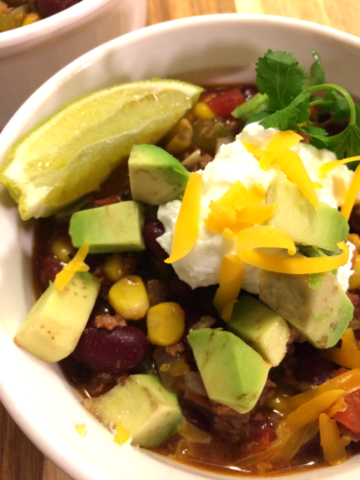 I have not included the soak time for beans in the cook time. I typically soak my beans overnight (6-8 hours), discard the water, then add fresh water to the pot to boil.
More Recipes That Use Ground Beef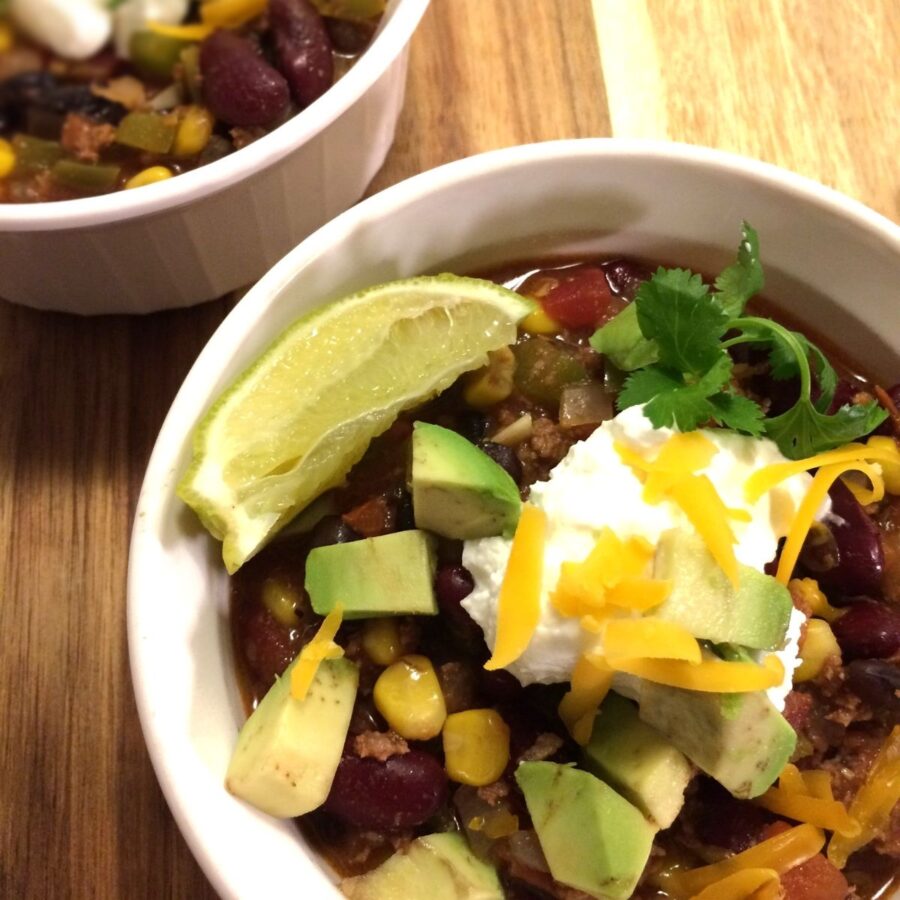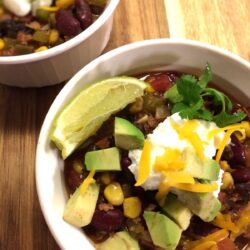 Chili with Beans and Ground Beef
Hearty and flavorful, this chili is perfect any night of the week. Prep ahead with soaking beans or decrease prep time to 30 minutes and use canned beans!
Ingredients
½

cups

raw black beans

(equals 1 ½ cup cooked beans or 1-15.5 oz. can)

½

cups

raw kidney beans

(equals 1 ½ cup cooked beans or 1-15.5 oz. can)

2

tablespoon

olive oil

2

cups

yellow onion, diced

(1 onion)

2-3

tablespoon

minced garlic

(about 5 small cloves)

2

cups

green bell pepper, diced

14.5

oz

petite diced tomatoes in juice, no salt added

(1 can)

1 ½

cups

chopped Roma tomato

3

tablespoon

tomato paste

(heaping scoops)

1

teaspoon

liquid smoke

2

teaspoon

garlic granules

4

teaspoon

ground cumin

1

teaspoon

ground coriander

¼

teaspoon

chili powder

(option to add 1 teaspoon total if you want more spice. Not spicy with ⅛ tsp)

1

teaspoon

sea salt

freshly ground black pepper to taste

1

lbs

lean ground beef

1 ½

cups

frozen corn

(thawed or partially frozen)
Instructions
Cooking Raw Beans
Soak beans overnight or at least for 6 hours. Rinse beans and fill a medium-size saucepan with 4 cups water. Add both types of beans to water. Heat saucepan to medium heat until it begins to boil. Decrease to medium-low heat for about 70-90 minutes or until tender but not mushy. Turn off beans but leave them in their juice.

* See notes about using canned beansCooking
Making the Rest of the Chili
Add 2 Tbsp. oil to a 5 quart Dutch oven or heavy bottom pot and set to medium heat. Once hot, add veggies and sauté for 5 minutes or until onions are translucent.

Meanwhile, in a medium-sized bowl combine diced tomatoes (+ 1 tablespoon water to rinse can), Roma tomatoes, tomato paste, all spices, and liquid smoke.

Once vegetables are cooked, add the tomato mix and raw ground beef to the Dutch oven. Chop up the beef and mix everything until combined. Continue chopping throughout cook to break it down.

Bring the pot back to a low boil, then decrease to medium-low heat for about another 15 minutes.

Add 3 cups strained cooked beans with 1 cup juice (from either bean if using canned), and frozen corn. Let simmer for about 15-20 minutes or until meat is cooked through.

Enjoy with optional toppings:

Fresh cilantro, lime juice, Greek yogurt, shredded extra sharp cheddar or smoked cheddar cheese, avocado.
Notes
Bean portions:
½ cup raw beans = 1 ½ cups cooked (strained)
1-15.5 oz. can of beans contains about 1 ½ cups cooked beans +1 cup juice.
Option to cook both black and kidney beans from raw state. You can cook them in the same pot and use 4 cups water for 1 cup total beans. 
Option to use canned beans for both.
If you happen to cook one type of bean from a raw state and the other one canned, use 2 cups water to cook the ½ cup raw beans.