This is a hearty and flavor-rich soup that's just creamy enough while still maintaining great texture! Make it a soup night and keep the stress out of making dinner!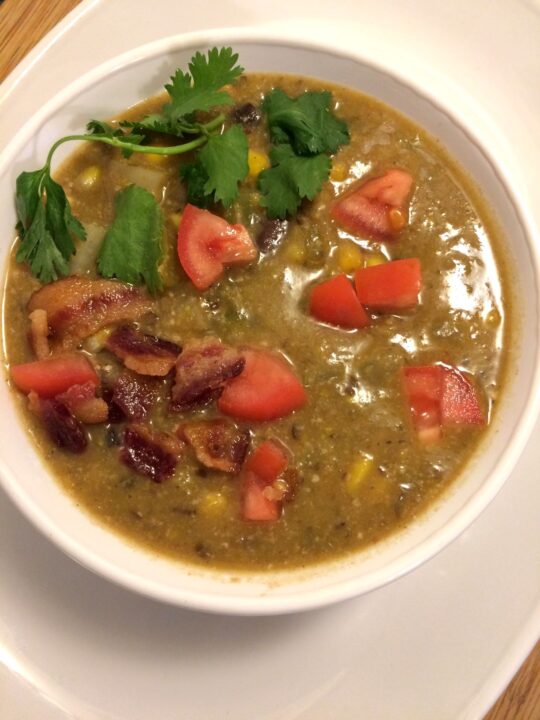 Southwestern corn chowder is in fact more flavorful than basic corn chowder! You get a richer soup that's still slightly sweet but more savory.
This is a very hearty soup. You get your potatoes, which are filling and help to make the soup creamier. Black beans add flavor and protein and also creaminess if you choose to blend some in. Bacon, well need I say more? It adds crunch and a ton of flavor! I would not recommend adding bacon into the soup because it will soften but keep it as a garnish.
All of the veggies are fresh and add more flavor and the corn adds sweetness.
The Greek yogurt adds protein, richness, and creaminess.
I chose an amount of soup to blend that gives it just enough creaminess without removing too much texture. We're not making a blended soup or "baby food" here, as my husband would call it. Keep the texture, it makes a difference!
Chips and tortillas go well with this soup and it actually tastes really good cold!
This is supposed to be an easy soup. There is some prep time with chopping and baking the bacon but all in all it's an easy recipe! Want to make it quicker after a long day? Prep all the veggies the night before and make the bacon while the soup cooks.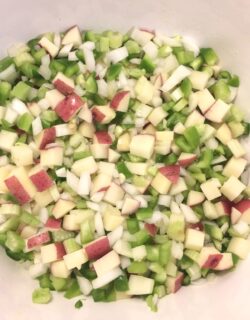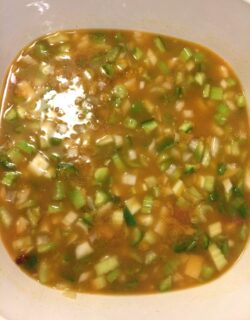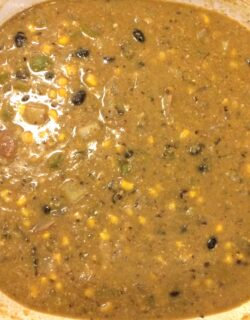 I cook my beans from scratch but you can choose canned beans to make it quicker. I have not included cook time into this recipe if you choose to make your beans from scratch!
More Similar Recipes
If you enjoyed this recipe take a look at more soup recipes: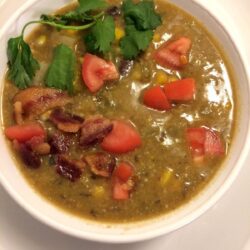 Southwestern Corn Chowder
This is a hearty and flavor-rich soup that's just creamy enough while still maintaining great texture! Serve with chips or a tortilla to change it up a bit!
Ingredients
1

strip of bacon per person to garnish

(at last 6-8)

2

tablespoon

olive oil

3

cups

unpeeled cubed red potatoes

(about 3 medium potatoes cut in ½" cubes peel if you want)

1 ¾- 2

cups

diced green bell pepper

(1 pepper diced small)

1 ½

cups

yellow onion

(1 medium onion)

4

large

garlic cloves

1

cup

diced celery ribs

(2 ribs of celery, no leaves)

5

cups

low sodium vegetable broth

1

bay leaf

2

teaspoon

sea salt

1

teaspoon

garlic granules

1 ½

teaspoon

smoked paprika

1

teaspoon

ground cumin

4 ½

cups

frozen corn kernels

(up to 5 cups)

2

cups

cooked black beans

(with some juice but not much)

¾

cup

full fat plain Greek yogurt
Optional Garnishes
diced green onion to garnish

cilantro

diced tomatoes

optional red pepper or smoked paprika
Instructions
Make Bacon
Bake strips of bacon at 400°F for 20 minutes for dark and crispy. Middle rack for conventional and convection oven. Let cool, then break into small pieces. Set aside. Option to bake the bacon while the soup cooks.
Make the Soup
Heat 2 tablespoon olive oil on medium-low heat (level 3) in a large, heavy bottom pot ( I use a 5 qt. Corning Ware) Once hot add all veggies and potatoes. Sauté for about 5 minutes.

Add 5 cups broth with all spices (smoked paprika, sea salt, cumin, garlic granules, and bay leaf). Cook for another 18- 20 minutes and decrease heat to low-medium (level 2). Cook for another 5 minutes and then add corn and beans (if you want a lighter and brighter color soup then add the beans after blending). Cook for another 15 minutes and turn off heat.

Add yogurt and transfer 6 cups of the soup to a blender (heat safe blender). Using immersion blender is not recommended for this recipe.

If you want thicker soup do 1 less cup broth. Blend more of the soup if you wish to have it smoother. Add beans if you haven't already.