This classic pot roast is tender and full of flavor, making for a perfect dinner any night of the week!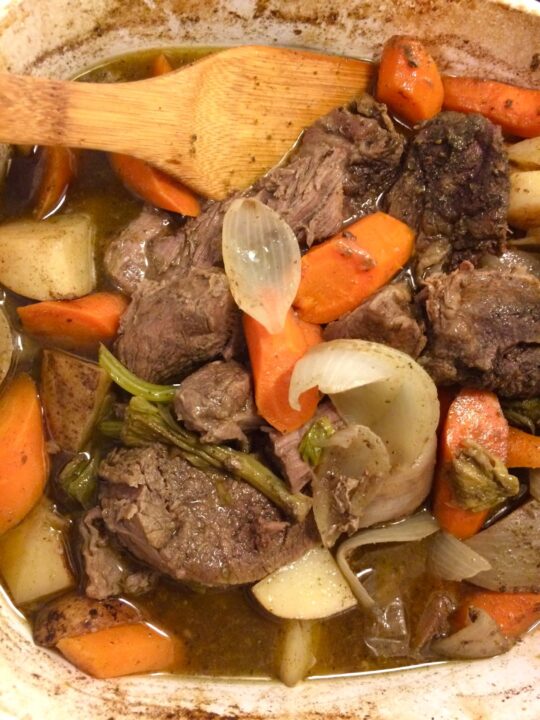 Pot Roast
This is such an easy meal to prepare and cook, but getting the flavors just right isn't always easy. Everyone has their personal taste and to me, pot roast has to be just right. There has to be enough flavor from the herbs, richness from the meat and broth, and a slight tang and sweetness without being overpowering. There most definitely needs to be enough broth to create a gravy after the bake.
Best Cut of Meat for Roast
You want a cut of meat that will be tender and fall apart after just a few hours of cooking. I've used several different cuts of meat, but never anything too expensive. My top recommendations are:
Bottom or Top Round, Chuck Roast, or Brisket
None of the above are too fatty, they shred nicely, and cook fairly quickly.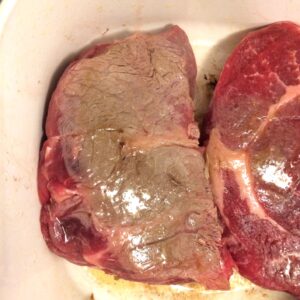 What Liquids to Use?
Broth is a must for pot roast. But, in most recipes you'll find beef broth recommended. Of course that's fitting because this is a beef dish and the beef broth can add a richer flavor. However, we have started using only vegetable broth in my house, and it works wonderfully well for this dish. It does give it a somewhat lighter flavor but in no way lacks flavor.
Balsamic Vinegar adds such great flavor to a pot roast giving it a bit of tang while also adding a richness. I was originally using ¼ cup balsamic vinegar to the dish and it marinated the meat incredibly well. However, I found that it created too strong of a flavor for the vegetables, so I started backing down a little with it to create a better balance.
Red Wine Vinegar also adds a tanginess as well as robust flavor. You can replace this ingredient with a red wine of your choosing. Maybe some day I'll start cooking and baking with wine more, but right now I have such a hard time doing so! I can't justify buying a nice bottle of wine just to cook out the alcohol, and I can't justify getting a cheap bottle of wine when I can just as easily use red wine vinegar. It's all preference. Wine can add incredible richness and flavor to a dish, while also making the meat super moist. Vinegars can also play a similar role so I leave it up to you whether or not to use red wine, or a red wine vinegar!
What Vegetables to Use?
I have always stuck with the classics of: Carrots, potatoes, onion, garlic, and celery.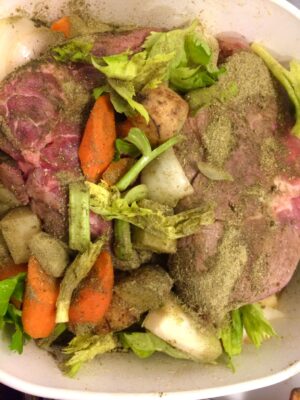 I have no intention of messing with these, but there is a lot of variety you can have within that grouping. No matter what vegetable you use, you'll want to cut them into large pieces, or leave whole. One reason being that you're baking this dish for a while and you won't want mushy vegetables in the end. Another reason is that we're making pot roast and not a stew!
If you're looking at your dish and feel there isn't enough vegetables, remember that recipes are "guidelines" and not rules, so add more of whatever you'd like!
You can choose red potatoes, russets, fingerlings, or just small whole potatoes.
I personally never buy baby carrots because I think you can get a better, less processed carrot by just buying it whole. Plus, whole carrots are just cheaper and more flavorful! But, you can always use whatever carrot you wish whether it be baby carrot, whole carrots, large chunks, multi-colored, or standard.
When it comes to Onions, I would recommend a yellow or white onion. You could always use pearl onions as well.
Celery is pretty straight forward. You definitely want to make sure you have large chunks of celery! I don't add my celery to the initial sauté of vegetables because I don't want them to soften to quickly. I also love adding some celery leaves because they have a more robust flavor and add different texture.
Garlic should be left whole otherwise it will likely just turn to mush. Again, a pot roast is known for having large chunks of everything and not small pieces like a stew. I recommend at least 6-7 garlic cloves if not more!
What Type of Pot to Cook and Bake in?
I always use my largest Corning Ware which is 5 quarts. I love this casserole dish because I can use it on the stovetop and transfer it directly to the oven. It's considered a Dutch oven, which is the best option.
Whatever you choose, you'll want to make sure it's about 5 quarts to hold all the ingredients. If your dish doesn't have a lid you can cover it in tin foil as it bakes.
As I mention in my instructions, you can either use a dish that you can sauté with on the stovetop and transition straight to the oven, or, you can sauté vegetables and sear the meat in a large skillet, then transfer to a large baking dish.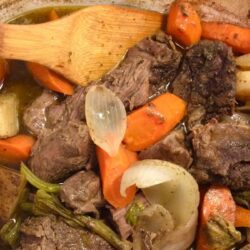 Classic Pot Roast
This classic pot roast is tender and full of flavor, making for a perfect dinner any night of the week!
Ingredients
3

lb

beef

chuck roast, bottom round, shoulder, brisket, or others

2

tablespoon

olive oil for sautéing vegetables

5

cups

largely chopped carrots

about 5-6 carrots

4

cups

largely chopped russet potatoes

about 3 medium potatoes

6-7

large garlic cloves

2

cups

large cuts of yellow onion

1 large onion or 2 smaller

2

stalks

celery largely chopped

3

tablespoon

red wine vinegar

option to replace with a red wine

3

tablespoon

balsamic vinegar

3

cups

low sodium vegetable broth

2

teaspoon

dried rosemary

option to use fresh

2 ½

teaspoon

ground thyme

option to use fresh sprigs-keep whole

1

teaspoon

garlic granules

1

teaspoon

sea salt

alter to taste (taking into account low sodium broth)

1

teaspoon

rubbed sage

2

bay leaves

freshly ground black pepper to taste
Instructions
If you have a large pot/ Dutch oven that can be used on the stove top and baking, use that. If not, use a separate skillet for the first step.

Add 2 tablespoon to a large pot/skillet and heat to low-medium heat. Sauté carrots, garlic, onion, and potatoes for about 6-8 minutes. Remove veggies briefly to a separate bowl.

In the same large pot sear the beef on all sides until light brown. Keep burner on and remove meat to add to veggie bowl.

In the pot/skillet, add red wine vinegar and balsamic vinegar and stir with a wooden spoon to deglaze the pot. Turn off stove.

If you've been using a skillet then add all ingredients to a large pot at this time. Return vegetables and meat to the pot. Add celery at this point. Add all seasonings and vegetable broth.

Cover pot and set on middle rack in oven.

Bake for 3-31/2 hours, basting the dish after 2 hours.

Option to make a gravy with broth. Remove about 2 cups juices and add it to a small saucepan. Add 2 tablespoon flour and bring to a low boil. Stirring frequently until it begins to thicken. Turn off heat.

Keep gravy on the side or return to the pot if you wish to serve.