The perfect dinner roll with a touch of sweetness that pairs well with any sandwich, hamburger, or as a side!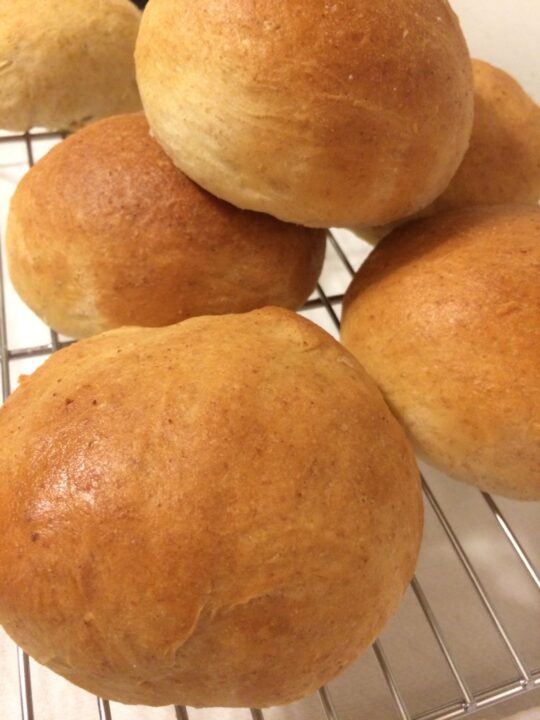 These sweet rolls come from my Kraut Burger recipe. While they do have white sugar, which I like to stray away from, I have cut it back considerably. I will continue to add edits to this recipe as I perfect this recipe with natural sweeteners!
I wanted a roll that was versatile. Great for a side, works for a sandwich, and holds together well for a hamburger! This is it, and we really do use them for everything! You can always decrease the sugar even more if you really don't want sweetness.
I make these rolls big so they can fit filling and burgers. I always make 10 for that reason but you can always increase the quantity to 12 or even 14 for smaller rolls.
If you're wanting super simple rolls look no further. These are quick to make and quick to be eaten. If you're wanting any leftovers you might want to double the batch!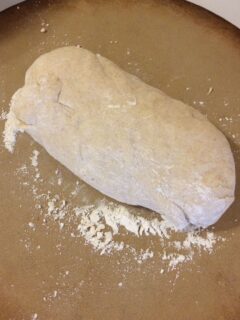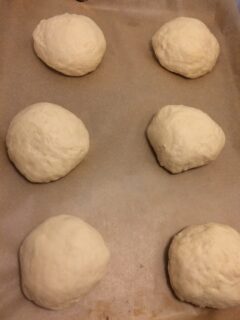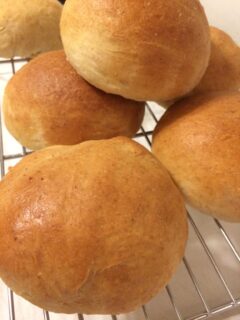 More Recipes that Use this Dough
If you enjoyed this recipe and you're looking for more like it, try one of my other recipes that use the same recipe, sometimes altered slightly:
Lightly Sweetened Dinner Rolls
The perfect dinner roll with a touch of sweetness that pairs well with any sandwich, hamburger, or as a side!
Ingredients
5

cups

white flour

option to replace ¾ cup with wheat flour

⅓ cups + 5 tablespoon + 1 teaspoon

white sugar

equals ⅓ cup + half of ⅓ cup* see notes

1 ½

tablespoon

instant yeast

½

teaspoon

sea salt

¼

cup

olive oil

2

cup

warm water

4

tablespoon

unsalted butter for brushing on rolls
Instructions
Make the Dough
In a large mixing bowl combine all dry ingredients. Combine well with a fork. Add water and oil and combine again using fork and your hands. Knead the dough for at least 3-4 minutes. Form into a ball and cover with a tea towel to let rise for about 45 minutes or until doubled in size.
Forming the Rolls and Baking
Preheat oven to 350℉. Melt 4 tablespoon butter on stovetop or in microwave (just for a few seconds if choosing this method).

Once risen, transfer dough to a clean lightly floured surface and roll out into an evenly portioned log. Using a sharp knife cut the log in half. Cut each half into 5 equal portions to equal 10 total.

Form each portion into a ball and using two hands gently roll the dough under slightly to create a smooth top surface (like the motion of folding socks together). Ensure that the bottoms are smooth as well by gently pressing and rocking it into your palm or a flat surface to evenly seal off the bottom.

Place rolls on a cookie sheet (lightly sprayed with olive oil or covered in parchment paper). Give about 3" space between each roll. I end up using 1 large cookie sheet and 1 smaller, placing them long ways in the oven on the same rack. You can cook 2 separate batches if needed. Option to use a pizza stone.

Baste each roll with melted butter (you should have some left over for after the bake).

Bake for 30 minutes at 350℉. If you prefer a bit darker, leaving the rolls in oven at 30 minutes and increase temp to 375℉ to bake for another 5 minutes.

Baste rolls again with melted butter after bake if you wish for a smoother texture and golden color.

Enjoy with any dinner as a side roll. Or, slice in half to use for any sandwich or hamburger!
Notes
I have decreased the sugar from my original Kraut Burger Recipe, which is where these rolls originated. You can decrease the sugar even more to lower overall sweetness. You can still taste sweetness at ⅓ cup so if you really don't want them sweet either omit the sugar completely or add a few tbsp-¼ cup max.