This pulled chicken sandwich is packed with tangy flavor thanks to the addition of apple cider vinegar! Homemade sweet rolls and homemade coleslaw makes this a truly unique and incredible meal! Option to use pork instead of chicken!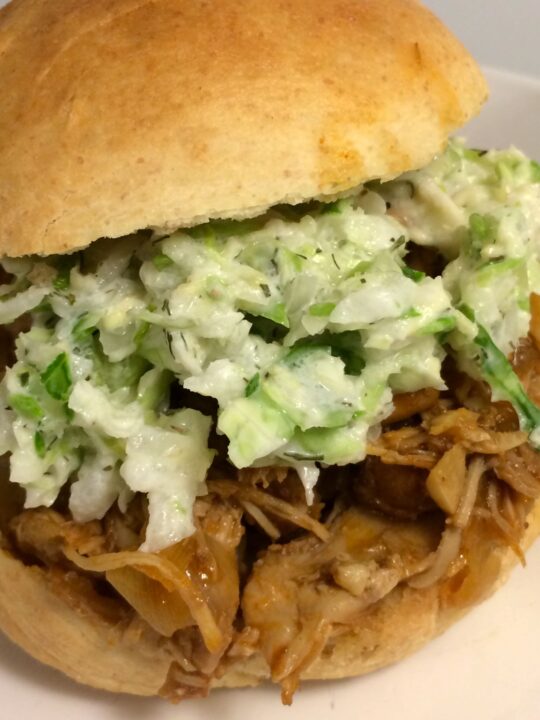 This vinegar marinated pulled chicken sandwich gets an extra punch with a homemade coleslaw topping. But, let's go a step further and add homemade sweet rolls and you're in for a highly enjoyable meal!
My recipe was inspired by a book I read: Zero sugar cookbook : lose up to a pound a day and eat your way to a lean & healthy you! by David Zinczenko.
My reason for checking out this book was to expand my ideas for low sugar recipes. While I never actually made the recipe from this book, the general concept was enough to kick start this incredible recipe!
You can always cut corners with this recipe by using store bought rolls, or making another coleslaw recipe. But, if you're wanting to experience this recipe in all it's glory then I would recommend making it all from scratch! It really isn't too time consuming and you can break up the tasks such as making the coleslaw the night before as well as preparing the marinade.
Let's break down the recipe to see why I chose the ingredients I did.
Lightly Sweetened Dinner Rolls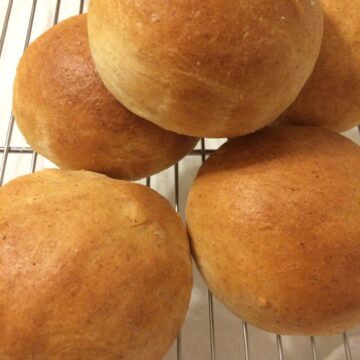 My dinner roll recipe comes from my Kraut Burger recipe. I realized how versatile this recipe truly is and it makes for a perfect roll and bun recipe!
A tad bit of sweetness works perfectly to round out the vinegar and tang of the filling. The roll itself is fluffy yet dense enough to hold together with a filling this wet. I personally feel that this roll is the only way to go and store bought just doesn't cut it!
If you want a softer roll, you can use my From Scratch Soft Burger Buns and leave off the sesame seeds!
Vinegar Marinade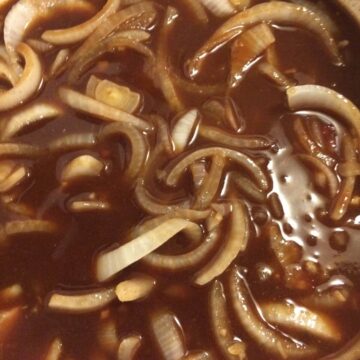 It took me a couple tries to perfect this recipe. I originally had too much vinegar, which was great for the sandwich as a whole, but I didn't enjoy it when eating the chicken by itself. That to me was a no go, so I changed it up and now it's the perfect amount of tang without overpowering. This sauce is just sweet enough without covering up the main player, vinegar.
Chicken Thighs
Chicken thighs break down so nicely for pulled chicken. You end up with such a tender meat, chicken breast just isn't the same!
I have made this recipe with pork tenderloin and it works wonderfully as well. The meat isn't as tender as the thighs but it still gets extremely juicy and pulls apart so easily.
Coleslaw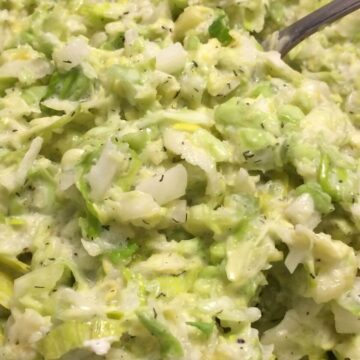 I have made this coleslaw two ways. One with Brussel sprouts and one with only cabbage. I don't always have Brussel sprouts on hand but I still really want to make this slaw! I prefer it with Brussel sprouts because it has more depth and variety in flavor. My husband prefers with with only cabbage.
If you're wanting to impress and create a slaw that's a little more unique then definitely use the Brussel sprouts! If you don't have Brussel sprouts then just use cabbage and it will be great!
This coleslaw is a bit juicy but I'm not changing the recipe, it's too good as is. The raw honey really rounds out the flavors and gives just enough sweetness. I haven't replaced the Greek yogurt with anything else...because I use it for everything and never use mayonnaise or sour cream.
What Does this Sandwich Pair Well With?
Pineapple! The sandwich already gives you carbs, protein, and vegetables. The only thing left to add to the meal is a sweet fruit! Pineapple is the perfect combination and you could even add it onto the sandwich if you wanted!
Similar Recipes
Incredible Shredded Beef With Oak Smoked Flaked Sea Salt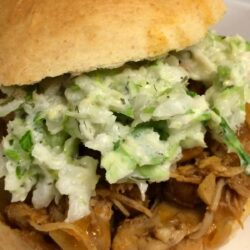 Vinegar Pulled Chicken and Coleslaw Sandwich
This pulled chicken sandwich is packed with tangy flavor thanks to the addition of apple cider vinegar! Homemade sweet rolls and homemade coleslaw makes this a truly unique and incredible meal! Option to use pork instead of chicken!
Ingredients
5

cups

white flour

option to replace ¾ cup with wheat flour

⅓ cup + 5 tablespoon + 1 tsp

white sugar

equals ⅓ cup + half of ⅓ cup

1 ½

tablespoon

instant yeast

½

teaspoon

sea salt

¼

cup

olive oil

2

cup

warm water

4

tablespoon

unsalted butter for brushing on rolls
For the Chicken
1 ½

tablespoon

olive oil

1

cup

sliced yellow onion

about ½ an onion

2

tablespoon

garlic

about 4 cloves

2 - 2 ½

lbs.

chicken thigs or pork tenderloin *
For the Marinade
½

cup

apple cider vinegar

1 ½

tablespoon

tomato paste

unsalted

1 ½

teaspoon

chili powder

⅛

teaspoon

sea salt

or more to taste

1 ½

teaspoon

garlic powder/granules

1

tablespoon

blackstrap molasses

3

tablespoon

water
1

cup

shredded raw Brussel sprouts

option to replace this with 1 cup shredded cabbage

2

cups

shredded green cabbage

3

tablespoon

apple cider vinegar

½

cup

finely diced celery

¼

cup

finely chopped celery leaves

½

cup

diced yellow onion

about ¼ of an onion

1

teaspoon

dried dill

2

teaspoon

raw honey

½

cup

plain full fat Greek yogurt

½

teaspoon

sea salt

freshly ground black pepper to taste
Instructions
Make the Marinade
In a small bowl, combine the apple cider vinegar, tomato paste, chili powder, sea salt, garlic powder, molasses, and water. Combine well with a chopstick or fork. Set aside.
Cook the Chicken
In a casserole dish or large sauce (I use a 3 qt. Corning Ware) add 1 ½ tablespoon olive oil. Heat to medium-low heat (level 3). Once hot, add diced onion and garlic. Sauté for 5 minutes. Add the marinade and continue to heat for 2-3 minutes. Add the chicken thighs or cut up pork. Pierce the chicken/pork with a knife several times to decrease cook time and help the marinade soak in. Cover and cook for 1 hour 40 min. Meanwhile, make rolls and coleslaw (while rolls are rising and/or baking).
Make the Dough
In a large mixing bowl combine all dry ingredients. Combine well with a fork. Add water and oil and combine again using fork and your hands. Knead the dough for at least 3-4 minutes. Form into a ball and cover with a tea towel to let rise for about 45 minutes or until doubled in size.
Forming the Rolls and Baking
Preheat oven to 350℉. Melt 4 tablespoon butter on stovetop or in microwave and set aside.

Once risen, transfer dough to a clean lightly floured surface and roll out into an evenly portioned log. Using a sharp knife cut the log in half. Cut each half into 5 equal portions to equal 10 total.

Form each portion into a ball and using two hands gently roll the dough under slightly to create a smooth top surface (like the motion of folding socks together). Ensure that the bottoms are smooth as well by gently pressing and rocking it into your palm or a flat surface to evenly seal off the bottom.

Place rolls on a cookie sheet (lightly sprayed with olive oil or covered in parchment paper). Give about 3" space between each roll. I end up using 1 large cookie sheet and 1 smaller, placing them long ways in the oven on the same rack. You can cook 2 separate batches if needed. Option to use a pizza stone.

Cover rolls with a tea towel and let rise again for at least 10 minutes to increase size slightly before baking.

Baste each roll with melted butter (you should have some left over for after the bake).

Bake for 30 minutes at 350℉. If you prefer a bit darker, leaving the rolls in oven at 30 minutes and increase temp to 375℉ to bake for another 5 minutes.

Baste rolls again with melted butter after bake if you wish for a smoother texture and golden color.
While the Rolls are Rising and/or Baking, Make the Coleslaw
Shred the brussels sprouts and cabbage using large holes of a cheese grater and add to a large mixing bowl. Add all remaining ingredients and combine well using a fork. Store in the fridge until ready to serve.