These soft burger buns can be sized as needed for sliders up to large burgers! The best part is that you can use this recipe for soft rolls too!
(This page contains affiliated links)
Soft burger buns are so fun to make and you'll be excited too when they come out of the oven like little pillows. No matter how many times you made your own buns, it feels amazing when you make something completely from scratch that turns out as amazing as these buns do!
I have made many many rolls and buns over the years. I used to stick to my recipe for Lightly Sweetened Dinner Rolls that I also use in my Kraut Burger recipe. I love the rolls I use in that recipe because they're so flavorful and versatile. They're fantastic rolls for soups, Thanksgiving, really any dinner.
For burger buns, I just wanted something softer, that stayed soft over days for leftovers. I wanted buns that would hold together while you ate your burger and didn't break apart. Try and try and you shall succeed! I landed on this recipe and I love it.
One of the benefits of making your buns from scratch is that you can size them however you want. For my Baked Hamburger Patties recipe as well as my Easy and Delicious Hamburger Patties recipe (that you cook stovetop), I like to cut my dough into 8-10 portions. My husband likes the larger size when I make 8, but I find that 10 is just perfect. When you have fewer rolls, I find that the buns will go up but not always out as you might want for a wider roll.
Ingredients
All purpose flour- keep it simple!
Yeast-(instant or active dry). I use this Saf Instant Yeast from Amazon and I love it! Just store any extra in the freezer or fridge!
Unsalted butter- use cold butter to easily cut it into the flour.
1 large egg- if using previously frozen whisked eggs, use 3 tablespoons worth. If making half a batch of buns, use 1 ½ tablespoons of whisked egg.
Milk-(2% or whole recommended)
Raw honey-is used instead of white sugar. You can always replace this with white sugar if you prefer. With the small amount I use it doesn't make them sweet, but does add flavor and helps the yeast rise. Add more if you want to make these sweet rolls! Just know that you might need to add a touch more flour to even out the liquid to dry ingredient ratio. 
Sea salt-can be adjusted up or down to your liking. These are not salty buns. If you want to taste the salt I would recommend increasing it slightly, especially if you're expecting a store-bought taste. 
Olive oil-Instead of patting down your dough with too much flour to knead it out, use a little olive oil. On your baking surface, spray a little olive oil too so they're easily removed after baking and no parchment paper necessary!
Optional Sesame Seeds. Toasted or not work great and give it that "burger bun" look. Plus they add flavor!
Steps for Making the Most Incredible Soft Buns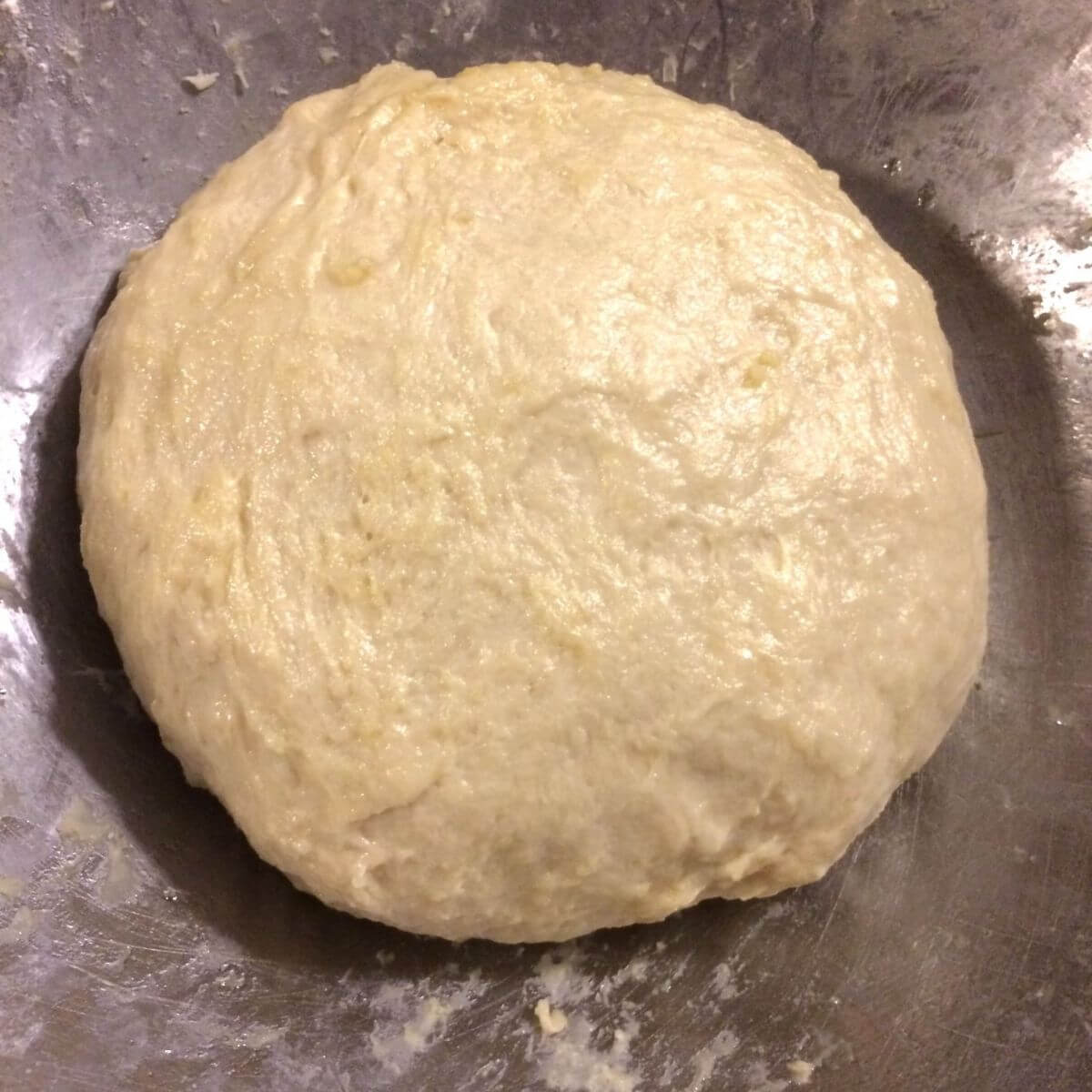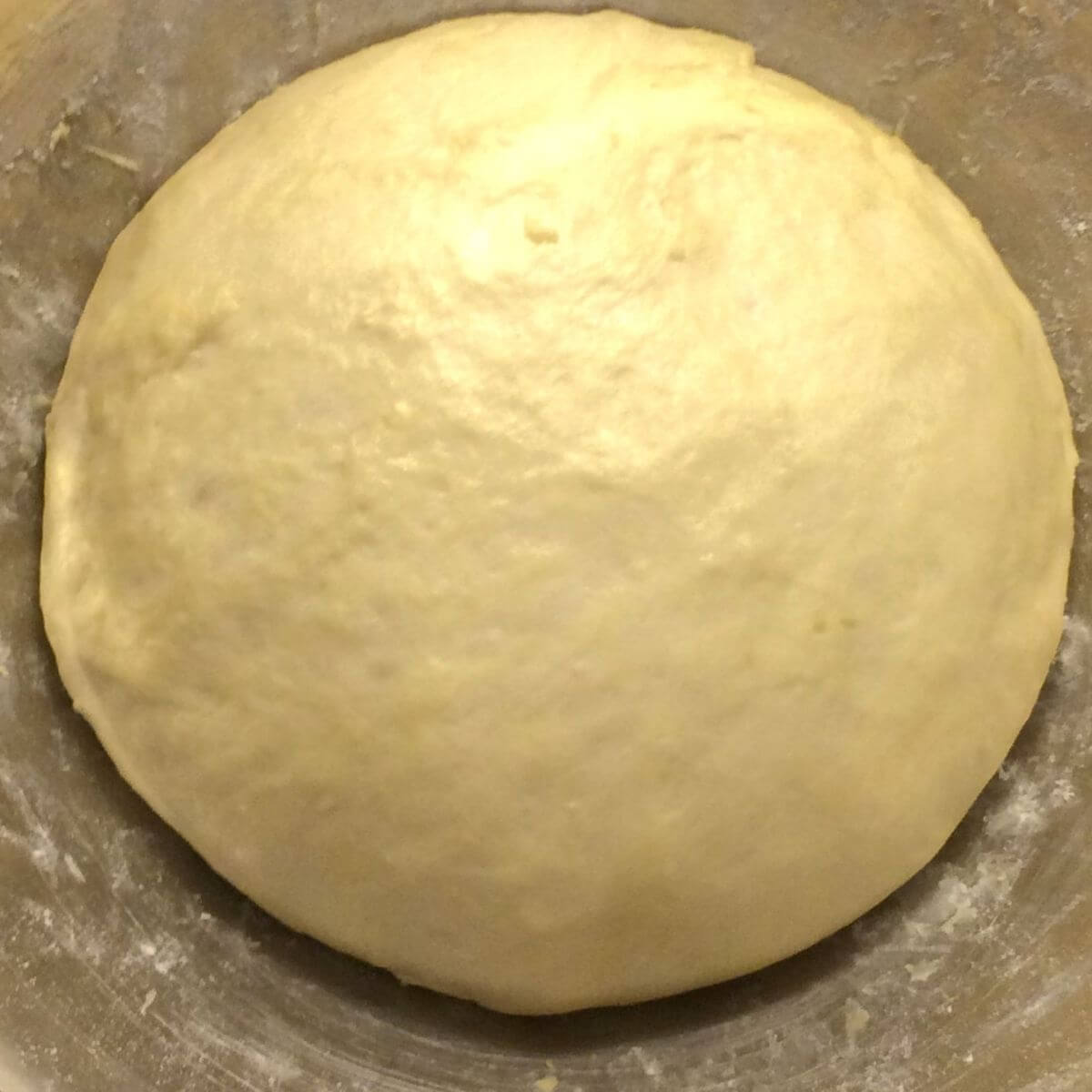 Make the dough. Start with 4 cups of flour and slowly add 1 tablespoon at a time before the dough becomes pliable, but still a tad bit sticky. You don't want to add too much flour, that will make a huge difference in the texture of these rolls. Add a little olive oil to finish kneading the dough and it should no longer stick to your fingers.
Cover with a tea towel and let the dough rise for about 1 hour. It should double in size.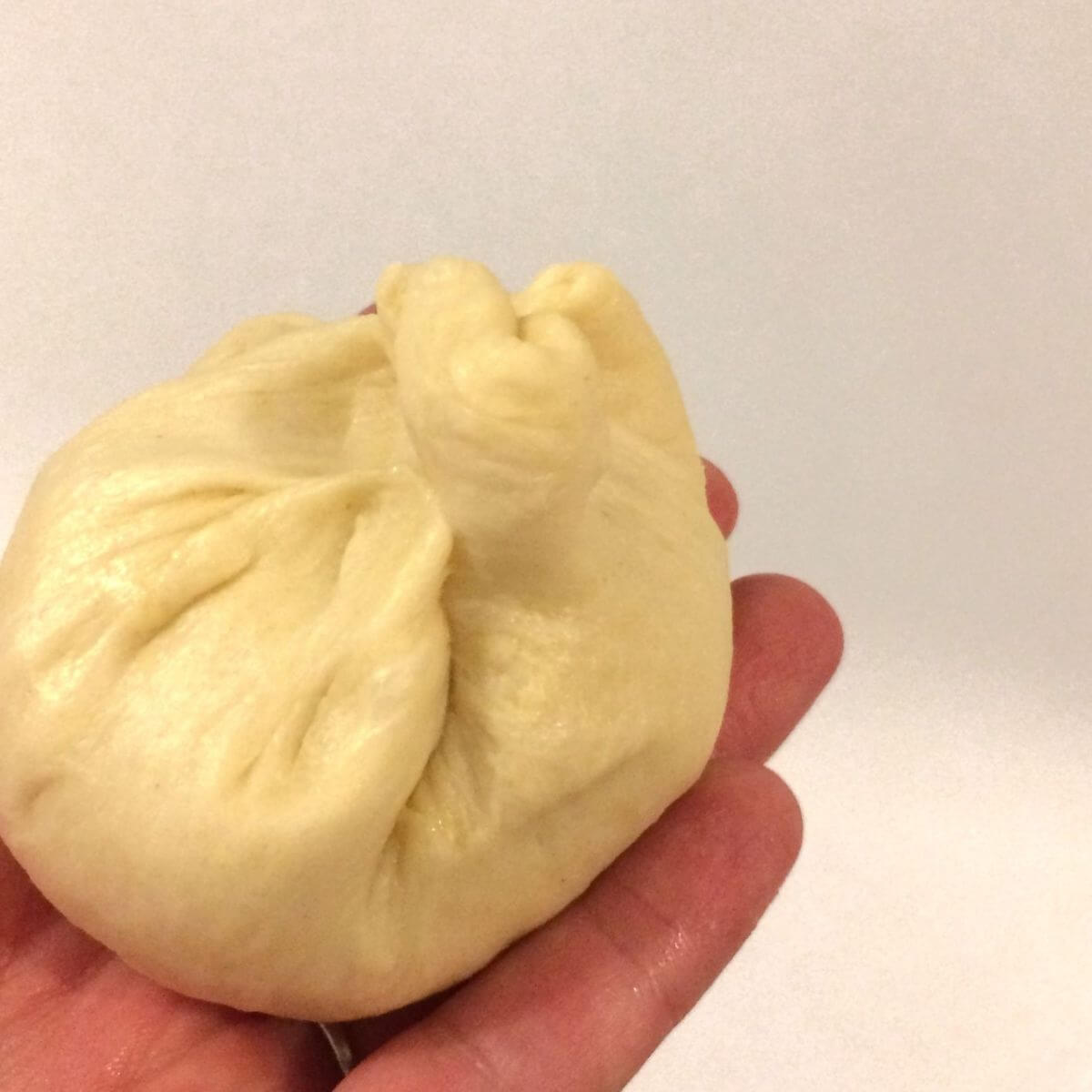 Portion out the dough in 10 pieces. You really shouldn't need to flour or oil the surface. If it's sticking, lightly spray the surface with olive oil, then flour as your second choice option (adding more flour can change the texture of the dough). You can set them on a cookie sheet and keep them covered while forming each one. Option to portion out 1 piece at a time while remaining dough stays covered in the bowl.
Form each ball by stretching the dough and gathering it on the bottom. This will stretch the top to create a smooth surface. Don't just roll each ball of dough in your hands, you won't get the same result.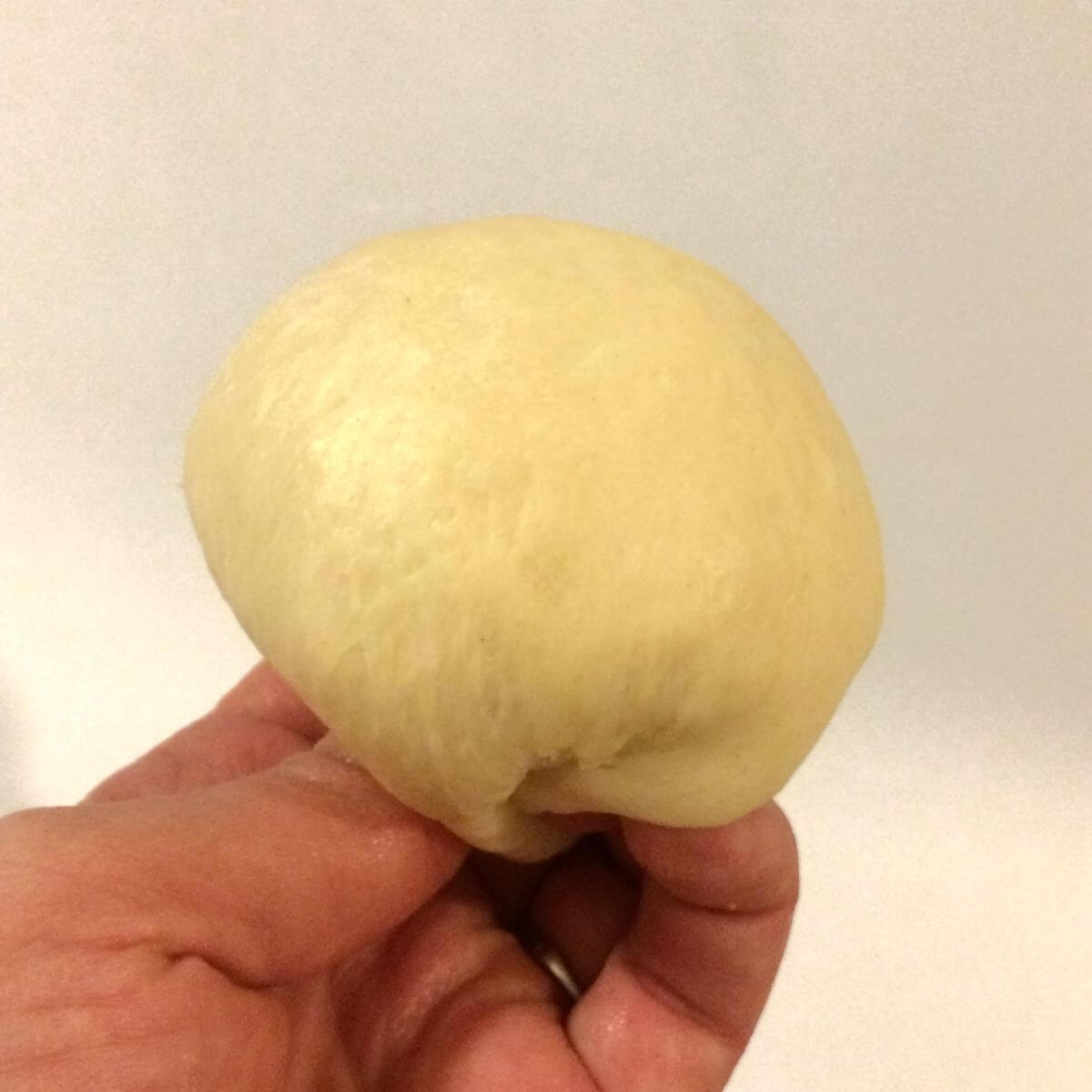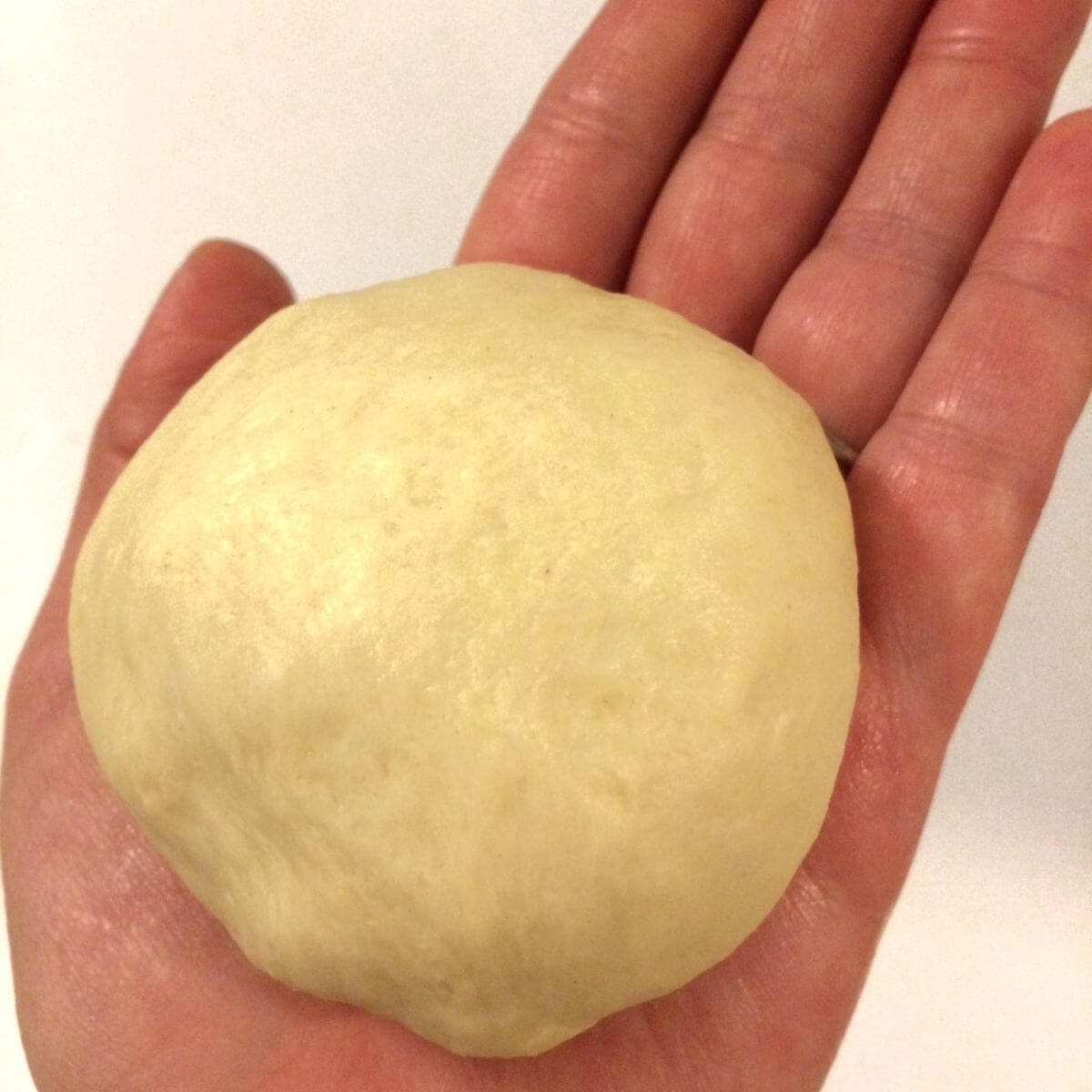 Once the bottom is gathered, pinch it together to start the seal.
Use both hands to gently rock the dough ball in your hand and gently press down to seal.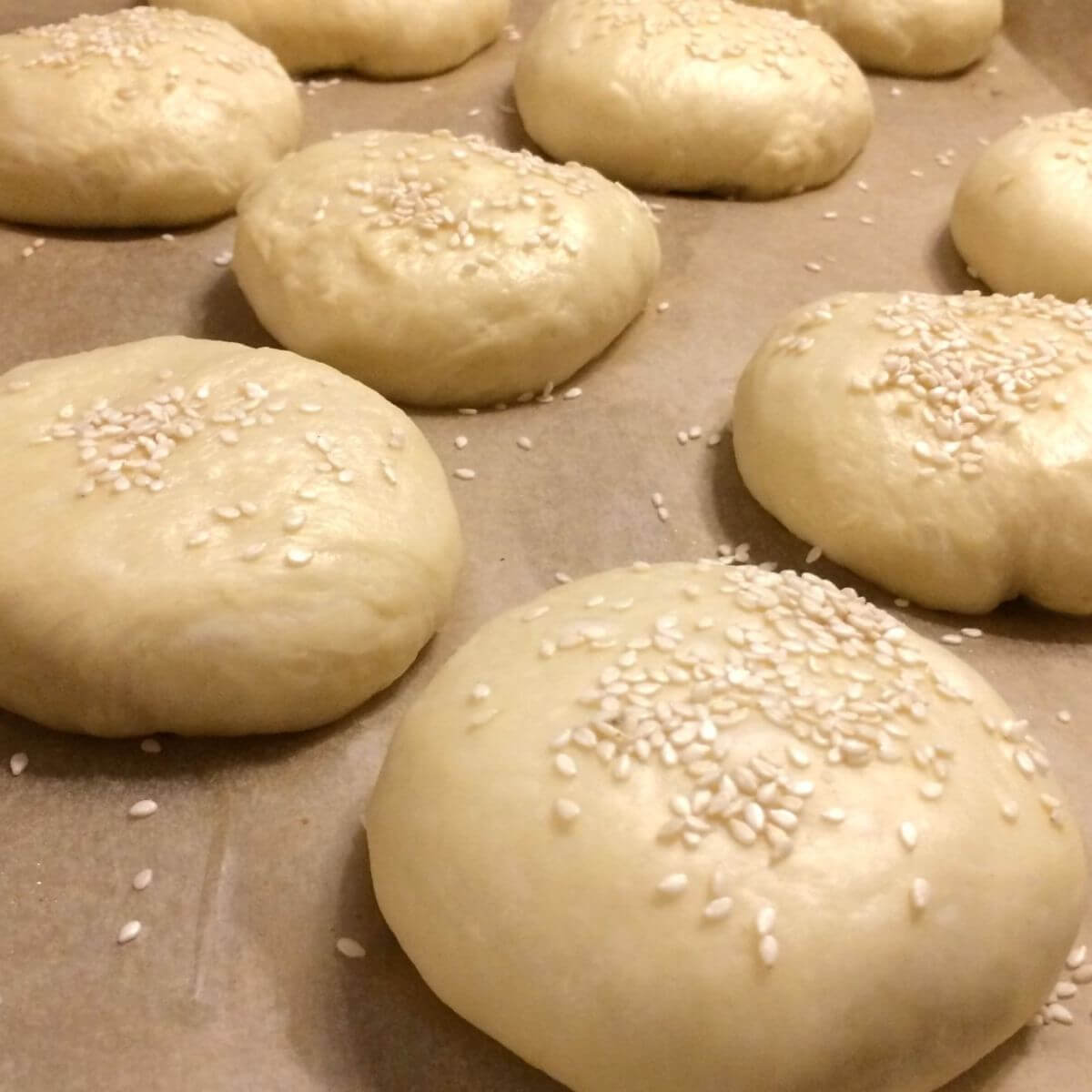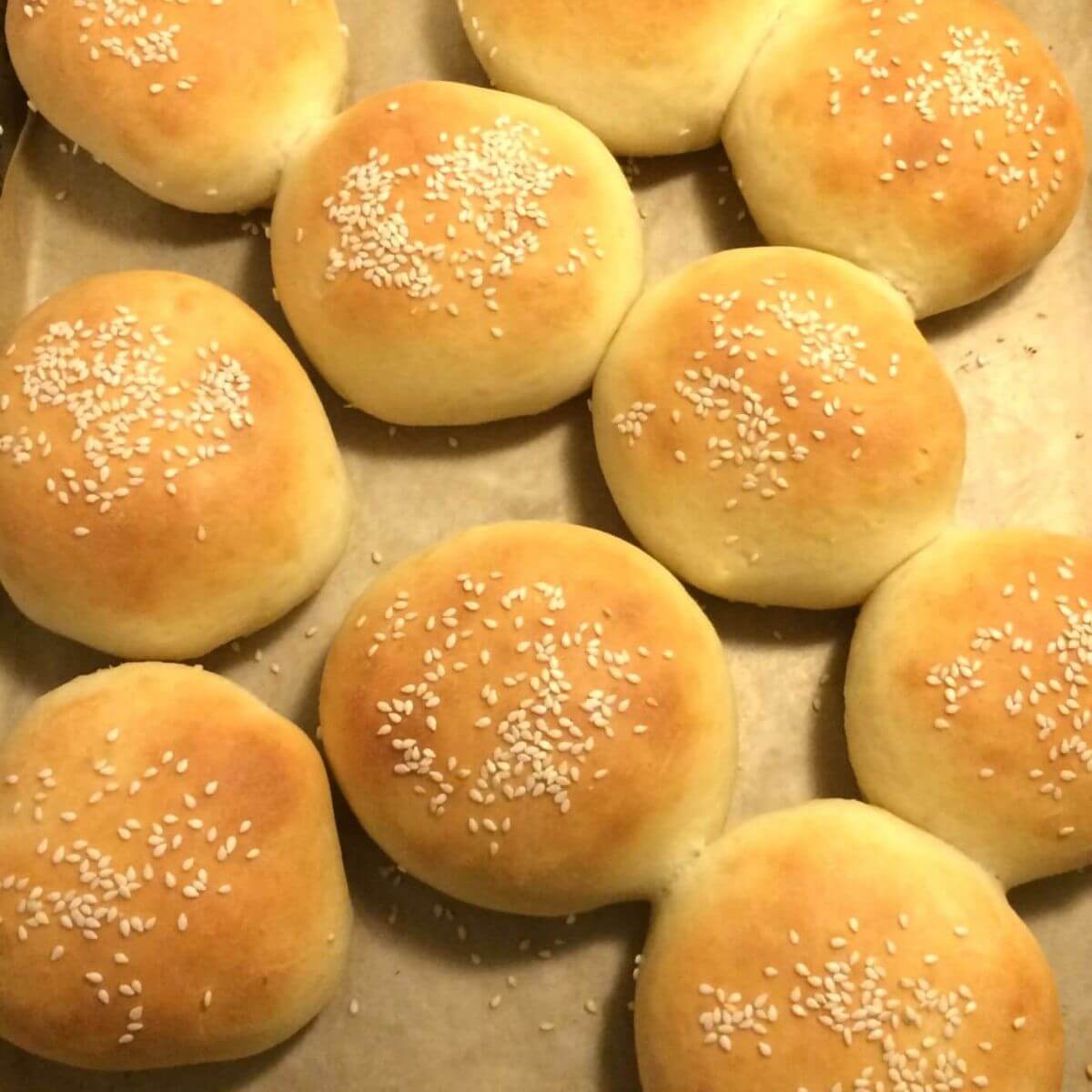 Either lightly spray a cookie sheet with olive oil or use parchment paper. Lay out dough balls offsetting them from one another. If you fit all 10 on the cookie sheet some will likely touch. If you want to avoid that, use 2 cookie sheets or do 1 batch after another.
Sprinkle with sesame seeds and gently press down on each one to set in the seeds and slightly deflate the balls. Cover them and let rise a little while oven finishes preheating.
Bake on middle rack at 375℉ for about 22-25 minutes or until golden brown.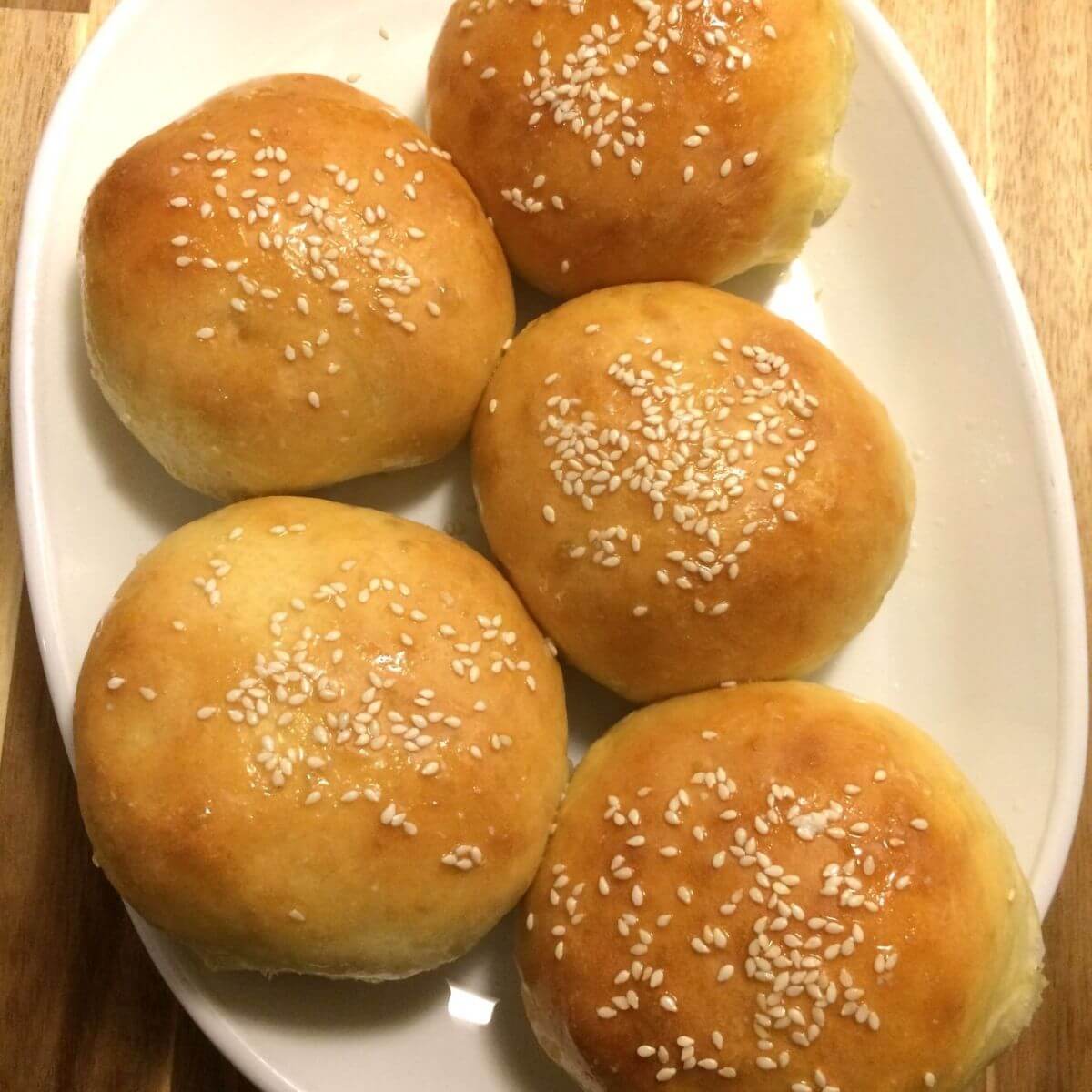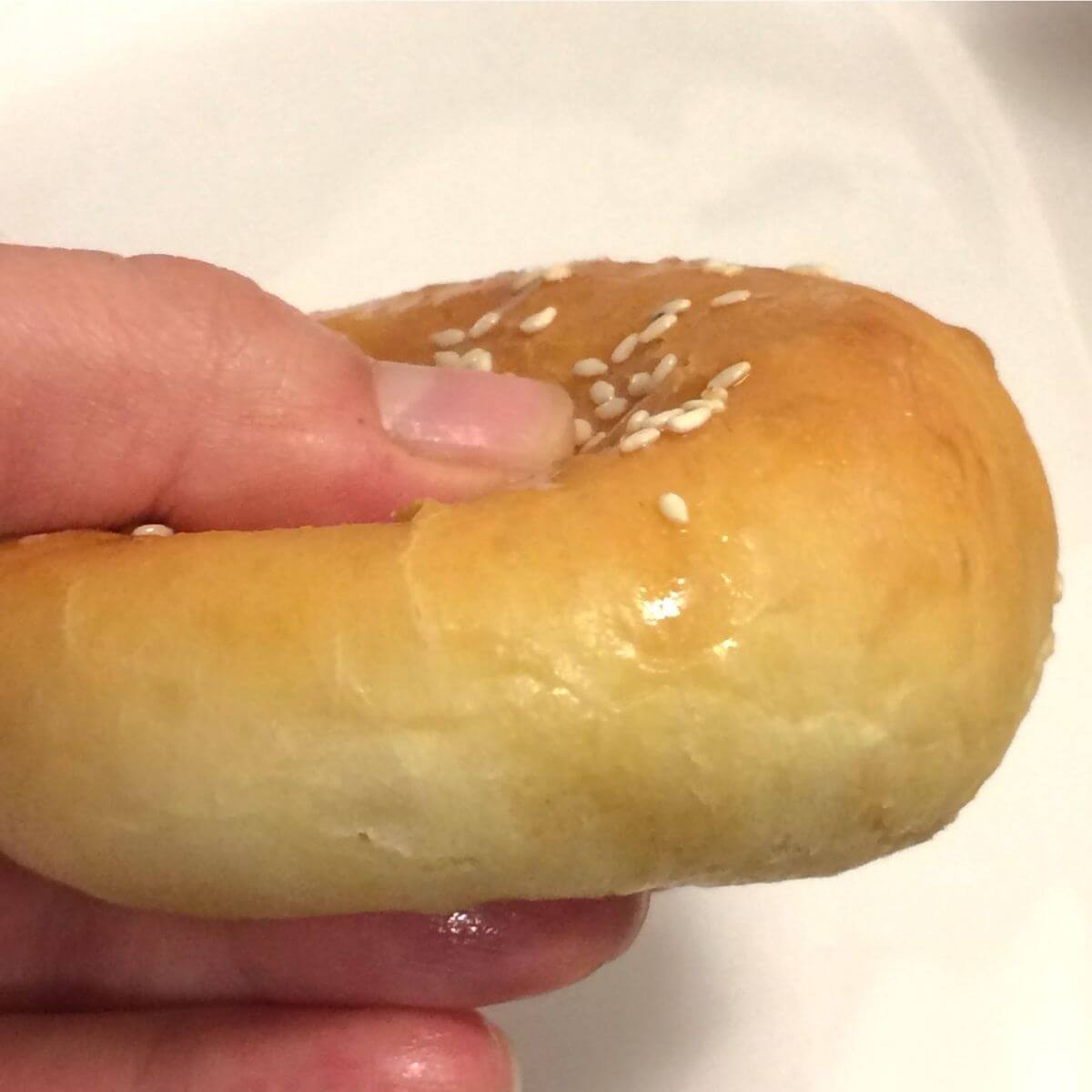 Transfer the buns to a cooling rack before plating. This is optional- brush each one with melted butter, which is more like dabbing the butter on with a basting brush to not knock off the sesame seeds. Option to use a spoon and just drizzle the butter on. Let cool for 3-5 minutes before cutting open to add filling.
Give them a little squeeze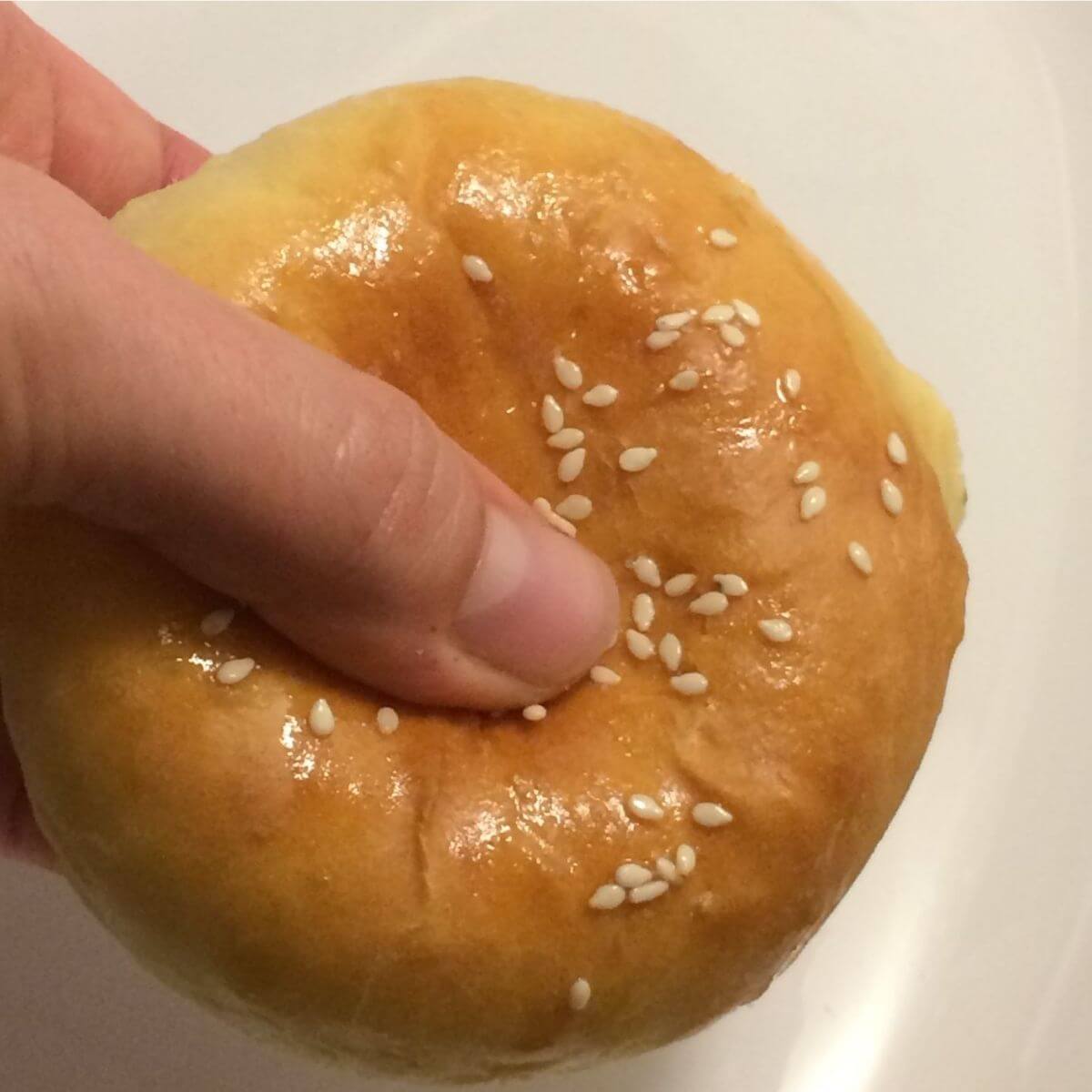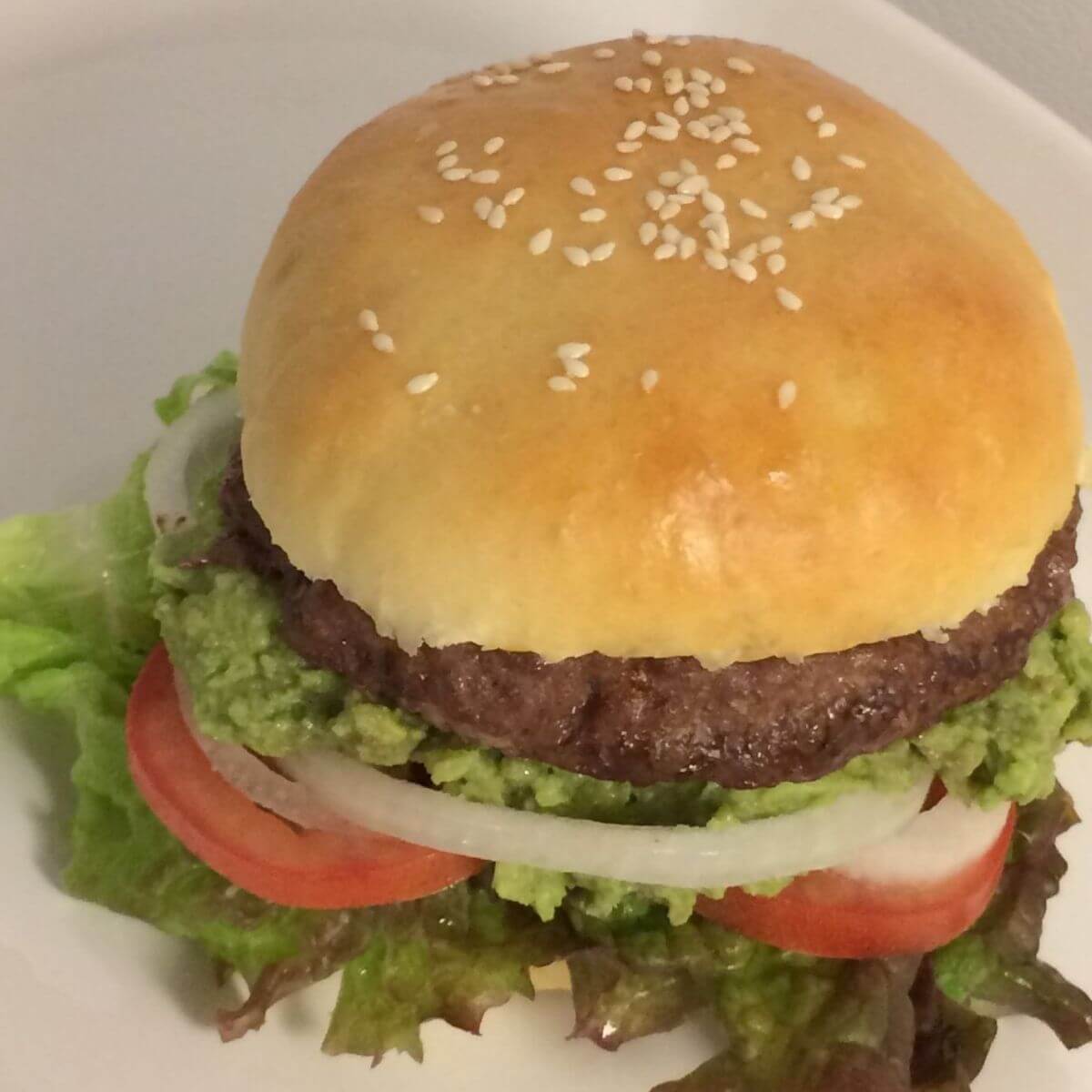 Give another squeeze just to feel that smile again realizing you made amazingly soft burger buns!
Make incredible burgers that everyone will love!
How Many Buns Does this Recipe Make
Well, that all depends on what size you want! For a typical burger, I would say 10 rolls is perfect for burgers. 8 is pretty large which some people like. I personally prefer 10 because larger patties fit perfectly without a lot of burger bun left over.
If you want to make sliders, I would go with 12 or even 14 buns for small little sliders.
If you're making dinner rolls with this recipe, I would stick with 10-12 rolls total. Again, it's partially preference. If you want some really big, tall, fluffy rolls, go ahead and do 8.
You can half the recipe and make 4-5 buns. If you're doing this, the recipe will call for ½ an egg. To make this happen, whisk the egg in a small bowl and you can just eyeball it to pour half into the dough mixture, or measure out 1 ½ tablespoon worth.
What Do you Bake These Buns On
A cookie sheet! You want some space between each bun so they don't stick together. I end up doing 4 dough balls per row, or letting some stick a bit together. I use these TeamFar Baking Sheets from Amazon. I use the 12 x 15 inch baking sheet from the set for this recipe. If I'm making a smaller batch in my toaster oven in the summer I use one of the smaller pans.
You can lightly spray them with olive oil or use parchment paper.
If you're making rolls with this recipe then you can use a cake pan or smaller high walled baking dish. The rolled will stick together but pull apart or cut apart easily. I use this Pyrex 3QT Glass Baking Dish. If I'm not baking in Corning Ware then I use my Pyrex.
I also use my pizza stone but you might need to spray with oil and be prepared to use a metal spatula to get them off.
Tips for Getting the Perfect Burger Bun
You want to make sure the dough rises until about double in size for the first rise. Once you form the rolls, let them sit covered, even for 5-10 minutes to get another rise in before baking. Even if you don't see them grow much, this will help them get lighter and fluffier.
Before baking, press down on the dough so it's not starting out super tall.
Top with sesame seeds before baking and gently pat them down to stick better.
Brush on melted butter immediately after baking for a shiny golden finish.
You want to make sure that they're baked through and slightly golden on the bottom. A glass Pyrex cake pan works great for this so you can easily check. If they're not cooked through you'll get a very yeasty tasting roll, which isn't preferred. If they're cooked, you shouldn't get any yeast flavor! I used to use 2 ¼ teaspoon yeast which works great for a good rise, but I found that 2 teaspoon yeast does equally as good a job with less yeast flavor.
Tips for Making Dinner Rolls with this Recipe
You can also make soft rolls with this recipe. Learn from my experience though and head the following rules:
Use a large 9 x 13 inch cake pan if you're making 8-10 rolls. Anything smaller and you'll pack them in too tight and they'll be suuuuuuper tall.
10 rolls makes a great size for any occasion!
If you're looking for large and tall rolls, then great, use a small pan with tall walls and make 8 rolls.
I don't recommend sesame seeds for dinner rolls!
Equipment and Ingredients Used for this Recipe
TeamFar Baking Sheets from Amazon are my favorite. I use the 12 x 15 inch baking sheet from the set for this recipe.
Saf Instant Yeast from Amazon
This Pyrex 3QT Glass Baking Dish is my all time favorite.
I use this HIC Harold Import Co. Burger Flipper from Amazon for cutting rolls apart and removing both burger buns and rolls from the tray.
Try These Similar Recipes
From Scratch Soft Burger Buns
These soft burger buns can be sized as needed for sliders up to large burgers! The best part is that you can use this recipe for soft rolls too!
Ingredients
1 ½

cup

warm milk

2

teaspoon

yeast

4 cups + 2-4 tbsp

all purpose flour

(or bread flour)

¼

cup

unsalted butter

1

teaspoon

sea salt

1

tablespoon

raw honey

(or white table sugar)

1

large

egg

drizzle of olive oil to knead dough before rise
For On Top of the Buns
2

tablespoon

unsalted butter

sesame seeds
Instructions
Heat milk on medium-low heat until warm to the touch but not hot (you should be able to dip your finger in past your cuticle and feel warmth but not hot). Remove from heat and add yeast. Stir in and let sit for about 10 minutes to activate (if you're using instant yeast you can skip the activation stage and pour milk on top of all other ingredients, including yeast).

While the milk heats, in a large mixing bowl, add flour and cut in butter. I just use my fingers and rub it in until it's evenly incorporated to feel like sand. Add salt, honey, egg and combine.

Add yeast milk and mix with a fork or bread hook if using a mixer. I start using my hands at this point to mix together and begin kneading. Drizzle a tiny bit of olive oil and continue kneading. If it's so sticky that it doesn't come away from your hands then add a little flour. It will still be a tad tacky and not dry to the touch and that's okay. Spray a large bowl with olive oil and add dough. Cover and let rise for 1-2 hours or until doubled in size.

Tip: It's best to let dough take its time to rise at room temperature or super low heat, don't rush it. But, if your room is fairly cold you can heat your oven to the lowest temp (usually around 170°F), turn it off, then let your covered dough rest in the oven while rising. This does rush the process and it's not the preferred method but works well.

Remove dough from the bowl onto a lightly oiled or floured work surface. Tip: You can also just break off pieces 1 at a time and form them in your hands and no flour or oil needed.

Cut dough into 10 equal portions (8 for large buns). Remove 1 portion at a time, leaving the rest covered. Roll the dough into a ball and stretch the dough gently from top to the bottom and roll the ball in your palm to seal the bottom smooth. This is to create a smooth surface because if it's bumpy now, that's how the end product will look. (Think about the motion of rolling/folding 2 socks together).

Lightly spray a cookie sheet (12 x 15 inches) with olive oil (or use parchment paper), and place dough balls 2-3 inches apart in pan. Sprinkle with sesame seeds and press down to help them stick as well as flatten the buns a bit. Cover and let rise, even for 5 minutes.If you're making rolls, use a 9 x 13 inch cake pan. Using a glass pan helps because you can check the bottom of the rolls to make sure they're browning. If they're undercooked they'll taste yeasty! Cover and let rise for a few minutes.

Bake on middle rack for 22-25 minutes.

Adding butter is optional- melt 2 tablespoons unsalted butter in a small saucepan on low heat. Brush onto rolls immediately out of the oven and let rest to cool before cutting them in half for burgers.

Store in an airtight glass bowl or Ziploc bag to help keep them soft. They will store well for about 4 days before starting to dry out.