Learn how to freeze eggs to easily store them to have ready to use as needed for breakfast or baking recipes!
(This page contains affiliated links)
Do you have your own chickens who pop out more eggs than you can use per day? Or did you find eggs for a low price at the grocery store and load up? Right now, egg prices are rising drastically and making it harder for most people to buy large amounts of eggs, if any. If you're able to get your hands on lots of eggs for a reasonable price, load up now and read on for how to freeze eggs!
Also, if you've ever wanted to cut a recipe in half, but you're unsure how to half an egg, using blended eggs works very well for this. After defrosting the frozen eggs, you can remove a small portion at a time and you can easily portion out half an egg!
Various Ways to Store Eggs Long term
There are different ways to store eggs such as: freeze drying, canning hard boiled eggs, freezing liquid eggs, pickling, or just freezing them in a cooked form.
In this post we're going for ease, simplicity, and least time consuming. That means blending the whole egg and freezing the liquid.
Freezing Blended Eggs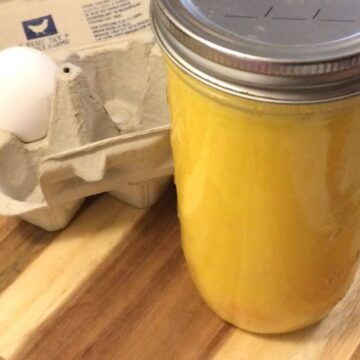 My ultimate easy method is to use canning jars, crack in the raw eggs, and shake until your triceps burn. I do understand that many people cannot physically do this, or you might wonder if all the eggs fully blended. So, of course there's another easy option.
You can use a large mixing bowl, crack in all the eggs you want, whisky whisk, then transfer the eggs to multiple mason jars using a wide mouth funnel or narrow funnels.
I had a friend ask about freezing in plastic bags. You could absolutely whisk up the eggs them pour them into a Ziploc bag. Lay the bag flat and freeze! When you're ready to use the eggs, let the bag defrost in your fridge, then I would recommend transferring them to a bowl or mason jar to make it easier to measure out small portions at a time. If you're looking to just use the eggs for an easy breakfast scramble then you can just pour the eggs directly from the bag!
Which Canning Jars to Use
I recommend using 8-ounce canning jars so when it's time to thaw the eggs you have a manageable portion. You can also use 24-ounce jars if you know you'll be wanting a large amount of eggs. If using a 24-ounce jar you can fit about 12 eggs, making sure you're below the fill line.
You only want wide mouth jars when freezing! Narrow mouth jars are not safe for freezer use.
Egg Volume Guide
All large eggs can still be a bit different in size. I buy organic, high quality eggs from a farm store that has smaller large eggs but I've also purchased many large eggs that are a more typical "large size." For the most part, here are the conversions for large eggs.
Egg Measure
1 whole large egg
1 large egg white
1 large egg yolk
Blended Equivalent
3 tablespoons
2 tablespoons
1 tablespoons
Using Blended, Frozen Eggs
After defrosting eggs they will be thick. I don't water them down but I do like to transfer them to a large bowl and whisk like crazy to break it up again.
When using blended eggs to replace eggs in recipes, you can use 3-3.25 tablespoons to replace 1 whole egg and you'll be all set!
Trade for Eggs
If you search around where you live, you might be surprised by how easy it is to find someone who raises chickens, and has lots of eggs to share. Living in Colorado, our neighbors behind us have backyard chickens, as well as a family up the street. One of my husband's co-workers buys loads of eggs through their local FFA group and shares what their family can't use. I understand that not everyone has these connections, but look around, search your local classified ads website and see what you can find. Try trading what resources your family has or can offer for someone who has lots of eggs!
Similar Recipes
How to Freeze Eggs
Learn how to freeze eggs to easily store them to have ready to use as needed for breakfast or baking recipes!
Instructions
Freezing in Mason Jars
An 8 ounce mason jar will hold about 4 large eggs. For one dozen eggs you'll need 3-4 jars.

Wash and dry mason jars and lids.

Crack 4 eggs into each mason jar making sure to not fill above the lower raised ring of the jar. Place on a lid and ring to seal tightly and shake shake shake!

If you're not able to use enough force to thoroughly shake the eggs then you can easily whisk all the eggs in a large bowl, then pour eggs into each mason jar, making sure to not overfill.

Freeze the blended eggs until ready to use.

When ready to use, use 3 tablespoons blended egg liquid to replace 1 large egg.
Freezing in Ziploc Bags
Whisk up your eggs in a bowl, then pour them into a Ziploc bag. Lay the bag flat to freeze.

When you're ready to use the eggs, defrost in the fridge.

You can poor the eggs directly from the bag if you're not needing to measuring them out.

If you're going to use the eggs in baking then it would be easiest to thaw the eggs, then transfer them to a bowl or jar to measure out small portions at a time!