Step by step instructions for making crepes that are consistently flavorful, sweet, and the perfect texture!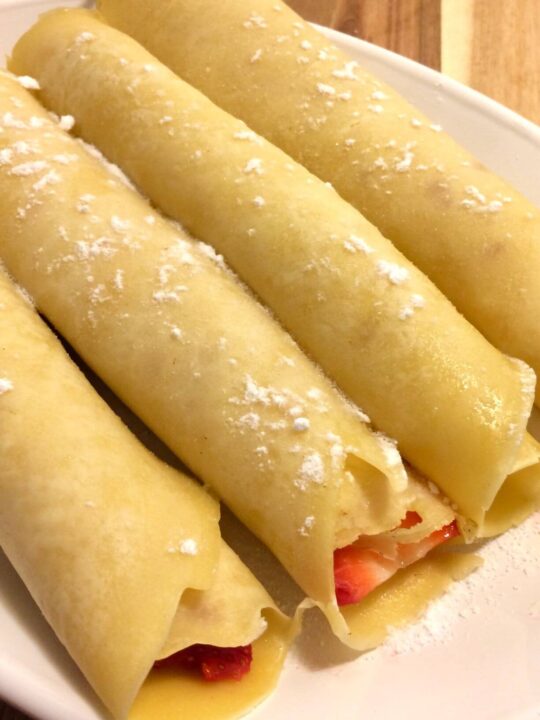 I grew up with my parents making crepes on special occasions. They would make breakfast crepes with cream cheese and homemade fruit sauce and powdered sugar for the top. They were amazing and I always ate too many.
Sometimes we would make them with a savory filling much like a pot pie filling. Both were always great but the sweet breakfast ones will always be my favorite.
I have tried to make them a bit more creative with adding ingredients to the actual batter. I've also changed the filling to include Greek yogurt along with homemade fruit sauces.
This is my basic crepe recipe that works every time! Follow the instructions exactly even with the small teaspoon additions of oil and milk, they're there for a reason. Even a tiny bit too thick of batter and it's just not the same. It's a big more time consuming letting the batter rest in the fridge but it's well worth it.
I've done a half batch before but my husband always asks me to double it so we have more leftovers! So, here's the doubled batch giving you more to enjoy.
You can make larger crepes by using ⅓ cup to pour the batter per crepe.
Tips and Tricks for the Perfect Crepe
Don't over mix your batter: Lumps are okay. Combine ingredients just until there is no longer flour residue in your bowl. If you over mix, the gluten will start to develop and you might get a chewier crepe.
Letting the batter rest: The reason for letting the batter sit after combined is to allow the flour to absorb the liquid and relax. The batter will also have less of a floury taste. Doing this step will give you a softer crepe. If you don't have time to let the batter sit in your fridge overnight, try to let it rest on the counter for as long as possible (even 30 minutes).
Adding extracts: I love the flavor that the vanilla and almond extracts give to this recipe. Crepes are typically a mellow/plain flavor which is great too. However, I've enjoyed adding the extracts to step it up a notch and give a bit more flavor to the batter itself.
Make sure your skillet or griddle is hot: Do the sizzle test by flicking a tiny bit of water on the pan. If it's sizzles slightly it's ready. If there's no sizzle then the batter will just absorb any oil you sprayed on the pan and the cooking will be uneven as well. You can always call the first crepe your tester if it seems to not cook well. Keep trying!
Spreading out the batter: You're not making a pancake so you don't want to just pour the batter in and leave it. You want to lift your skillet slightly and rock it in a circular motion to let the batter spread out into a larger circle. If the entire batter is slipping around your pan then you oiled the pan too much. Call that crepe a wash, wipe a bit of oil off and try again.
Let the crepe cool slightly before rolling or folding it: If you try to roll or fold right away you'll likely get cracks. If you follow the recipe and wait for
Try adding ingredients to the batter: Option to add 1 banana to this recipe (about ½ a cup) leaving all other ingredients as is. Mash banana well so it's smooth, or just leave it a bit chunky and it's still great! Watch the batter as they grill a bit closer since there will be added sugar with the banana and they get crispier quicker.
Lattice work: Try drizzling the batter into fun lattice patterns! No need for a piping page because it's so runny.
How Thick Should Crepe Batter Be?
When you pour your batter into your skillet you should be able to easily move the batter around by rotating the skillet in a circular motion. This helps spread the batter out evenly into a round. If your batter isn't wanting to spread, or it starts to cook and harden before reaching the edges of the skillet, it's likely too thick. If it's too thick, just add 1 teaspoon of milk at a time and re-test it.
If you're spreading around your batter and it's running quickly and not forming a circular round covering the base of the skillet, it could be too thin. Add 1 teaspoon of flour at a time and re-whisk the batter. Try another crepe and adjust as needed.
If you check out the recipe card below with a full list of ingredients, you'll see that the amount of milk is a bit abstract. I recommend starting with 1 ½ cups + an additional 5 teaspoon milk. Sometimes this amount is perfect for me and the batter runs smooth. If I use a different flour, I might need to use an additional 2 teaspoon milk.
A flour and milk combination can be very touchy and 1 teaspoon more of one or the other can make such a difference! Give yourself a trial crepe and if you feel like they're starting out a bit thick, or you fold it and it breaks, adjust the ratio by a tiny bit at a time!
Why is my crepe tearing/breaking apart?
There are a few reasons your crepe might be falling apart or tearing when you roll or fold it.
It could be that you added too much liquid, or too much of the wrong kind of liquid (skim milk, dairy free milk instead of whole milk).
It could be that your flour is affecting the cook (using too much course flour like wheat or gluten free type).
It could be that you folded and rolled it without letting the crepe cool.
It could be that your crepe itself is too thick (try to spread out the batter out more by rocking the pan n a circular motion or gently spreading it out with a rubber scrapper if you have trouble lifting the pan).
Know your stove! I have one burner that I can set to 3 (medium) and another that I need to keep at 1 (low) so they don't burn. Aim for a low heat and cook for a bit longer if needed.
Optional Fillings and Toppings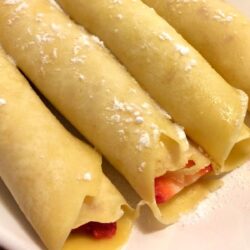 From Scratch Amazing Basic Crepes
Slightly sweet and consistently delicious crepes that can be used with a sweet or savory filling!
Ingredients
1 ½ cups + 5-7 tsp

milk

(any percentage)

2

cups

flour

(white or wheat)

4

large

eggs

2 tablespoon + 1 tsp

olive oil

½

teaspoon

almond extract

1

tablespoon

vanilla extract
Instructions
In a medium-sized mixing bowl combine flour and milk.

Add eggs, oil, and extracts and combine until smooth. Don't over mix, some lumps are okay. Put in fridge to let set for at least 20 minutes, or overnight if possible.

Heat skillet to low-medium heat. Spray pan with olive oil (light spray, not enough to move around on pan).

Pour batter into the middle of the pan.

For a No. 6 cast iron or 7-8 inch skillet, use ¼ cup batter.

For a No. 8 cast iron or 9 inch skillet, use ⅓ cup batter. ½ cup will be too much.

Add more batter as needed for larger skillets so batter runs to the edge but the finished crepe shouldn't be thick!

Lift up pan and rock in a circular motion to help spread out batter to a wider and thinner round until the batter reaches the edges. Continue rotating until batter stops spreading.

Cook 2-3 minutes per side, or until the batter begins to peel away from the edges of the skillet. You shouldn't have to scrape at the edges to lift it, just give it time!

Don't re-spray pan between cooking each crepe.

Stack cooked crepes on a plate and let them sit for a few minutes before filling. As they cool they'll become more mailable.