This is my family's version of a funnel cake, for breakfast! These lace pancakes are easy to whip up, sweet enough that you don't need syrup, and perfect for kids!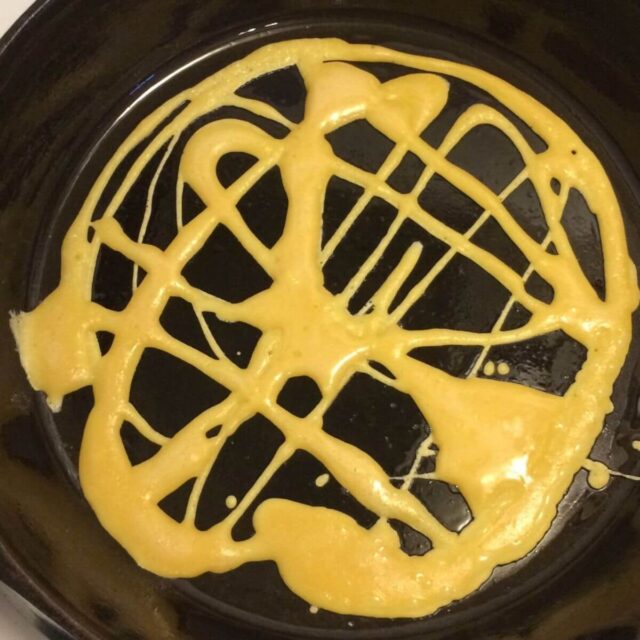 Lace pancakes make for a simple and unique breakfast! My daughter requests these as "funnel cakes" because they're sweet and a special treat in our house. They're the Jackson Pollock of pancakes and fun to make so try any fun shape!
How Are These Lace Pancakes Unique?
This pancake batter is a bit thinner than typical. That makes it easier to drizzle versus drop into a hot skillet. Lace pancake batter is intended to be used as a drizzle and just isn't the same if you pour the batter in. I like that you can crisp this pancake up a bit to give it more texture, and if you pour the batter into your skillet then you just get a thin yet fluffy pancake and it's just not as enjoyable! I recommend to use this batter with a lace design, or use another pancake batter for a typical pancake like my Banana Oat Cast Iron Pancakes.
Pancakes are always kid friendly, but these are just special and a great kid friendly breakfast idea! If you have kids who don't always enjoy eating eggs, you need to try this recipe to get them to enjoy some added protein!
Ingredients for Lace Pancakes
Eggs: they add great protein, and the recipe just can't be made without them!
Flour: I use all-purpose flour and I haven't attempted the recipe with any alternative flours. I'm sure that an oat flour would work well too!
Milk: You can use any fat content with great results with all. Try it with a coconut, cashew, oat milk, or other non-dairy option too!
Vanilla Extract: This ingredient is optional. It adds great flavor and makes it a bit sweeter, but I've made it several times without it as well.
Maple Syrup: I have only used liquid sweeteners with this recipe. I haven't used honey, but I have used date nectar and sorghum and they've been great. The thickness will change if you use white processed sugar and I recommend sticking with a liquid natural sweetener for best results, and a healthier option.
Olive Oil: this helps to thin the batter as well as crisp it up. You can get by without adding the olive oil as well, but it does make for a great texture.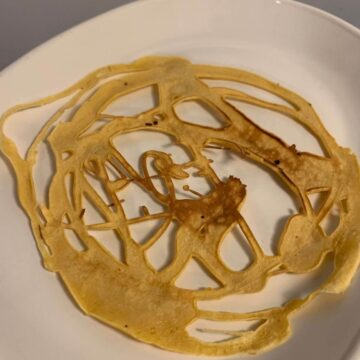 Yield
You can make 5-6 lace pancakes with the recipe below. Somedays my daughter can down all of those herself, somedays she just wants a couple. I typically eat 2-3, along with some other sides for breakfast. I kept the serving as 5 so you know how many this makes, but just know that it will not serve 5 people!! If you're feeding 2 people you might want to double or triple the batch, depending on whether this is the whole meal or just a part of it.
Similar Recipes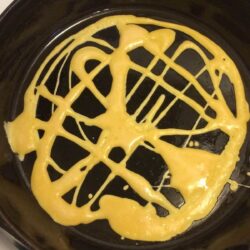 Lace Pancakes
This is my family's version of a funnel cake, for breakfast! These lace pancakes are easy to whip up, sweet enough that you don't need syrup, and perfect for kids!
Ingredients
2

large

eggs

¼

cup

all-purpose flour

1

tablespoon

milk

2

teaspoon

maple syrup

2

teaspoon

olive oil

½

teaspoon

vanilla extract

(optional)
Instructions
In a medium-sized mixing bowl, whisk the eggs then add in the flour to combine. Add all remaining ingredients and whisk until smooth.

Heat a medium-sized skillet to low-medium heat and spray with olive oil.

Once hot, use a spoon to drizzle batter onto skillet. You don't want your lines to be too thick. I find it easiest to form a circle around the outer edge, then drizzle lines back and forth across the center. It's best if you make your lines touch the edges and you want to try to avoid any stray drops that don't connect to anything,

Cook for 2-3 minutes, then flip for another couple minutes.

Repeat until the batter is gone.

Enjoy plain, dip in maple syrup, or dust lightly with powdered sugar!