Taking my basic crepe recipe up a notch with banana in the batter as well as the filling. Don't forget the rich and creamy chocolate and honey addition that makes for a sweet and fun breakfast!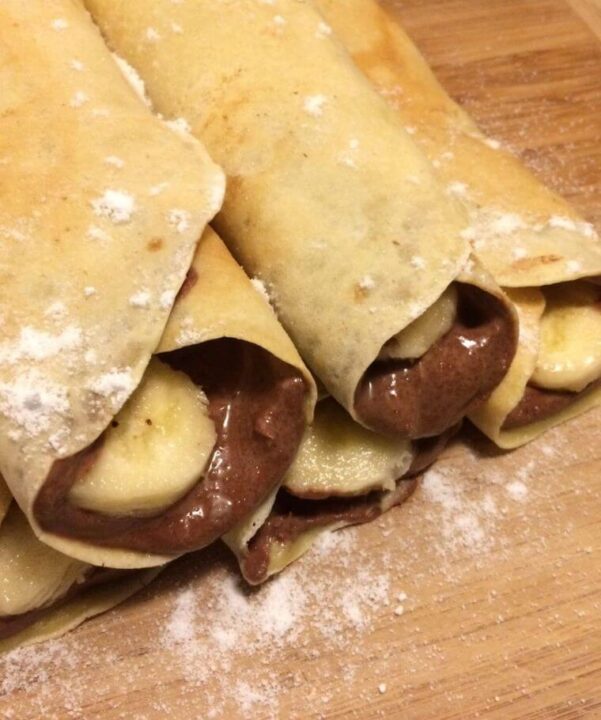 Chocolate, honey, banana, need I say more? What better way to combine all those ingredients than in a delicious homemade crepe!
I typically like to stick with somewhat healthy breakfast recipes. When making crepes I'll use Greek yogurt and fresh fruit to fill them. But, sometimes I just want a little more sweetness!
This crepe recipe has bananas IN the crepe batter itself as well as in the filling. You can use the batter recipe as is with any filling you want, but I would highly recommend the delicious filling!
Whipped Chocolate and Honey Filling
We're not big chocolate consumers in my family. However, I tend to always have cocoa powder (baking chocolate) on hand and this is a great reason to use it!
Honey and bananas are such a great pair, and of course honey goes well with chocolate any day. Because I can't help it, I had to add Greek yogurt to make this the perfect filling.
Swap out the bananas in the filling with strawberries or another fruit or berry.
More Crepe Recipes
Whipped Chocolate and Honey Banana Crepes
This recipe has banana IN the batter, and of course, fill it and top it with bananas and a delicious chocolate and honey sauce!
Ingredients
For the Batter
2

large

eggs

¾ cup + 1 tsp

whole milk

1 tablespoon + 1 tsp

olive oil

¼

teaspoon

almond extract

1 ½

teaspoon

vanilla extract

1

cups

flour

¼

cup

lightly browning banana

(about 1 banana)
For the Chocolate Sauce
1

cups

full fat plain Greek yogurt

5

tablespoon

cocoa powder/baking cocoa

2

tablespoon

raw honey
Additions
sliced bananas

powdered sugar or blended sugar to sprinkle on top
Instructions
Make the Crepes
In a medium-sized mixing bowl whisk together eggs, oil, milk, and extracts and combine until smooth. Add in flour a little at a time and continue whisking to combine. Lastly, add chunks of banana and use fork to press into the batter.

Don't over mix, some lumps of flour and banana are okay. Put in fridge to let set for at least 20 minutes, or overnight if possible.

Heat skillet to low-medium heat. Spray pan with olive oil (light spray, not enough to move around on pan).

Use ¼ cup to pour batter onto middle of pan. Lift up pan and rock in a circular motion to help spread out batter to a wider and thinner round. Continue rotating until batter stops spreading.

Cook 2-3 minutes per side. Don't re-spray pan between cooking each crepe. Stack crepes on a plate and let them cool before adding filling.
Make the Sauce
In a small bowl, combine Greek yogurt, cocoa powder, and honey. Whisk until fully integrated and fluffy.
Prepare Fruit Filling
Slice bananas, or other fruit if you choose.

Layer the crepes by spreading some sauce down the middle, place fruit slices on top, and roll! Sprinkle with powdered sugar and enjoy!