Perfectly seasoned baked eggs with a crispy hash brown bottom makes for a very enjoyable breakfast or brunch!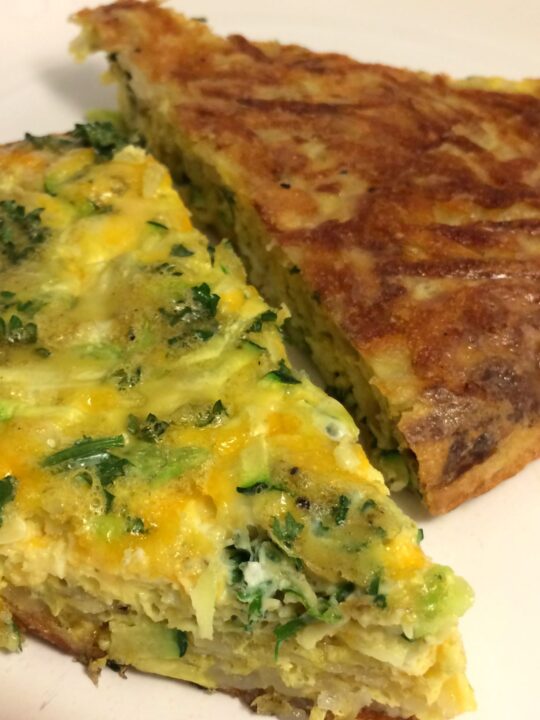 This page contains affiliated links)
Nested eggs is one of my fun breakfast recipe with a hash brown bottom and fluffy baked eggs on top.
This recipe took a lot of trial and error for me to get it just right! It was so good though, I wanted to get it to a point where I could easily make it without having to guess on ingredients and timing!
I have made this recipe on the stovetop, which uses different timing and steps, but it just didn't taste the same. When you bake it you get a fluffier egg with that lightly browned top that you can't get on the stovetop.
Ingredients
Russet potatoes work before because they hold together well and don't break down while baking as much as a red or golden potato. They give you a crispier hash brown.
Large eggs are the best to use for this recipe. You can use extra large as well.
Milk gives the eggs just a little more fluff and volume. You could replace it with cream or half and half as well.
Good ol cheddar cheese has been my go-to with this recipe to keep it simple. It has that sharp bite to bring more flavor to the dish but you can get creative with what cheese to add!
Parsley bring flavor, texture, and color to the party. You could replace it with cilantro or another herb of your choosing!
Zucchini makes a great vegetable addition and I use this often. If you're going to add zucchini you'll want to shred it, then squeeze out the excess liquid.
Onion is always a great option to add to any egg dish! I have tried adding diced and shredded onion to the hash brown bottom and I have to say I didn't prefer it. Shredding it changed the flavor in a way I didn't prefer and added too much moisture. Diced affected how it held together and I just prefer to make it easy and add it into the eggs!
Dried rosemary and garlic granules are my favorite seasonings to add. Feel free to change it up as you wish with fresh or dried herbs.
What Size Skillet Should I Use?
I use my 9" cast iron skillet for this recipe. It fits 2 ½ cups shredded potatoes perfectly. If you choose to use a 10" skillet I would increase potatoes to 3 cups. If you choose an even larger skillet you will need to adjust the recipe accordingly so that the ingredients fit to the edge of the pan and aren't too thin!
If you're using a larger pan you might need to increase the cook time.
Baking the Hash Brown Bottom
I love a good crispy hash brown, and baking them is very similar to cooking them on the stovetop. I follow the beginning of making my Perfect Hash Browns for this recipe. Follow my hash brown recipe to learn the tricks to getting crispy brown hash browns.
One step I don't skip is rinsing off the grated potatoes. Use large holes of a cheese grater, then use a strainer to drain the water and paper towel to pat dry.
Don't overfill the measuring cup and think that 3 cups will work the same as the 2 ½ recommended, it doesn't turn out the same!
Another of the keys to a crispy bake is to toss 1 tablespoon olive oil in with the shredded potatoes, then use 1 tablespoon oil directly on the skillet. That way you can just leave the potatoes to bake and not worry about them burning on top.
I have attempted to remove the hash browns once cooked on one side and flip them to cook again before adding the eggs. That way didn't work. Even if the hash browns hold together during the flip, you're dealing with a hot skillet and it's just risky. Also, if the potatoes cook on both sides then the eggs don't stick as well. Just let them brown on one side and it will be plenty crispy!
Steps for Making these Nested Eggs
Bake the hash brown base on 1 side. Bake time should be about 25- 30 minutes. You can peek at them around 25 minutes to make sure that they have a nice golden brown color underneath but it's best not to mess with them/open the oven. Just know that they don't brown up a lot more once you add the eggs so if you're not getting them dark for some reason, increase the cook time before adding the eggs.
Remove from the oven and drizzle the edges with olive oil. Decrease heat and sprinkle cheese on hash browns.
Pour egg mixture on top and continue baking until golden brown on top.
Enjoy with a tomato salsa or salsa verde!
Equipment Used for this Recipe
9" Cast Iron Skillet or Oven Safe Skillet
HIC Harold Import Co. Dexter-Russell Pancake Turner, Stainless Steel
LiveFresh Stainless Steel Micro-Perforated 5-Quart Colander
Try These Similar Recipes
Nested Eggs
Perfectly seasoned baked eggs with a crispy hash brown bottom makes for a very enjoyable breakfast or brunch!
Ingredients
For the Hash Brown Base
2 ½

cups

russet potatoes

(shredded)

1

tablespoon

olive oil

sprinkle of salt and pepper to season potatoes
For the Eggs
6

large

eggs

2

teaspoon

milk

½

teaspoon

garlic granules

¼

teaspoon

dried rosemary

(whole leaf or ground)

1 ¼

cup

extra sharp cheddar cheese, divided

(or smoked cheddar cheese)

½

cup

chopped curly parsley

freshly ground black pepper
Optional Ingredients to add to the Eggs
¼

cup

diced onion

¾

cup

grated zucchini

(with excess liquid squeezed out)

½

teaspoon

paprika or smoke paprika
Instructions
Preheat the oven to 425°F, setting rack to middle setting.
Making the Hash Brown Base
Rinse potatoes, then grate them with large holes of cheese grater. Either soak them in cold water, or rinse them under running water for a bit. Drain out any excess water and pat as dry as possible using paper towel or tea towel. I like to use a strainer to press out excess starch water.

Measure out 2 ½ cups shredded potatoes and transfer them to a medium-sized bowl. Toss with 1 tablespoon olive oil and salt and pepper to season lightly.

Add 1 tablespoon olive oil to a 9" cast iron skillet (or oven safe skillet) and then add the potatoes. Press them down firm and flat.

Bake the potatoes at 425°F for about 25-30 minutes, meanwhile make the egg mixture.
Make the Egg Mixture
In a large bowl, whisk together the eggs, milk, seasonings, parsley, and ¾ cup of the cheese. Add any additions of your choosing.

Once the hash brown base has baked, safely remove it from the oven. Decrease the oven temperature to 350°F.

Drizzle olive oil around the edges of the hash browns, then sprinkle on the remaining ½ cup of cheese. Pour the egg mixture on top.

Place the skillet back in the oven, even if the temperature hasn't gone down to 350°F. Bake for 25-30 minutes or until the top is lightly browned.

Let cool for a few minutes before cutting into pie slices and serving. Serve with salsa or a salsa verde!