Moist and sweetened with brown bananas and maple syrup, this banana bread is perfect for kids and adults and a little bit more guilt free without white sugar!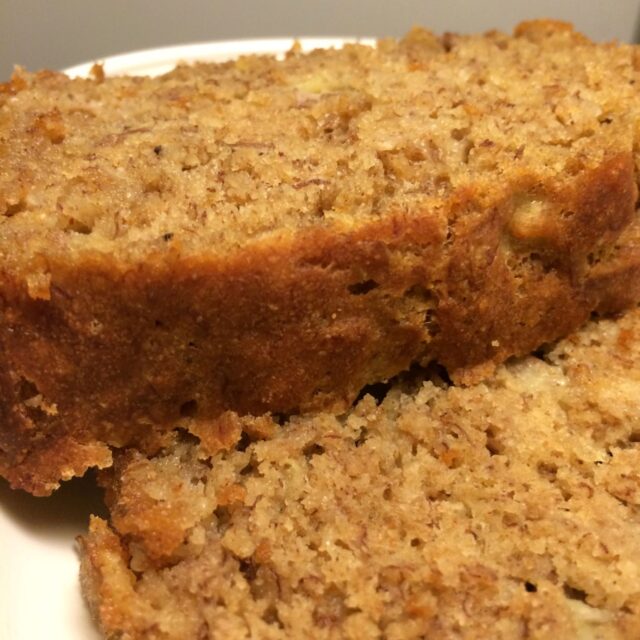 (This page contains affiliated links)
This banana bread is moist and sweet with so much banana flavor! This is no dry and crumbly banana bread and tastes great warm or cold.
I don't use an electric/stand mixer and for this recipe I like to use my hands. I soften the butter but I still have to break it apart some with my fingers. The reason that I love using my hands is that it stays a bit chunky with slightly larger banana pieces still intact instead of a completely smooth mixture.
Feel free to add raisins or nuts as you wish. I prefer this as a straight forward banana bread.
Flour: The combination of white and wheat flour gives this a perfect blend of texture and fluffiness.
Greek Yogurt: The yogurt helps to add just enough extra moisture and adds protein at the same time.
Maple Syrup: No white sugar in this recipe which also means no brown sugar. I have added the alternative option to add brown sugar in place of maple syrup in the ingredients if you wish. Adding maple syrup adds another liquid to the mixture, again keeping this a moist bread while adding a lot of sweetness. If you don't like sweet banana bread you can decrease the maple syrup down to 1 or 2 tablespoons.
Brown Bananas: If you use yellow ripe bananas the texture, color, and sweetness will all change. Using brown bananas adds more moisture, a lot more sweetness, and gives it more of a brown color rather than light golden which I much rather prefer. Put those browning bananas in the fridge or freeze until ready to use. If freezing, bring them out of the fridge about 20 minutes before using to soften, or run them under hot water for about 10 seconds.
Toddler Friendly: Most kids will gobble up sweet breads and this is a perfect recipe for toddlers and kids because there isn't any white sugar.
I've been on a kick of using my toaster oven, mostly because it's the middle of summer. I've found that the oven temperature stays the same between conventional and convectional, however it will darken a bit quicker in the toaster oven. To retain moisture and avoid it darkening before it cooks in the middle, cover in tinfoil, then uncover as stated in the instructions.
Yields 1 loaf.
Products That I Used to Make This Recipe
UpGood Silicone Spatula Set, 600F, 4 Versatile Tools Created for Cooking, Baking and Mixing, Grey
More Baked Goods Great for Breakfast
If you're wanting more warm baked recipes, take a look at these next: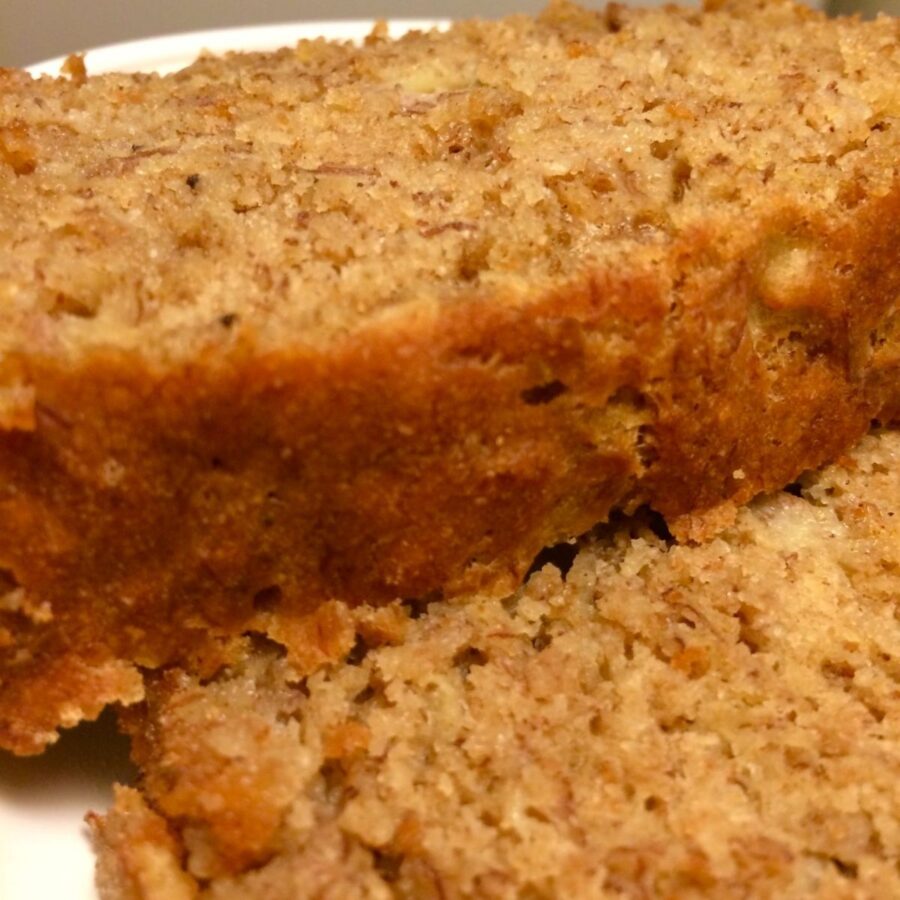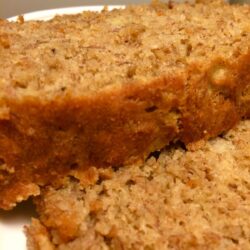 Naturally Sweetened Moist Banana Bread
Moist and sweetened with brown bananas and maple syrup, this banana bread is perfect for kids and adults and a little bit more guilt free without white sugar!
Ingredients
1

cups

whole wheat flour

1

cups

white flour

½

teaspoon

baking soda

½

teaspoon

baking powder

¼

teaspoon

sea salt

2

teaspoon

ground cinnamon

½

teaspoon

nutmeg

½

cups

unsalted butter

1 stick

3

tablespoon

maple syrup

2

large

eggs

2 ½

cups

mashed brown banana

about 4 bananas

3

tablespoon

plain full fat Greek yogurt
Instructions
In a mixing bowl combine dry ingredients.

Add wet ingredients. Combine using a fork or your fingers.

Spray bread pan with oil lightly and pour in batter. Conventional oven: Bake on middle rack in oven for 60-65 minutes uncovered. Convection/toaster oven: Bake on lower rack and cover with tinfoil for about 40 minutes. Uncover for another 20 minutes. Leave in toaster oven once off for a little while before sitting out to cool.