Refreshing and healthy this recipe is great for breakfast, lunch, dessert, or a snack!
I'm always looking for a way to create a healthy and delicious breakfast, fast. This tropical chia seed pudding hits the spot every time!
What makes a recipe even better? When you can prep it the night before to save time in morning for actually sitting and enjoying a meal.
Ingredients
Coconut Milk: I use unsweetened milk. There are many varieties out there with different thicknesses, but I like to use a full fat coconut milk.
Chia Seeds: These will act as a thickening agent as well as add wonderful nutrition.
Shredded Coconut: I recommend using unsweetened coconut. You can use finely shredded, larger shreds, or coconut flakes for this recipe because you'll be blending it to a powder.
Mango: I absolutely love yellow mangos. They're smaller, sweeter, and often not as fibrous. You can use fresh or frozen mangos, but fresh often gives you a better flavor.
Banana: Use fresh, ripe bananas that are yellow and not browning. Yellow bananas are best to help thicken this pudding and give it the freshest flavor. If you use a browning banana it won't thicken as much and you'll get a slightly different flavor with added sugar.
Honey: I love raw honey for natural sweetness. Try to find a local honey for the best nutrition! I haven't tried any other sweeteners but if you're looking for alternatives you could try maple syrup, agave or sorghum.
Similar Recipes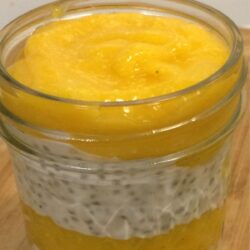 Tropical Chia Seed Pudding
Refreshing and healthy this recipe is great for breakfast, lunch, dessert, or a snack!
Ingredients
½

cup

unsweetened coconut milk

2

teaspoon

chia seeds

1

tablespoon

unsweetened shredded coconut

½ cup + 5 tbsp

fresh or frozen mango

2

tablespoon

banana

1

teaspoon

raw honey
Instructions
In a bowl or mason jar combine ½ cup coconut milk with 2 teaspoons chia seeds. Stir using a chopstick and let sit for about 6 hours or overnight.

In a blender grind shredded coconut to a powder. In same blender add mango, banana, and honey and blend until smooth.

In a bowl or 8 oz. mason jar layer chia seed/coconut mix with fruit mixture.