This is an incredible fresh and unique fruit bowl with a splash of raw honey and apple cider vinegar for added sweetness and tang!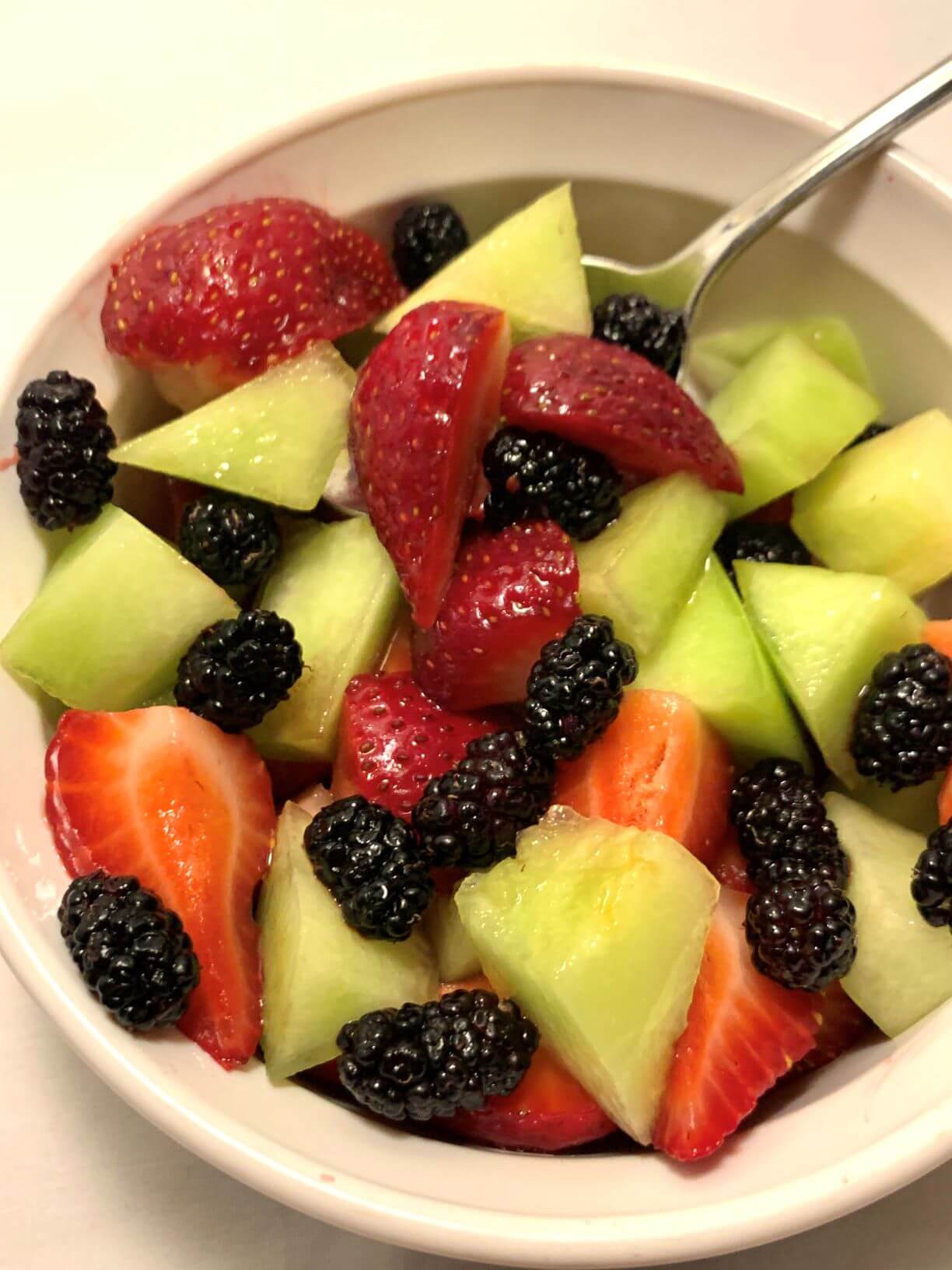 One of my favorite side dishes is a bowl of fresh, seasonal fruit. It's so easy to add fresh fruit to a healthy breakfast dish, or toss it together for any other meal to add brightness and sweetness to soak up summer!
You'd think it would be super simple to combine together any fresh fruit for a tasty fruit bowl. Truth is, not all textures mix together well, and some fruits don't hold their structure and vibrant color well over time. The fruits combined in this recipe stay bright and firm, even the next day.
This fruit salad is unique, using some fruit you can find naturally growing, and a delicious lemon drop melon that's just so enjoyable! I've added a sweet and slightly tangy drizzle to serve as a dressing for this salad. Although I like a creamy dressing on my fruit, I wanted to keep it lighter and healthier.
The serving size of this recipe really depends on how much you love your fruit! The recipe card below shows a serving size of 2, and that will be a larger portion. If you just want a tiny, 4 ounce bowl then it can be about 4.
What's in this Fruit Bowl?
Fresh Strawberries: I like to quarter them lengthwise. You can also cut them into little cubes or small pieces to make them easier to spear with other fruit. Make the salad even better with garden-fresh strawberries! If they're smaller, just cut them in half.
Lemon Drop Melon: This melon is a hybrid that combines a wild melon variety with more citric acid and a Galia melon that's sweeter. It's very similar to a honeydew melon but slightly tangy and more refreshing.
Mulberries: We picked these straight from the tree. I'm actually not sure how easy it is to find mulberries in stores, but if you're able to find a tree, go crazy and load up! They're nutritious and so sweet! You can use mulberries to make wine, jams, juice, dry them, and of course, add them to fruit salads!
Drizzle for Fruit Salad
Typically, my go-to dressing for a fruit bowl is Greek yogurt blended with honey and fresh strawberries. For this summer fruit mix I lightened things up by combining raw honey and apple cider vinegar. Just use a little bit and toss it with the fruit. It helps to keep the colors vibrant and adds a tiny bit of sweetness and tartness.
Other Fruit Options
You can replace the mulberries with blackberries or blueberries to keep that touch of dark color. You'll likely want to adjust the portion since the berries will be different sizes.
Other options to add would be watermelon, grapes, pineapple, or raspberries.
Tips for Cutting the Fruit
For the most part, it works best to cut the fruit into small pieces. Typically, you're having a fruit bowl because you want to enjoy the combination of those flavors and textures, so cut them in a way that you can do that in one forkful! I decided to keep the strawberries a bit longer this time around, but you could always dice them smaller.
Similar Recipes
If you like this recipe, you might also enjoy:
If you make this recipe, please leave a comment and rating at the bottom of the page! This is helpful to me and other's visiting my page! If you want to stay updated on more great recipes you can follow me on Instagram, Facebook, Pinterest, or subscribe to my newsletter.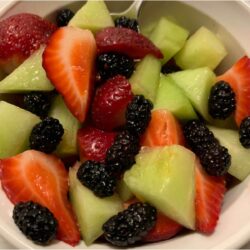 Summer Fruit Bowl (with honey cider vinegar drizzle)
This is an incredible fresh and unique fruit bowl with a splash of raw honey and apple cider vinegar for added sweetness and tang!
Ingredients
1

teaspoon

raw honey

2

teaspoon

apple cider vinegar

1

cup

Lemondrop melon, chopped

(or honeydew)

1

cup

fresh strawberries

(quartered lengthwise)

⅓

cup

fresh mulberries, de-stemmed

(option to replace with blueberries or blackberries: about ½ cup or more to taste)
Instructions
Combine the honey and cider vinegar in a small bowl, making sure the honey is dissolved.

Slice or dice the fruit into your preferred size. Combine all fruit in a medium-sized bowl and toss with the honey mix.

Enjoy!
Nutrition
Serving:
2
g
Calories:
111
kcal
Carbohydrates:
38.53
g
Protein:
2.67
g
Fat:
0.5
g
Saturated Fat:
7
g
Sodium:
14
mg
Potassium:
335
mg
Fiber:
3
g
Sugar:
30.74
g