Strawberries, cucumber, avocado, almonds, and craisins help to create a beautiful, refreshing salad that's so good you don't even need dressing!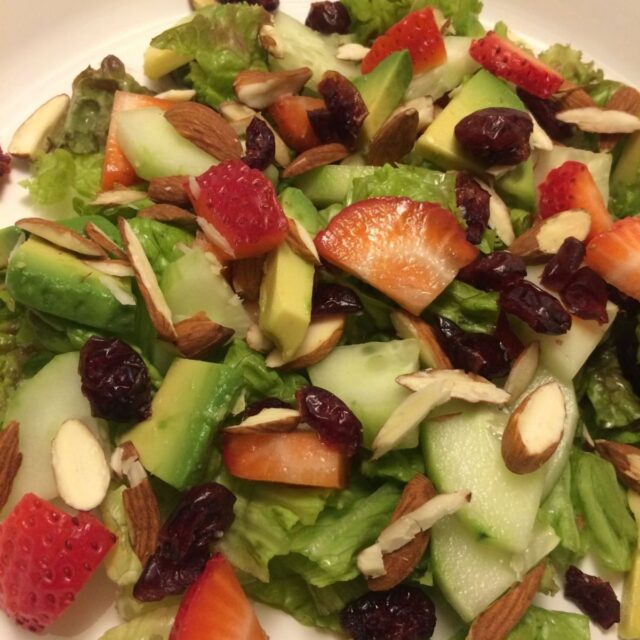 I love a great salad that's loaded with vibrant colors, flavors, and different textures. But, so often I find myself not wanting to prep it all. Then I put this salad together and I'd be willing to make it every day if I had all the ingredients on hand.
A plain lettuce salad with some veggies tossed on it is just too boring once you know that you can spice it up so easily with adding some fruit! These ingredients create a perfect blend that leaves you with crunch, sweetness, and creaminess. Because it's so creamy you really don't even need a dressing, which I don't typically say.
My toddler was so eager to get her hands on this salad when she saw me putting it together and she didn't just pick the fruit and veggies off like I thought she would, she ate all of it! Why wouldn't she? It's bright, easy finger food for a little one, and it's a flavor explosion.
Ingredients
Lettuce: I often use red leaf lettuce or romaine. Choose whatever lettuce you like best! A Spring mix would be incredible!
Cucumber: I like to peel them or at least peel stripes to lessen the bitterness you can get with the peel.
Strawberries: Of course they're the best when in season but anytime is better than not at all! If it's the middle of Fall or Winter what better way to bring a little sunshine to a meal than add this salad?!
Avocado: This is a must ingredients since it's what adds so much creaminess!
Slivered Almonds: You can get creative with what nuts to use, but almonds are my favorite. They're flavorful without adding a bitterness that walnuts sometimes do. They're easy to chop fine or leave whole.
Craisins: This ingredient does add a lot of sugar so if you're trying to minimize sugar you can leave this out or use dried cranberries (without added sugar) or even use dates. I love it as a little sweet and chewy addition and let's face it, it's worth it.
Dressing: I would recommend a light dressing if you're going to use one. Yes, someday soon I'll get my dressing added on here but for now, I'd recommend a raspberry vinaigrette, creamy fruit dressing (like a strawberry or raspberry), or just a splash of balsamic vinaigrette. Heavy dressings don't work well for this salad because they'll just overpower the incredible flavors that make this salad so great. In the end, choose what you like and enjoy it!
I have made this recipe to be for a single serving. It can easily be doubled and tripled as you want.
Similar Recipes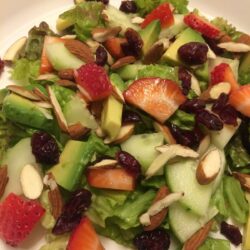 Berry Bright Salad
Strawberries, cucumber, avocado, almonds, and craisins help to create a beautiful, refreshing salad that's so good you don't even need dressing!
Ingredients
1

cups

red leaf lettuce

or any preferred lettuce

¼

cups

sliced cucumber

¼

cups

chopped strawberries

¼

cups

slided avocado

2

tablespoon

slivered almonds

1

tablespoon

craisins

heaping tbsp
Instructions
Chop lettuce, veggies, and fruit. Add all ingredients together and lightly toss.

Enjoy plain or add your favorite light dressing.