Learn the tips and tricks to making perfectly golden and crispy hash browns from scratch!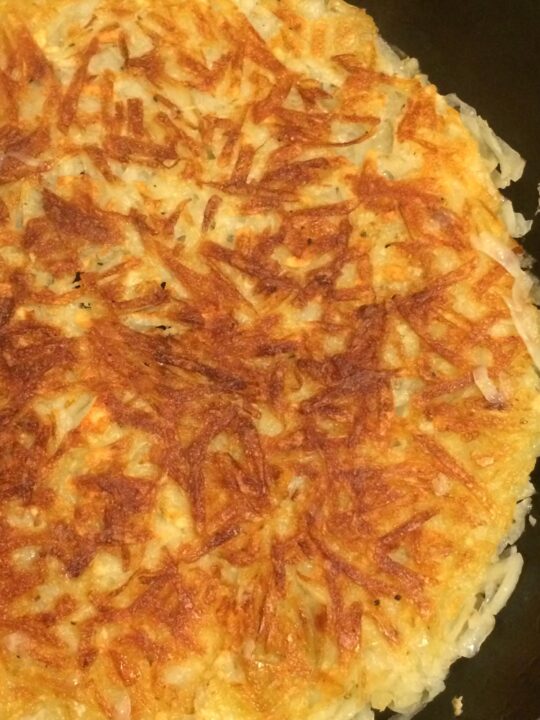 Great hash browns are one of my favorite breakfast additions! Even though I've been making them for years, it did take a bit of time to get all the details perfected in order to get that perfectly golden, crispy hash brown, that's slightly soft in the middle without being undercooked. I'm hoping you can enjoy this recipe for your next breakfast!
What Skillet is Best for Hash Browns?
I use cast iron skillet, solely. That's not to say you can't make great hash browns with a non-stick skillet, but cast iron iron is different in the way it holds heat, and it changes the amount of oil needed.
I use a #8 cast iron skillet, which is 9" at the base. For this size of pan, I use 2 ½ cups shredded potatoes. I have messed around with this portion size many times and 2 ½ just works the best. If you use too little of an amount of potatoes then you'll get burnt edges and an uneven cook. If you try to pack in too many potatoes, then the middle will be undercooked and you'll get squishy potatoes. If you're wanting to do a large batch, I recommend using multiple pans or 2-3 batches one after the other. See below for tips on why I use the portions I do in this size skillet.
What Seasonings are Best for Hash Browns?
Sea salt and black pepper is, in my opinion, the best. I've used a sprinkle of garlic powder and paprika as well, but I don't like to deter from that fresh, hash brown flavor! I've also used diced and grated onion and while that can add great flavor, I think it again takes away from the flavor I'm always wanting with hash browns which is that pan fried, slightly salty, crisp potato. When you add onion you're also adding moisture which can change the cook time and how sticky they get.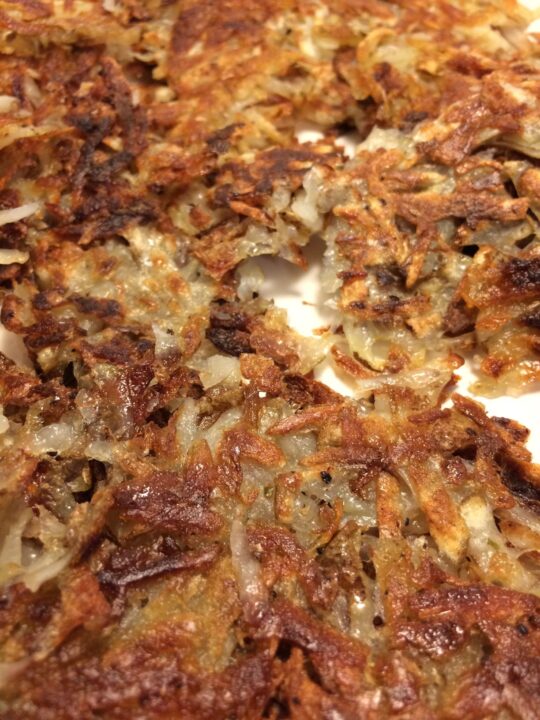 Tips for Perfectly Crisp and Golden Brown Hash Browns
Amount of Potatoes in the Pan Makes a Big Difference. The cook time I have in my recipe works perfectly for 2 ½ cups potatoes in a 9" pan. No matter what size pan you're using, just make sure that you layer the shredded potatoes down so there aren't any gaps and your potatoes reach the edges to form a solid wall, not just here and there a piece touching. Press down on your potatoes gently so they all lay flat.
Rinse and Dry Your Potatoes! This is a step I wouldn't skip. Shred your potatoes, then cover them in cold water and soak them for a few minutes. Strain out the water using a mesh strainer and squeeze out as much water as possible. I use my hands and sometimes a paper towel (or tea towel). You want as much starch and moisture out as possible for perfectly golden and crisp potatoes. I've also just run cold water over potatoes in a mesh strainer and mixed them around with my hands for a few minutes. This takes up more water but also effective.
Peeling Potatoes is your call. I don't peel them and I don't notice much of a difference when I do. I say keep as much nutrients in your food as you can so keep those peels on!
Best Method of Shredding Potatoes is to use the larger holes on your cheese grater. I have a great Cuisine-O-Matic Food Processor and I've found that the sizes of shredders are either a bit too big or too small for perfect hash browns. I tried many times to get a great hash brown with the food processor and it just never stacked up to my low-cost cheese grater!
Olive Oil is the best for great hash browns. If you're using a non-stick skillet you might be able to get away with butter, but especially when using a cast iron pan, you want olive oil to avoid sticking and to help easily flip them.
I use 1 tablespoon oil straight in the pan to heat it, and I mix in 1 tablespoon olive oil with the shredded potatoes before cooking. This makes a difference. Getting the oil in the mix helps it to crisp throughout. Also, you don't want too much oil in the bottom just soaking through that bottom layer so separate out those 2 tablespoons.
Drizzle Oil Around the Edges After Flipping. This helps to crisp up the edges and some will drain down to coat that second side when it cooks. At this point it may seem like a lot of oil, but I'm not focusing on making these the super duper healthiest hash browns, I'm focusing on making them incredibly crispy and delicious. And really, we're using olive oil so it's a healthier choice!
Don't Touch Them!! When you get the potatoes in the pan, press them down to lay them all flat, then leave them be! If you think they're getting too hot, take a peek at 12 minutes but you shouldn't need to before that if you have the temp low enough. Use a spatula to peek on one edge, but if it sticks at all just let it be, it's not ready. Same with the second side. Flip it, then leave them until the 10 minute mark.
Know Your Stove. I have a good stove. It's not the highest quality but it runs smoothly. Even so, one of my burners runs hotter than the others. When I make hash browns on that burner I can usually cook my hash browns for about 4-5 minutes less, but the cook isn't as even.
Temperature for Cooking is key. When I make hash with diced potatoes I set my temperature much higher. For hash browns you want it lower. For my electric range I set my heat at 2 ½ pretty much every time. I say low-medium for cooking these hash browns because you want to heat them evenly to cook through and cook evenly from the middle to the edges. If you cook it too high you'll get a middles that's darker than the edges, and a soft center. The flavor isn't the same either. If your heat is too low you'll be waiting and waiting and you won't get that caramel color for a long time. Stick with low-medium heat!
To Cover or Not to Cover? Yes, cover for the first side. This keeps steam in the pan and helps them cook faster. Then, when you flip them, keep the lid off to allow steam to escape so you get a nice grill on the second side. The middle will be cooked through by now so you're just focusing on browning the second side.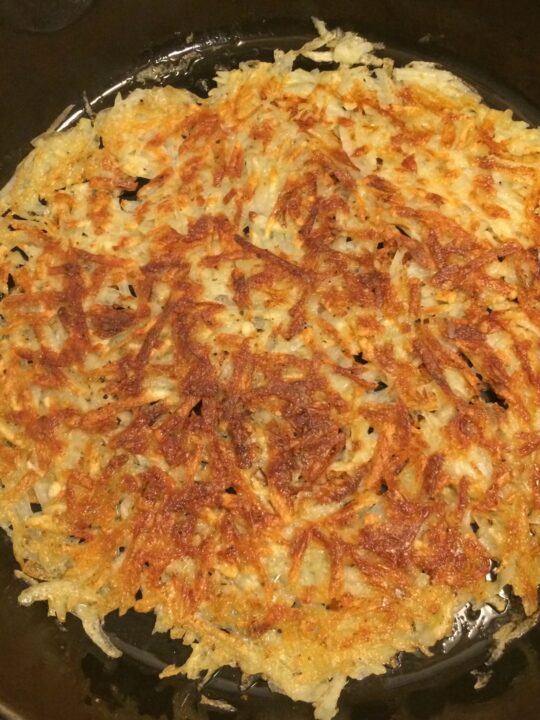 What Potatoes are Best for Hash Browns?
Russet potatoes all the way. Red potatoes and Yukon Gold tend to be too soft and russets just hold up much nicer. With that said, those are the only 3 I've ever used and I haven't had a unique variety of potato in my garden to test anything else! Russets work great and I'm sticking to them!
Serving Size
In the recipe I say this portion will give you 3 servings. That's a really grey answer since I know a single person could easily down the entire portion, or at least half. For sake of a typical adult's breakfast, I'm saying you can get 3 servings!
More Breakfast Recipes
These hash browns pair well with these other breakfast ideas: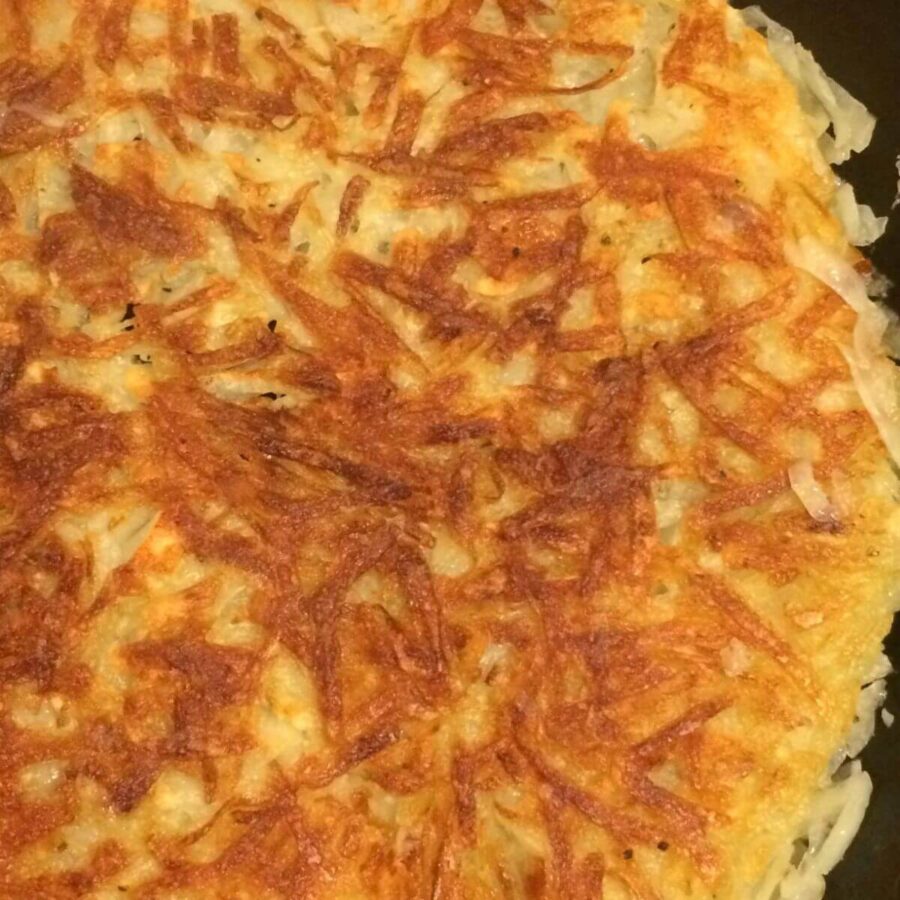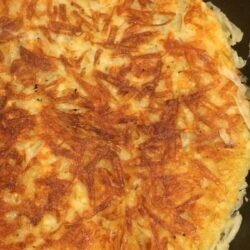 Perfect Hash Browns
Learn the tips and tricks to making perfectly golden and crispy hash browns from scratch!
Ingredients
2 ½

cups

shredded russet potatoes

(measured after soaking and dried)

2

tablespoon

olive oil, split

(+additional to drizzle)

¼

teaspoon

sea salt

freshly ground black pepper to taste
Instructions
No need to peel potatoes, but do if you'd like.

Shred potatoes using the large holes of your cheese grater. Soak shredded potatoes then squeeze out as much liquid as possible using your hands and/or mesh strainer and paper towel/tea towel.

Toss potatoes with 1 tablespoon olive oil, sea salt, and freshly ground black pepper to taste.

Heat large (9") skillet to low-medium heat (level 2 ½ ) with 1 tablespoon olive oil.

Add potatoes to the pan and press down to pack flat. Cook for about 20 minutes covered (know your burner and how hot it gets, you can peek at about 12-15 minutes but best to leave them).

Gently flip the potatoes and lightly drizzle olive oil around the edges of the potatoes.

Option to place a large plate over your pan and flip it, then slide it back onto the skillet to cook the other side.

Keep lid off and cook the second side for 8-10 minutes.

You can press down on the potatoes again to pack down more but shouldn't be necessary.

Enjoy with salsa, hot sauce, ketchup, or just as is!