These mini meatloaves have such great flavor and texture and they're topped with my creamy garlic mashed potatoes! Call them muffins, call them cupcakes, either way they're super fun and delicious!
(This page contains affiliated links)
These meatloaf muffins are made even better with a creamy mashed potato topping. You can call them meatloaf cupcakes with potato frosting if that helps feed them to your kids! They're fun and easy to make if you just follow the steps below.
What Makes these Meatloaf Muffins Unique?
Each step of these muffins is homemade, which makes them so much better! By homemade, I mean that this recipe doesn't use ketchup or store-bought Worcestershire sauce, and you just need a bunch of great seasonings and fresh ground meat. I have made this recipe with all turkey, all beef, and a mix of turkey and beef. Personally I like the combination of meat for flavor and texture.
Homemade Ketchup: My reason for making this step homemade is that you can get much more complex flavor with a homemade recipe while leaving out the excess sugar and salt. That way I know exactly what goes into this recipe. The recipe I have for the "ketchup" is great for this specific recipe, but I wouldn't stand by it as a stand alone ketchup replacement in general.
Homemade Worcestershire Sauce: I just never have Worcestershire sauce in the house, that's my reason for making this recipe myself. I initially had more ingredients in the recipe but I removed everything sweet and "extra" that I felt didn't add the flavor profile that I wanted for these muffins. I initially had liquid aminos as the salt, but then I started putting in liquid smoke by accident (because I see "liquid" and just reach and go). Honestly, it was super good too. Because the amount is so small it doesn't make a huge difference so choose which one you'd like. Or heck, just just both!
Ingredients
Creamy Garlic Mashed Potatoes: I use my awesome mashed potato recipe because it's super creamy which is great for a topping! The garlic goes well with the meatloaf and adds a lot to the dish without distracting from the meatloaf flavors.
Ground Turkey and Lean Ground Beef: Do you have a different ground meat? Try it, it'll probably be great. I love these two choices because they're lower cost, and I just usually have them on hand!
Yellow Onion: Finely dice so the meatloaf doesn't have issues sticking together.
Garlic Cloves: same as the onions, finely dice them! TIP: with the skin on, lay your knife flat on top of the clove, and whack it to lightly smash it. Now peel easily and finely dice! No fuss with peeling and you get more flavor.
Quick Oats: I use this with everything as a replacement for bread crumbs or flour. I like quick oats vs. rolled oats because they absorb the moisture quicker and you're not left with bites of undercooked oats.
1 Large Egg: For moisture, volume, flavor, and texture!
Aged Gouda: I've also used parmesan in this recipe. The reason for these specific cheeses is that they contain less oil than say a cheddar cheese. They add a lot to the dish without adding too much moisture and grease.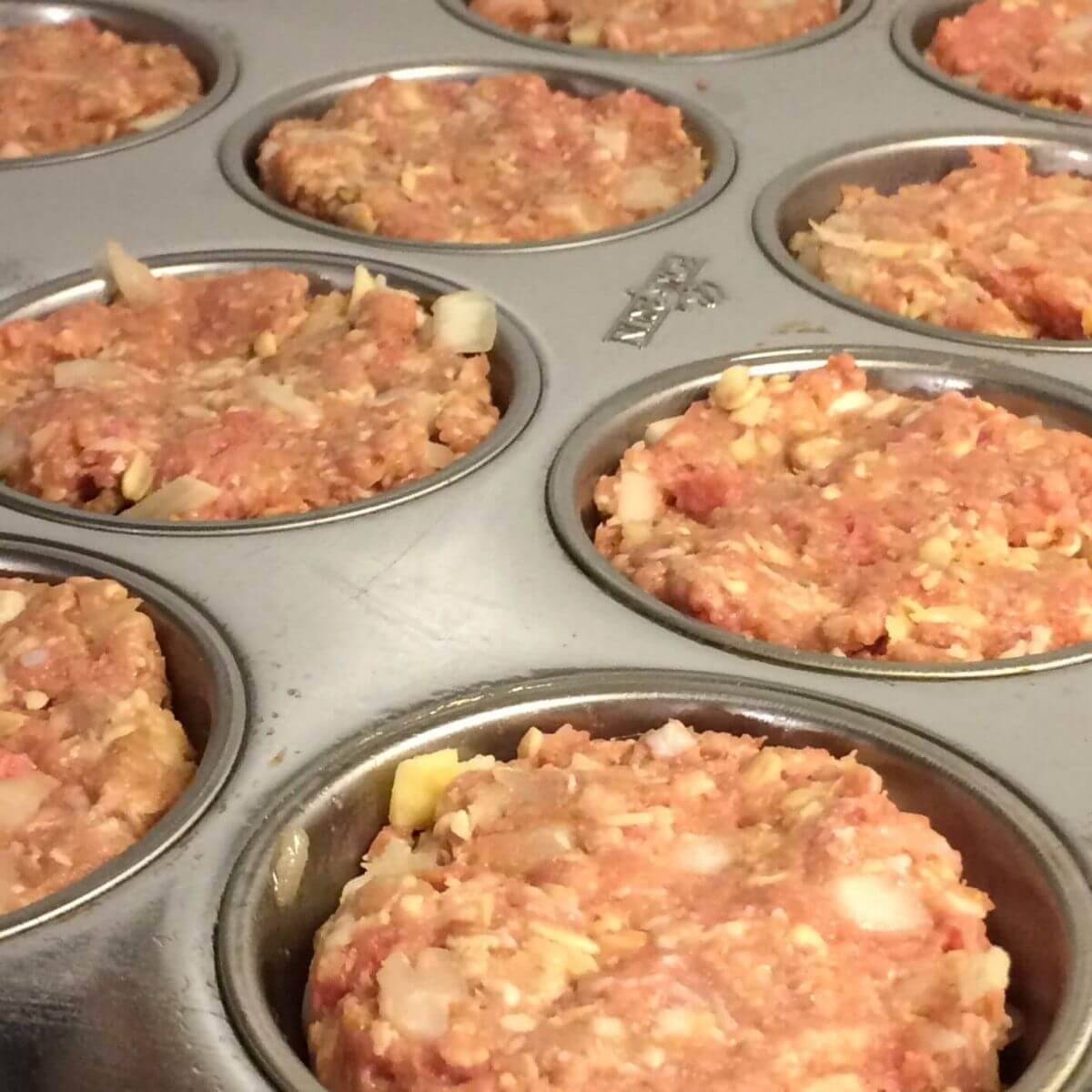 Homemade Tomato Sauce: This is to replace ketchup like you see in other meatloaf recipes. No, I wouldn't substitute regular tomato sauce for this step, it's not the same. In this step you'll use tomato paste (no salt added), milk, oregano, sage, rosemary, thyme, sea salt.
Worcestershire-ish Sauce: You can replace this step with 2 tablespoons Worcestershire sauce if you want. I never have it in the house so I made this tasty alternative. I like it better because it's more savory than sweet. In this step you'll use: apple cider vinegar, liquid aminos (or liquid smoke), blackstrap molasses, garlic powder, yellow mustard, water, and freshly ground black pepper.
A Homemade Ketchup for the Topping: This is slightly different than the tomato sauce above. I ended up making this different step because I wanted to top the muffins with a red sauce, but not the same as the tomato sauce. You'll use: tomato paste (no salt added), water, sea salt, garlic powder, ground rosemary leaves, rubbed thyme, dried oregano, rubbed sage. Don't want to make this step? That's fine! If you're a fan of ketchup you could also spread a little on the tops. This sauce just has a lot more flavor!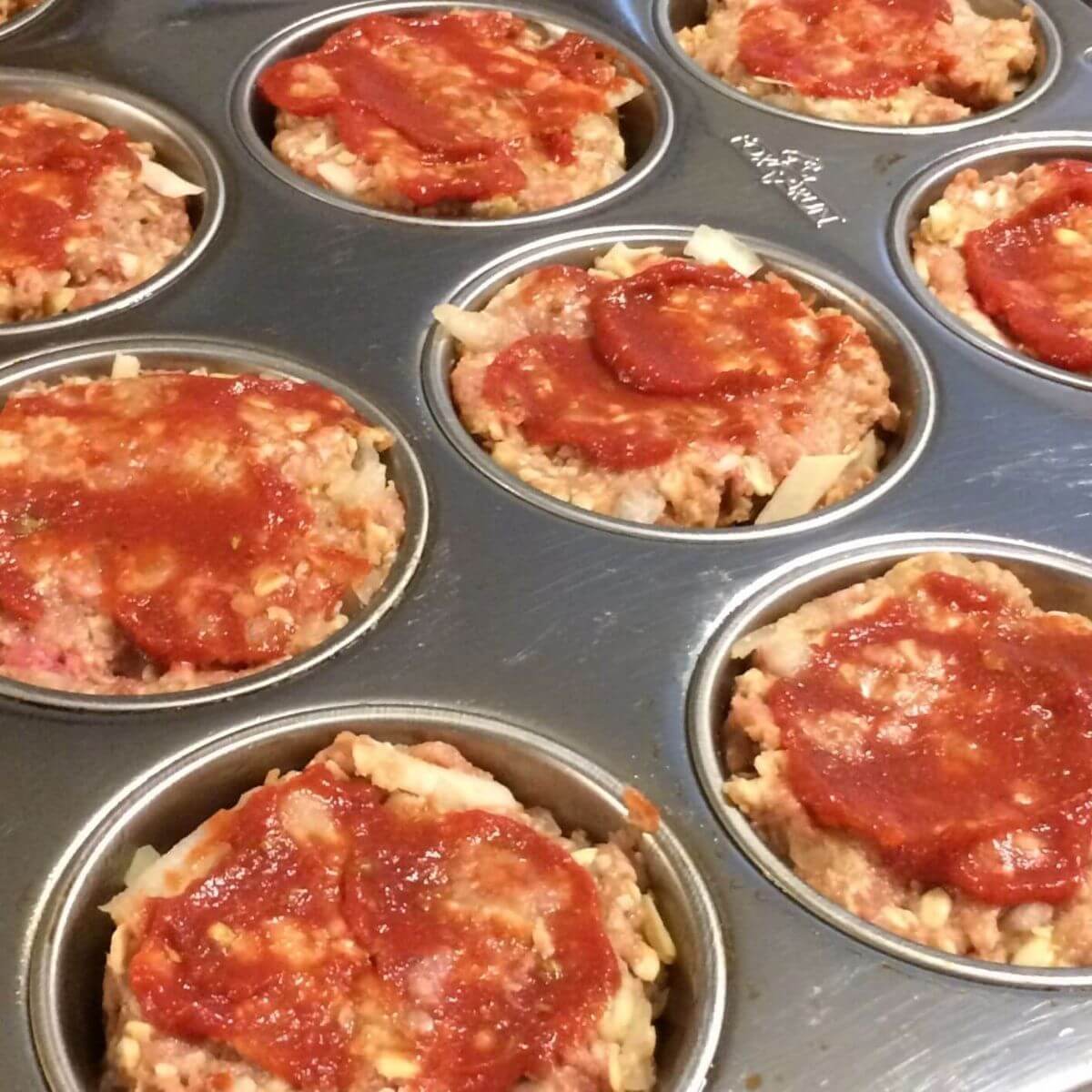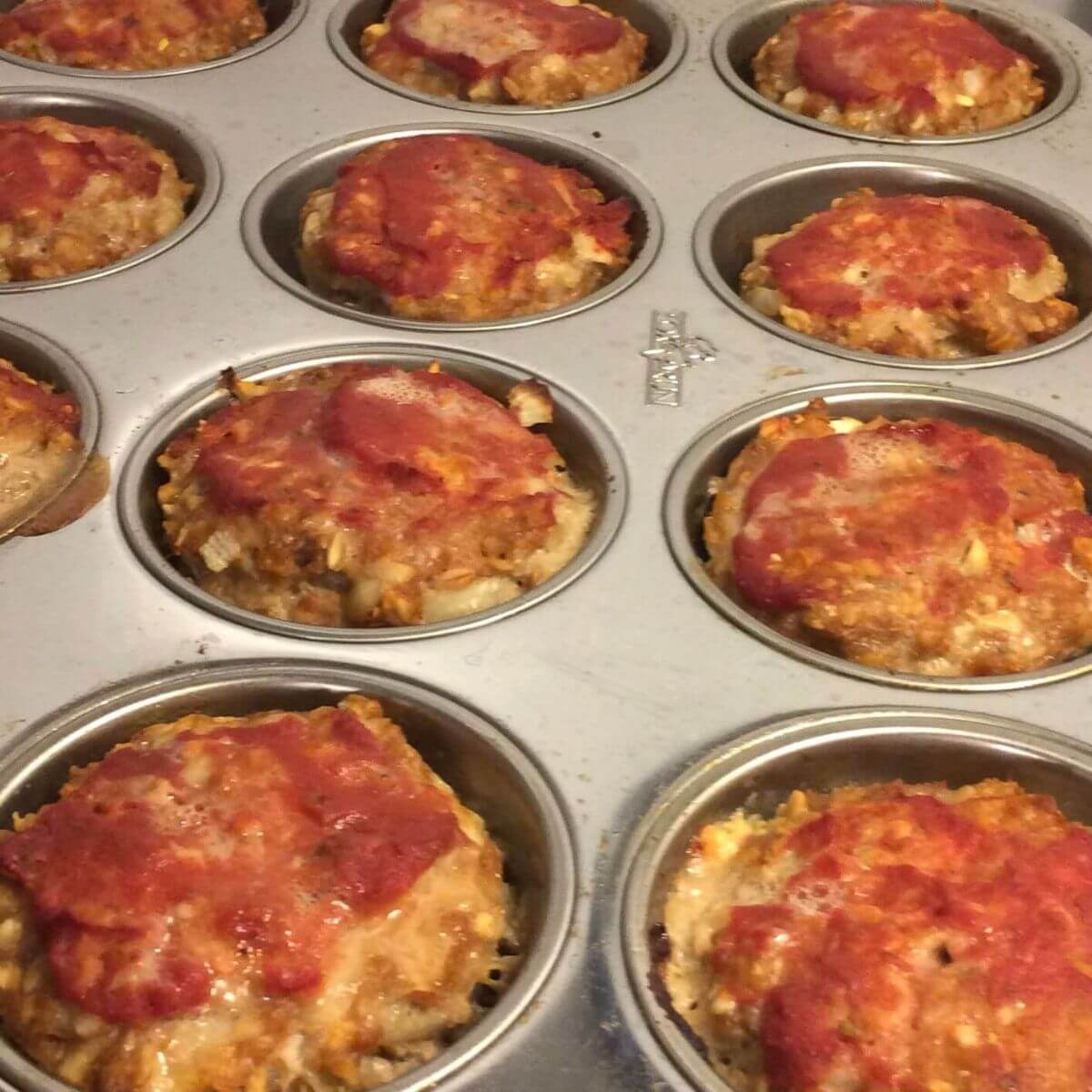 Why I Use Ground Spices
In this recipe I used ground, or rubbed spices. The reason being is that I don't prefer large bites of certain spices in my food and grinding them solves that! If you don't have the ground version of a spice, you can easily use the whole leaf. For example, I grind up my rosemary leaves in my nutribullet for ground rosemary, but you can use leaves instead.
This Seems Like a Lot of Steps, Is it Worth It?
The recipe may look lengthy, but each step is super easy and quick. Many of the steps use similar ingredients which makes things easier too. Personally, I'd much rather take a few extra minutes to make something from scratch that tastes incredible, rather than taking the quicker route that has more salt and sugar and who knows what in it.
I stand by this recipe as stated, but if you choose to replace steps with store bought Worcestershire sauce and ketchup I can't guarantee the flavor and texture you'll get!
Is it worth all the little steps? Most definitely! I love making this recipe and my family loves eating them!
What Do these Muffins Taste Like?
I aimed for savory flavors, with a touch of sweet from the tomato paste. I much prefer a savory meatloaf and I avoided flavors such as cinnamon and nutmeg that some might have. Please note that this recipe doesn't have a lot of salt. If you use tomato paste with salt in it, you might want to adjust the added sea salt portions!
The garlic mashed potatoes are just that, great garlic flavor without any of that garlicy spice. They're super creamy and easy to spread onto the muffins and they're ultra creamy!
Is this Recipe Gluten-Free?
Yes! Unintentionally, yes it is. If you use certified gluten-free oats, you're home free. I use liquid aminos in this recipe which is a great gluten-free substitute for soy sauce (some are not gluten-free).
Additions and Sides
Meatloaf is a really great dish for sneaking more veggies in. You can add:
finely diced bell pepper, finely shredded carrot, minced jalapeno, zucchini (if you squeeze the bageebees out of it to remove excess moisture).
I love to add steamed broccoli or steamed edamame as a side with this recipe!
ENJOY!!
Equipment Used
Fox Run Stainless Steel Muffin Pan 12 cup
Fox Run Stainless Steel Muffin Pan 6 cup
UpGood Silicone Spatula Set
Similar Recipes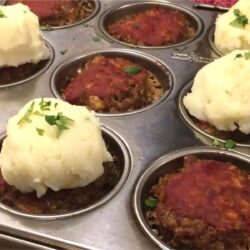 Meatloaf Muffins Topped with Creamy Mashed Potatoes
These mini meatloaves have such great flavor and texture and they're topped with my creamy garlic mashed potatoes! Call them muffins, call them cupcakes, either way they're super fun and delicious!
Ingredients
For the Meatloaf
1

pound

ground turkey

(option to use all turkey or all beef)

½

pound

ground lean beef

1

cup

yellow onion finely diced

5

large

garlic cloves finely diced

1

cup

quick oats

1

large

egg

1 ¼

cup

shredded aged Gouda
For the Tomato Sauce for Filling
¼

cup

tomato paste no salt added

¾

cup

milk

½

teaspoon

dried oregano

¼

teaspoon

rubbed sage

¼

teaspoon

ground rosemary leaves

¼

teaspoon

rubbed thyme

1

teaspoon

sea salt
For the Worcestershire-ish Sauce
1

tablespoon

apple cider vinegar

¾

teaspoon

liquid aminos

(or liquid smoke)

¾

teaspoon

water

½

teaspoon

blackstrap molasses

¼

teaspoon

yellow mustard

¼

teaspoon

garlic powder

freshly ground black pepper to taste
Optional Topping of Homemade Ketchup
2

tablespoons

tomato paste no salt added

2

tablespoons

water

1

pinch

of sea salt

(or more to taste)

⅛

teaspoon

garlic powder

⅛

teaspoon

ground rosemary leaves

⅛

teaspoon

rubbed thyme

⅛

teaspoon

dried oregano

⅛

teaspoon

rubbed sage
8

cups

chopped russet potatoes

(or Yukon gold, red, or Purple Viking)

3

tablespoons

unsalted butter

¼

cup

milk

(or lower fat option)

5

tablespoon

full fat plain Greek yogurt

(or lower fat works well too)

¾

teaspoon

sea salt

1

tablespoon

garlic granules
Instructions
Make the Meatloaf
Finely dice the vegetables. Add them to a large mixing bowl with the ground beef, ground turkey, quick oats, shredded aged Gouda, and 1 large egg.

In a separate small bowl (you can reuse this bowl for multiple steps), combine all the ingredients for the tomato sauce. Add this sauce into the meat mixture.

In the small bowl, now add all ingredients for the Worcestershire-ish sauce. Add this to the meat mixture.

Use the same small bowl to now make the homemade ketchup. Set this aside until ready to bake.

Mix the meatloaf with a fork or your hands until fully combined. Let the mixture season in the fridge at least 1 hour. If you can refrigerate it overnight, do that! This helps the oats soak up more moisture as well and increasing overall flavor. Meanwhile, make the mashed potatoes.
Make the Mashed Potatoes
Recipe yields 6 cups. You will only need 4 for this recipe but leftovers are great so I recommend the full recipe.

Rinse potatoes and peel. Chop into about 1 inch pieces.

Add potatoes to a medium-sized heavy bottom pot (about 3 quart) with 6 cups water (or enough to cover potatoes). Cook on medium heat for 27-30 minutes, covered, or until boiling. Decrease to medium-low and cook another 18-20 minutes. Crack lid slightly as needed to avoid boiling over.

Drain potatoes and transfer to a large bowl or return to the warm pot you cooked them in. Mash potatoes with a wooden spoon or fork. If you really don't want any lumps you can use a hand mixer.

Add unsalted butter, milk, Greek yogurt, sea salt, and garlic granules. Use a fork or a whisk and whip until smooth.

Keep warm and covered until ready to top onto the meatloaf muffins.
Baking
Preheat the oven to 400℉.

Spray each muffin tin with olive oil. Scoop a rounded ¼ cup portion into each muffin cup. Gently press the mixture down in each cup. Spread a little of the homemade ketchup on top of each muffin. You'll really want 2 muffin tins for baking, since this makes 16 muffins. You can bake them at the same time, making sure both are side by side on the middle rack.

Bake for 25 minutes. Remove onto cooling rack. You can top them with mashed potatoes while they're in the muffin tin, or once removed to a plate.

To remove the muffins, use a spoon and gently lift them out of the tin-they should come out easily. Top each meatloaf muffin with ¼ cup mashed potatoes. I use a measuring cup, then you can glove up and gently dab at the potatoes to smooth them out as you want

*Option to pipe the potatoes, but this will only work if they're completely smooth without any lump!

Garnish with fresh chopped parsley!