Italian sausage that will outshine any store bought! This recipe is low salt, naturally sweetened, and rich with flavor.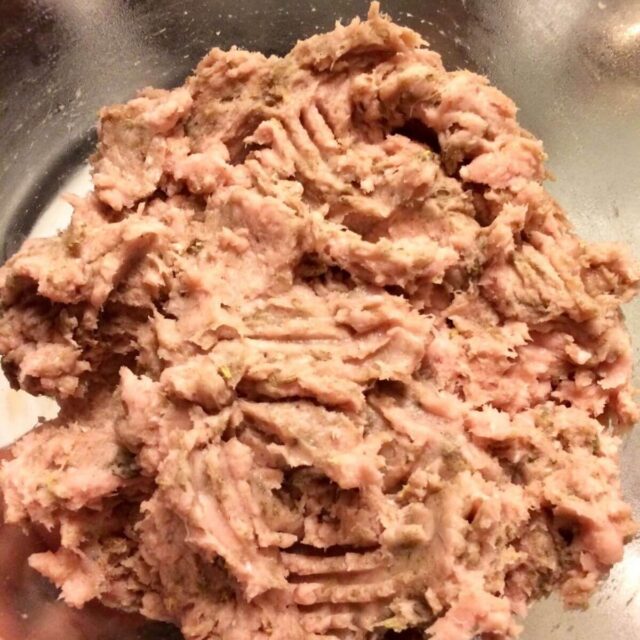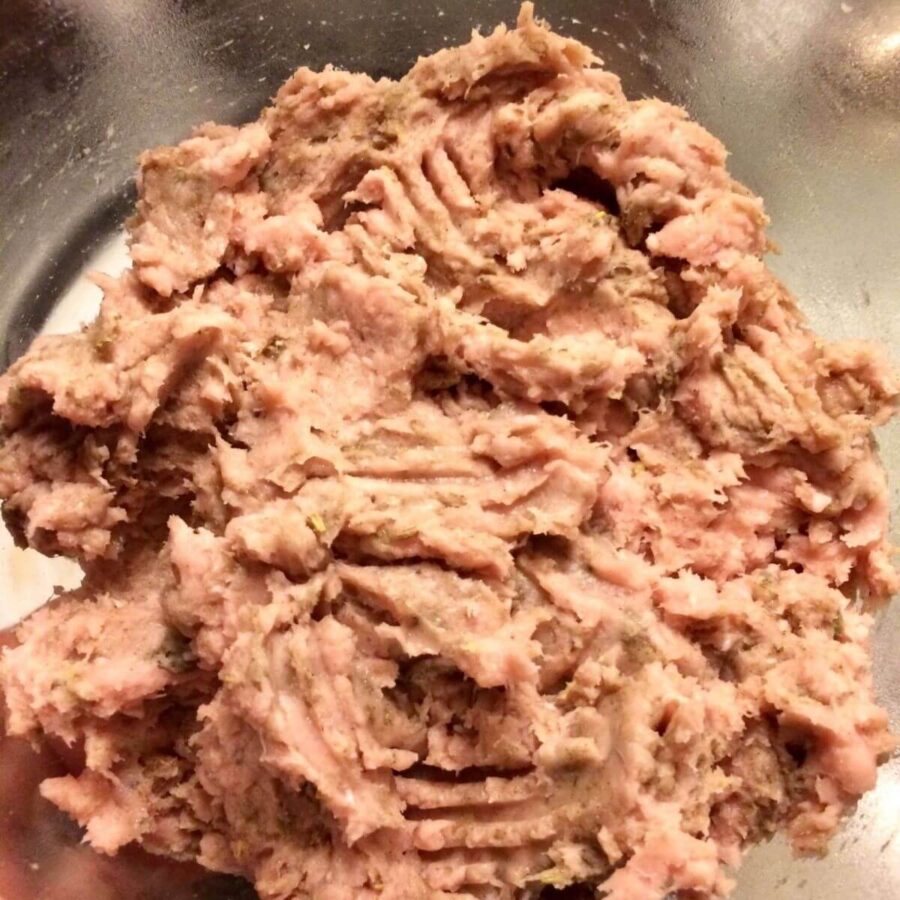 How many recipes can you think of that include Italian sausage? Breakfast sausage links, breakfast casseroles, pizza, soups, barbecue, skillets, pasta, lasagna, and the list goes on.
Why not have a delicious homemade recipe that you can make to tailor to the flavor profile you want. This recipe goes well with all those recipes above and it's easy and healthy!
I haven't wanted to buy store-bought sausage in a long time now. Reason one is that mostly all sausage is super high sodium. Reason two is that you just never know exactly what's in it unless you're buying a super high quality organic brand that it completely transparent with the ingredients. I've had spongy textures, high amounts of gristle, too salty, too sweet, you name it but I wasn't often happy with what I bought. Problems solved when I just made my own!
Is Turkey too Lean for Making Sausage?
When making sausage one of the keys is to have the right ratio of meat to fat, which is typically 80% to 20% respectively. The fat gives flavor, texture, and helps the sausage bind well.
But...once you've tried this recipe you might think twice about having to add that fat, especially when making sausage by hand without a meat grinder and casing. Turkey is extremely lean and this recipe really makes it work! When I make the larger links to slice thin for pizza it can get a bit dryer, but it's still really good and holds together well. As for flavor? You're set with the great seasonings packed into this sausage!
I've made this recipe with all ground beef as well and it was really good. You could always do part ground beef and part ground turkey, or pork and ground beef mix for slightly higher fat and variety with flavor and texture.
I have used this sausage with so many different recipes. I always think I'll branch out and change it up but then I don't, because it works so well so why mess with what's already so so good?
Different Ways to Form and Serve this Italian Sausage
Ground Sausage
I use this sausage with so many other recipes! It's so flavorful and easy I've never been disappointed when adding it to recipes. It goes well with stir fries, pasta dishes (hot and cold), and as a pizza topping.
Sausage Logs or Rolls to Slice
This is a great option if you're wanting to slice the logs for a pizza topping.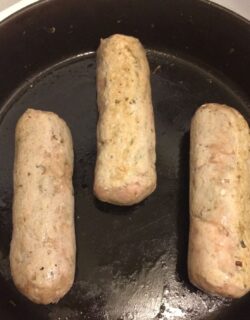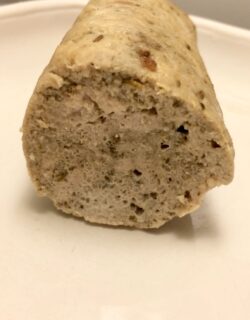 Breakfast Sausage Links and Patties
I have tried this recipe with additions like egg, binding agents like oat flour and they just weren't necessary. I had great results with the recipe as is!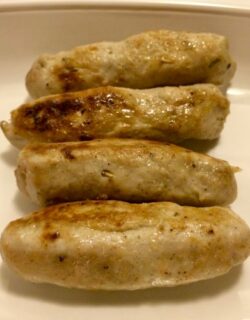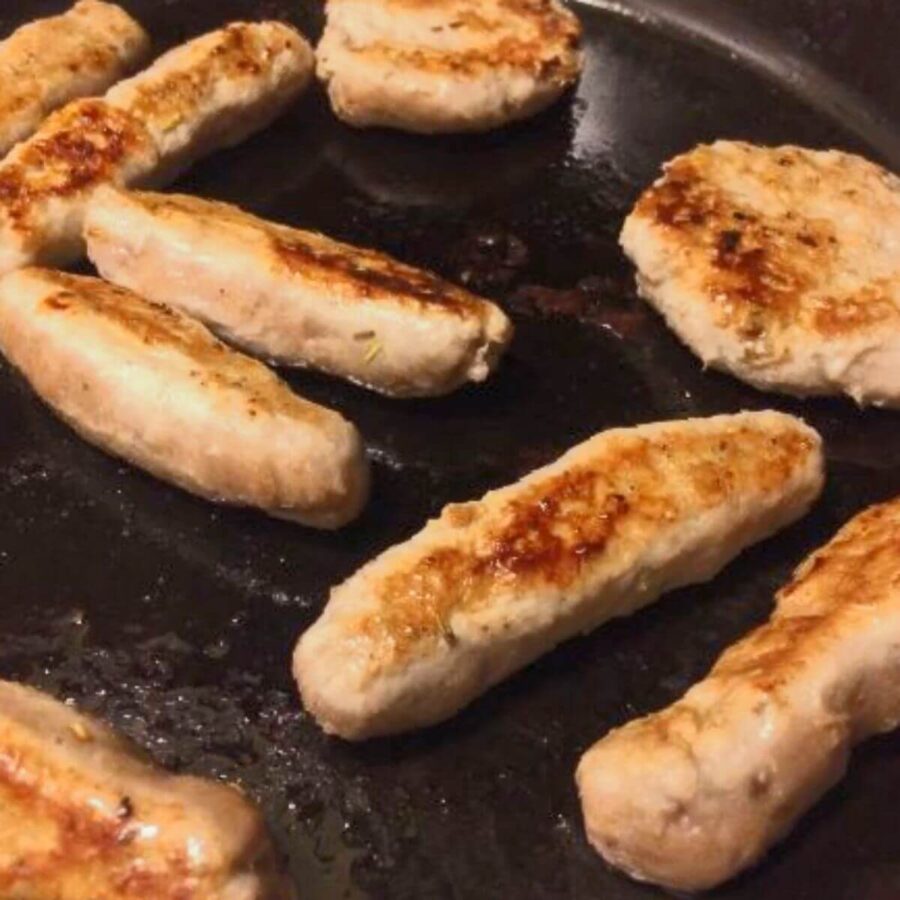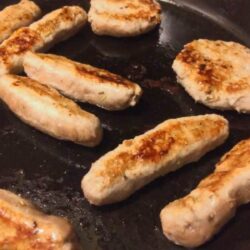 More Recipes that include this Sausage Recipe
More Ground Turkey Recipes
Cellentani with Turkey Meatballs in Marinara Sauce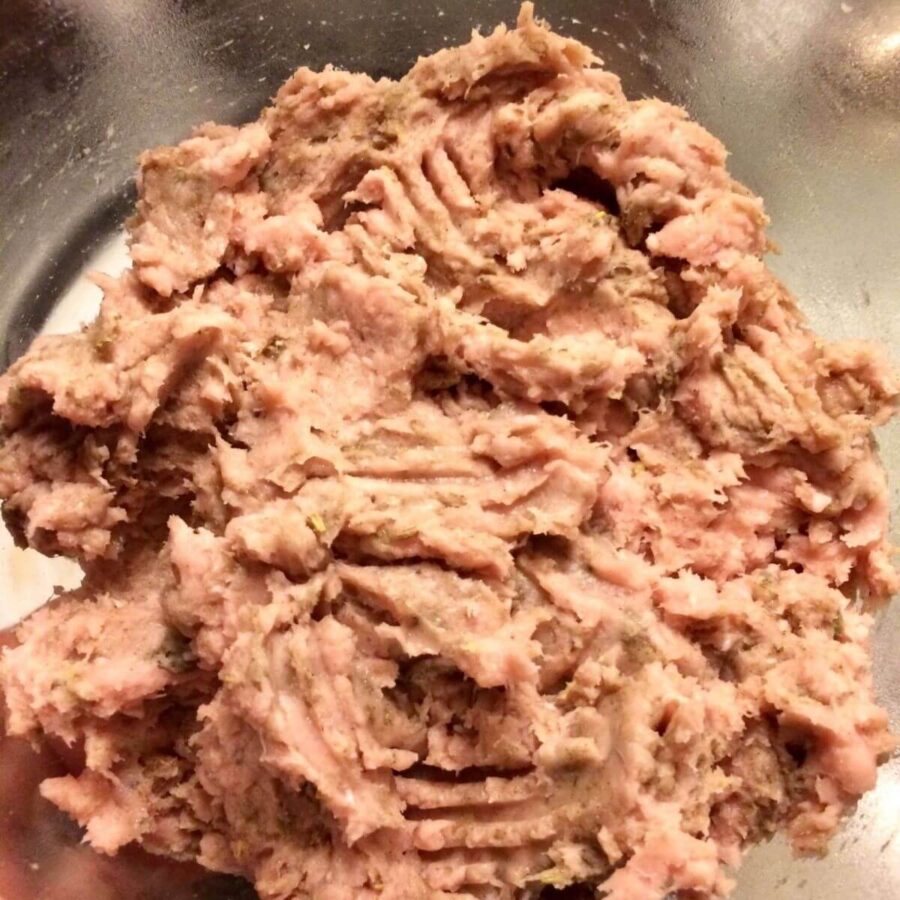 Homemade Italian Sausage with Turkey
Homemade Italian sausage that will outshine any store bought! This recipe is low salt, no refined-sugar, and rich with flavor.
Ingredients
1

lb

ground turkey

1

teaspoon

garlic granules

½

teaspoon

ground coriander

½

teaspoon

sea salt

1

teaspoon

ground sage

½

teaspoon

dried rosemary

½

teaspoon

ground thyme

¼

teaspoon

dried basil

¼

teaspoon

dried oregano

½

teaspoon

fennel seed/ground fennel

fresh ground black pepper to taste

1

teaspoon

optional maple syrup

optional crushed or ground red pepper for added heat. Add to taste
Instructions
Combine all ingredients and gently work together but don't overwork. Choose from the method of cooking sausage below: Ground sausage, large rolls to slice, breakfast links and patties
For Ground Italian Sausage
Heat a large skillet on medium-low heat with 1 Tbsp. olive oil. Once hot, add meat mixture and cook for about 3 minutes then decrease heat to low and continue cooking for 7-10 more minutes. Chop throughout cook to break up meat into small pieces.
For Large Sausage Rolls/ Logs to Slice
Divide meat mixture into 3 portions. Form each portion into a log shape. Know that it will shrink some but otherwise choose the size you want.

Heat a large skillet to low-medium heat (level 2-3). Spray pan with olive oil. Once pan is hot place sausage rolls in the pan and spray the tops with olive oil. Cook for about 3-5 minutes before rolling. Continue cooking and rolling until all sides are cooked.
For Breakfast Links and Patties
Scoop out small portions (approximately 1 heaping tablespoon) and form into a log or a small patty. Gently roll (or flatten out if doing patty) on cutting board or between hands to smooth out surface. It shouldn't, but if the meat sticks to your hands spray a small amount of olive oil on your hands while rolling.

Heat skillet to medium-low heat (level 3). Once hot add links and/or patties and cook 4-5 minutes before rolling or flipping them.