Simple and healthy turkey burgers to change up your typical burger night! These patties include zucchini and chard for added nutrition and freshness!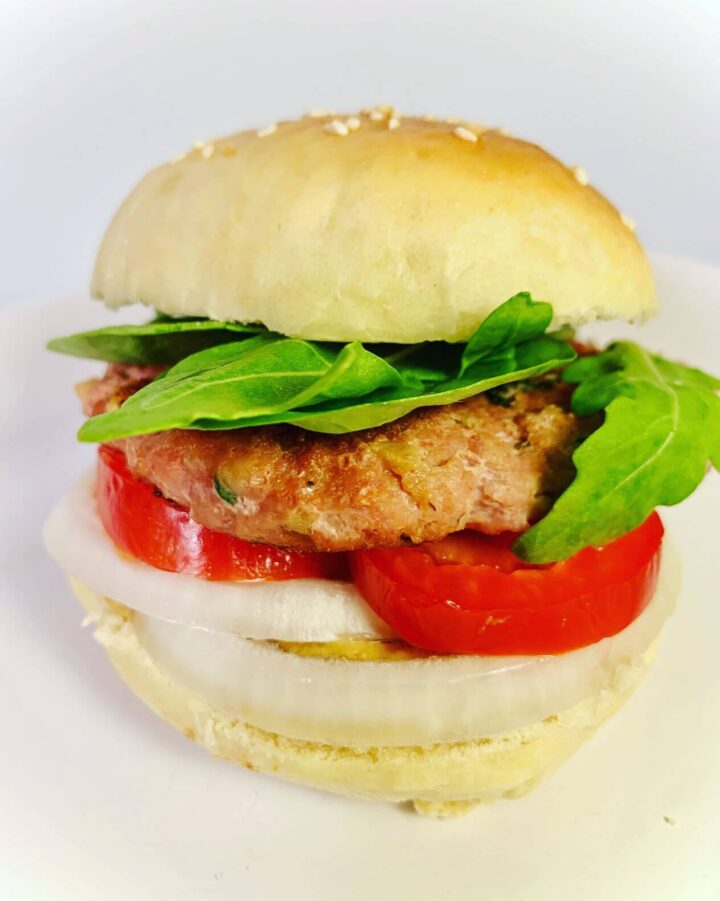 Ground turkey has been one of my new favorite meats to work with. It's lean, mild in flavor, and can be molded into so many different recipes.
I'm always finding new ways to combine vegetables into my recipes and this chard and zucchini turkey burger recipe is one of my favorite.
These burger patties are great for kids and toddlers when you're looking for a finger food that includes protein, calcium, fiber, and so many other vitamins and nutrition.
If you're like my family and you don't always have burger buns and you don't have time to whip up a batch of buns, use sandwich bread! But, I would highly recommend using my From Scratch Soft Burger Buns, they're worth the extra effort! Make half the recipe to form 4-5 buns.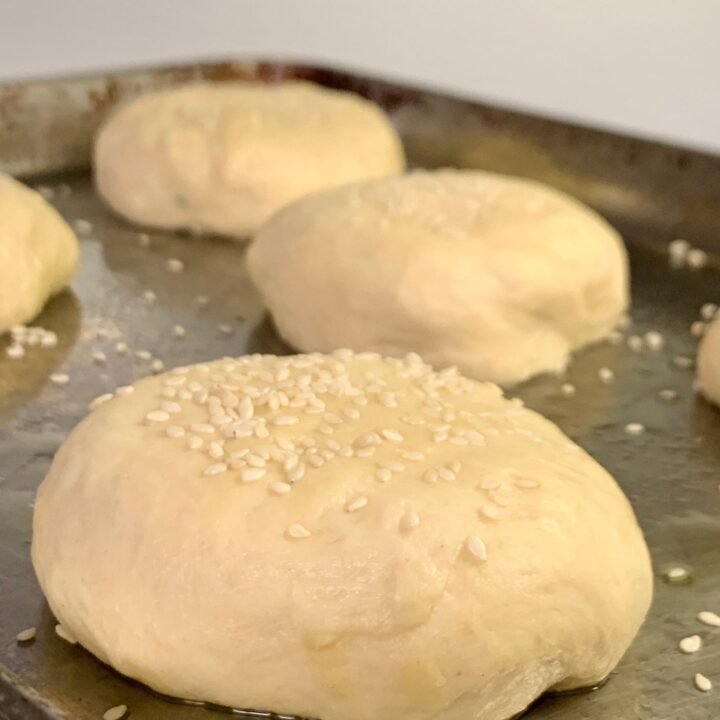 Ingredients
Ground Turkey: Great healthy options for burger meat! You can also use ground pork. I recommend using high quality ground turkey for better quality.
Yellow Onion: You can use any type of onion.
Oatmeal: Make it gluten free if you wish with certified gluten free oats. Follow my post How to Make Oat Flour and Oatmeal for tips on blending oats.
Chard: I've used kale and you can also use mustard greens if you like a little more spice.
Zucchini: You can keep the zucchini as shredded but I like to shred, then chop even finer. Make sure to squeeze out excess liquid so you're not adding too much moisture to the meat.
Garlic: Because of course it has to have garlic! Just mince it really fine so it doesn't interfere with the burger forming together.
Sea Salt, Garlic Granules, Freshly Ground Black Pepper: Definitely my go-to spice combination but only because it works so well!
Add your favorite fresh burgers toppings!
Making the Mix: I like to combine the ingredients gently with a fork. When working with meat mixtures you can overwork it and it will make the meat tough. This is one reason I like to let the mixture rest in the fridge. Then I don't feel like I have to mix it as thoroughly in order to incorporate the oats.
Enjoy with various greens. I love adding arugula, chard, spinach, or just good ol' romaine lettuce!
Grilling the Burgers Stovetop
I have found that I get the best grill when using medium-low heat, instead of medium or even hotter. Slower and steady gives a nice golden brown color. I start the cook covered, then remove the lid to avoid excess liquid build-up.
Draining excess liquid out of the pan as it cooks creates a more flavorful and brown grill. Keeping juices in the pan will keep it juicier but it won't brown as easily.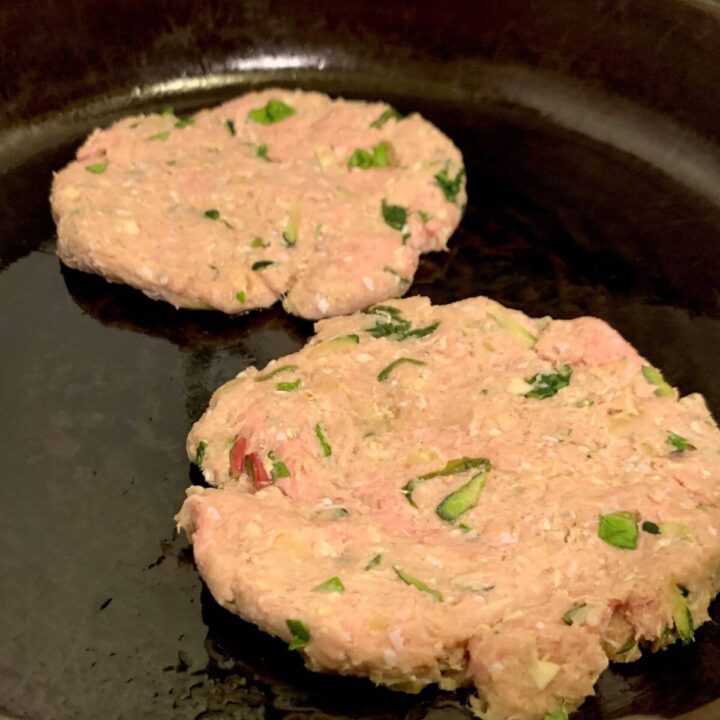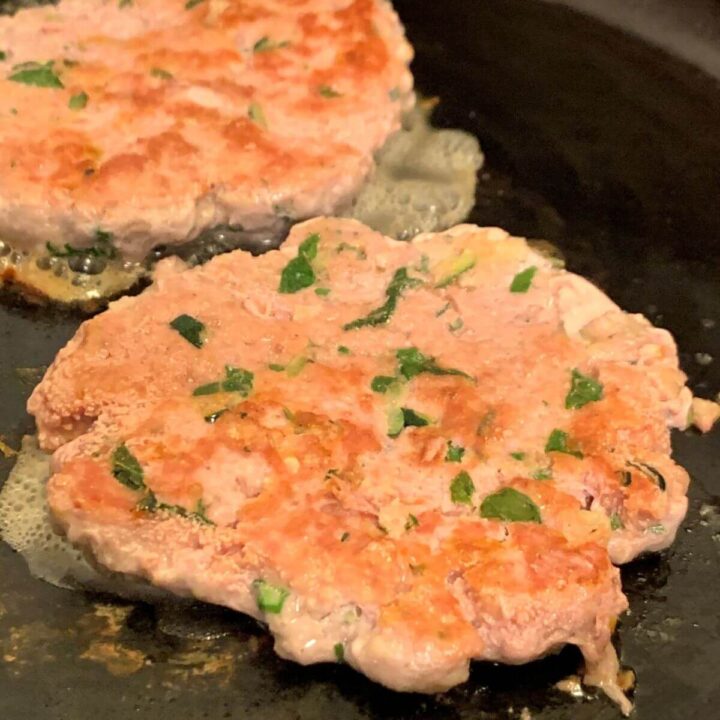 For best results, cook patties in the middle of your skillet. If you try to pack in too many patties at once then you can get liquid build up and the patties won't brown evenly.
Make sure to brown the patties! A lot of the flavor for these patties comes from the cook. When they start browning, you'll get a saltier flavor without the added salt!
How Else to Enjoy these Patties
I love pairing these patties with my Green Chili Salsa and Guacamole From Scratch!
You can enjoy this turkey mixture as meatballs which give you several more options. You can serve them as is, over rice, or in a tortilla or lettuce wrap. Give my Turkey Meatball Lettuce Wrap a try!
Serving size is just over ½ cup per patty. This will yield about 4 patties, but you can easily double the recipe or use only ⅓ cup per scoop for more patties.
Gluten-Free Version
All you need to do to make this recipe gluten-free is use certified gluten-free oats. Enjoy the patties solo or use in a lettuce wrap or with gluten-free bread! Use a large cookie cutter to form rounds to act as buns, or find some gluten free buns.
More Recipes That Use Ground Turkey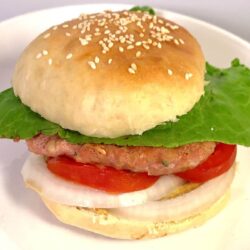 Chard and Zucchini Turkey Burgers
Simple and healthy turkey burgers to change up your typical burger night! These patties include zucchini and chard for added nutrition and freshness!
Ingredients
1

lbs

ground turkey

½

cup

yellow onion chopped finely

½

cup

shredded zucchini

(shredded with excess liquid squeezed out)

¼

cup

diced chard

1

tablespoon

garlic, minced

2

tablespoon

oatmeal

(or oat flour)

¼

teaspoon

sea salt

½

teaspoon

garlic granules

freshly ground pepper to taste

olive oil for spraying skillet
Instructions
Prep all the vegetables. Make sure to squeeze excess liquid out of the zucchini and measure after removing liquid. dice chard, onion, and garlic fine.

Combine all ingredients in a medium-sized bowl. Don't overwork the mix.

Spray a large skillet with olive oil and heat to medium-low heat.

Use a rounded ½ cup to scoop and form each burger patty. Press each patty flat until it's about 4 ½ inches in diameter. Option to make smaller and more condensed patties with only ⅓ cup.

Once skillet is hot, grill patties for about 5-8 minutes per side, or until each side is browned. Press down lightly on patties with spatula to help it keep its size and not shrink down. Start the cook covered to decrease cook time, but remove lid when flipping the patty.

Drain any excess liquid out of the pan as it cooks for a more flavorful and brown grill. Option to cook on grill, they will hold together!