Fresh green chili salsa that's sure to be your new favorite!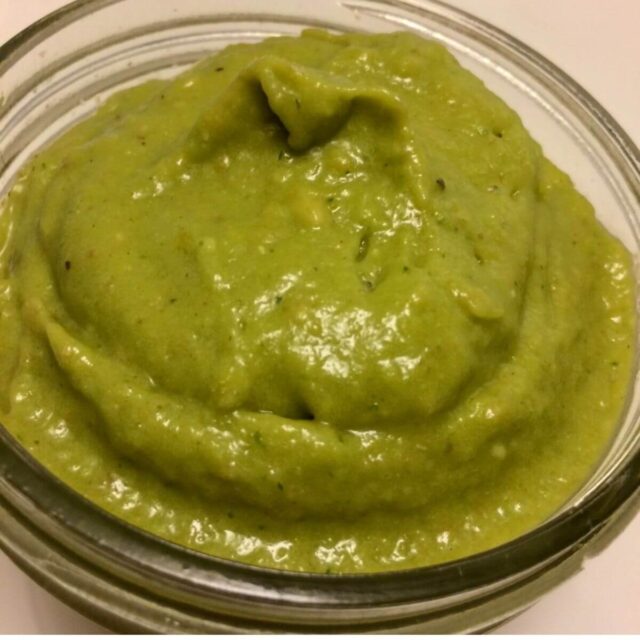 Salsa Verde, or green chili salsa, originates from Mexico, typically using tomatillos. This recipe uses green chilis and and is technically a New Mexico dish.
We like to enjoy roasted chilis all year long, sometimes buying them roasted from a farm stand, and sometimes roasting them at home. You can roast chilis easily on a grill, in your oven, or stove top.
For this recipe I roasted them on the stove. You'll want to keep an eye on them to make sure they're roasting to your liking. Just know that yes, they turn black and that's what you want! Don't think they're burnt. You'll be removing that outer burnt skin and inside you're left with incredible flavor. It can be helpful to put the roasted peppers in an airtight container for a little bit before peeling to help the peels separate easier.
Ingredients
Chili Peppers: I use Anaheim peppers because we have easy access to them where I live and I like the flavor. I also like the variety of heat that you can use ranging form very mild to spicy. Feel free to use other chili peppers! I would recommend taste testing each pepper no matter what it's labeled to ensure it's the heat you're expecting. Many times we've purchased mild peppers and there's a hot one that sneaks in there and can be a big surprise! You'll want them to be blackened well for flavor and easier peeling. After roasting, immediately put them in a plastic bag or glass container for at least 20 minutes. Doing so will help them peel easier.
Fresh Garlic pairs well with this recipe and it's up to you whether or not you roast the garlic or leave it raw. Raw will have more spice and roasting will bring out more flavors. I only used about 1 tablespoon small garlic cloves.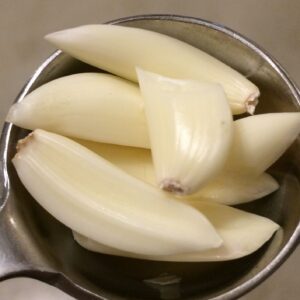 Cilantro: I will leave it up to you whether you use only the leaves or leaves and stems. You're blending this sauce so texture wise it doesn't matter it's just knowing what your preference is. Some stems can be bitter and some can hold much more flavor than the leaves themselves, which is one reason I love to use them.
Sweet Bell Pepper: I love this little addition of sweetness and flavor. The flavor can change slightly depending on what colors you choose. I used a variety of red, orange, and yellow. Small "snacking" bell peppers are perfect for this recipe since you use such a small amount. Green bell pepper is not recommended since they're not as sweet and can make the sauce more bitter when added raw. They just won't add enough oomph to the recipe!
White Onion: I decided to use white because it has more spice for this recipe!
Spices: I kept this recipe simple and only used sea salt and freshly ground cumin.
Salsa Verde 2 Ways
When I say you can make this recipe two ways I'm talking about the addition of avocado. My husband and I enjoy adding an avocado for flavor and creaminess. If you're salsa turns out a bit too spicy for you it's also a great way to tame it down. If you leave out the avocado the flavors will be a bit "brighter" and the sauce a little runnier. We love both ways!
For prep time I'm not taking into account roasting the chili peppers since it's up to you whether you buy them already roasted or do it yourself at home.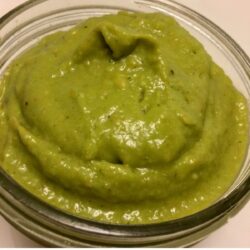 Salsa Verde (Green Chili Salsa) 2 Ways
Fresh green chili salsa that's sure to be your new favorite!
Ingredients
1 ¼

cups

diced roasted green chilis

)About 4 peppers. I used mild Anaheim)

1

tablespoon

garlic cloves

(option to roast them prior to blending)

⅓

cups

packed cilantro

⅔

cups

white onion

1

teaspoon

ground cumin

¼

teaspoon

sea salt

¼

cups

diced orange and yellow bell pepper

1

avocado

(*Optional to make it creamier but leave out if you desire thinner texture or more heat)
Instructions
Roast peppers on medium-high heat on stovetop (with skins on). Option to roast garlic alongside it and remove garlic if done earlier than peppers.

Rinse the roasted chili peppers under cold water to help remove the blackened skins. Combine all ingredients in a blender until smooth.

Option to leave out avocado for a thinner salsa with a bit more spice.